Best Car Vacuum for 2019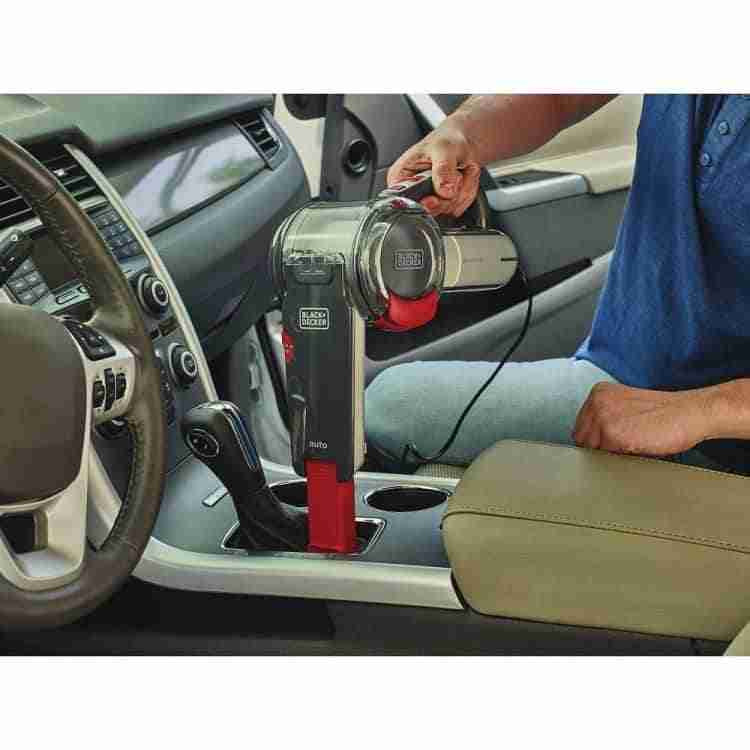 We have all experienced that time when our vehicle quite literally looked like a tornado went through it. Perhaps this is a daily occurrence for you. Whether due to kids, pets, or living our busy lives, our cars can get quite dirty. One of the best ways to combat the daily grind on our vehicle is to clean it as often as we have time. Wiping down surfaces and vacuuming up crunched in goldfish can help us to maintain a clean vehicle and our sanity especially if you are a person constantly on the go. Now some newer model cars come equipped with in-car vacuums, but they just may not have the capacity you need to deal with that tornado of a mess. Ideally, most of us need a good car vacuum that can handle dirt, food particles, pet hair, and any other mess that might be found while cleaning out our cars. Let us look at a comprehensive list of some of the best car vacuums out there today that have the power to handle even the toughest car messes.
BLACK+DECKER BDH1200PVAV 12V Pivot Automotive Vacuum
This car vacuum built by Black+Decker costs about $38 when on sale and comes equipped with a 12V adapter that plugs into the vehicle car lighter jack. It has a pivoting nozzle with 10 individual settings that allows for flexible cleaning throughout the vehicle. It comes equipped with a motor filter to protect the moving parts against clogging from debris and its whirlwind action keeps the dirt from sticking to the filter while in operation.
This is a popular model that is quite portable due to the fact that it plugs directly into the cigarette lighter jack. While some individuals might think this model has less power, it proves them wrong as most consumers found it did a great job picking up all sorts of items from dirt to ground in cereal. The rotating head is a major plus for this model since it allows the user to get into hard to reach places such as cup holders. It also does not come with pesky bags to swap in and out and the user only has to dump the debris receptacle once they are done vacuuming. The Black+Decker also comes with a built-in nozzle and crevice tool that compacts down and makes this model easy to store.
The most common complaint with this model was that it had a difficult time picking up all messes without multiple passes due to its small size. While it seemed to have adequate sucking power, the head was small enough to require a user to go over the same spot multiple times to ensure they picked up all debris including dog hair.
ArmorAll 12V Car Vac
The ArmorAll is the best bang for your buck type of car vacuum. It only costs about $19 and comes with a 12V car charger. This is another model that does not come equipped with a wall plug, but has quite a bit of power. The power cable is 15 feet long making it maneuverable throughout the entire vehicle. This model comes with a collapsible crevice tool, a storage bag, a detail brush, a squeegee, and a reusable filter.
A pro of this model is that it does not come with vacuum bags and is easy to empty. In addition, it comes with a one year warranty for replacement if anything goes wrong. What sets this model apart from the previous model is that it can handle wet messes quite effectively. The added bonus tools are also a nice feature of this model.
Common complaints from consumers were that this model struggled to pick up dog hair and also was a lot flimsier than other models. Since it is a more cost effective model, we would not expect it to be built like a high performance model, but you do get a lot for your money with this model. Additionally, it also lacks a hose or nozzle attachment, which can make it difficult to clean hard to reach spaces throughout the vehicle.
Metro Vacuum VM6BS500 Professional High Performance Hand Vacuum
The Metro Vacuum is one of the more expensive models we looked at. It is a 120V, 500-Watt unit that plugs directly into the wall. It is composed of stainless steel making it quite durable. It includes a five year company warranty for the motor and is made in the USA. This model also comes equipped with a crevice tool, an upholstery tool, dust brush, flexible hose, upholstery nozzle, and a shoulder strap. It costs about $98.
This model is fairly lightweight at 2.7 lbs and since it comes equipped with a shoulder strap is quite easy to move around within the vehicle. Since it is a corded model, it also has great sucking power that picked up most debris throughout the car with a minimal number of passes. A major plus for this model was that it handled dog hair with no issues, which other models struggled with.
 Cons
While this is a corded model which means more power, the cord is quite short and will most likely require an extension cord for optimum use. In addition, this unit comes with a built-in filter bag so you will have to clean it out periodically when full and buy more bags which can be costly. A common complaint for this model was that users noted that the motor tended to get quite hot when in use so they had to frequently turn it off to cool down.
Hoover Air Cordless 20V Lithium Ion Hand Vacuum Cleaner
The Hoover Hand Vacuum comes equipped with a rechargeable 20V Lithium-Ion battery. This model is lightweight at approximately 4 pounds, which adds to its portability when used within a vehicle. The built-in filter is also reusable and only requires an occasional rinsing when it gets clogged.
A major pro of the Hoover is that it comes with a rechargeable battery and no annoying cords to get tangled or trip over. It has great sucking power even though it runs on a battery and will maintain its battery life long enough to clean your car thoroughly. In addition, the Hoover comes with a powered turbo tool attachment that is perfect for picking up pesky dog hair.
This had high marks amongst consumers; however a common complaint was that the bagless dirt receptacle was difficult to get off and clean out. Customers also complained that when they had issues Hoover did not supply good customer service.
ArmorAll 2.5 Gallon, 2 Peak HP, Utility Wet/Dry Vacuum
This is another ArmorAll product that had high marks amongst consumers. This particular model is much larger than the 12V Car Vac and comes equipped with a wall plug rather than a cigarette lighter cord. It has a 2.5 gallon dirt receptacle and a 2 horsepower motor that shuts off when the receptacle is close to full. It costs about $30.
A large pro of this model is its size since it can handle more car debris and cleanup. Not only does it handle dry messes, but it is also a wet vacuum, which makes it quite versatile for cleaning your messy vehicle. It has a 6 foot hose, which can reach almost anywhere in your car and a 10 foot power cord. It also comes equipped with several specialty tools such as a crevice tool, a narrow nozzle head, a wider nozzle head, and a brush tool.
This was a highly popular model especially given the excellent price. However, it does require filter bags, which can be a pain to change in and out to maintain good suction. Most common complaints for this model included not as much expected power and hard to find filter bags.
Dirt Devil Scorpion Quick Flip Handheld Vacuum
This handheld model is powered by a 16 foot power cord and is another bagless option. It has a lightweight design at only 4 pounds, which also makes it quite portable. In addition, it comes with a built-in quick flip crevice tool for getting into hard to reach space within your vehicle. It has a 2.5 inch hose and a 7 amp motor.
The biggest pro of this model is the bagless dirt receptacle, which makes it easy to clean without the hassle of replacing bags. In addition, it has a decently long cord that can allow users to move freely while cleaning. Consumers also found it did a good job with pet hair and had great sucking power.
A common complaint with this model is that it is quite loud compared to other models. That can be quite annoying when trapped in a small car space while trying to vacuuming out your vehicle. Some consumers also complained that the unit tended to spit debris out the sides while in use, but that could be related to the dirt receptacle being too full.
Eureka EasyClean Lightweight Handheld Vacuum Cleaner
The Eureka comes in a vibrant yellow or red color and costs about $41. It weighs less than 5 pounds and is quite portable. It has a motorized brush that can be turned on and off whenever desired. This model also comes equipped with a 20 foot cord for ease of use in a vehicle. Eureka also offers a one year warranty and money-back guarantee if you are not satisfied with this model's performance.
This model is quite powerful and is great at handling harder to clean messes in your vehicle. Since it comes equipped with a motorized brush, it can snag dog hair better than other models. Another nice feature is that the vacuum and the brush head are powered by two separate motors so the vacuum does not lose suction when the motorized head is in use. The Eureka is another bagless option with a built-in filter. Users simply have to dump the dirt receptacle out once it is full.
Most of the consumer reviews on this model were quite high, but some users noted issues with the motorized brush. Some noted that the head stopped working after several uses or would become jammed very easily. When the roller would become jammed, users attempted to clean it out, but were unable to given the vacuum design.
Hikeren Car Vacuum Cleaner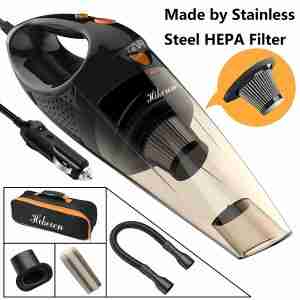 This is one of the top-rated car vacuums and comes with wet/dry functionality. It has a built-in HEPA filter and is ideal for those of us who have dust and dirt allergies. This model also comes equipped with a carrying bag for portability. The Hikeren includes several different attachments such as a brush mouth, long mouth, and a long flexible hose.
Consumers really liked this model because it was portable as it was a 12V model that plugged into the vehicle's cigarette lighter jack. In addition, most consumers found that Hikeren's customer service was quite responsive to any issues they encountered. This is another model that has the capability to pick up wet stains.
A common complaint with this model was that since it was a 12V model it did not have the suction power for larger objects like rocks and road debris. Users found that it did a relatively poor job with dog hair as well.


This rather diverse list of best car vacuums should give you a good idea of what types of models are on the market today. Some models handle wet and dry spills, while others are dry debris only. Still others are capable of plugging into the car directly, which is a nice portability feature to have, but can also lead to poor suction if you have a large mess in your vehicle. Some models were also better able to handle dog hair over others. Please take the time to read online reviews for each model as you may find additional information related to particular features you might be looking for in a model.