Best Portable Jump Starter 2019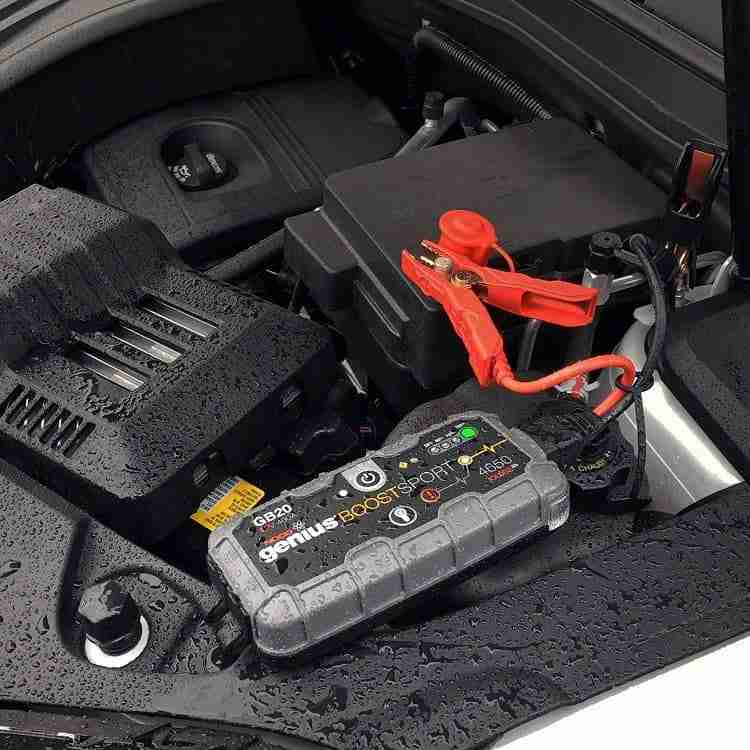 We have all been there, stuck in a parking lot or on the side of the road, because our car battery died. While it is always best to have a complete emergency car kit in our vehicles for various situations, the most important item to have is a portable jump starter. A portable jump starter is capable of providing enough energy to the battery to get your vehicle started. It does not require another vehicle or additional jumper cables as many of them come equipped with built-in lines.
Types of Portable Jump Starters
There are two main types of portable jump starters; the plug-in version and the jump box variety. Plug-in jump starters are required to be plugged in to work, which is convenient for charging your car battery at home, but not for situations where you are nowhere near an outlet. While they are small and compact, they are typically not useful for emergency roadside situations.
Jump boxes are self-contained units that are basically just portable batteries with built-in jumper cables. They provide a large push of energy, which is enough to get your battery charged for the car to start. The largest drawback with jump boxes is that they cannot charge a dead battery whereas plug-in units can. They are simply capable of providing the charge necessary to kick start your car. When using a jump box, it is always best to get a new battery as soon as possible as prolonged use of this portable jump starter and a dead battery can damage the car's alternator.
Several Considerations for Buying a Portable Jump Starter
Since portable jump starters come in a variety of sizes and have different features, it is best to do research on each one to determine if it will fit your vehicle needs. You will need to consider such features as battery capacity, built-in cabling, power output, ease of use, ambient temperature, portability, price, and to a lesser extent brand. Knowing what kind-of amperage your car battery requires is definitely a must and ensuring that the portable jumper starter can provide the necessary kick start without doing damage to your car is also a plus. Four cylinder gas cars typically require about 150-200A of power, while six cylinders require 200-250A and eight cylinders require 250-300A. On the diesel side, four cylinder cars require about 300-400A, while six cylinders require 400-500A and eight cylinders require 600-700A. Below we have provided a comprehensive list of portable jump starters that consumers have recommended for 2018.
Best Portable Jump Starters for 2018
NOCO Genius Boost Pro GB150 UltraSafe Lithium Jump Starter
The NOCO model is capable of delivering 4,000 amps and a regular 12V charge. It is rated for up to 80 jumps in one single charge. It has built-in safety measures that prevent sparking and reverse polarity mistakes. In addition, it has an included LED flashlight that has seven settings including SOS. The NOCO works for both diesel and gas vehicles as well as cars, SUVs, commercial vehicles, and RVs. It costs about $300.
This model is quite versatile as it can be used for almost any model car and recreational vehicle. It is fairly lightweight at 7.5 pounds and can be kept in your vehicle as it is relatively compact. A major plus of this model is that it lasts for 80 jumps without recharge, which makes it quite a capable unit. An added feature is that it includes a USB port for charging smart phones and other USB capable devices. The NOCO also features a built-in voltmeter so you can register the battery voltage and adjust the unit properly.
This is a highly rated unit and for good reason as it is very versatile and available for emergency usage. However, some of the customer reviews noted that it did not have any warranty and in some cases, the unit failed to charge more than 25 percent, which essentially rendered it useless.
DBPOWER Portable Jump Starter
The DBPOWER Portable Jump Starter is a 600A unit that can charge up to a 6.5 liter gas engine or a 5.2 liter diesel engine. It is small, compact, and ideal for emergency jumps. It is rated for 30 jumpers before recharge and has the most added features of many of the units we reviewed. It includes jump cables and is priced around $70.
The largest pro of this model is all the added features and attachments this model includes. In addition to the USB port, it includes an 8-in-1 adapter for various laptop charging capability. It has a built-in compass and an LCD screen that shows the amount of charge left on the unit. The DBPOWER unit has added safety features that protects against overload situations and prevents short circuits. In addition, it includes a 12V wall charger, a 12V car charger, and a three year warranty. Consumers also noted that customer service for this unit was great and they usually received a new unit if they had any issues.
For the price, this unit really cannot be beat; however one large complaint for this model was that it seemed to lose charge over time, which made it practically useless for emergency situations. Consumers also noted it did not work well with heavy-duty SUVs and trucks.
Aickar Portable Car Battery Jump Starter
The Aickar Portable Jump Starter is an 800A unit that works with all gas cylinder vehicles and up to 4.5 liter diesel engines. It includes built-in jumper cables and a USB port capable of charging smart phones, laptops, and tablets. Additional items included are a USB cable, various laptop connection tips, an AC adapter, as well as a car charger and a storage case. It also has a lot of extra safety features built-in and costs about $76.
The built-in safety features are the biggest pro of this model. It has smart jumper cables that protect against reverse polarity, over-voltage, over-current, overload, and over-charge situations. It is probably the best unit for first time users since it is easy to use and provides such full service protections. The Aickar unit is extremely portable, but still has a large battery capacity of 19,800 mAh. It is ideal for emergency situations as it can be stored virtually anywhere including your pocket and includes a built-in flashlight.
This model has a high consumer rating and very few negative reviews. The few notable concerns we saw related to the voltage output and relatively short life of the unit. It does not seem to be built for long-lasting performance and the jumper cables are a cheaper plastic that snap easily.
STANLEY J5C09 Jump Starter
The J5C09 model by Stanley is the largest unit recommended by consumers. It weighs about 18 pounds and is not overly compact. It can still be stored in a vehicle, but it definitely takes up more space. The unit has a 1000 peak amp capacity and an instant 500 amp feature. It also includes a built-in 120 psi air compressor. The J5C09 costs about $100.
This model has a built-in LED flashlight that has a 270 degree rotation. It also includes 12V and USB charging options. The biggest plus of this model is the built-in features of the air compressor and the LED flashlight. In addition, an added safety feature is the reverse polarity alarm that alerts the user to an improper connection to prevent damage.
The company recommends this unit be charged every 30 days when not in use, which can be a major downside if you forget and have a roadside emergency. While it may not have any issues, the fact that it requires regular charging can call the reliability into question. Consumers also complained about the poor warranty and noted that the air compressor could be stronger.
Beatit Power Bank and Car Jump Starter
This highly rated unit is capable of outputting 800A and has an 18,000 mAh battery capacity. It can charge up to 7.0 liter gas engines and 5.5 liter diesel engines. The unit also has a 30 jumps rating and includes built-in jumper cables and clamps. The Beatit is small, compact, and can fit in a vehicle's glove compartment. It has an LED display that outputs the charge left on the unit and dual USB connection ports. The unit costs about $68.
The biggest plus of this unit is the all-around capability. It can handle most heavy duty vehicles and has lots of added features. It includes two USB ports while other units only have one. It has smart jumper cables that prevent over-current, over-voltage, and short circuits. The Beatit also includes an SOS flashlight. In addition, the unit comes with a 12V wall charger, a 12V car charger, USB cable, carrying case, and a two year warranty.
As we mentioned, this unit is highly rated by consumers. Notable complaints for this model include issues when jumping a car in cold weather and failure to meet the 30 jump capability. Several users noted the unit showed nearly 50 percent gone after only one jump.
FlyHi Portable Car Jump Starter
The FlyHi unit has a 500A peak capability with 13,600 mAh battery capacity. It is capable of charging gas engines up to 4.2 liters and diesel engines up to 3.0 liters. It is extremely portable and small enough to fit in your car's glove compartment. It is rated for up to 20 jumps and can jump start a variety of vehicles. It costs about $57.
The included extras are a major bonus of this model. It includes an AC adapter, a car charger, a USB cable, charging clamps, an 8-in-1 laptop charging cable, and an 18 month warranty. In addition, the LCD display is backlight and not only displays remaining battery, but also indicates when to charge, and has the voltage input and output status displayed. The FlyHi unit also is a 5-in-1 power bank capable of providing emergency vehicle charging, smart phone charging, laptop charging, power to small devices for a short period of time, and a flashlight.
This is another highly rated unit with few complaints. However, consumers did complain about the unit's battery life. Most noted that it had to be charged after every jump. This definitely fails to live up to its 20 jump rating.
Clore Automotive Jump-N-Carry JNC660 Jump Starter
The Clore Automotive JNC660 Jump Starter is probably the most user-friendly option we reviewed. It has a 1,700 peak amperage output and has a long battery life. It includes a DC outlet for 12V accessories and for charging the internal battery. It also includes 46 inch jumper cables and costs about $109.
The biggest pro of this model is its ease of use. It is extremely portable and has a handle for carrying. The included cables are also long enough to sit the unit on the ground rather than on the engine block, which provides for more stability. The Jump-N-Carry can also handle a variety of vehicles and has great versatility.
Common complaints of this unit related to the size and weight since it is nearly 18 pounds and not compact for vehicle storage. In addition, consumers complained that the unit does not have a built-in off switch and with the clamps being exposed; you can hurt someone if not careful while handling the unit.
Final Thoughts
We have provided quite a bit of information regarding portable jump starters. Many come with a variety of built-in features and add-on parts. Some have built-in flashlights and air compressors, while others do not. Portable jump starters come in various sizes from compact to semi-compact and can be stored in your vehicle for emergency usage. Make sure to check your vehicle amperage rating and determine what you might need from a portable unit and always read the online reviews as they provided good information about the reliability of various units.