Best Product to Restore Black Trim 2019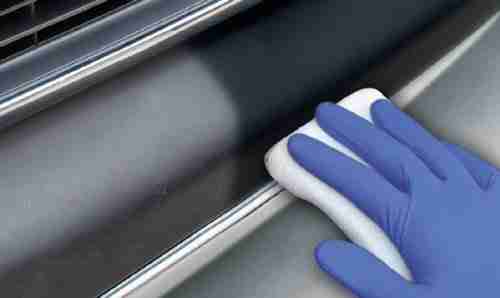 Black is by far one of the more popular car colors especially with exterior trim. Unfortunately, it seems to show everything and plastic is more susceptible to the elements versus chrome or metal bumpers and trim. It can be hard to regularly maintain the nice, clean appearance of your black trim and to keep it from fading due to the harsh elements. Once the plastic starts to sustain weather damage, it is more likely to become breakable due to becoming brittle. There are a multitude of products that are specifically designed around black and white trim to spruce up and maintain their appearance, but not all are alike or do as good of a job as they claim. We looked at a number of top rated products that could restore the look of exterior black car trim and have taken the time to discuss the pros and cons related to each.
TriNova Plastic & Trim Restorer
TriNova Plastic & Trim Restorer comes in an eight ounce bottle and is rated to shine and darken worn out black plastic trim and vinyl. Its gel-like solution provides protection against the elements once applied and can help repel rain and dirt. This product also keeps your trim from getting dull and worn looking after application. In addition, TriNova is formulated to prevent streaking. It also comes with an applicator pad.
One of the biggest pros of this particular product is that not only does it restore dull looking trim, but it also provides additional protection after the fact against the elements while maintaining the darker, shiny appearance. TriNova also does not leave streak during application or after when it rains. Compared to other products which are typically just a black dye, TriNova Plastic & Trim Restorer has a strong formula that penetrates the plastic and restores its new appearance. 
While this product seemed to have high marks amongst consumers, it seems to fail in one of the ways it claims to succeed. Numerous buyers complained that this product ran after their car got wet. It left streaky residue all over different parts of their cars and continued to do so after every instance of rain.
Wipe New Trim Restorer
This product is a top seller amongst consumers and is a versatile product that can be used on plastic, rubber, vinyl, chrome, acrylic, leather, and metallic surfaces. The kit includes a 1.5 ounce bottle, two applicators, one headlight applicator, one headlight prep pad, and a detail brush. Do not let the small size fool you though; it is enough to cover a midsized sedan.
Consumers found this product easy to use and that the coverage was good considering the small sized bottle. In most cases, one application was enough to restore the trim to looking like new, but the best results were seen in really weathered trims when it was applied twice. Additionally, it does not have to be applied multiple times a year to restore your car's trim because it is not silicone based and adheres to the trim very well. Wipe New can also be applied to boats and RVs.
Wipe New Trim Restorer has an extremely strong smell and should best be applied outdoors or in a well-ventilated area while wearing gloves. In addition, buyers complained this product also failed to meet one of its claims. It did not last long and within several weeks to a month, the black trim looked faded and worn again.
ReNu Pro RPK175 Automotive Trim Restorer Kit
ReNu Pro Automotive Trim Restorer Kit is another popular brand. It comes in a variety of sizes depending on your restoration needs. It removes the faded, oxidized look on mirrors, running boards, bumpers, and fender flares. This is another product that does not contain silicone or wax, which makes it longer lasting.
ReNu is a long lasting product that maintains the new trim appearance up to twelve months. To get the best results, the manufacturer recommends going over an area twice to remove any excess solution. It also has a built in protective solution that fight against the elements especially rain once applied. Keep in mind this is specifically a dye that is meant more for updating faded trim compared to other solutions which bring back the shiny and luster of your exterior trim. ReNu is easy to apply and comes with an applicator pad. 
The biggest con of this product is that it does contain black dye and it can stain other parts of your vehicle if not carefully applied. It also has a strong smell and should be applied in a well-ventilated area using gloves. Consumers complained mostly of the size of this product and said it did not go a long way as expected because the solution seemed to be very thick and looked blotchy when applied.
Turtle Wax T-125 Premium Grade Trim Restorer
Turtle Wax is probably one of the most widely known names in the automotive industry. They produce a variety of products for maintenance and restoration relating to vehicles. This product is recommended for use on door handles, molding, plastic wiper arms, body cladding, window seals, and of course plastic trim. The T-125 formula restores faded trim that looks dull and protects against further fading. It can also be used on any color trim making it extremely versatile in its use. This product comes in a 10 ounce bottle.
The T-125 formula lasts up to three months and actually provides a protective coating to your trim pieces that prevents staining from other car care products. A major plus is that it can be used on almost any color trim and comes in a decent sized bottle for multiple applications on all your vehicles. It needs to be applied in direct sunlight and allowed to dry. Once complete dry, the product must then be buffed out so as not to leave excess product on your trim. 
The effect of this product is not as long lasting as others and tends to only last about two months despite its claim of three. The T-125 also had mixed reviews from consumers. Some really loved the product and found it worked great, while others noticed they it streaked once the vehicle was rained on.
Meguiar's G15812 Ultimate Black Plastic Restorer
The G15812 comes in a twelve ounce bottle, which is the largest size we saw for trim restorer solution. It works on non-painted exterior plastic trim and leaves a lasting appearance. It also dries fast and as a major bonus does not streak when rained on. The Meguair's product is ideal for rubber, vinyl, and plastic areas and brings out the darkened color of your trim while giving it a nice shine.
One of the major bonuses of this product is that it does not streak when it gets wet, which consumers have complained other products do. The formula is wax-like making it easy to apply with a cloth or applicator pad similar to car wax. Consumers gave this product high marks and found it restored their plastic trim and other faded areas quite well. 
This product does not include an applicator pad likes other do which is bit of a negative since you have to purchase something separately. It is also a very strong product and the manufacture recommends applying in a well-ventilated area and to avoid skin contact. The G15812 also requires multiple applications and does not last much longer than two weeks despite its claims.
Mothers 06112 Back-to-Black Plastic and Trim Restorer
Mothers is another large sized product that comes in twelve ounces. It is rated to remove oxidation, waxy residue, dirt, and film buildup on car surfaces. Once applied it protects against any further fading that can be caused by water, sun, and other contaminants. Mothers is another product that works on a variety of trims.
The 06112 product comes in a twelve ounce bottle which makes it ideal for multiple applications. It works similar to a car wax application and does not seem to be as harsh as other products. It is very easy to apply and the instructions say to apply liberally for a long lasting appearance. Consumers gave this product high praise and found it worked really well on wiper blades and plastic trim. 
Mothers does not contain an applicator pad or gloves like other products do, but it is also not as caustic. Consumers also noted it did not last long and had to be reapplied with a month in most cases. It addition, to get the restored appearance the first time, it had to be applied in multiple layers which took a lot of time.
Armor All 17451 Outlast Trim and Plastic Restorer
The Armor All 17451 Outlast Trim and Plastic Restorer comes in an 8 ounce bottle. It restores a variety of products including rubber, plastic, and vinyl trim. It also works against water and claims to protect through one hundred car washes. Once applied, it prevents against oxidation, discoloration, and fading of your trim. Armor All is another product that works on all trim colors.
Several pluses of this brand is that it works on a variety of trim colors and that it stays on even when wet. It should be applied using a sponge or applicator pad and then buffed out to create a nice shine and provide lasting protection. This product is popular amongst consumers and appears to last quite long especially against sun exposure. 
The application of this product is the biggest con because it requires the product to sit on for five minutes and then be wiped off. If you let it dry on your vehicle, it will discolor the trim. Common complaints from consumers applied to how little this product lasted. Most buyers noted it really only held up for about two weeks.
Detail King Trim Kote Black Pint
Trim Kote is rated as one of the best trim dyes on the market today. It is a permanent dye that should last anywhere from one to two years. It does not contain silicone and is easy to apply. The product works well on plastic trim, bumpers, and cladding. The formula is quite thick, which allows it to adhere to the plastic well.
This product has mostly high consumer reviews and buyers found it did a great job restoring very faded trim to its like new condition. The bottle went a long way as well and could be used for many applications on a variety of vehicles. Consumers also noted it was quite easy to apply as stated and it went on smooth without leaving streaks. 
Make sure to wear gloves with this product as the dye will mark up your hands if not careful. It also does not hold up well to rain if not applied during a sunny day and allowed to properly dry. Common consumer complaints for this product include the consistency of the product, longevity of the product, and the overwhelming smell. Apply in a well-ventilated area just like the other products.
The list provided is a comprehensive collection of products that work on not just black trim, but in some cases other colors. Some are dye based while others are a non-silicone product that helps restore your trim and protect it from sun and weather exposure. We recommend you apply the product to an inconspicuous part of your vehicle first to ensure it does not damage your plastic trim before a full application. All of these products need to be applied in a well-ventilated and with gloves in most cases as they have heavy fumes and can also damage skin if left too long. Read the directions carefully before any applications as some of these products require some prep work. In addition, some of the products can be left on while others must be applied and then wiped off to prevent staining to other parts of your vehicle.