Beste Bluetooth OBD2 Scanner 2019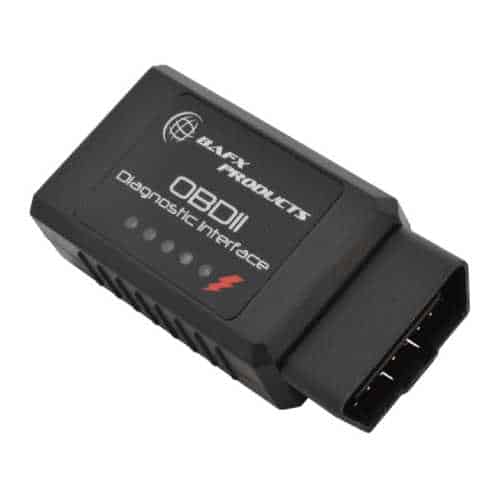 Chances are you're what I like to call "car aware": you know the basics of how cars function, and you can drive the entire 15 minutes to work without causing a massive ten-car pileup. You know it's important to keep a car in tip-top shape, and like anyone you shudder when the check engine light comes on. That's a time when a Bluetooth OBD2 scanner can make life a lot easier.
If that phrase looks like gibberish, don't worry: this guide explains everything you need to know about Bluetooth OBD2 scanners. There's a lot of knowledge in here, but if you just want to find out the best bluetooth OBD2 scanner, skip to the end. Ready to dive in?
Das Problem: Warnleuchten
Normalerweise müssen Sie sich an einen Mechaniker wenden, um ein Problem mit Ihrem Auto zu diagnostizieren. Das bedeutet, dass Sie einem Geschäft vertrauen, das vollständig auf den Yelp-Bewertungen basiert, und ihnen dann ein paar hundert Dollar zahlen finden the problem – a gamble if there ever was one. What if nothing was wrong? What if they fixed something that was so easy you could've done yourself, like a loose battery cable?
Entschuldigung, keine Rückerstattung.
If you wouldn't call yourself "car aware," maybe more like "car clueless," the situation gets even worse. Some shady shops might fib on the details, or exaggerate what needs fixing, just to make a few extra bucks. Using a Bluetooth OBD2 scanner gives you the power to know the problem before you call a mechanic.
If this sounds like an expensive proposition, don't worry: a Bluetooth OBD2 scanner pays for itself after only a handful of uses.
Die Lösung: ein Bluetooth OBD2 Scanner
Almost every car manufactured after 1996 has an OBD2 port. It's a small rectangular plug hidden somewhere under your dashboard, and it's what the guys at O'Reilly plug their code reader into when they diagnose your check engine light. This ability used to be reserved for dealerships and mechanics, but with advances in mobile technology, today anyone can purchase a Bluetooth OBD2 scanner and obtain the same results in the comfort of their own garage.
Was macht ein Bluetooth OBD2 Scanner?
A Bluetooth OBD2 scanner ("code reader", "scan tool) is a wireless device that searches for a variety of issues with the engine, transmission, and various sensors throughout your car. It plugs right into the OBD2 port of your car and can quickly save you time and money. These days the check engine light covers a wide variety of problems beyond the engine itself, and a good code reader can detect them all.
You won't have to go looking for your scan tool when you want to use it – just leave it plugged in! It works with your phone, tablet, or a remote controller without wires, so you can leave the scanner plugged in all the time. That way, you'll be aware of a problem the moment it happens.
Muss ich Software kaufen?
A Bluetooth OBD2 scanner simply relays your car's data to your phone. You're going to need an app to use along with it, like Torque, DashCommand, or OBD Fusion, if the scan tool you buy doesn't come with its own. Of those apps, the most expensive ones cost about $40, the cheapest ones are free, and the best ones for a casual user are about $5.
Since the app is doing most of the work, there's not much room for error in – or a lot of difference between – most of the scan tools on the market. It really comes down to quality and longevity, and as we'll see in a moment, it's important to buy the best one that fits your needs.
Hinweis: Aus Hardwaregründen funktionieren die Scan-Tools in dieser Liste nur für Apple-Geräte, wenn sie dies ausdrücklich angeben. Apple-Geräte benötigen einen Wifi-OBD2-Scanner.
Was überprüfen Bluetooth OBD2-Scanner?
Ein guter Bluetooth-OBD2-Scanner bietet Ihnen einfache Erklärungen zu den gefundenen Problemen sowie die Möglichkeit dazu Setzen Sie die Kontrollleuchte des Motors zurück und andere Warnleuchten, um zu sehen, ob sie wieder aufleuchten. Einige häufige Probleme, die von Codelesern überprüft werden, sind:
Überprüfen Sie die CEL-Codes (Motorlicht)
Sensorfehlercodes
Fehlerhistorie
Technisch versierte Benutzer werden die folgenden Funktionen von High-End-Scan-Tools schätzen:
Durchschnittlicher Kraftstoffverbrauch
Luftansaugtemperatur
Motor Kühlmittel Temperatur
Saugrohrdruck
EVAP-Systemdruck
Luftdruck
Timing-Details
Treibstoffdruck
Gemischanpassung
Die Daten, die Sie sehen hängt hauptsächlich davon ab, welches Auto Sie haben. A scan tool can only display the data your car sends it. If you have an older car that doesn't use the same sensors a newer car has, you won't be able to access that information even with a Bluetooth OBD2 scanner.
Was kostet ein Bluetooth OBD2 Scanner?
On average a code reader costs less than an hour of a mechanic's time. I've compiled a list of the highest-rated Bluetooth OBD2 scanners available with Amazon Prime shipping, so you can have one of these at your door quicker than the mechanic can schedule your car.
Since the cheapest ones are less than $10, let's start there and work our way to the top.
Beste Bluetooth OBD2 Scanner
Excelvan v1.5 Mini Bluetooth OBD2 Scanner
I'm going to start by telling you why you shouldn't just scoop up the cheapest tool you can find on Amazon, the one with the two random English words thrown together and an unlikely amount of positive reviews. The price of this miniature Bluetooth OBD2 scanner is less than a CD at Best Buy (rip), and by all accounts that shows from the word GO.
Peruse Amazon and you'll find the same cheap plastic scan tool is sold by several brands. None of them are compatible with iPhones, which slaps over 50% of the populous right in the face. Reviews say this one lasts about 10 uses before crapping out; some say it even arrives broken every time.
Providing it works long enough to do its job, the Excelvan apparently works well. People say the features are numerous and easy to understand. And hey, some of the reviewers weren't even paid to say nice things! What a treat.
Mögen Wagenheber, Drehmomentschlüssel, und mechanic's creepers, there's no reason to cheap out on a new Bluetooth OBD2 scanner. As the saying goes, you'll spend less money in the long run if you buy a quality item the first time.
Vorteile
Kleine Größe
Kostengünstig
Einfach zu verwenden
Nachteile
Geringe Qualität
Massenproduktion
Veepeak Mini Bluetooth OBD2 Scanner
This code reader is slightly more expensive than the last. It's still as small and cheap as the Excelvan, but it's far more popular and backed by a lot of (real) positive reviews. This Bluetooth OBD2 scanner has all the features of the Excelvan and then some, and the newer version connects to both Apple and Android devices – but for twice the price.
According to reviewers, you need to be sure to update this scan tool right off the bat and periodically going forward. That's standard fare for most things these days, but an old software update could cause this product to appear nonfunctional out of the box, so it's worth mentioning.
These days it's nice when a company stands behind their products. The Veepeak Bluetooth OBD2 scanner comes with a 30-day money-back guarantee, which is worse than 365 days but better than 0. More importantly, the vendor is said to be responsive and easygoing when it comes to replacing defunct units, even draußen das Garantiefenster.
That's a major factor with these cheaper code readers, though the Veepeak is every bit as rebranded as the Excelvan.
Vorteile
Niedrige Kosten und geringe Größe
Große Auswahl an Funktionen
30 Tage Geld-zurück-Garantie
Nachteile
Apple-Konnektivität verdoppelt den Preis
Es fehlen Funktionen teurerer Codeleser
For another step in the right direction, the KOBRA Bluetooth OBD2 scanner comes with a 1-year money-back guarantee. That's 12 times as long as the Veepeak, and judging by the product photos, the KOBRA is 12 times as durable as well.
It doesn't have the small form factor the Veepeak is known for, so if your OBD2 port is somewhere near your knees (which it is in many cars) there's a chance this code reader will get in the way. That means you'll have to unplug it when it's not in use, and if you're anything like me, there's a high chance of it getting misplaced.
Reviewers say KOBRA doesn't have the stellar customer service of Veepeak, but they do say the warranty is honored if you follow through with the process.
On the upside, the KOBRA does most everything the more expensive scanners do, and it does them well. If you're planning to use your new scanner on multiple vehicles or for a long period of time, the 1-year warranty and the durability of this scan tool will be your biggest selling points.
Aber lesen Sie die nächsten beiden, bevor Sie diese in Ihren Warenkorb legen.
Vorteile
Viel Funktionalität
Langlebiges Design
1 Jahr Garantie
Nachteile
Größerer Formfaktor
Viele negative Bewertungen
Schlechterer Kundenservice
Bluetooth OBD2-Scanner von BAFX Products
Dieser Diagnose-Tester verdoppelt den Preis der vorherigen. Was gibt es also? Erhalten Sie das doppelte Produkt? Dies ist das #1 Bestseller im Codeleser und Scan-Tools on Amazon, and there's a reason for that.
Their well-written product details should tell you everything you need to know: BAFX is an established company that stands behind its scanners with a 2-year warranty. They guarantee their Bluetooth OBD2 scanner will work with your car, and with a 4-star average from over 9000 reviews, that's a promise you can trust.
Ein verifizierter Käufer berichtet, dass BAFX sein Scan-Tool ersetzt hat, als es älter als 5 Jahre war. Er sagte, es habe nach all der Zeit Probleme gegeben, und er schickte eine E-Mail an das in den USA ansässige Kundendienstteam, nur um Spaß zu haben. Weniger als 24 Stunden später begann ein Gespräch, bei dem sein Bluetooth-OBD2-Scanner durch einen brandneuen ersetzt wurde. Wird der Kundenservice noch besser?
The functionality of the BAFX is equal to that of the previous scanners on this list, since it uses the same apps to relay the information to your Android device. It's a bit large, but the durability and customer service of the BAFX are what put it ahead of the rest.
Ob Sie es glauben oder nicht, der nächste ist besser.
Vorteile
2 Jahre Garantie
Tadelloser Kundenservice
"Works with all cars" guarantee
Langlebige Konstruktion
Nachteile
Ozzy Gear Bluetooth OBD2 Scanner – BESTER SCANNER
Most of those translucent blue plastic scan tools are made by one big Chinese company and rebranded for various third-party sellers. That's not the case with BAFX, and it's not the case with Ozzy either.
Der Ozzy-Codeleser wird mit einer Fernbedienung, einer Hülle und geliefert eine lebenslange Garantie. They put those words in the product description, in plain English, for all the world to see. Reviewers say they stand behind their promise that if you're not satisfied for any reason, or if the scan tool breaks for any reason, they will offer you a full refund or a replacement product, no questions asked. Wow!
This code reader runs off the same apps as most of the others, so it's best suited for use on a Kindle HDX or other tablets. One user even explained how he uses a cheap prepaid phone, a vent-mount phone holder, and this reader and has a dedicated diagnostic setup in his car at all times. That's pretty cool if you ask me.
I can't find any other Bluetooth OBD2 scanners that offer a lifetime warranty; even professional scan tools that cost way more can't offer that kind of guarantee. On top of that, it's got a small form factor. It would be a toss-up between Ozzy and BAFX, but the unbeatable warranty earns Ozzy the win.
Vorteile
Tolle Funktionalität
Kleiner Formfaktor
Koffer und Fernbedienung enthalten
Lebenslange Garantie
Nachteile
Etwas höhere Kosten
Fehlt die Funktionalität von Premium-Codelesern
Premium Code Reader
So far, we've covered Bluetooth OBD2 scanners designed for the casual user and the shade-tree mechanic. What if you need more functionality? What if you want to monitor finer details in real time? Take a look at these next scan tools which offer expanded features at a higher price.
FIXD Bluetooth OBD2 Scanner für Apple + Android
This scan tool is marketed as a "car health monitor." It has its own proprietary app and iPhone and Android compatibility right out of the box. Nice!
The FIXD app is designed to give a clear and concise picture of what's wrong with your car. The app can handle multiple cars at once (with extra sensors, of course), making it easy to monitor the health of the family's fleet from one device.
There's a "Maintenance Price Estimator" in the app, along with maintenance reminders, to keep you abreast of the cost and schedule of regular services. Reviewers say the app is easy to use, but it requires your VIN number which caused some users to experience problems.
Dem FIXD-Diagnose-Tester können keine erweiterten Codes wie die für Airbags, TPMS oder ABS-Warnungen gelesen werden. Besorgniserregend zeigt eine flüchtige Suche bei Amazon, was zu sein scheint das exakt gleiche Produkt being sold by a company called Carista. The difference is FIXD doesn't make you buy their app AND their code reader, because that's just silly.
This is marketed as a luxury item to monitor your car's health, but its limited features don't justify the price.
Vorteile
Proprietäre App enthalten
Apple + Android-Unterstützung
Unterstützung für mehrere Autos
Nachteile
Höhere Kosten
Es fehlen erweiterte Funktionen
Garantie unklar
BlueDriver Bluetooth OBD2 Scanner für Apple + Android
The BlueDriver scan tool also has its own proprietary app and iPhone and Android compatibility. To add to that, BlueDriver maintains its own database of repair estimates, so the app can ballpark the cost of repairing any issue this code reader finds. It can also scan advanced codes, like ones for airbags and ABS, that the FIXD can't read. Pretty nifty.
The BlueDriver Bluetooth OBD2 Scanner App includes most of the features of the $40 apps you'll find on the app store, including advanced diagnostic modes like Fuel System Test and Misfire Test. Over 70 parameters are logged in real time, including oil temperature, boost pressure, fuel usage, and more. It can even clear more advanced transmission and airbag codes that other scanners can't touch.
Eine weitere nette Funktion ist der integrierte Smog Check, mit dem Sie einen Smog-Test simulieren können. Dieser Codeleser erspart Ihnen den Aufwand, zur Smog-Testeinrichtung zu fahren, den Test nicht zu bestehen und den Mechaniker zu bezahlen, um Ihnen zu erklären, warum.
One reviewer said he found a $1,700 problem in his car just one week before his warranty expired, thanks to the BlueDriver code reader. If that's not worth a hundred bucks, I don't know what is.
Vorteile
Proprietäre App
Apple + Android-Unterstützung
Datenbank mit Reparaturschätzungen
1 Jahr Garantie; 6 Monate Geld-zurück-Garantie
Nachteile
Those Scan Tools Aren't Tough Enough for Me
What's that, you say? You work at a high-volume dealership? You want to be able to bleed the brakes of a semi without getting in the cab? You want to recode an entire ECU? Say no more.
Autel Maxisys Elite Diagnosetool
This Bluetooth OBD2 scanner makes those other ones look like they're trying too hard.
Der Elite ist für Consumer-Automobile konzipiert und seine Schwesterversion (MS908CV) arbeitet mit Halb- und Schwermaschinen. Beide können Sicherheitsschlüssel neu zuweisen und Wegfahrsperren zurücksetzen. Beide umfassen eine Vielzahl automatisierter Entlüftungsverfahren für Bremsen und Kupplungen sowie eine Kalibrierung der Luftfederung und sogar eine Neuprogrammierung der ECU. Zur Hölle, es kann das Horn hupen und die Windschutzscheibe sprühen. Es könnte Ihnen sogar das Abendessen danach kaufen.
This code reader comes with free updates, a cloud-based data management suite, and remote-access technical support. Both models arrive in the form of a rugged tablet that you could drop or run over (don't try), preloaded with Autel software, with a quad-core processor and a 32GB solid state hard drive.
This is a basic Bluetooth OBD2 scanner in the same way that Olive Garden is authentic Italian food. It does everything a dealership can do and more, and since it costs more than a used Prius it's the heaviest hitter on our list of code readers and scan tools.
Note, this isn't a professional's guide to code readers. If you're a mechanic who needs a Bluetooth OBD2 scanner for your job, this isn't the resource for you. Do some research on the technical reasons why a Veepeak or Ozzy can't hold a candle to this.
Vorteile
Macht buchstäblich alles
Robuster Formfaktor
1 Jahr Garantie
Nachteile
Welchen Bluetooth OBD2 Scanner soll ich kaufen?
Congratulations! You've learned a lot about Bluetooth OBD2 scanners, code readers, and scan tools. Take your newfound knowledge and save some money the next time a warning light appears in your car.
For standard users it's a toss-up between the BAFX and the Ozzy, but the Ozzy is our Erste Wahl als bester Bluetooth OBD2 Scanner dank seiner lebenslange Garantie. For advanced users, BlueDriver is the way to go. For professionals, you might as well go big. It's going on the company card, right?
Standard Bluetooth OBD2 Scanner
Wenn Sie gerne Geld wegwerfen, kaufen Sie das Excelvan.
Kaufen Sie den billigen Codeleser, um ihn ein paar Mal zu verwenden Veepeak.
Für ein dauerhafteres Angebot mit 1 Jahr Garantie erhalten Sie die KOBRA.
Wenn Sie das Beste für Ihr Geld wollen, holen Sie sich das BAFX.
Wenn Sie den besten Knall für Ihr Geld mit einem wollen lebenslange Garantie, bekommen das Ozzy.
Premium Bluetooth OBD2 Scanner (mit Apple + Android Kompatibilität)
Kaufen Sie a, um den Zustand eines oder mehrerer Autos einfach zu überwachen FIXD.
Um erweiterte Codes wie Airbags und TPMS zu lesen, erhalten Sie die BlueDriver.
Professionelle Bluetooth OBD2 Scanner
Wenn Sie Ihre Hupe hupen und Ihr Steuergerät neu programmieren möchten, holen Sie sich das Autel.