Der billigste Weg, einen Mercedes-Schlüssel zu ersetzen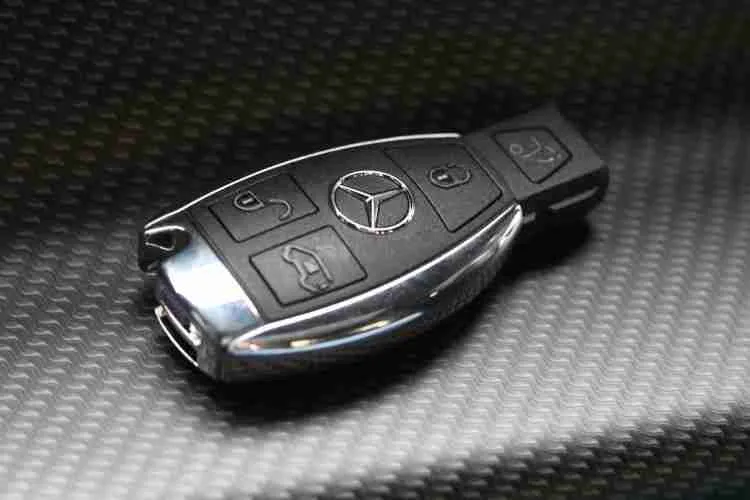 Der billigste Weg, einen Mercedes-Schlüssel zu ersetzen
Ihr Traumauto zu besitzen ist eine Erfahrung wie keine andere, und wenn dieses Auto ein Mercedes ist, gibt es keinen wirklichen Preis dafür. Mercedes ist ein Unternehmen, das für Eleganz und Design steht. Wenn Sie ein stolzer Besitzer eines Mercedes sind, ist es kein Wunder, dass Sie den mit dem Auto gelieferten Mercedes-Schlüssel schätzen, da er nicht so einfach ist wie normale Autoschlüssel. Es kommt mit verbesserten Sicherheitssystemen für die Sicherheit Ihres Autos.
The most common problem with car owners is one of losing your car keys. It doesn't matter if you own a Mercedes or any other car this is a problem everyone has faced once in their lifetime if not more. But the issue with losing a Mercedes car key is that it costs quite a bit of money to get a new one.
While you might be able to handle the expense but at a point, your mind will not be at ease for spending so much money on such a common mistake that could happen to anybody. We always recommend keeping your car keys safe, but accidents do happen and you might lose them or they might get damaged in a way making it unsuitable for further use. In this case, you need to get a new Mercedes key and if you don't want to spend the money then this article is for you.
Es gibt viele Techniken, um einen neuen Mercedes-Schlüssel zu erhalten, aber die unten genannten sind die besten und billigsten Möglichkeiten, einen Mercedes-Schlüssel zu ersetzen.
Erster Weg: Holen Sie es sich bei Amazon
Over the last few years, Amazon has expanded its global consumer base so much that today there is hardly any kind of product that is not available on the eCommerce platform. Car accessories are not an exception and Amazon even has a specially dedicated section for the cars which is called 'My garage'. Almost all the things you are looking for your car may be available here.
Now to get the keys for your Mercedes you can't simply search for it in the search bar. First of all, you need to log in to Amazon with your account and then go to the 'My Garage' section. There you need to search for blank keys that are completely unprogrammed and uncut. It might be a little difficult to get the keys you are looking for, so try to refine the search using the filter in the search bar.
Möglicherweise müssen Sie die Fernbedienung kaufen, um die Autos zu verriegeln und zu entriegeln. Einige der modernen Mercedes-Fahrzeuge kombinieren Fernbedienung und Schlüssel in einem Gerät. Stellen Sie außerdem sicher, dass Sie die richtigen Schlüssel für Ihr Auto gefunden haben. Wenn Sie diesbezüglich Unklarheiten haben, können Sie auf Google oder in einem Mercedes-Forum danach suchen.
Die einzigen zwei Probleme bei dieser Methode sind, dass die Lieferung des Schlüssels einige Zeit in Anspruch nimmt und Sie den Schlüssel für Ihr Auto auch nach der Lieferung selbst codieren müssen, was nicht jeder kann.
Zweiter Weg: Wenden Sie sich an den örtlichen mobilen Schlosser
This is an important way as it doesn't matter if you adopt the previous way or not you are going to need someone to cut and code the keys for your car. Getting a mobile locksmith is the best way to get this done. And if unfortunately enough, you have lost all the keys to your Mercedes then the locksmith can come to your house and work on it. It's very good if you can get a locksmith who specializes in Mercedes cars then he can get your car ready and running on the roads in a few hours at the max.
Some of the locksmiths are good enough to supply you with the keys as well as cut and code it for you. If you happen to get hold of such a mobile locksmith then he can solve your problem easily. It's better to discuss your problem with the locksmith beforehand as if he thinks that it can be done, then this is a few hours job at the max. Mercedes is one of the first few companies to install electronic locks in their cars making it more secure and developing the keys more difficult hence it's important to make sure that your locksmith is equipped enough to handle the job at hand.
Dritter Weg: Codieren Sie Ihren Schlüssel
Sie können Ihren Schlüssel codieren, wenn Sie so mutig sind und die technischen Details des Programms verstehen. Aber um eine faire Warnung zu geben, dass die Mercedes-Schlüssel viel komplizierter zu programmieren sind als andere Autoschlüssel. Beachten Sie außerdem die folgenden Punkte, um einen Mercedes-Schlüssel zu programmieren:
You can only program the older 'Flip' Mercedes car keys by yourself. If your car uses the modern Mercedes 'Smart' keys then you will have to go to the Mercedes dealer or see an expert as there is no other option.
Die Schlüssel, die als Ersatz verwendet werden, gelten als Ersatzschlüssel. Daher können Sie mit dem Mercedes-Fahrzeug nur den Ersatzschlüssel erstellen und programmieren.
Sobald Sie den Ersatzschlüssel programmiert haben, können Sie ihn nie mehr für ein anderes Auto neu programmieren. Sie können es jedoch so oft wie nötig neu programmieren, bis Sie es richtig machen.
Sie können keinen Ersatzschlüssel oder Hauptschlüssel selbst programmieren. Wenn Sie diesen verloren haben, müssen Sie sich an den Händler wenden, um einen neuen Hauptschlüssel zu erhalten.
If all of this goes in vain and you cannot get hold of a locksmith or find the right keys or fail to program it yourself, then as a last resort you have to go to the Mercedes dealership and they will provide you with the master key. It's not cheap, but the most secure option. The above mentioned three options are the cheapest ways to replace a Mercedes key. If you don't want to spend a hefty amount of money at the dealership then try out the above methods to easily get the keys replaced and also cut back on the expenses.
Häufig gestellte Fragen
Wie viel kostet es, einen Mercedes-Schlüssel auszutauschen?
A new key for your Mercedes will set you back between $200 and $300, though it's been reported by some Mercedes-Benz owners to cost up to $560.
Thankfully, you don't need the car with you or even your existing key, but the dealers are usually very strict on verifying ownership. The dealer will order the right key for your car from the VIN number, and you'll also need your vehicle registration, as well as your driver's license, passport, or identity card.
You may be able to replace your Mercedes key for cheaper if you check out some other options. For example, you may be able to find blank keys on the 'My Garage' section of Amazon. This method will require you to code the keys yourself though, which is a little bit tricky (we cover this later on in the article).
Kann ein Schlosser einen Mercedes-Schlüssel programmieren?
Es ist unwahrscheinlich, dass ein durchschnittlicher Schlosser einen Mercedes-Schlüssel programmieren kann. Wenn Sie jedoch einen Autoschlosser in Ihrer Nähe finden, kann dieser möglicherweise helfen.
Die meisten Autoschlosser bieten auch einen mobilen Notdienst am Straßenrand an, wenn Sie eine Autoschlüsselprogrammierung benötigen oder der Fernschlüsselanhänger dringend repariert werden muss.
Am besten suchen Sie sich einen Auto-Schlosser, der sich auf die Programmierung von Autoschlüsseln spezialisiert hat. Solche Schlosser können sich normalerweise mit folgenden Problemen befassen:
Reparatur von Autoschlüsselanhängern und Bereitstellung von Ersatzanhänger
Befestigung eines entfernten Autoschlüsselanhängers
Reparieren eines defekten / beschädigten Transponderschlüssels
Bereitstellung eines Ersatztransponderschlüssels
Befestigung eines defekten oder beschädigten Transponderchips in der Autoschlüsselfernbedienung
Ersetzen eines verlorenen Autoschlüsselanhängers
Auto-Schlüsselanhänger neu programmieren
Wenn Sie ein leeres Schlüsselpaar online kaufen, sollte ein automatischer Schlosser in der Lage sein, diese für Sie neu zu programmieren.
Wie lange dauert es, einen neuen Mercedes-Schlüssel zu bekommen?
This depends on where you're getting your new Mercedes key from. For example, if you're purchasing a blank one online, you need to factor in how long the delivery time is, and then how long it'll take an auto locksmith to reprogram the key.
If you're going direct to a Mercedes-Benz dealership to replace your key, they may need to order the key in which could take several days, although they may give you a temporary replacement key in the meantime.
Wenn Sie einen lokalen Auto-Schlosser anrufen, kann dieser Ihnen möglicherweise eine geschätzte Zeit zum Ersetzen Ihres Schlüssels geben, wodurch Sie eine klarere Vorstellung davon erhalten, wie Sie vorgehen müssen.
An auto locksmith is most likely to be the quickest solution, as these are usually equipped to handle emergency repairs or replacements, but you should be sure that they're an experienced and qualified locksmith as Mercedes keys are specially programmed.
Warum sind Mercedes-Schlüssel so teuer?
Locksmiths and dealers usually charge a lot for key replacements simply due to supply and demand. The reality of losing your car key is that you're likely to need a replacement as soon as possible, which is why we're usually willing to pay a higher price to get the issue fixed quickly.
That said, Mercedes keys are especially expensive due to the technology they use and the expense of having to program a new key so that your new fob can unlock and start your vehicle. Keyless entries are convenient and are common in today's cars, and these increase your car's security by using rolling security codes. Mercedes-Benz was one of the first manufacturers to use this technology and even coined the term "smart key."
Therefore, it's worth bearing in mind that these mini electronic devices are extremely advanced and are equipped with circuitry and a battery – so while tiny, they are expensive due to their intricate inner-workings. The Mercedes fob can be expensive on its own, and that's before you factor in the cost of equipment and labor fees.
Wie startet man einen Mercedes mit einem toten Schlüssel?
If your Mercedes key battery has died, and you can't start your car using the START ENGINE push button, you can get into the car and start the engine manually by following these instructions, which apply to the S-Class, C-Class, GLE-Class, ML-Class, E-Class, GL-Class, SL-Class, and SLK-Class Mercedes.
Here's how to do this:
Verwenden Sie zuerst den Metallschlüssel Ihres Mercedes-Schlüsselanhänger, um die Tür manuell zu entriegeln.
Der Alarm wird ausgelöst, wenn Sie die Tür auf diese Weise öffnen. Er sollte jedoch aufhören, sobald Sie den Schlüssel in die Zündung stecken.
Entfernen Sie dazu die Start / Stopp-Taste vom Zündschloss. Sie können es schnell aus der Zündung ziehen. Die Start / Stopp-Taste wird ausgeblendet.
Next, you'll need to insert your smart key into the ignition (it'll work even if it's dead).
Drücken Sie das Bremspedal und stellen Sie sicher, dass sich das Getriebe in der Parkposition befindet.
Drehen Sie den KEYLESS-GO-Schlüssel in der Zündung, um den Motor zu starten. Lassen Sie den Schlüssel los, sobald der Motor anspringt.
Stellen Sie sicher, dass Sie die Start / Stopp-Taste des Motors speichern, damit Sie sie wieder einsetzen können, sobald Sie die Batterie in Ihrem Mercedes-Schlüsselanhänger wechseln. In der Zwischenzeit müssen Sie Ihr Auto starten, indem Sie den Schlüssel in die Zündung stecken.
Kann ich meinen Mercedes-Schlüssel verfolgen?
Nein, aber Ihr Händler kann. Sie können dann den Schlüssel deaktivieren und Ihnen eine neue elektronische Fernbedienung bestellen, die die alte für immer auslöscht.
However, if your key is stolen, it's worth replacing the mechanical locks too, even though the alarms will be set off if the robber attempts to use the mechanical key.
So in this case, it's best to replace both the mechanical locks and the electronic key just to be on the safe side. Visit your Mercedes dealer and they will sort out the process and advise you accordingly.
Kann ich meinen eigenen Autoschlüssel programmieren?
It's possible to program your own car key, however, you need to understand the technicalities of the program to be able to do this. Mercedes-Benz keys are also a lot more complex than other car keys.
You can only program the older 'Flip' Mercedes car keys. If you own a modern car that's operated with a 'smart' key then you will have to go to the Mercedes dealer or see an expert in order to be able to do this.
As we said, it's best to leave this in the hands of the experts, as the technology is incredibly complex and only a specialized auto locksmith or dealer will be able to reprogram the key for you.