MATCC Foam Cannon 3 Review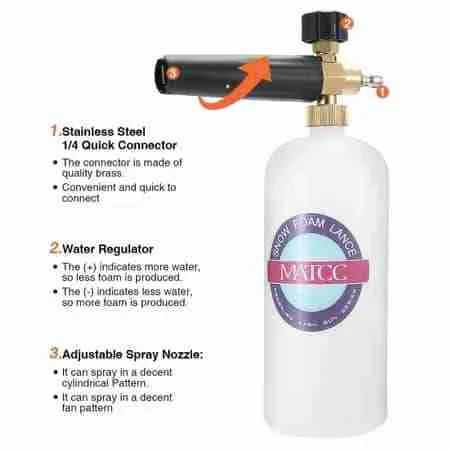 Washing a vehicle by hand can take up an entire day but it's a necessary part of vehicle maintenance. Grit and grime accumulated over the course of months can eat through the paint and lead to corrosion without you even noticing. Still, using a pressure washer is no guarantee that you'll be able to reach every nook and cranny with soap and suds. That's where a foam cannon comes in.
A foam cannon is a pressure washer attachment that produces soap and suds to help clean vehicles of grit and grime but its applications extend way beyond car detailing. One twist of a flow valve and now your pressure washer alternates between soap and water, letting you or the designated teenager do all the washing of floors, decks and whatnot with ease. There are all sorts of foam cannons out there, each with its own purpose and price point, so let's check out the caliber of MATCC Foam Cannon 3.
MATCC Foam Cannon 3 first impressions
Compared to previous versions of the same product, MATCC Foam Cannon 3 uses a thicker and heavier brass core for more durability, with emphasis on the canister neck. The most common issue with foam cannons is a janky and brittle canister neck, which tends to get damaged after heavy use. Luckily, it seems MATCC has learned its lesson and has done its homework to improve on the design of Foam Cannon 1 and 2.
All materials used in this foam cannon feel high quality and like they could last for years. The plastic is suitably thick but still allows seeing through it so you can gauge how much soap you've got left. There's a nice attention to detail from the manufacturer and it shows from the first moment it's picked up.
The canister fits the hand nicely thanks to ergonomical depressions and seems sturdy enough to survive a few accidental drops without shattering into million pieces, which is a smashing surprise. The shape of the canister plays a role in it as well, giving it the stability to sit upright and not fall over as long as it's filled with liquid, seeing how it's top-heavy. Plastic-on-plastic threading ensures the plastic won't strip, increasing the durability of the canister and the entire foam cannon assembly.
The canister has notches for a better grip and there's a rubber ring inside the foam cannon for leak-proof use. The wide neck design makes pouring soap in much easier and there are measurements on the side of the canister for figuring out how much soap is just enough. Instructions that came with the foam cannon are worth a glance at best, seeing how they're poorly translated and full of typos. Nobody reads those anyway, right?
MATCC Foam Cannon 3 specifications
Every foam cannon requires the pressure washer to have a certain gallon-per-minute (GPM) and pressure (PSI) to work. In this instance, MATCC Foam Cannon 3 requires a pressure washer capable of putting out 2 GPM and 1,400 PSI or greater pressure or it won't work as expected at certain foam valve settings.
There's an entire science behind these requirements but the gist of it is that 2,000 PSI is recommended and 3,200 PSI is the absolute maximum. Most likely, your electric power washer won't cut it but there is a workaround—using a smaller, 1.1 millimeter orifice, can help and this foam cannon already comes with one of those. One of those orifices is a couple bucks so do stock up on a few when you get the chance.
The 1.1 millimeter orifice is easily installed by taking the foam cannon apart with a wrench and using a flat-head screwdriver to take the orifice out and install the new one in. Sounds scary but it's really easy and foolproof, just look for a video tutorial online and you'll do it in no time.
Measuring 7.48 x 6.5 x 4.14 inches, MATCC Foam Cannon 3 includes the canister, ¼-inch stainless steel and brass connector and the foam adjustable sprayer. The brass connector ensures a tight fit and no loss of water pressure. The canister has a 0.2 gallon (1 liter) capacity and the best way to fill it is by filling it ⅔ warm water and then adding the soap to the brim to avoid foaming. Don't use boiling water, though, or you'll melt the insides of the foam cannon.
Stronger is obviously better, so using a stronger pressure washer it's possible to use MATCC Foam Cannon 3 to spray inaccessible spots, such as roof solar panels. At max pressure and minimal spray setting, this foam cannon can shoot suds up to 12 feet, which should be enough to avoid clambering on the roof with a sponge and a pail. Of course, make sure to use an appropriate cleaning solution.
MATCC Foam Cannon 3 first use
Choosing a pressure washer that's powerful enough is definitely the biggest secret to MATCC Foam Cannon 3's proper use. Using this product on a 1.2 GPM electric washer did not work as expected, except on the highest foam setting. The same problem occurred with a pressure washer that had a subpar PSI rating: the spray was disappointing unless the foam flow valve was turned to max foam.
To be fair, when MATCC Foam Cannon 3 is used with a good pressure washer, the foam comes out smooth, even and thick, layering the test vehicle like a cake. On a proper pressure washer, one full canister was enough for a sedan and might cut it for a smaller SUV if you loosen up the foam valve.
The foam control valve is liable to cause some confusion: "+" means more water and "-" means more foam. The valve does feel flimsy and tends to slightly turn over time due to vibrations, making you readjust it before each use. It's not a big deal but it is worth mentioning. Going full foam dishes out soap like there's no tomorrow, so do find a happy balance to cover your entire vehicle.
Seeing how it's a bit on the heavy side, MATCC Foam Cannon 3 should be used with a shorter spray wand to make it more maneuverable. The adjustable spray nozzle controls the width and height of the spray, allowing for a much more judicious use of soap. Once the stars align, it really feels amazing to use this foam cannon and the end result is just like that of a high-end foam cannon.
Foam Cannon maintenance
Using a foam cannon comes with its own gripes, in particular when it comes to maintaining the small metal parts, which are liable to corrode if not cleaned and dried properly. Like all foam cannons, MATCC Foam Cannon 3 should be taken apart, letting clean water run through it to stop soap scum from getting baked in. That's best done by taking off the canister, placing the hose in clean water and letting the whole thing run for a few seconds.
The mesh filter will eventually clog if you're using hard water. If you can, use soft water to maintain performance over time. If the rubber ring breaks, try finding a replacement at an auto shop.
There's a 1-year warranty on the foam cannon and Amazon product page states the seller responds within 24 hours during working days if there's an issue.
MATCC Foam Cannon 3 conclusion
MATCC Foam Cannon 3 is a mid-level product that's suitable for weekend use, provided you have a power washer that's got a strong enough flow and pressure to handle it. Typically, this means most electric washers aren't cut for the job unless you've got the mind of a tinkerer and are a virtuoso with a toolbox.
MATCC Foam Cannon 3 will still work with a subpar pressure washer but do expect troubles and spending a small fortune on soap. With a gas pressure washer, laying down foam is a breeze and makes MATCC Foam Cannon 3 feel like a much more expensive product. A strong pressure washer also cuts down on usage time, which extends the foam cannon's lifespan.
MATCC Foam Cannon 3 wasn't enough on its own to make a vehicle spotless; for example, it couldn't get rid of bug splatters or elbow grease. You'll still have to do some manual washing but as far as prewashing goes, this foam cannon does the job of lifting the grime and gunk off the paint perfectly. If you've got some MATCC microfiber cloths or its car wash mop, you'll make your car detailing that much easier and professional-looking.
MATCC Foam Cannon 3 is a satisfying product, mainly because all the major foam cannon pain points are well addressed, making this model exceed expectations by a large margin. This foam cannon feels like a genuine evolution of the concept, so if you can find it on sale, do grab one or two, you won't regret it.