Wie man Aufkleber von einem Autofenster entfernt - 7 einfache Möglichkeiten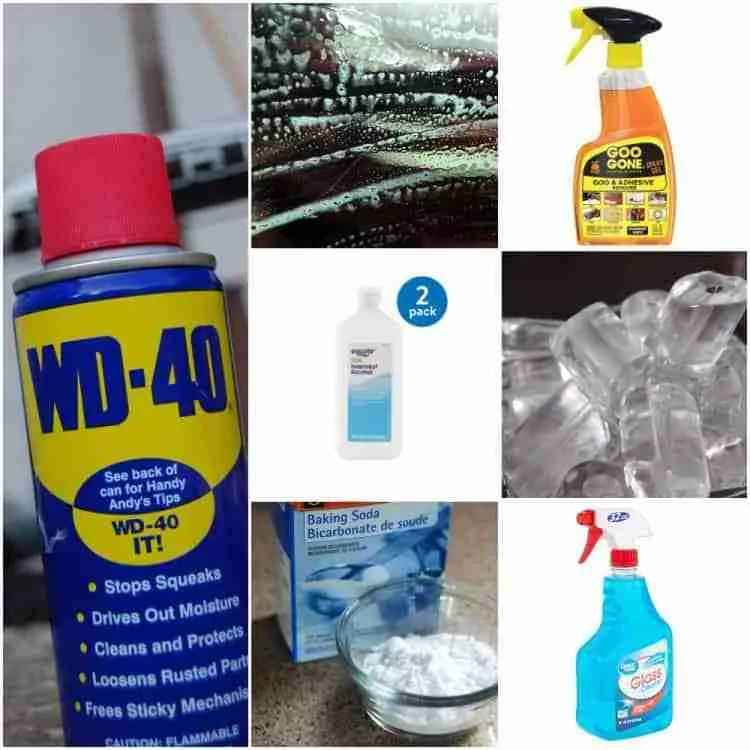 Stickers are often the bane of car owners that want to keep their windows nice and clean. Whether it's a decal from a parking lot or registration sticker, there comes a time when you want to get it off. However, this is never as easy as simply peeling the sticker off.
There's always sticky bits left behind and this doesn't include the adhesive residue. If you're tired of old stickers on your vehicles windows but don't want to spend hours scrubbing, here are a few tips on how to get stickers off a car window.
7 einfache Möglichkeiten zum Entfernen von Aufklebern von Autofenstern
You don't have to break out a sharp-edge scrapper or a powerful pressure washer. The adhesive on the stickers might seem stronger than cement but there are a few simple tricks that will get them off.
Fensterputzer
It will take something stronger than the glass cleaner you use on bathroom mirrors. You'll need a sudsy or foaming agent in the cleaner. You can find a few brands at most local auto parts stores and even in some drugstores if they have an automotive section.
Der Grund, warum Sie einen Reinigungsmittel-Fensterreiniger verwenden möchten, besteht darin, den starken Klebstoff abzubauen. Seifen Sie den Aufkleber und die Umgebung einfach mit einem Schwamm oder einem sauberen Lappen ab. Nach einigen Minuten sollte der Aufkleber nach unten rutschen. Wenn Klebstoff zurückbleibt, kratzen Sie ihn vorsichtig ab, ohne das Glas zu zerkratzen.
Denaturierter (Reib-) Alkohol
Sometimes detergent won't be enough to get stubborn stickers off. Soaking a paper towel in rubbing alcohol and wiping it across the sticker will loosen the adhesive making the sticker slide and peel off. You will need to soak the entire decal if you don't want to spend time scrapping away at the sticker.
Nach dem Entfernen des Aufklebers können noch kleine Rückstände vorhanden sein. Sie können eine Rasierklinge verwenden, um den verbleibenden Kleber vorsichtig zu entfernen.
Versuchen Sie es mit Goo Gone
Eltern mit kleinen Kindern verwenden diese ungiftige Chemikalie oft, um verschiedene Aufkleber zu entfernen. Kleinkinder lieben es, sich an fast jeder Oberfläche zu befestigen. Das Produkt verschlechtert den Klebstoff, sodass Sie den Aufkleber abziehen können, ohne die Oberfläche zu beschädigen, auf der er aufgeklebt wurde.
It takes a few minutes for the chemical to work but when it does, all of the adhesive gunk is usually gone. All that's left is to wipe away the smear on the car window.
Verwenden Sie Eis
If you don't have an ice-pack in your freezer, you can easily make one. Just take some ice cubes and place them in a sealed sandwich bag. Place the ice-pack on the sticker, depending on its location on the window you might need to hold it in place for 5 – 6 minutes.
Wenn der Aufkleber kalt ist, entfernen Sie ihn vorsichtig mit einer Rasierklinge vom Fenster.
Sprühen Sie WD-40
Fast jedes Haus oder jede Garage enthält eine Dose WD-40. Während es giftig ist, können die chemischen Komponenten alles in Angriff nehmen, vom Entfernen von Rost bis zum Befestigen quietschender Scharniere. WD-40 kann auch zum Entfernen von Aufklebern und Abziehbildern von Autofenstern verwendet werden.
Spray the compound on the sticker, let it sit for a couple of minutes, and then wipe the sticker and adhesive residue off. Most of the time, you won't need to scrape any residue off.
Seife und heißes Wasser
The water doesn't have to be boiling but it does need to be hot. Mix the hot water with a small amount of liquid soap in a spray bottle. Spray the sticker with the mixture a few times to ensure its thoroughly soaked.
Überprüfen Sie den Aufkleber weiter, um festzustellen, ob sich der Klebstoff löst, und ziehen Sie ihn ab.
Backsoda
There are multiple uses for baking soda that include helping remove stickers from windows and windshields. Take a ½ cup of cooking oil, brand name doesn't matter and pour in a small amount of baking soda. Take a clean paper towel and apply the mixture to the sticker until you can peel it off with your fingers.
You will need to wipe the window down with glass cleaner to remove the oil and any other residue. If you're looking for a non-toxic and budget-friendly way to take-off old stickers, this is one of the best methods.
So entfernen Sie Aufkleber von getönten Autofenstern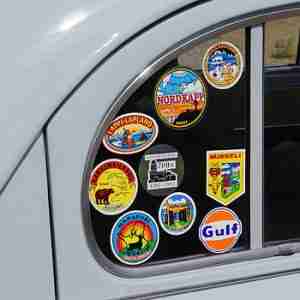 Even if your vehicle's windows are tinted it doesn't mean that you're stuck with an old sticker. You can remove it without ruining the tint. Here are a few tips that will help.
Stellen Sie sicher, dass das Autofenster sauber ist.
Verwenden Sie warmes Wasser und einen Seifenschwamm, um den Aufkleber abzuweichen.
Wenn der Aufkleber hartnäckig ist, muss möglicherweise auch ein Entfetter wie WD-40 angewendet werden.
Verwenden Sie einen Plastikspatel, den Rand einer Kredit- / Debitkarte oder einen Glasschaber, um den Klebstoff zu entfernen.
Waschen und wischen Sie das Fenster sauber.
To ensure that you don't accidentally scrape the tint away along with the sticker try to avoid using razor blades or other sharp-edged metal scrappers. The best advice is to keep applying the soapy water and degreaser until you can peel the sticker off.
Fazit
It's extremely rare to see a vehicle without at least one sticker on the window. Whether it's a pass for the toll roads, emissions inspection/registration sticker, or one for your parking garage, at some point you'll want to take it off.
Even if your vehicle windows are tinted, it's still possible to safely remove stickers. Just remember to not use anything that could scratch the tint. With a little bit of elbow grease and some common household cleaners, you can get a clear sticker-free view out your car windows again.