Tesla vs Hellcat: Which Car Is Better? Tips New 2022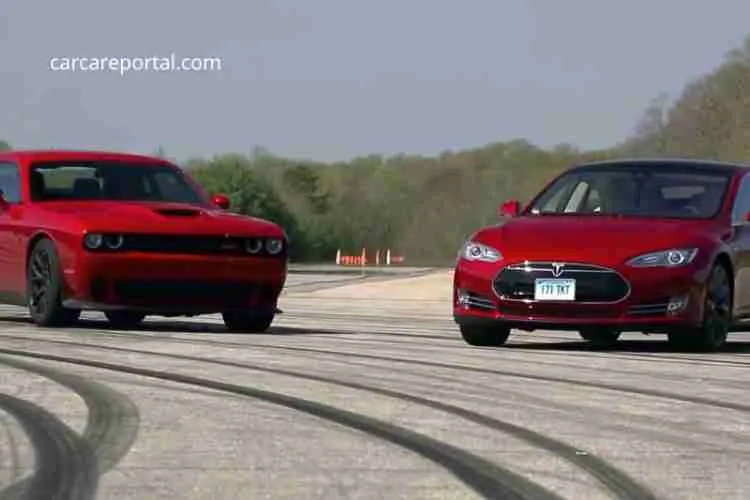 The Tesla Model S is one of the most popular cars on the market. It is good for its price point, high performance, and comfortable. The Hellcat is a different type of car, made for racing and it is seen as one of the best cars in the world. This is the content that is going to ask the question "Tesla vs Hellcat: Which Car Is Better?"
What is Dodge Challenger Hellcat?
The Hellcat is not just any car; it's one of the most powerful muscle cars ever produced, and the Hellcat engine was one of the most powerful engines to be fitted in a muscle car.
The Hellcat engine initially came in the Dodge Challenger SRT and the Charger for the 2015 model year. The initial generation featured a massive 707hp engine, and the tradition continues in the 2021 Challenger SRT Hellcat.
It developed into the meanest machine year after year. The heart of this big-bodied Dodge coupe is a supercharged 6.2-liter V-8 Hemi engine. The Hellcat engine now comes in three carefully-crafted potencies: 717, 797, and 807 horsepower.
The Hellcat Redeye delivers a powerful 797hp for strength and sports a vast body for added flare. It is billed as one of the world's fastest mass-produced sedans.
The new Challenger Super Stock Model boasts a supercharged 807hp 6.2-liter Hemi High Output engine, one of the highest in any production automobile. The 6.2 Hellcat is a supercharged V8 engine producing 707hp at 6,000 RPM and 600 pound-ft of torque at 4800 RPM.
When it was released in 2015, this was Chrysler Group's most potent production automobile. The Hellcat was offered an 8-speed automatic or 6-speed manual transmission. The Challenger range progressed from the basic V6 (with capacities ranging from 250 to 303 horsepower) to the most potent V8 (from 425 to 807 hp).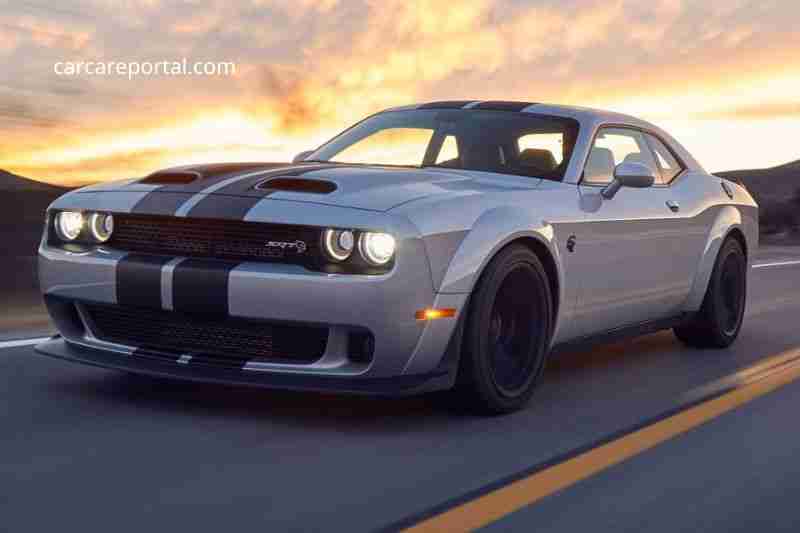 What is Tesla Model S?
The Tesla Model is an all-electric, super-fast car manufactured by Tesla that was unveiled in 2012 and had a significant redesign in 2021.
The Model S is the most powerful and longest-lasting electric car yet built. It is low and sleek, and its aerodynamic form allows it to travel quickly and gracefully on the road. It was the best-selling plug-in electric vehicle in the world in 2015 and 2016.
The Model S is an agile sports sedan that is an incredible wonder of automotive engineering. Depending on the trim, it can go up to 412 miles on a single charge while offering blistering acceleration that matches some of the world's top supercars.
Tesla takes it up a level for 2021 with its new top-spec variation, the Tesla Model S Plaid, which is an incredible wonder and is especially noted for its speed. It generates a whopping 1020 hp from three onboard electric motors and has an official top speed of 200 mph.
The Plaid can accelerate from 0 to 60 mph in just 2 seconds. Tesla believes this is the first production vehicle to attain that milestone. It can go up to 390 miles on a single charge, which is insane, but its six-figure asking price is way too much for a family car.
Tesla vs Hellcat
The Tesla Model S and Dodge Hellcat are both power performers for their makers. Each vehicle has a large amount of horsepower, allowing it to attain incredible speeds in a short period. These are some of the quickest four-door cars you will find on roads and highways.
While the Tesla Model S preserves Tesla Motors' clean and modern look, the Dodge Hellcat is a nostalgic tribute to what muscle vehicles have come from. It's like gazing forward and back while updating the main components.
These cars have been tested several times, and they cannot determine who will be the winner. The Tesla Model S won the first trial match by.022 seconds, while the Dodge Hellcat won the second by.094 seconds.
Because this is the basis for a rivalry, examining the car specs before passing judgment is prudent.
1. Trim Models
Trim models seem more concerned with cosmetic appearance, although several performance and aesthetic variations exist between the two vehicles.
There are two levels of Tesla's Model S:
Long Distance (base model)
Plaid
The Dodge Hellcat is available in five distinct trim levels:
Hellcat SRT
SRT Hellcat Widebody
Hellcat Redeye SRT
SRT Hellcat Redeye Widebody
Super Stock SRT
While six versions are mentioned, this article focuses on the Tesla Model S Long Range and the Dodge SRT Hellcat Widebody specs. These vehicles are comparable to the general population without deviating too far from the typical four-door sedan.
2. Power and Performance
Given that this is a battle of titans, it only seems sensible to start with the heavy guns.
The Tesla and the Hellcat both claim all-wheel drive systems, but their power sources are radically different beyond that.
Tesla Model S Long Range
The Tesla boasts a one-of-a-kind two-motor system (tri-motor with the Plaid) that lets one motor drive the front axle while the other controls the back. This enables continuous all-wheel drive operation.
With these motors, you also get quick power delivery. This is why, despite rumors about its power, the Tesla Model S can accelerate to 60 mph quicker than competing automobiles.
The Model S has two distinct settings that enable the driver to pick between a more complex or mild steering effort, yet neither provides you more input from the road. This is usually an advantage, although more conventional drivers will miss being able to feel the terrain they are ripping through.
Overall, Tesla's handling will be suitable for the power it produces. Everything performs in sync, providing an excellent experience whether you are cruising along or striving to cross a finish line.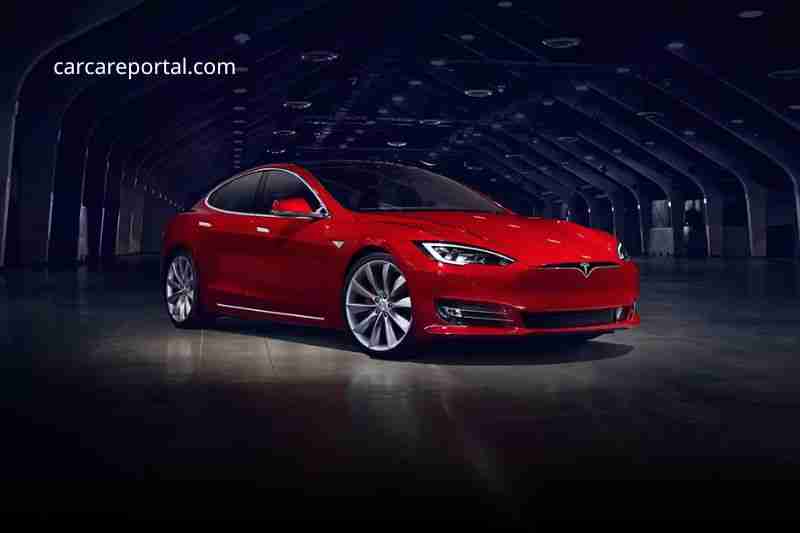 Dodge SRT Hellcat Widebody
With Dodge's Hellcat, you may anticipate an experience better connected to typical performance automobiles.
There are many reasons why this gas-powered performance workhorse might be replaced by an electric vehicle:
The Hellcat does not start as smoothly as the Tesla.
Instead, you charge forward with a roar of strength, giving up a chunk of your actual speed to that mutter.
A lot will claim that, with the correct tires, the Hellcat will surpass the Tesla every time. This is due to the Hellcat's more critical requirement for traction, which performs better when it does.
The Hellcat is speedy in a straight line and handles well on twists and curves. All you have to do is keep your attention on steering and slowing. Otherwise, all that force will flip the vehicle.
The Widebody trim model is suggested since it is much simpler to turn. Handling at high speeds may still need greater concentration, and the electrically assisted power steering may respond slower than desired.
3. Fuel Economy
This is the most noticeable difference between the Tesla Model S and the Dodge Hellcat.
On the one side, you have a high-end car from a business that solely manufactures electric vehicles.
On the other hand, it results from decades of sheer power and performance.
These differences place the Model S and the Hellcat on distinct playing grounds.
Tesla Model S Long Range
The Tesla Model S has a battery pack that is precisely placed to decrease the vehicle's center of gravity. It is also designed to transfer weight uniformly from the front to the back of the car, which is vital for both range and safety.
Regarding fuel efficiency, the Tesla Model S still has a better range than a gas car. With the Long Range, a single charge will get you around 412 miles (but only about 390 with the Plaid).
In terms of miles per gallon, this translates to 121 mpg on city streets and 112 mpg on highways. That is far more efficient than gasoline automobiles.
Dodge SRT Hellcat Widebody
The Dodge Hellcat may be visually appealing, but its fuel efficiency suffers. In an era when rival sedans tout fuel efficiency over 30 miles per gallon, the Hellcat manages just 13 city miles per gallon and 20 highway miles per gallon.
This means that the Hellcat's 18.5-gallon tank would only bring you roughly 240 miles when fully charged.
Even for a muscle vehicle, it is relatively low, but most Hellcat enthusiasts are already aware of its performance.
4. Interior Design
Both Tesla and Dodge have gone a long way from their previous conceptions of luxury, but none seems to match the needs of luxury-specific clients like BMW or Audi.
Nonetheless, their interior designs are nothing to be ashamed of. Getting inside a Tesla Model S or a Dodge Hellcat is a unique sensation.
Tesla Model S Long Range
The biggest problem with the Tesla Model S's interior is that it falls short of expectations, given the price point. While everything is lovely and sleek, there is a lack of plush, excessively opulent luxury appeal.
On the other hand, Tesla did an excellent job constructing a car with plenty of storage space.
The slanted roofline conceals the rear liftgate, resulting in a more seamless look.
You have 26 cubic feet of storage space in the trunk. The car has additional cubby storage, particularly in the rear seat.
If this isn't enough, or if you need to keep specific stuff hidden, there's also an enormous underfloor container in the rear cargo area. This is useful for transporting emergency supplies without the danger of them becoming projectiles in an accident.
Dodge SRT Hellcat Widebody
The Hellcat's interior design has not been altered since 2015. Thus it may be overdue. There are some particular issues about the quality of plastic components in the car, although these are more about their look rather than their function.
The Dodge Hellcat is more spacious than it seems, but it only has 17 cubic feet of cargo space. This is not a car to load up with bags, but it should be enough for a weekend excursion or daily driving.
The Hellcat's console bin does provide some respite. Consoles can make or break a car, so it's nice to know that this isn't a waste of space between the front seats. You'll be able to keep a lot in your hand, and there's a handy small notch to hold your smartphone.
5. Infotainment Center
The infotainment systems of the Tesla Model S and the Dodge Hellcat are designed differently.
The Tesla system is an integral aspect of the car design and strives for uniformity across all vehicle types.
The Dodge Hellcat has a more classic look but a dated charm.
Tesla Model S Long Range
Like every Tesla car, the Model S has a simple design for its infotainment system. The screen is big enough to cover a wide range of functions, which is necessary since everything in the car is linked.
When accessing icons on the top right of the screen, drivers with shorter reach may have a problem, although this is generally rectified with seat arrangement.
The Model S does include a secondary screen that displays the instrument cluster, and a tiny touchpad in the back seat connects everything.
Dodge SRT Hellcat Widebody
Dodge's Uconnect infotainment system takes a more recognized approach to the vehicle's console area.
This system consists of:
Navigation
Stereo
Apple CarPlay and Android Auto are also available.
The last aspect distinguishes them from Tesla's products. Despite Tesla's technical prowess, there is no way to put Apple CarPlay or Android Auto into their cars.
The 8.4-inch touch screen is big enough to properly show the information you want while not being so huge that it is difficult to navigate. You'll still have fail-safes like volume and tuning knobs, which add to the muscle car's nostalgia.
6. Safety Features
As more automobiles enter the road, safety has become a big problem. Consumers are fully aware of technology developments in car safety, and they anticipate that newer models will have some protection or driver aid to reduce driving stress and the likelihood of accidents.
The Tesla Model S and the Dodge Hellcat will fulfill the fundamental safety requirements, but Tesla stands out due to its enhanced driver aid features.
Tesla Model S Long Range
A significant source of anxiety about Tesla cars and safety is several incidents of the Model S catching fire following high-speed crashes, but safety experts guarantee that post-collision flames are prevalent in all vehicles, and the Model S occurrences are nothing out of the ordinary.
Tesla provides several semi-autonomous driving technologies that reduce stress and driver mistakes by limiting the driver's engagement. These are as follows:
Autopilot functions
Lane departure alerts
Cruise control with adaptive settings
The intriguing thing about Tesla is that most of their cars' safety measures are standard. Many manufacturers, including Dodge, offer them as optional extras that you may pay for.
Dodge SRT Hellcat Widebody
The Dodge SRT Hellcat has not been entirely crash-tested, and the results of the tests performed have been less than anticipated. Muscle vehicles are typical, but it distinguishes the Hellcat from the Model S's family-friendly safety requirements.
The Hellcat has standard driver-assist systems like rear parking sensors, although they are not comprehensive. The Hellcat keeps these qualities so that rivals do not outperform it.
You have a variety of premium features to choose from. The following are the most popular features that customers will pay for:
Monitoring for blind spots
Forward collision alert
Cruise control with adaptive settings
Because these features are standard on the Model S, you can't help but notice the Hellcat. This is when the $12,000 price gap begins to disappear.
7. Warranties
The Tesla Model S and the Dodge Hellcat provide adequate coverage for mechanical or electrical issues, but neither manufacturer provides a comprehensive maintenance program.
This may not be a problem with Tesla's electric engine since it does not need frequent fluid changes covered by a maintenance package, but the Hellcat's absence of a maintenance package means you will be more responsible for maintaining your car to avoid voiding any warranties.
Tesla Model S Long Range
The Tesla Model S Long Range has a comprehensive warranty covering its engine and hybrid components. This, however, does not address classic bumper-to-bumper concerns.
Teslas are recognized for their dependability and high standards, so picking one over a lower-tier manufacturer, regardless of bumper-to-bumper coverage, may be an easier option.
Overall, you may anticipate:
The four-year or 50,000-mile limited warranty
The powertrain warranty will last eight years with no mileage limit.
The powertrain warranty is particularly appealing. Most manufacturers typically incorporate mileage limits to prevent the possibility that someone may outdrive their car warranty, but Tesla is confident in the Model S's capacity to withstand extended usage, concentrating instead on the vehicle's age.
Dodge SRT Hellcat Widebody
The warranties provided by the Dodge SRT Hellcat are comparable to those provided by most domestic competitors, although they lack some of the protections provided by premium manufacturers such as BMW or Porsche.
Because you are most likely not purchasing the muscle vehicle for the sake of luxury, the standard warranties should suffice.
The Dodge SRT comes with the following features:
A three-year or 36,000-mile limited warranty is available.
Powertrain coverage for five years or 60,000 miles
These intervals are far shorter than those provided by the Model S, but they seem normal for most other rivals. This limited warranty is appropriate if you do not initially put a lot of kilometers on the car.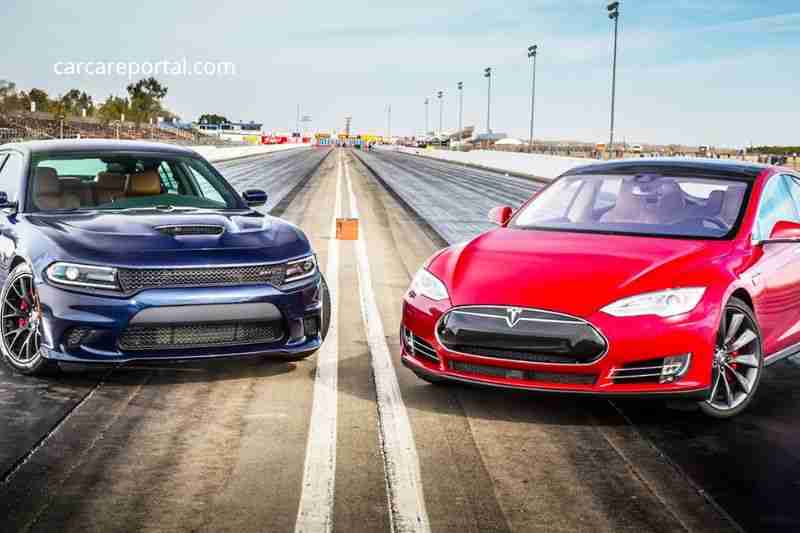 Is a Tesla more powerful than a Hellcat?
The Tesla Model S can accelerate from 0 to 60 mph in less than two seconds, making it one of the quickest electric cars on the market. Tesla is unquestionably faster than the Hellcat.
FAQs
1. What vehicle can compete with a Tesla?
According to some accounts, a highly modified Ford Mustang Shelby GT500 has beaten the Tesla Model S in drag racing with a spectacular 0-60 mph time of 1.99 seconds.
2. Can Tesla defeat the Dodge Demon?
The Tesla Model S outperforms the Dodge Demon, with over 1,000 horsepower and quick torque delivery. However, the Demon is said to have reached 211 mph, which is faster than the Tesla Model S.
3. Is the Dodge Demon faster than the Tesla Model S?
The Dodge Demon is not faster than the Tesla Model S. The Tesla Roadster outperforms the competition in terms of acceleration, range, and performance. It has a 0-60 mph timing of 1.99 seconds and a peak speed of 250 mph, making it an engineering wonder.
Conclusion
The Tesla Model S has earned the right to be compared and discussed with other performance automobiles, albeit the Dodge Hellcat puts up a fight.
This conflict is mostly about personal taste. Tesla's performance is constantly improving, and when updates are released for their cars, you might notice a performance improvement, even on older models.
However, this will never replace the visceral attraction of a muscle vehicle that the Hellcat has, and it is unlikely that it ever will. There's something unbeatable about the engine's rumbling just before the car is released.
Read also: