The Best Booster Seats for Tesla Model S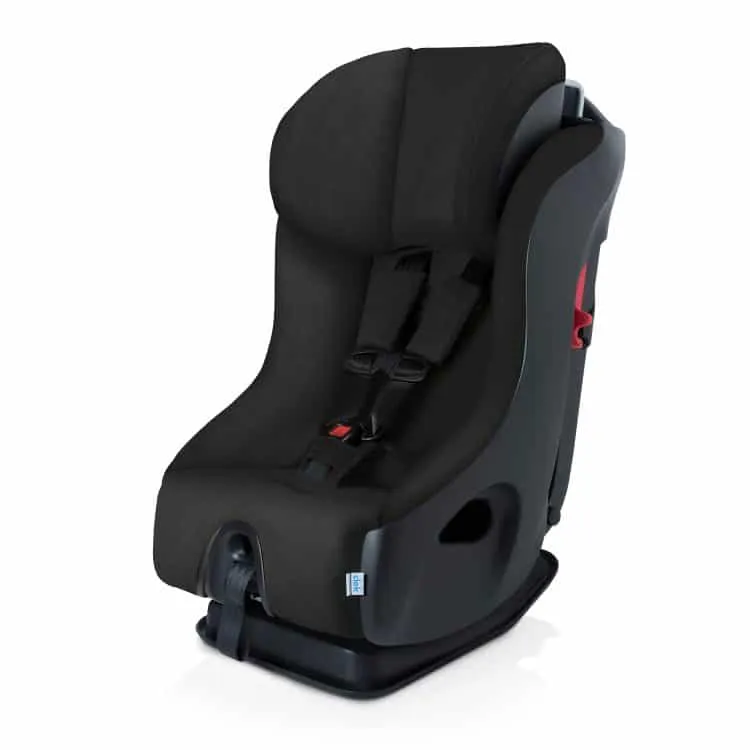 Introduction
The Tesla Model S is quite the car! It has a number of technological innovations that make driving interesting and fun, and it's one of the best "Green" vehicles many families can afford.
But for all its advantages, the Tesla Model S often makes installing booster seats rather difficult. Thanks to the locations of its anchors, certain booster seats won't work with the Model S no matter how much you struggle and try to bend the materials together. Finding the right booster seat, therefore, is a matter of practicality and necessity.
We've done the appropriate research so you don't have to. In this guide, you'll find five different booster seats that are all capable of being installed in a Tesla Model S, plus some suggestions for finding the right booster seat for your needs. Let's get started.
The Best Booster Seats
Clek Floonf Rigid Latch Convertible Baby and Toddler Car Seat
This convertible car seat is narrow enough to allow for three of the same model to fit side-by-side in a standard Tesla Model S. It's much more upright than many other competitor booster seats, so it could be an advantageous buy if your child needs some posture assistance for medical reasons. Such a straight back also makes it much easier for you and your kid to communicate, even if they are backward-facing.
The seat has been tailored in a special fabric that provides permanent protection from stains and moisture damage, as well as odor-causing bacteria. This helps keep the seat clean, even if your kids spill various food or drink items on your journeys. You can also initiate the included smooth reclining function if this will improve the comfort of your child.
It's also one of the better seats you can purchase in terms of sheer protective capability. It can hold up to 50 pounds easily and is installed with a steel anti-rebound frame to prevent bouncing or shaking in the event of an accident. The energy-absorbing foam helps reduce the shock of impact even further and the adjustable headrest is designed to provide optimal side to side impact protection.
Pros:
Easy to install
Very structurally sound
Headrest is excellent
Cons:
The seat cover cannot be removed for cleaning
Chicco KeyFit 30 Infant Car Seat
This car seat is perfectly sized for infant children, as it can handle up to 30 inches or 30 pounds perfectly well. This does limit its long-term use, especially since many kids grow up quite quickly. But there's not much better for younger children for their first car rides.
The seat is equipped with a spring-loaded leveling foot to help you install the seat easily and ensure that the initial angle is appropriate. There are level indicators that use air bubbles on either side of the seat to let you know if the booster is angled correctly. A SuperCinch tightener also makes installation easier on your part.
The body support and head supports are both designed to provide optimal comfort and protection for small infants. These are nicely padded and soft enough to help your little one nap often. This padding is bolstered by energy-absorbing foam and an adjustable and removable canopy to provide shade and shelter.
Another added benefit to the seat is that the base remains in the car but you can "unclick" the larger carrier basket and click it into an appropriate stroller. Transferring your baby from car to stroller has never been more convenient.
Pros:
Very comfortable for the child
Easy to install and remove the seat
Good protective materials
Cons:
Limited time for use; kids outgrow it quickly
Diono Radian 3RXT All-in-One Convertible Car Seat
This car seat features a powerful, integrated steel frame. It can protect infants and children up to 120 pounds thanks to its convertibility from infant carrier to booster seat. This flexibility in size and weight protection means that you can continue to use the same seat all throughout your child's development until they are ready to forgo the booster entirely.
Despite its larger size, it's optimized to allow for three Radians to sit side-by-side in a Tesla Model S. It features an adjustable headrest that can switch between 12 different positions. The seat is improved even further with memory foam material to keep things comfortable but protective; there are also aluminum siding walls lined with energy-absorbing foam.
The seat also has an easily removable plush-knit, machine washable fabric. Any spills or messes you encounter can be taken care of outside the car thanks to its remove ability. Both this fabric and the tailored infant support cushions included with the purchase can be folded up for better storage options or lighter moving.
Installing the seat is manageable for most thanks to its simple but effective locking indicator connector system with five shoulder and three buckle positions. A non-slip rubber base helps you achieve optimal balance and the right angle for maximum protection. Overall, this is an excellent seat that can last you for years to come, but it has a higher asking price than many other boosters as a result.
Pros:
Can work for kids from infancy to several years of age
Adjustable headrest and removable cover
Very good protective materials
Cons:
Graco Contender 65 Convertible Car Seat
This convertible car seat can go from its infant protection variant, with which it can hold up to 40 pounds, to its toddler protection variant, with which it can hold up to 65 pounds.
Both variants use a harness adjustment system that is safe and simple to initialize with only one hand. This can be particularly helpful if you have multiple booster seats lined up in a row and need to adjust one. This harness system is robust and durable and has been tested for occupant retention to ensure the safety of any child in the booster.
The headrest can be adjusted between eight different positions to provide comfort and protection even as your child grows. The head and body support pads, as well as the main seat pad, can be removed for washing and cleaning at your convenience. Beneath these pads, you'll see energy-absorbing foam to improve protection even further.
There's an included cupholder on the right-hand side of the seat. Your child can keep their sippy cup or snacks in this compartment and it doesn't compromise the integrity of the seat's frame as a whole.
Even better, this seat is fairly affordable, especially compared to its competitor boosters. Purchasing a few of these for a growing family is a much more feasible option than with the most expensive boosters we've looked at so far.
Pros:
Has a cup compartment
Easy to adjust harnesses with one hand
Cushions/padding are removable for cleaning
Cons:
Anchor hooks are not push-to-release, requiring some effort on your part
Maxi-Cosi Rodifix Booster Car Seat
Finally, this booster seat can support up to 120 pounds and 57 inches of growth. That's a lot of room for a toddler growing into a nicely sized child. He uses premium cushioning so that your kid is totally comfortable even on the longest of car rides, and the pad is easily removable so you can machine wash it. You can also throw it in a machine dryer without harming the material.
There are rigid connectors on either side to allow you to install the booster seat with a minimum of effort. They are also sturdy and durable enough to ensure that the seat remains stable even in the event of an accident. Both sides use Air Protect technology to reduce the effect of possible impacts.
The headrest can be set to multiple different heights to account for your child's rapid growth, and the side wings can be expanded as they get bigger, as well. Kids can buckle themselves and with locking shoulder belt guides as they can handle more responsibility, too.
The seat can also recline to a short degree, as well, which can add more comfort options as your kid's legs get longer and they require more room.
Pros:
Very comfortable
Well-sized and adjustable for a growing child
Has air-cushioning impact protectors on all sides
Cons:
Buying Guide
When you're checking out various booster seats of trying to determine the right one for your child, consider the following major factors before deciding on a final purchase.
Size/Weight Capacity
Some booster seats are designed for infants, while others can take kids of various sizes and shapes. Others are designed to carry infants, then transform into true booster seats once your kid reaches the appropriate size.
In general, seats that can hold smaller and larger children are worth more in terms of value for money since your kid won't outgrow the seat quite as quickly. On the other hand, you can often find booster seats that are specialized for smaller or larger children that might have more specific perks or amenities.
Overall, the right answer for you will depend on your situation and the age and size of your child. Just consider how much weight your ideal booster seat needs to hold before buying.
Material
The material of your booster seat matters a lot when it comes to protection. You can get plenty of booster seats that are made of regular durable plastic, and these will provide decent protection in the event of an accident.
But if you want the absolute best protection possible for your kid, you'll want to get something that has a steel or otherwise metal frame. These car seats retain their structural integrity and keep your kid from being jostled or bumped around as much in an accident. Metal frames usually make the booster seat weigh more, but they also tend to last for much longer since their outer material doesn't degrade as easily as plastic.
In addition, check to see if a given booster seat has memory foam or energy-absorbing foam of some kind. These materials are great for reducing the possible damage an accident can do, while also maintaining some a good comfort level for your child.
Adjustability
Some booster seats can be reclined to some degree, which can help improve the comfort of the seat or give your child some more space as their legs grow out. Adjustable booster seats may also let you tinker with the height or position of the headrest. Both of these aspects can let you continue to use the booster seat even if your kid gets a little big for it.
Adjustable headrests are particularly desirable since these pieces of a booster seat are directly responsible for protecting your child's vulnerable neck and head area. Adjustable headrests can be snugly positions for the best possible protection and comfort, although this feature usually adds a little more to the total price of a seat.
Comfort
Finally, don't neglect the comfort of a booster seat. This matters much more for infants, since they'll presumably be napping a lot more frequently than a toddler and will voice their discomfort much more liberally. But cover matters for all kids, especially if you plan to take them on long car rides relatively frequently.
Kids will also be a lot better about getting into a booster seat at a enjoy relaxing in. They'll fight you and dislike car rides and booster seats in general if they have to be strapped into an uncomfortable chair every day.
Try to find booster seats that have soft cushions or covers that can make their experience more enjoyable. To add benefit for you, see if you can find a booster seat with removable cushions or covers since these are much more easy to clean, and we all know how often kids love to make messes inside cars!
Conclusion
Overall, the right booster seat for your needs may not be the one with the best overall reviews or the highest price. It all depends on your individual situation and the needs of your child. But hopefully, this guide has given you some great ideas for booster seats and some information to narrow down your search. Good luck and thanks for reading!