CarPro CQuartz Ceramic Coating Kit Review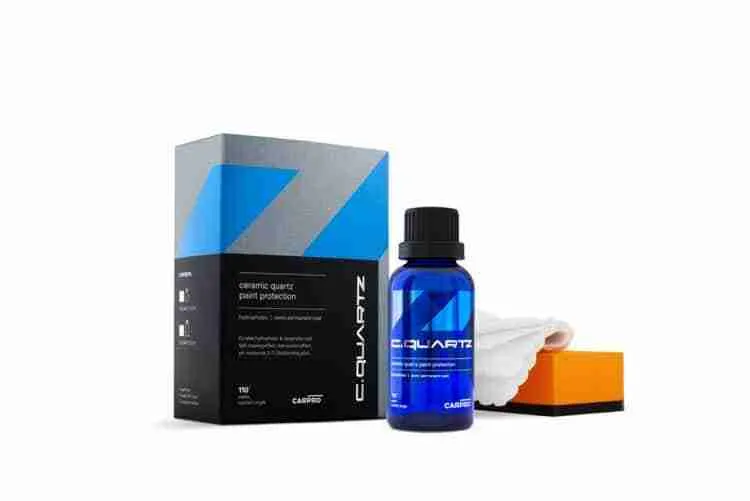 Ceramic coating is one of the best ways to offer protection for your car's paint while making the car look better than the day you bought it. Not only does a ceramic coating protect your car's paint like nothing else, but you'll also get that mirror finish that your car had the day it was bought off the lot.
There are hundreds and hundreds of options when it comes to car care products and even just ceramic coatings, so it can be difficult to narrow down the best options so that you can find one for your car that you can trust to get the job done. In this article, we'll review the CarPro CQuartz 50 mL Ceramic Coating Kit and take a look and what it is, the features it has, and what those who have bought the kit have to say about it.
Features and Benefits of CQuartz Ceramic Coating
The CQuartz ceramic coating kit makes adding a ceramic coating to your vehicle simple while still offering the benefits of having a professional detailer do the work for you. To learn more about what makes the CQuartz coating such a great product, let's take a look at some of the main features that you get when you purchase this kit.
Ultra-Hard Nano Coating Protects Your Vehicle
The beauty of ceramic coating, in general, is the coating's ability to bond with the vehicle's paint and form an incredibly hard and durable coating. This is all thanks to the chemistry behind ceramic coatings. With the CQuartz kit, your coating will contain ceramic nanoparticles, which are inorganic particles made up of tiny ceramic bits that can bond with the paint on your car.
Once the nanoparticles bond together and with your car's paint, it forms a protective layer around the paint that is super-hard due to the bonding going on at the chemical layer. When you hear ceramic you might think glass, which should give you an idea of how hard the protective layer is. Not only is it hard, but it's also designed to withstand the elements and protect your car's paint from a variety of weather. The CarPro CQuartz ceramic coating finish kit will protect the paint on your car from rain, sunlight, salt, pollen, and more.
Best Looking Finish Your Car Can Get
Due to the CQuartz agent's composition of tiny glass-like nanoparticles, the resulting coating is a deep, high-gloss, reflective finish that will turn heads no matter where you go. Remember the feeling you got the first time you saw your dream car sitting on the showroom floor? That gorgeous shine and amazing reflection? That's what you get with a ceramic coating from CarPro CQuartz's coating kit.
Not only is the coating itself amazing to look at, it actually prevents your car from getting dirty nearly as easily as normal. Even though everyone would like to think so, the paint on most cars is not perfect. Any minuscule imperfections in your paint, even if you can't see them, will be filled in with the tiny ceramic nanoparticles as you apply the coating. This will make it harder for dirt and water particles to stick to your car. That's why you'll see water rolling right off of vehicles with a ceramic coating, it just can't stick to your car anymore!
50 mL Is Enough To Do Your Whole Vehicle
One of the issues that can crop up when using a ceramic coating on your vehicle is running out of the coating due to the small bottle that it comes in. Thankfully with the CarPro CQuartz ceramic coating kit comes with a large 50 mL bottle of the stuff to ensure that you can do your whole vehicle. Whether you're working on a coupe, sedan, SUV, or even pickup truck, you can rest assured knowing that you won't run out of the product while giving your vehicle that shine it deserves.
By "enough to do your whole vehicle", we mean there's enough to do your whole vehicle. The great thing about high-quality ceramic coatings, such as CarPro CQuarts kit, you can apply the protection to every bit of exterior on your car, although they do recommend not using it on the windows. But you can apply the coating on your paint, headlights, taillights, wheels, and even brake calipers to protect them from the elements and keep your car looking brand new for months on end.
Long-Lasting Formula
CarPro engineered their CQuartz ceramic coating to be durable and long-lasting so you can apply it sparingly and still have the great benefits as if the product was just installed yesterday. The coating was formulated to be detergent-resistant, meaning it cannot be removed by water, alkaline solutions, or other types of detergents.
This means that the CQuartz ceramic coating can last not one but two years between applications! Many ceramic coatings have a lifespan on one year, so you'll only need to apply your CQuartz coating to your car half as often and still have the same level of protection that other products on the market offer.
Easy To Use
With the CarPro CQuartz ceramic coating kit, you get everything you need to apply the coating yourself and get the professional-level shine and protection that you would pay hundreds for if you took your car somewhere to have it applied. The kit includes 50 mL of the CQuartz coating, an applicator, and five suede microfiber cloths.
Once you get your kit and are ready to add the protection and shine that CQuartz ceramic coating offers, it's a simple process that anyone can do. Be sure to read the included instructions with your kit, but the main steps of the process include:
Completely wash your car and let it fully dry before applying the ceramic coating.
Shake the CQuartz coating well and apply a few small droplets to the microfiber applicator pad.
Apply the coating in straight lines and criss-cross each car panel for complete coverage.
Buff off the coating as soon as it flashes, typically only a 1-5 minute wait. Be thorough during this step and make sure you remove all residue.
Switch out the suede microfiber every couple of panels to prevent crystalized particles on the cloth from damaging your finish.
Repeat this process until the entire vehicle is finished. Additional coats may be applied within 45-60 minutes, or the following day.
Let dry for 1-3 hours after the final coat, before driving. It will fully cure within 48 hours.
It's that easy. It'll only take you a couple of hours from the time you start washing your car beforehand until you're finished making your car look brand new again.
What CQuartz Users Are Saying About It
Now that you know about how ceramic coatings work and what benefits and features you'll get when you purchase CarPro CQuartz, let's take a look at what the people that have bought and used the product are saying about it. After all, a company can tout all of the features that their product offers all they want, but what really matters is how people that buy the product feel about it.
The most commonly recurring thing that people who use the CQuartz coating keep going back to is the incredible look and cleanliness that comes with the coating. Users say that the product looks as good months later as it did the day they applied it. The mirror finish provided by the ceramic coating seems to be the users' favorite aspect.
Well, the mirror finish combined with the self-cleaning ability of the coating. It seems that nearly any review that you see about the CQuartz kit includes a close-up picture of their paint to show off just how well the ceramic coating leads to water-beading up and running right off the paint.
The one negative that comes up with customers on a few different occasions is that you need to use CarPro's recommended soap and shampoo to wash your car after the coating is applied or you can risk damaging the coating. Users that have tried using other types of soaps and/or waxes on the coatings have had the coatings start to lose its ability to make water bead up and runoff, but after using the CarPro soap on the next wash the coating was back to working like normal. For the best results, it's usually best to follow the manufacturer's recommendations on any product!
Check Out the CarPro CQuartz Kit on Amazon
Now that you know everything you need to know about the CarPro CQuartz 50 mL Ceramic Coating Finish Kit, it might be worth looking into and giving it a shot. If you have a car that you love and want to add protection to it while simultaneously making it look brand new again, this might be the perfect thing for you!
You can check it out on Amazon here, we know that you won't be disappointed when you take a step back and see your car shining like it hasn't shined in years!