How to Put a Jeep Wrangler in 4 Wheel Drive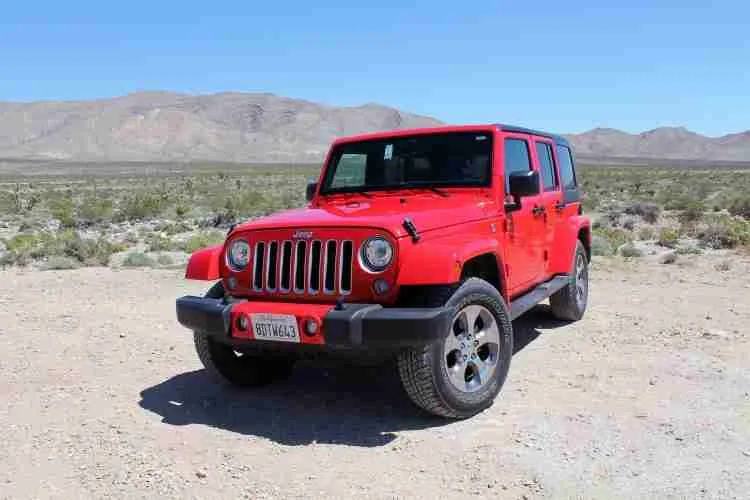 The Wrangler is a 4 wheel drive SUV that is manufactured by Jeep.  It was originally manufactured in 1986 and is currently in its 4th generation of Wranglers.  The Wrangler can be considered a compact SUV or a midsize SUV.  Those that are compact have 2 doors while the mid-sized are either a 4 door or the Wrangler unlimited.
Here we will discuss how to put a Wrangler in 4 wheel drive, and provide a rundown on the four generations of the Jeep Wrangler.   While looking over this section, you will note that there is a Wrangler for every single person's individual taste.  We will also give milestones that occurred over the years for Wranglers.
How to Put a Wrangler in 4 Wheel Drive
The Jeep Wrangler has a 2 wheel drive part-time system.  Putting this Jeep into 4 wheel drive is simple to do.  First, you will need to get your speed up to 7 to 30 miles per hour.  Then you will want to pull down on the lever from 2H (2 wheel drive) to 4H ( 4 wheel drive).
If you want to put your Jeep Wrangler into a low 4 wheel drive, you will want to have the car parked.  Shift the Jeep into neutral, then pull the lever from 2H to 4L.
The Four Generations of Jeep Wrangler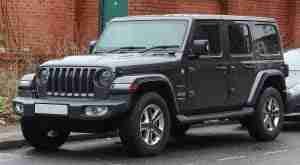 There have been four generations of Jeep Wrangler, each one with its own special characteristics.
1987 to 1995 Jeep Wrangler
This version of the Jeep Wrangler was the first one. It was well known for its rectangular-shaped headlights.  During this time frame, two different styles of Jeep Wrangler were released.
YJ Wrangler Islander (1988-1993)
The Islander by Jeep had an options package that was available between 1988 and 1993.  Various color choices, such as bright red, white, teal, pacific blue, and sunset yellow were available.  The options on this packaged included hood and lower body had sunset graphics, side steps,  floor carpeting, high back seats, gray interior, a center console with cup holders, Wrangler embossments, the Islander logo on both the spare tire cover and front fenders, wheel flares of the body color, half or full door option, a 20-gallon fuel tank option, and a 5 spoke alloy wheel option.
YJ Wrangler Renegade (1990-1994)
The YJ Wrangler Renegade was manufactured between 1990 and 1994.  Red, black, and white were the only colors that were originally available.  However, blue was introduced in 1992 and bronze in 1993.  The price tag on this package was over $4000.  Things that were included in the package were a spare tire that is full-sized, a merged body side steps, color-based fender flares, an exclusive 8inch width 5hole aluminum wheels, a steering wheel wrapped in leather,  trail cloth fabric seats with high backs, floor mats in front, floor carpets, 4.0L I-6 engine, gas shock absorbers for off-road, lock on the glove box, Renegade stripping, a  20 -gallons extra capacity fuel tank, 15 LT 30×9.5R A/T OWL Wrangler Tires, engine and courtesy compartment lights, fog lamps merged in the front fenders, middle console with cup holders, plastic bumperettes at the front and back, power steering, and interval wipers.
1997- 2006 Jeep Wrangler
The Jeep Wrangler was redesigned in 1997 after one was not produced in 1996.  This year's span of Jeeps was nicknamed the TJ by those that loved driving this Jeep.  Not only could you remove the doors, but you could take the top off as well.  The TJ came in several different models that were all 4-Wheel drive:   SE, Sport, Sahara, X, Rubicon, and the  Unlimited trim.  Side curtains were featured on the canvas top of each model.  Roll up tinted windows and a hardtop were options that were available.  The doors were removable and the Jeep did not contain any airbags, locks, mirrors, or power windows.
2007-2017 Jeep Wrangler
The third generation of Wranglers, dubbed as the JK, In this ten-year span, there were several special edition Wranglers produced, including the  Islander, Arctic, Moab, Willys Wheeler, and Golden Eagle.  The fold-down windshield and removable top and doors allowed this generation's Jeep to be 21 inches longer than previous years.
2018- Present
This model of Jeep Wrangler is best known as the JL.  It is available as a 2 door or a longer 4 door.  The 2019 version has an optional turbo-diesel 3.0-liter V-6 on the 4 doors.  Contemporary touches are added to this style of the Wrangler, such as LED lighting.  There is a choice between a standard engine or a turbocharged one.  The standard comes with 285-horsepower and a 3.6-liter V-6 while the turbocharged is available at an extra charge with a 2.0-liter four-cylinder engine good for 270 hp.
Milestones for Jeep Wrangler
1998:  Optional cruise control, Smart Key anti-theft system, and an easy-tilt driver's seat are offered.
1999:  A CD player is offered as a new option.  The Climate controls switch from sliders to rotary knobs.
2000:  A 19-gallon gas tank is made standard instead of a 15-gallon one.
2001:  Child seat tethers are standard, as are intermittent wipers.
2002-: Wrangler X makes its way onto the market.
2003:  The warranty is improved on the Jeep Wrangler, increasing from a 3-year/36,000-mile powertrain warranty to 7 years/70,000 miles.
2004: The cassette player is removed and a CD player is added.
2005:  The 5 speed is dropped and replaced with a 6 speed.
2006:  Unlimited mileage is provided on the powertrain warranty.
2014: Production begins in Italy on the Jeep Renegade.
In Conclusion
The Jeep Wrangler is a classic SUV that many have loved over the years.  With many looks over the 4 generations, this is a fun vehicle to own.  Available in a multitude of colors with amazing features, the Jeep Wrangler looks like it will be here to stay.  This classic vehicle is easy to drive, and switches from 2 wheel drive to 4 wheel drive in a matter of seconds easily.