Jeep Trackhawk: Where Off-Road Meets Supercar Speed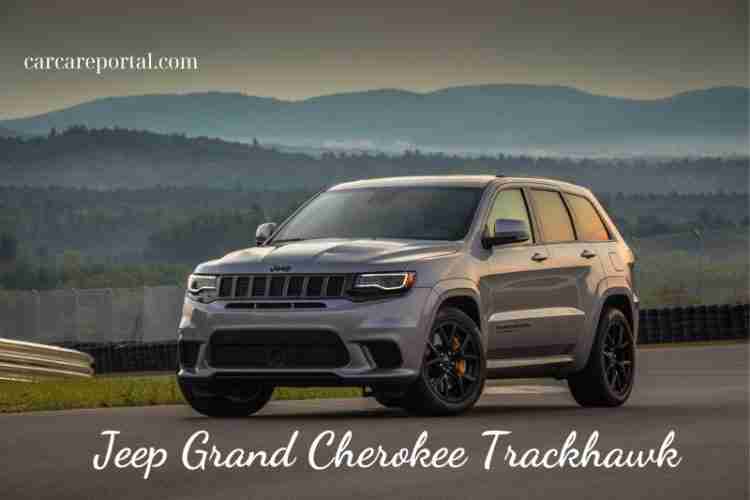 Blending Jeep's iconic off-road prowess with the heart-pounding performance of a supercar, the Grand Cherokee Trackhawk emerges as a juggernaut in the SUV realm. It's not just a vehicle; it's a statement.
With power that roars and agility that surprises, the Trackhawk is a testament to Jeep's commitment to pushing boundaries.
Whether it's conquering rugged terrains or ruling the asphalt jungle, this beast is unyieldingly ready for action. Buckle up as we venture into the world of the Jeep Trackhawk – where adventure meets adrenaline.
Jeep Grand Cherokee Trackhawk Overview
At first glance, it might look like a regular SUV, but it's hiding some SUPER cool features that blew my mind! Under its hood, it's got a whopping 707-hp engine – that's like strapping a rocket to a car!
Performance: The Trackhawk is portrayed as a high-performance vehicle, emphasized by references to its 707-hp supercharged engine, being the most powerful Jeep ever, and its ability to rival some sports cars in straight-line speed.
Value: The review notes that while the Trackhawk's price is substantially higher than that of the base model Grand Cherokee, it offers significant value, especially when compared to competitors like the Porsche Cayenne Turbo and Mercedes-AMG GLE63 S.
Versatility: Despite its high-performance characteristics, the Trackhawk retains practical features like a comfortable interior, up-to-date technology, cargo space, and towing capability.
Appearance & Sound: The exterior design and the exhaust sound of the Trackhawk are highlighted as being bold and assertive.
Desired Improvement: The review ends on a playful note, suggesting that a more powerful 797-hp Redeye version would be an exciting addition to the lineup.
For any young tech-enthusiasts out there who love cars as much as I do, the Jeep Trackhawk is a dream come true. It's not just a car; it's a tech masterpiece on wheels!
Pros:
Plush Vibes: Step inside, and you're greeted with luxury. It's like your living room on wheels with all the tech perks!
Off-Road King: Whether it's a rocky mountain or a sandy beach, this Jeep can practically conquer any trail thrown its way.
Power-packed V8: Those available V8 engines? They aren't just for show! They bring some serious power to the party.
Towing Champ: Planning a trip or moving some heavy stuff? Its towing capacity is pretty top-notch for its class.
Cons:
Ride Quality: Even with that fancy air suspension, some of you might find the ride a bit on the firmer side. Not everyone's cup of tea!
Base V6 Acceleration: If speed's your thing, the base V6 might feel a tad underwhelming. It doesn't have that zoom-zoom punch you might be hoping for.
What's New for 2023?
For 2023, the Jeep Grand Cherokee Trackhawk holds its ground without introducing any new modifications or updates. It remains a testament to power and performance, steadfast in its design and capabilities.
Yet, 2023 brings an interesting twist to the car industry – the rise of the Hellcat power! Trackhawk now has some internal rivalry to keep an eye on. Enter the Dodge Durango SRT Hellcat, a fierce competitor with a slightly edgier 710-hp, giving car enthusiasts another adrenaline-pumping option to consider.
But wait, there's more! The Ram 1500 TRX with its 702-hp has also joined the party. While it's primarily designed for those who love to tackle rugged terrains and enjoy off-road adventures, it's undeniably a proud member of the expanding Hellcat-powered family.
So, in a nutshell, while the Trackhawk remains unchanged for 2023, the broader picture showcases the growing dominance and appeal of Hellcat engines across the range. It's an exciting time for car lovers, with more high-power options to choose from than ever before!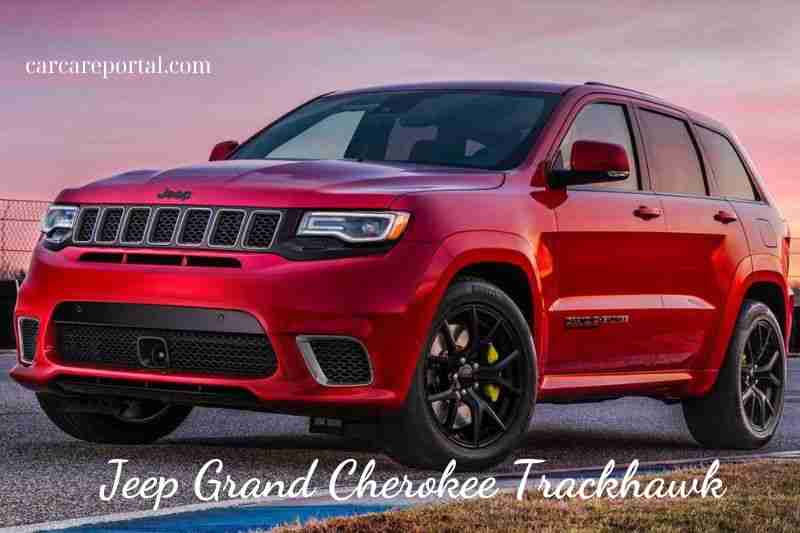 Pricing and Which One to Buy Jeep Trackhawk
This super-cool SUV starts at a price that's about $19,000 more than the 475-hp SRT version. If you decide to go all out and pick every cool feature they offer, the price can zoom up to over $105,000!
But here's the twist: when you compare the Trackhawk with some super-fancy cars out there, like the GLE63 S which costs a whopping $134,000, it kinda feels like getting an awesome video game on a sale!
Engine, Transmission, and Performance
Under its hood is a beastly Hellcat engine that doesn't just start—it ROARS to life. Imagine this: it's got a whopping 707 horsepower! That's like having 707 horses racing at once.
And even though it's a bit less powerful than some of its car cousins, the Challenger and Charger, it's super speedy. This Jeep can go from standing still to 60 mph in just 3.4 seconds. Whoa, right? That's like the speed of my favorite superhero!
Driving around, the Trackhawk feels like you're controlling a rocket. You gotta be gentle in the city because its gas pedal is super sensitive. But on open roads, it feels like flying a jet! And while it's super fast, turning and stopping feel safe and sound, though I wish it could stop a teeny bit quicker like some of its friends.
Fuel Economy and Real-World MPG
If you're like me and always curious about how cars work and what makes them cool (or not so cool), let's talk about the Jeep Grand Cherokee Trackhawk's fuel economy.
This beastly SUV loves to drink up fuel! Official numbers say it only gets about 11 mpg in the city and 17 mpg on highways. And when we put it to the test in the real world? Well, it pretty much matched those numbers.
Comparing it to its close relative, the Grand Cherokee SRT, the Trackhawk is even more thirsty. And when we stack it up against other similar cars? Sadly, both Jeep models end up at the bottom of the list, with others doing 3 to 5 mpg better.
So, if you're saving up your allowance to keep your car's tank full, the Trackhawk might not be your best buddy. But if speed and power are your game, and you're okay with a few extra trips to the gas station, then vroom vroom!
Interior, Comfort, and Cargo
The moment you step inside the Trackhawk, you'll know it's not just any Jeep. It's like swapping your everyday sneakers for a pair of flashy race shoes! The front seats?
Like a cozy hug, especially when you're cruising at top speeds. But even though there's cool leather on the dashboard and doors, a few spots remind us it's still got some regular Jeep vibes.
Now, for all my toy collectors and gadget lovers, storage might be a little tricky. There's decent room in the back, but if you're thinking of packing loads of your favorite toys and tech gear, you might have to play a mini-game of Tetris.
And trust me, you'll want to secure your stuff because when the Trackhawk speeds up, things inside can turn into a wild rollercoaster ride!
So, Trackhawk's interior? Flashy and comfy with a dash of sportiness. Just make sure your toys are snug and secure when you're on the go!
Infotainment and Connectivity
A sleek 8.4-inch touchscreen that looks like it was born to be in the dash. This isn't just any screen, it's the gateway to the Uconnect system! Whether you're team Apple with CarPlay or rocking Android with Auto, the Trackhawk's got your back, ensuring your favorite tunes and apps are just a touch away.
But wait, there's more! Are you the type who's always online, maybe catching up on some game scores or streaming the latest hits? Thanks to the in-built 4G LTE mobile Wi-Fi, staying connected on the go is a breeze.
And for the audiophiles, hold onto your headphones! You can amp up this ride with a booming 19-speaker Harman/Kardon stereo system. Imagine turning every road trip into a personal concert! Plus, with an optional rear-seat entertainment setup, movie nights can happen anytime, anywhere.
Safety and Driver-Assistance Features
First up, driving at night just got a lot easier with its automatic high-beams. No more flicking switches when another car approaches. Then there's the lane-departure warning, which is like a gentle nudge saying, "Hey, stay in your lane!" and the super cool self-parking assist that's like magic for parking spots.
But, while all these safety gadgets are awesome, they don't make our Trackhawk's price tag shrink. However, safety is priceless, right? If you're curious about how it stands up in crash tests, you can check out the big leagues – NHTSA and IIHS websites.
And here are some more star safety features:
A forward-collision warning that's like Spidey-senses for the road, with automated emergency braking.
Adaptive cruise control that even has stop-and-go tech! Perfect for those traffic jams.
And the ever-watchful eyes of the blind-spot monitoring and rear cross-traffic alert.
Warranty and Maintenance Coverage
Jeep, while known for its ruggedness and adventure spirit, ensures that you're covered when it comes to warranties. Although its limited warranty might be a tad shorter compared to some other big players in the game, Jeep punches back with a powertrain warranty that's hard to beat!
Here's the deal:
Limited Warranty: Got your back for three years or for the first 36,000 miles you zoom through.
Powertrain Warranty: This is where Jeep flexes its muscles, covering you for a solid five years or a whopping 60,000 miles. Now, that's some peace of mind!
Bonus Goodies: For the 2023 models, Jeep sprinkles some extra love by offering three years of complimentary scheduled maintenance. That means fewer worries and more road trips!
In conclusion
While the Trackhawk brings luxury and impressive abilities to the table, it's essential to consider what you value most in a ride before making a decision.
Read also: