Mothers 17240 Speed Clay 2.0 Review: Is it that good?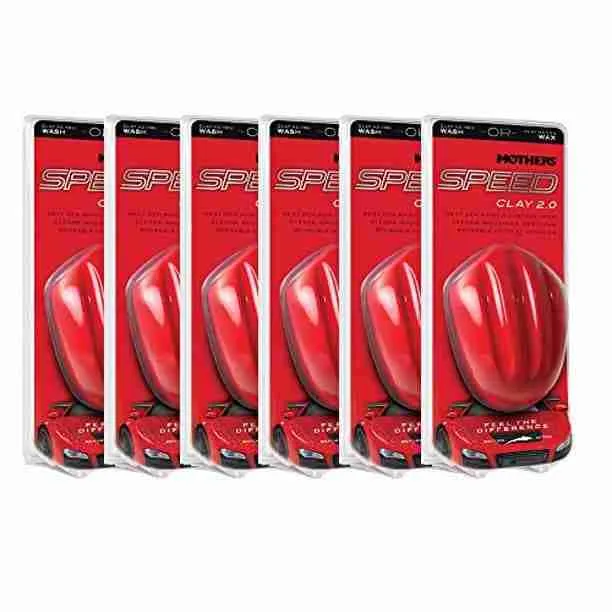 One of the greatest secrets of the auto detailing industry is the use of a clay bar as tool to remove surface embedded contaminants which are the bane to the existence of a perfect finish on any car or truck. Mothers Polish Company recently (back in 2016 so relatively recent) announced the release of a new product line of products called the Speed Line.
These products, as their name implies, were meant to offer easy maintenance of your car or truck with a minimal amount of effort required to save you valuable time. This product line consists of a spray wax, an all-purpose cleaner, a foaming glass & screen aerosol, a durable tire shine, and an interior detailer. However, the most attractive member of this new product roster is by far the Speed Clay 2.0.
The initial purpose of the Speed Clay 2.0 was to replace the purpose of normal clay bar, whose use can be a bit labor intensive, while at the same time maintaining effective removal of surface contaminants from your car's paint and finish.
What separates Speed Clay 2.0 from the rest?
Normal clay bars require lubricants and are rendered useless once you drop them on the ground as the clay will pick up rocks, grit, and debris that will scratch the finish of your car or truck. Thus, the moment a normal clay bar hits the dirty ground, it will need to be thrown in the trash to avoid damage to your car's paint job.
One of the most attractive features of the Speed Clay 2.0 is that you can drop it on the ground without forever ruining its future use. If it does happen to fall on the ground, a brisk rinse with the water hose or dunking it in your bucket of soapy water will clean it right up to make it safe for further use.
Unfortunately, Mothers Speed Clay 2.0 is manufactured with a proprietary rubber polymer material so I cannot speak to what it is that makes the material better than a normal clay bar. But the material is advertised to remove or shear off both surface and embedded contaminants which includes paint overspray, water spots, rail dust, light oxidation, and brake dust) that can severely harm the paint job of your car or truck.
This action is supposed to restore brilliance to your car or truck's paint. The red gripping surface has the texture of a sturdy sponge with dark spongey material underneath. This spongey material means that the Speed Clay 2.0 is quite light with a total weight of 5.6 ounces or 159 grams and is 14 x 10 x 5 inches in size.
The bottom surface material functions as the clay which can be used during either the washing or waxing step of paint and finish maintenance. However, for best results Mothers recommends thoroughly washing the car or truck before Speed Clay 2.0 use. After a thorough car washing specific lubricants (such as Meguirs Gold) or fresh soapy water can be applied to the surface of the car.
The Speed Clay can then be used almost like a washcloth by wiping the surface of the car in a back and forth, not circular motion, to remove contaminants. It is recommended that you clay your car panel by panel until you have wiped every surface of the vehicle. Once you are done, dry off the area of the car that was just clayed, rinse your Speed Clay, and store it in a dry place.
My experience with the Mothers Speed Clay 2.0
I recently purchased Mothers Speed Clay 2.0 and I can say that it generally functions as advertised. After washing both my (a 2018 CX-9) and my wife's (2010 Honda Accord) cars, it removed most of the surface contaminants and road gunk that had accumulated on both cars.
The unfortunate drawback to this product is that it is not totally effective at removing all surface contaminants. For example, my neighbor has quite a large and beautiful oak tree in his front yard that shades my driveway in the spring and summer months.
This oak tree also tends to drip tree sap on both of our cars during these warmer months. I was hoping that the Speed Clay 2.0 would be effective at removing this dried tree sap, but unfortunately it was not, and I had to go back over it with a true clay bar. This added a little extra time to my car maintenance, but it would have been even longer had I only the true clay bar to use from the start. I also tested the easy-to-clean part of the product by dropping it on the ground and rinsing it off. After doing this I could not tell a difference if there were scratches on my car's surface. So, I think that feature of the Speed Clay 2.0 holds true.
Pros
Significantly reduces the time of removing contaminants from the surface of the car compared to a normal clay bar.
It has a wide surface area foot print which means that it works great for removing contaminants from large, relatively flat or contoured areas of your car's finish quickly.
The Speed Clay 2.0 has a nice ergonomic design which is comfortable and easy to hold. The spongey material texture makes it super easy to grip or hold onto when it becomes wet.
If you drop it or it happens to fall on the dirty ground, all you need to do is rinse with a water hose or submerge it in a bucket with soapy water to remove grit and dirt. If this were to happen to a true clay bar you would have to throw it away.
You can re-use the Speed Clay 2.0 multiple times and has an expected lifespan of 15-20 vehicles (depending on the size of your vehicle) which far exceeds the lifespan of a true clay bar which is typically 2-3 vehicles.
The Speed Clay 2.0 can be used on multiple surfaces including chrome, glass, or smooth plastics like head and tail lights.
Cons
It is a little bulky and does not work well on the smaller or tighter areas (and all cars and trucks have them) such as right underneath the sideview mirrors of the car. This is unlike a normal clay bar which can be molded or shaped to fit in those hard to reach places.
Works well for most normal road gunk and debris contaminants that normally appear on the surface. However, it is not a perfect tool in removing contaminants as a bona fide clay bar as I discussed above briefly for tree sap.
The Speed Clay 2.0 does not fully replace the functionality of a bona fide clay bar but does provide an additional car detailing tool that will reduce the time and effort you will spend in maintaining your car's paint job.
Conclusion
Overall, if I were to rate this product on a scale of 1 to 10 with 1 being the worst and 10 being the best, I would have to give it a 9 out of 10. The Speed Clay 2.0 clearly offers an almost nearly equivalent (but not a full replacement) function to that of a normal clay bar.
There is no doubt though that the Speed Clay 2.0 will save you precious time. However, it does not work on tougher to remove contaminants like dried tree sap, which will need to be removed by a traditionally clay bar. If Mothers could find a way to make the Speed Clay remove tough contaminants, it would all but certainly render traditional clay bars obsolete.
Especially since traditional clay bars are nearly one-time use products. This is absolutely a car detailing tool that I would recommend you add to your arsenal of car maintenance supplies. It will no doubt save you some time and effort in maintaining the finish on your car to keep in looking like new for many many years to come.
Resources:
A little background on Mothers Polish Company. Mothers originated as a family-owned company based in Southern California and created products for patrons who were lovingly devoted to artistically customizing their vehicles.
Mothers maintains that original mission in making products that satisfied their customers (of which I now count myself as one of them). Today, Mothers offers over five dozen separate products to clean and maintain every type of automobile surface, both inside and out. Mothers Speed Clay 2.0 is a great addition to the arsenal of your car detailing tools. For more information on the Speed Clay 2.0 and additional car detailing and polishing products you can visit the product information page at Mothers.com here.
Mothers customer service is also quite exceptional as many of the comments by customers who have had issues with the Speed Clay 2.0 were attended to by a Mothers customer service representative. Additional customer review pages at Autogeek.com and on Reddit can be found here and here, respectively.