AMP Research 76154-01A PowerStep Electric Running Boards Plug N' Play System ? A Review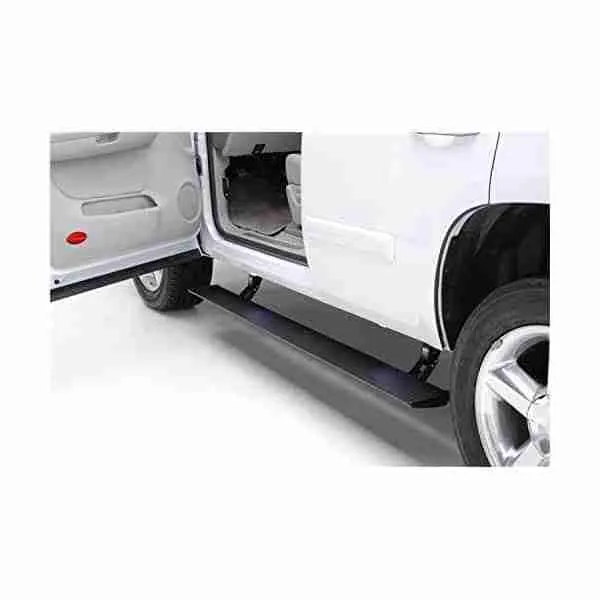 Getting in and out of your car, every day should not feel like mountain climbing and should certainly not make you say "whew!" when you finally make it into the driver's seat. Higher or raised cars and trucks can feel like cliff faces to some people, so that is why power step systems like the AMP PowerStep electric running board system were created — to make life easier.
Depending on the brand, make, and model of your car, there could be hundreds of running board options, so it is important to find the best one for your lifestyle and car. In this article, we will be reviewing the AMP Research 76154-01A PowerStep Electric Running Boards Plug N' Play System and talking about what it is, how it works, and how customers feel about this product!
Features and Factors of AMP PowerStep Electric Running Boards
For those who struggle to get in and out of their cars due to the height, but do not like the look of step-up running boards along the sides of the car, then the electric features of these step-up running boards might interest you. Plus, the out-of-sight aspect and hands-free qualities are sure to make things easier and sleeker.
Feature #1: Electric, Automatic, Hands-Free
The power step system from AMP has a very unique feature, which many folks like since it is easy and convenient. The AMP power step system is automatic and electric! The steps descend when the car door is opened so you can easily get into your car without any fuss. Then, the step-up running boards instantly and automatically disappear when the car door is closed.
This eliminates annoying tasks like pulling the running boards down and then trying to pull them back up once you are in the car, of course without falling out of the vehicle. It makes it simpler and easier when your hands are full or in a rush since it cuts out the transition times and makes your life more efficient.
Because the running step-up boards hide automatically, the aerodynamics, ground clearance, and the overall appearance of the car are not changed!
Feature #2: A Durable Design You Can Trust
The materials used to make the AMP PowerStep electric running boards are high quality so they are built to withstand years of use, even in tough conditions or climates.
The running boards themselves are made from aircraft-grade aluminum and manufactured in the United States of America so not only are they high-quality running boards, but they help support the national and local economy and infrastructure!
The sleek design of these electric running boards is not only appealing to the eyes. The AMP PowerStep electric running boards are very durable and sturdy. They perform in all weather types and climates, meaning that ice, snow, rain, and hail are no problem!
They have been tested in many real-world conditions, over long periods to ensure that they perform no matter what. These conditions include dust, mud, ice, and dirt so no matter where your car takes you, your running boards will make sure you can get out to enjoy it.
More Specs and Information:
Aside from the main two key points that make this product stand out, here are some more specifics and pieces of information that most people find useful and important when looking at this product.
Let's get into other key features of the AMP PowerStep system!
Coated and Built for Long Life, Protection, and Durability
Not only do the AMP PowerStep electric running boards have great quality materials, but they also have high-quality added protection in the form of external coatings on the running boards. They have been black-anodized and PTFE coated for quality assurance and protection.
The construction of the AMP PowerStep system is also built to last. Die-cast linkage components, stainless steel hingeing and bearing system, and heavy-duty electric motor are all key features of this system. The tough electric motor can go years without any maintenance and was created to be reliable and durable for years to come.
The AMP Research 76154-01A PowerStep Electric Running Boards Plug N' Play System is built and compatible for 2014-2018 Silverado and Sierra 1500, and the 2015-2019 Silverado and Sierra 2500/3500 with double crew cabs. (Excluding diesel.)
Setting the Industry Standard
Since the AMP PowerStep electric running board system is so innovative, it is setting the industry standard for efficient, easy, and durable products to make customers' lives simpler and easier.
Not only is the AMP PowerStep system technologically smart and useful, but it also does not give up other qualities like appearance, durability, or craftsmanship. When it is down and in use, it looks nice. When it is hidden away, it in no way affects the ride, drive, or any dynamics of the vehicle.
These features, (appearance, durability, and usefulness,) are not found in every running board system. Some may be durable but forsake appearances or functionality of the car. Others may look nice, or have the ability to be hidden, but lack structural integrity. The AMP PowerStep system seems to harness them all together in one great package!
What AMP PowerStep Electric Running Board Users Have to Say About it:
Now that we have looked at all the features, qualities, and important pieces of information about the AMP PowerStep system, let's take a look at what people who have used this product have to say about it. Often, there are no better resources than straight from someone who has used the product!
Many people who have purchased the AMP PowerStep system agree that when they ordered their kit, it came quickly and on-time. An important piece of information that many customers noticed was that all the pieces and components of the kit or package were all there. No missing pieces are a great thing in a package or kit!
There were a few reports of missing bolts in the package and needing to get them at a shop. Yet the majority of people agreed that the products and components were well taken care of in shipping, and did not suffer any damage during the time it was being shipped.
Installing the running board system can take a bit longer, according to some customers, but these customers also admitted that they are awfully particular and meticulous, and the job could have been done in less time in they had focused harder. Make sure you set aside enough time for you to finish the installation process!
Many customers have agreed that they find this a great upgrade to their truck system! They love the practicality and durability of the AMP PowerSteps since they do not feel weak when someone steps on them. People who have purchased this product agree that it is as strong as advertised!
Several customer reports have said that the LED lights the AMP PowerStep system comes with are just an add on, and not essential to the electric running board system as a whole. However, they do look nice and provide an added aesthetic appearance.
Many people made their own choices on the placement of the LED lights in question since they did not like the location that was provided in the instruction booklet. This is not integral to the core stability of the running boards or have an impact on the lifespan of the boards either, so this is usually a personal choice to place the LED lights wherever you would prefer to have them.
The LED lights could also have longer wiring according to some customers, who had trouble getting the LED lights into the proper location, even the locations dictated by the instruction manual.
A couple of people had issues with the instruction manual itself. They said that the instructional manual was difficult to read since there was no proper flow from one piece of information to the next, making it very difficult to find the next step. This might also serve as a reason for why some people reported a longer installation time than they were expecting.
All the customers agreed that once the AMP PowerStep system was up and running, it was a terrific upgrade to their trucks, and worked very well!
Have a Look at the AMP PowerStep Electric Running Board System on Amazon!
After we have gone over all the details, customer reports, features, and issues with the AMP PowerStep Electric Runnin Board System, take a moment to think if you might be able to benefit from this product. If the answer is yes, head on over to Amazon.com through this link, and you will be taken directly to the product where you can do some more research into the compatibility of the product with your car, and the price of the product.
If you love your car but hate having to rock climb into the driver's seat every day, this may be your savior product to make your life so much easier and cooler. Check it out today!