Best Bike Racks for Tesla Model 3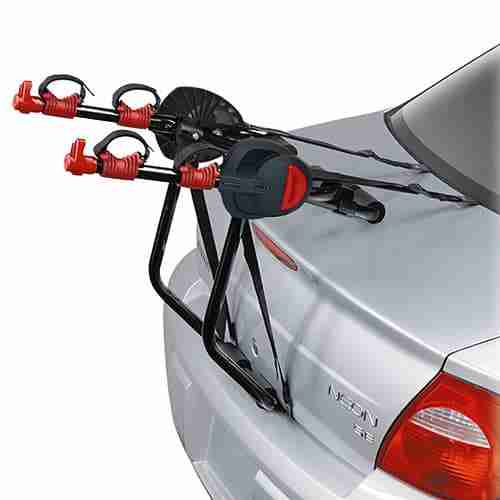 In addition to being popular, bicycling is one of the healthiest sports. That said, unless you want to ride only around your home or rent a bike at a local hot spot, you will need a bike rack to get your bike from one location to another. Although a bike rack will allow you to haul your bike across country to your favorite launch zones, not all operate in the same manner. Of course, they all are capable of holding your bike, but some attach via a hitch to your tow bar while others attach to your trunk.
Additionally, in terms of the Tesla Model 3, you will need to keep the following four things in mind if you do not want to damage your car or your bike.
– design
– precision
– fit
In terms of design, you will want to get a rack that attaches to your trunk. However, you need to find one that provides a tight fit because the rack should never wobble.
In terms of precision, you must ensure the rack keeps your bike snug against the rack without allowing it to move. If the bike is not secure against the rack, vibrations that occur during a drive can cause the bike to scratch the car.
Finally, the rack should fit on the trunk and window in such a way that your vision is not obstructed.
Top 6 Best Bike Racks for Tesla Model 3
1. Tyger Auto TG-RK3B203S Deluxe 3-Bike Trunk Mount Bicycle Bike Rack
Features
Unlike some bike racks that require 20 to 30 minutes of assembly, the Tyger Auto TG model comes fully assembled, allowing you to attach it to your Tesla in a matter of minutes. Once installed on your vehicle, you are ready to roll. It is that simple.
Because it is a universal model, this bike rack will also fit another family member's vehicle, ensuring everyone can benefit from it. Finally, it only weighs 48 ounces, making it light enough for anyone in the family to install or uninstall it from a vehicle.
Capacity
This rack is capable of supporting up to three adult bikes. Because bike handles and front wheels rotate, this rack comes with foam pads that prevent the bikes from brushing up against your trunk.
Safety
By law, extended loads require you to attach a red flag or cloth to the load. This bike rack comes with a red strap that wraps around the bikes, ensuring following drivers can easily see the extra cargo.
Pros
– comes fully assembled for easy installation
– comprehensive instructions
– red safety strap included
– design positions the bikes at a safe distance from the surface of the vehicle
– durable
– limited warranty
– option available for two-bike capacity
Cons
– will not fit your vehicle if you have attached spoiler
– will not fit a second vehicle if the vehicle is longer than 18 feet
– does not come in silver or chrome
Recommendation: most secure fit
Compared to every other rack on the market, the Tyger Auto TG offers the absolute best fit. It installs right up against car and keeps the bikes tightly in place without damaging either the bikes or the car.
When you drive over a rough road or a speed bump, the load remains solidly attached–exactly what you need if you do not want your bikes or car scratched. This is extremely important for bikes with pinion shifting, which can be damaged by a sudden jolt.
2. Allen Sports Deluxe Trunk Mounted Bike Rack
Features
This bike rack by Allen Sports features a patented design guaranteed to fit most luxury sedans, such as the Tesla Model 3. The rack features a horseshoe-style latch that securely holds the bikes. Additionally, each bike fits firmly into place via straps that wrap around the raised trunk. For greater stability, the straps fit at the top, sides, and bottom of the trunk. Once the trunk is lowered into place, the straps form a secure system to keep your bikes raised above the bumper. Additionally, the rack features a red cap at the end of each arm, ensuring drivers can see the bike mounts.
To ensure the bike rack is easy to install on your vehicle, it comes fully assembled with easy-to-understand instructions. Instruction videos are also available online, and the lower frame comes with a thick pad, ensuring the paint on your car is protected. Finally, the horseshoe-style clamps loosen easily, ensuring you can easily attach and remove your bikes.
Pros
– horseshoe-style clamps provide a tight hold on your bikes
– a red cap attached on each bar for high visibility
– comes in two-bike and three-bike capacity
– easily installed in a matter of minutes
– straps attach at three points, ensuring a secure fit to any trunk
Cons
– obscures license plate
– narrow design might not fit some female-style bikes or small bikes
Recommendation: best value
The Allen Sports model offers the best value for bicyclists wanting versatility and safe attachment of the straps to the car. Additionally, the bike rack comes with Amazon's free-return service, ensuring you do not pay extra in case something goes wrong.
3. Saris Cycle Racks Bones EX 3 Bike Trunk Rack
This cycle rack by Saris offers bike lovers an improved mounting system that is compatible with the widest range of vehicles on the market. Additionally, even though vehicles differ in size and shape, this rack features dual props that fit firmly against the back window and the lower part of the vehicle. These props make up what is known as the bone rack. For stability, the center axle pivots, keeping the angled pads of each prop aligned against your vehicle's surface. The result is simple: a bike rack that stays put.
As a Tesla driver who loves style and modern design, you will love the lines on this bike rack. They are curved and aerodynamic, providing a more natural extension to the back of your car. That said, this rack is durable, and the paint provides a scratch-resistant surface that will not rust.
Finally, the engineers at Saris understand that your time is value, so they have built this rack according to VIP principles that ensure you can easily snap your bikes into place and unsnap them when you are ready to ride.
Recommendation: most universal rack
Many families have multiple cars, and this rack is the most versatile on the market. If you want a trunk-mounted rack capable of fitting your Tesla along with your second vehicle, this is the rack for you as the bottom legs are angled and will fit smoothly along the trunk of most cars. For people looking for easy installation, there is no need to shop around between models that come in different sizes.
Pros
– universal design
– sleek angles
– anti-rust finish
– sturdy
– easily installed in just a few minutes
Cons
– not available in silver
4. FIERYRED Trunk Mounted Bike Rack
Features
This bike rack is a professional-grade rack designed for active families. For instance, it will hold up to three adult bikes. Moreover, it is durable enough to hold up to 128 pounds. Six straps lock securely into place, ensuring your bikes remain secure on the rack. Moreover, it does not matter if you need to haul bikes of different sizes. For instance, this rack will handle full-size bikes as well as small bikes, ensuring the entire family has fun on the path.
To ensure the safety of your bikes and your vehicle, the center rod is designed to absorb any unintentional impact. Additionally, the trunk bar is wrapped in thick cushion, ensuring you do not scratch the paint.
In terms of visibility, this rack features red claw-clamps that close over each bike's chassis. The bright color ensures you can meet all local traffic ordinances, and the clamps ensure a secure grip.
Finally, the rack is designed with a unique folding feature that allows it to be detached from the vehicle and stored in any compact space. Consequently, when you are not using the rack, it can go in the trunk of the car alongside the spare tire. If you have a small shelf in your garage, it it will easily fit beside your tools.
Pros
– stylish design
– highly visible
– folds for easy storage
– has cushioned bars to protect your back window and trunk
– holds up to 128 pounds
– capable of handling bikes of multiple sizes
Cons
– requires you to clean the car prior to use
– does not work with large spoilers
– multiple colors not available
Recommendation: most durable
In terms of durability, this is the absolute best bike rack for Tesla Model 3. Few bike racks are built to hold up against multiple bikes of multiple shapes and weights.
5. Hollywood Racks Express Trunk Mounted Bike Rack
Features
The Hollywood Express rack is a no-nonsense bike rack designed to haul your bikes safely and securely from one place to another. It can accommodate up to three bikes, and the circle-grips fit tight around the chassis of each bike.
The canvas straps offer triple-contact around the top of the trunk, the side of the trunk near the taillights, and the bottom of the trunk. Consequently, there is not any wobble or play in the rack as you drive down the street.
For small families with different riders and bikes of different sizes, an adapter is available. With the adapter, you can easily haul standard city bikes, mountain bikes, or bikes designed for children.
Recommended: easiest installation
The straps wrap easily around the trunk and tighten into place. It takes just a few minutes to install, and you are ready to hit the bike trails.
Pros
– easy installation
– fits multiple types of cars for families with multiple vehicles
– can support up to 35 pounds per bike
– will not scratch your car
– middle bar protects your bike against sudden bumps
Cons
– does not have red straps or caps for visibility
6. SeaSucker Talon Single Bike Rack
Features
Sometimes, all a person wants is to attach a bike to the car and go. For such an individual, the SeaSucker rack is the perfect solution.
In total, the rack consist of four suction cups. The rear cup attaches to the bike's rear tire, and the front cup attaches to the bike's front-tire prongs. Once the rack is secured to your bike, all you have to do is press the industrial-grade suction cups onto the surface of your car. They offer 210 pounds of pull resistance, which means they will not slip. That said, the removal mechanism ensures they remove from your car without scratching or denting it.
The grips are adjustable, so they can attach to any bike. Additionally, because the suction cups can be placed anywhere on your car, they can handle mountain bikes or racers.
Finally, once you remove the front wheel, the rack props the bike up in a forward-facing position over the back of your car. This design ensures you can see out the back of your window. Additionally, the bike does not extend beyond the back of your rear bumper, so you do not need to attach red flags.
Recommendation: easiest rack
This rack is designed for casual or competitive bicyclists who need an easy solution to mount any bike. Anyone doing online searchers for "best bike rack for Tesla Model 3" will be pleased to discover this bike rack is among the best.
Pros
– easily carries a single bike atop your car
– 210 pounds of pull resistance
– capable of fitting any bike of any style
– cups easily fit into your duffel bag or trunk
Cons
– not suited for families
– requires you to remove your bike's front wheel
Note: although this type of rack requires you to press the suction cups into place, they do not dent or scratch your vehicle. In fact, the SeaSuckers are favored for professionals and have been featured in races across the globe, making this a best bike rack for Tesla Model 3.