Best Snow Tires for Trucks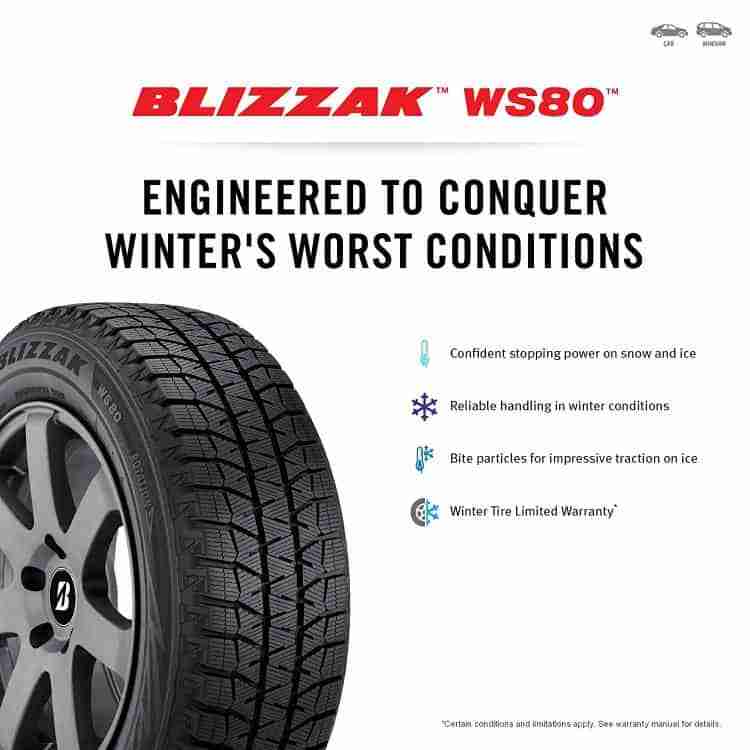 Those standard "all-season" tires that came with your truck may have gotten you through the spring and summer, but when winter comes knocking with its snow, ice and slush being out on the road can get dangerous fast – especially if your truck isn't equipped with the correct tires. To increase your chances of staying safe on the road this winter, you should consider investing in some winter tires. Take a look at this list of the best snow tires for trucks.
The Bridgestone Blizzak WS80 Radial Tire
Key Features:
Mighty Molecules – A newly designed hydrophilic coating that increases stopping power (works on a molecular level to stay flexible in cold weather).
Circumferential grooves
3D Zigzag Sipes
Optimized Construction – A newly improved cavity shape that allows for even distribution of contact pressure and even wear.
For more than two decades Bridgestone has been putting out some of the best tires on the market for harsh, slippery winter roads. The WS80 lives up to its predecessors with the added bonus of improved safety thanks to technological advancements.
With a new and improved multi-cell tread compound, these tires offer excellent traction and increased control, and will get you through the wintertime slush and across icy roads with ease.
The WS80 comes equipped with a new tread design, which offers 3D Zigzag Sipes, and recently developed tread bite particles that mimic the gripping power of snow tire chains and studs without causing damage to the roads.
This Bizzack snow tire features new circumferential grooves which provide increased traction and response time when dealing with conditions that are cold and dry.
According to Bridgestone, these tires outperformed the leading competitor with breaking times that were 22% faster. If you're in need of new tires to get you through this season, you really can't go wrong with the WS80. These tires are sure to have you feeling comfortable and secure while out on the road this season!
Use my link and head over to Amazon to find the right size for your vehicle.
Dunlop Winter Maxx Radial Tire
Key Features:
Miura-Ori Sipes
Nano-Fit Rubber
Wide Grooves
Jointless Band Technology
The Dunlop Winter Maxx Radial tire is another excellent choice for this coming winter season. These tires feature Miura-Ori Sipes making for a tire with higher blade density. What does this mean for you? A whole lot of traction due to increased tread-to-ice contact.
These tires are made from Nano-Fit rubber, which makes for the ideal blend of both flexibility and rigidity when these guys hit the road. When driving in winter conditions, it is crucial that you are driving with a tire that has the right balance between these two things to optimize the way that the tire adheres to the surface of the ice! This tire fits the bill.
But, as most wintertime drivers know, you aren't just dealing with ice….The Winter Season is one of the wettest times of the year. That why you need tires that not only handle the cold and ice but are also well equipped to deal with moisture. With the specially designed wide grooves and lugs featured on the Dunlop Winter Maxx tire, you are setting yourself up for a safe winter, with plenty of traction in all of the conditions that winter throws your way. Out of all of the tires listed in this article, this Winter Maxx Radial tire is the best deep snow tire.
The Jointless Band technology used in the tread adds to the value of this tire by increasing comfort while simultaneously adding to strength and durability.
Check out prices over at Amazon using my link.
Michelin Latitude X-Ice Xi2
Key Features:
Silica-Based Tread
Cross Z-Sipes
Independent Shoulder and Intermediate Tread Blocks
Internal Steel Twin Belts to Reinforce Structure
You've probably heard of Michelin by now, and wondered "are Michelin winter tires good?" The answer is yes! Michelin is another tire company that has stood the test of time. The Latitude X-Ice Xi2 is a wonderful choice if you have to deal with getting through heavy snow accumulation. These tires meet the industry standards and severe snow service requirements.
The silica-based tread features a design that helps to push out slush and water, which gives you added protection against hydroplaning. These tires also feature multiple cross Z-Sipes and micropumps to provide secure traction when driving over ice and snow covered roads.
Lots of sizes to choose from over at Amazon.
Goodyear Ultra Grip Winter Radial Tire
Key features:
Optional metal studs
Enhanced snow grip
Wide tread Groves
Even tread wear
Meets snow service requirement
These tires offer excellent traction due to their directional tread pattern. With the option of being able to add #12 metal studs, these tires are probably your best bet if you often deal with icy conditions.
Like the Dunlop tires featured as number 2, these Goodyear tires also feature wide tread grooves, which keep debris from getting stuck and compacted in the tread of the tire. These specially designed wide tread grooves make the Goodyear Ultragrip Winter Radial the best truck tires for snow and mud.
Further ensuring that you have the traction that you need to safely navigate the roads in winter conditions.
These tires also meet the snow service requirement and are branded with the snowflake/mountain symbol to prove their status. In addition to this, the Goodyear Ultra Grip has strong shoulder blocks which allow for even wear across the whole tire.
If you are in a market for new tires and like Goodyear, see if Amazon has them for your vehicle.
Michelin LTX Winter Radical Tire
Key Features:
Studless
Meets Green X Standard (these tires contribute to reduced fuel consumption)
3 Internal steel belts (ideal if you carry a lot of weight)
State of the art W/Max tread compound
The Michelin LTX Winter tire combines winter safety with practicality. This tire does all of the things that you would expect out of a good winter tire with the bonus of being eco-friendly. Not only is this good for the environment due to reduced CO2 production – it's great for your wallet as well. Due to a reduction in the amount of fuel that you will use, these tires will save you money on gas!
Unlike the other tires listed above, these tires have three internal steel belts. This added reinforcement in the interior makes these tires superior for people who carry a lot of weight in the bed of their trucks.
Like all of the other tires listed in this article, these ensure great traction as well due to a unique tread design featuring over 1,000 biting/gripping edges.
These tires are designed with comfort in mind and make for a quiet ride compared to some of the other noisier winter tires.
If you are in the market for tires and want to check the price. Head over to Amazon now.
How to Choose Snow Tires for Your Truck
If you're dealing with very icy terrain on a regular basis or extremely cold temperatures, you may want to choose a tire that has the capability of adding studs. The downside to this is that these tires are often very noisy and do not ride as smoothly as tires without studs. Studded tires can also damage pavement and are restricted in some states. The good news is that with recent technology many of today's best snow tires for trucks, like the Blizzack WS80 (number 1) are capable of mimicking the action of studs without the noise or damage.
Also, when buying winter tires, it is important that all of your tires match. If you find winter tires that you like, it can be tempting to only buy two in order to save money. Tires with gripping technology that do not match can lead to you losing control of your vehicle while driving! To ensure your safety and to make your investment worthwhile, invest in tires that are within your price range so that you can purchase all four. Even the best snow tires will not do your truck any good if you only have two! If you deal with a lot of temperature fluctuation and often come face to face with melting snow and slush, your best bet is to invest in a pair of winter tires that have wide grooves in the tread. These types of tires will leave you better equipped to deal with slushy conditions due to their ability to quickly and efficiently clear slush and water out of the way.
In addition to the tips above,  don't be fooled by an "M+S" symbol! This is an outdated mark that in times past was enough to indicate that the tires were meant for mud and snow. Instead, If you are looking at winter tires be sure to look for a mountain/snowflake symbol. This symbol is the current industry standard for tires that meet winter snow traction standards. It will be present on tires that meet the expectations of the American Society of Testing and Materials.
FAQs About Snow Tires
Can I use winter tires year round?
Although tempting, it is not recommended to use snow tires all year round. Winter tires are not designed to be used in warm or hot temperatures. Exposure to hot pavement causes the traction on winter tires to wear down quickly due to the different material used in winter tires. So, when winter comes rolling around again, you won't be able to count on your tires to give you the traction that you need to stay safe.
Also, winter tires are much more flexible than all-season tires in order to make them more efficient in moving through snow. This is not necessary when there is no snow on the ground, and can make using winter tires dangerous when the weather conditions are not correct for them.
My tires say "all season", doesn't that mean that I can use them during winter?
All season tires are designed to do a good enough job with most things, but they certainly do not do all of those things well. These types of tires are like the "one size fits all" of the tire world. They will get you back and forth to where you need to go, but not nearly as comfortable or as safely as tires specifically designed to handle winter conditions.
If I don't have all wheel drive, do I still need to buy 4 winter tires?
Absolutely! Driving with unmatching tires can be incredibly dangerous. Having matching tires is key to having a safe and comfortable experience while driving. When you are using mismatched tires, they do not grip evenly due to the different technology, different wear, etc. This can cause problems with steering and cause your car to spin out of control! If you cannot afford to purchase snow tires, a cheaper option would be to look into all terrain tires with severe snow rating.
How long do snow tires last?
The best snow tires will typically last for about six seasons on your truck before you start to notice a decline in their performance. The life expectancy of your tires also depends on how well they are stored. To keep them in good shape, make sure that they are being stored away from heat and light in the offseason.
When Should snow tires be replaced?
According to a lot of manufacturers, as well as also the legislation in a lot of districts, your tires need to be changed when the step deepness gets to 4/32″ in the winter. If your tread deepness uses to those levels, your tires are taken into consideration bald as well as a safety and security danger.
Are snow tires worth it?
Winter tires get their benefit not just due to the fact that they have premium step patterns that are created for grip on ice and snow, however due to the fact that they employ softer rubber compounds to improve hold. That means when it's cool, whether it gets on dry sidewalk, snow, or slush, it'll surpass an all-season.
How can you tell if winter tires are worn out?
A timeless method to determine winter season tire wear is to make use of a quarter. Put a 25 cents Canadian coin in among the grooves with the caribou encountering down. If you see the pointer of its nose, it suggests the tread deepness no more satisfies 6/32″, so the tire possibly will not last all winter or 10,000 km.
Do I need new winter tires?
We advise that winter/ snow tires be replaced when they get to about 6/32″ of staying walk depth. Tires require even more step deepness in icy …
Is the penny test for tires accurate?
With this easy examination, a penny can buy you assurance when it comes to your tires and security. Area a cent head initially right into a number of walk grooves throughout the tire. If you always see the top of Lincoln's head, your footsteps are superficial and also worn. If this is the case, your tires require to be replaced.
Are used winter tires safe?
An utilized winter months tire can operate well for up to 4-5 seasons, so look for tires that are 2-3 years old. If you mount an old tire despite a lot of tread left, you won't get much of a performance and will jeopardize your safety.
Are snow tires good in rain?
Snow tires are not as great on a damp roadway as great efficiency summer tires. Snow tires have large grooves so they wear ´ t get obstructed also quickly by snow. Large groves are bad for damp roadways though (unlike common belief).
When should I take off my snow tires?
Individuals typically ask when they should place on as well as eliminate their winter months/ snow tires. Typically, the moment most vehicle drivers have their winter season tires on their vehicle is from late November to very early April. It is very important to utilize them just during the winter months in an effort to maximize their treadlife.
Buyer's Tips
Before moving forward with buying winter tires for your truck, the most important thing is to be familiar with your climate. Knowing the types of conditions that you will most often face will ensure that you are getting the best tires for your needs.
All winter tires are not created equal! Some winter tires are better for slush and ice, while others are best for compact snow. Knowing what you're likely to encounter will allow you to get the most out of your investment!
One of the best things that you can do is to make sure that the tires you are buying are from reputable companies that have good reviews.
It can be tempting to go with tires made by lesser known brands due to cheaper prices, but always make sure that the company you are working with is reputable before moving forward!
By keeping these things in mind, you are significantly increasing your chances of staying safe on the road this winter!