Blackhawk B6350 Fast Lift Service Jack 3.5 Ton Review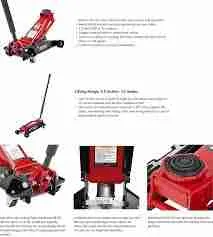 Blackhawk B6350 is a service jack with a capacity of 3.5 tons. It has advanced technological features that allow fast lifting to the jacking point without any load. Among its amazing features, one of the key features is the swivel saddle. The swivel saddle allows easy jack positioning unlike other jacks where it is really hard to position. Along with easy positioning, the user's safety is also ensured. Since it is manufactured with heavy duty steel, it is a durable instrument and will last you for a decent period of time.
Before we get into the details of the fast lift service jack, let's find who this jack is for.
Ideal customers for the Blackhawk B6350 fast lift service jack:
This fast lift service jack is outstanding for people who work sports cars and competition vehicles. During a race, you don't have much time to position a jack and replace the wheel. So, having a fast yet easy to use jack is essential. Also, if you are someone who generally deals with sports cars or competition vehicles then this fast lift service jack with end up being your best friend.
This jack is not only suitable for sports cars but it is also great for repairing large vehicles. If you own a workshop and your business is focused on large vehicles then this jack will definitely end up being super useful for your workshop. It is great for diesel-powered trucks as well. However, it is not necessary that only the professionals require this fast lift service jack. DIY mechanics and all those people who work on their cars and light trucks can certainly get benefit from the Blackhawk fast lift service jack. Most of the times, the marketing of this jack for racing and sports cars. So, it is thought that it is only suitable for competition vehicles and professional mechanics. But the truth is, the design and the weight of this jack is not a trouble for a first-time user. Even though it seems heavy duty and complex to use, people who have garages at their homes can easily use it.
So, if you have a garage at home and you are intending to buy this jack for your light truck then you should certainly go ahead. Since it is easy to use and easy to position, you will definitely be happy with your investment.
We have had a pretty good discussion about who this jack is for, now it is time to look at the technical details and major features of this jack in order to have a better understanding of it.
Technical Details:
Product Dimensions: 30.13 x 15.75 x 6.89 inches
Item Weight: 85 pounds
Model: B6350
Major Features:
Low profile: The Blackhawk fast service lift jack is pretty low profile (5.5inches), however, it provides sufficient room to work with. It has a 22-inch maximum height lift which is pretty amazing.
Material: This jack is manufactured with high-quality heavy-duty steel and aluminum. The usage of high-quality materials is to ensure good performance. Aircraft-grade metal is used for its production and this metal makes it easy to handle and light in weight. These two things are essential for a jack to be able to used in the world of racing. As there is no space for complex equipment that take much time to get the job done.
Bypass: When using a jack, it is likely that you end up freezing it or over pumping it. However, this jack comes with a Bypass that prevents it from being over pumped or from being frozen.
Internal safety valve: A lot of the jacks may not be manufactured while focusing upon the safety, however, this jack contains an internal safety valve which ensures optimal safety of the user. It also provides resistance to failure.
Swivel saddle: As we mentioned earlier, that positioning a jack can be very tricky. The swivel saddle allows easy positioning and makes it easy to haul around the shop.
Rolled frame: Under great loads, the jacks can be twisted and you certainly don't want that. This jack has a frame that is rolled so that it could add more strength and rigidity. When more strength is added, there will be a rare chance of the jack twisting or breaking.
Dual pump: The jack consists of a dual-pump design. The purpose of the dual-pump design is to provide quick lifting and without any hassle. It has return springs, the return springs make the handle operation hassle free. Some handles of the jacks are too hard to lift but with this jack, you will not have any troubles like that.
Saddle pad: This jack comes with a saddle pad and its function is to protected the underside of the jack. Without the saddle pad, the underside of the jack cannot be protected.
Now let's have a look at what is included in the box of the Blackhawk jack.
What comes in the box?
Once you get your hands on this floor jack, there is not something too exciting or something that may be a surprise to you, in the box. You will of course see the jack, that comes with the side handles so that you can easily move it around whether you have it in your shop or whether you have it in your home garage. Along with the side handles, it comes with the two-piece handle, secured by the spring-loaded button.
The coolest thing that you will see is the foam padding on the handle and that is for the protection of the vehicle you are working on. It has two sets of wheels; the steel wheels are designed to hold up while the caster wheels are intended to provide you with additional maneuverability. The only thing that you may not like about this jack, if you are getting it for the first time is that it may be too heavy for you. Moving it around may also be difficult for you but most people are not bothered by the weight of this jack.
Once you open the box, you will definitely have to find out how the floor jack works. So, let's have a look at the use of the floor jack.
How to use the floor jack?
Okay, so when you open the box, you will get an instruction manual too. The instruction manual is the secret to easy usage of the jack. Of course, when you open the box, the pieces of the jack will not be assembled, so first things first, you will have to assemble the floor jack. The assembly will be pretty straightforward when you get your hands on the instruction manual. First, assemble the two-part handle by snapping it together. Make sure that you do it quickly and securely. You need to insert the foam-protected piece of the handle into the lower tube and the spring-loaded button will hold the pieces together. Next, you need to remove the wire that is holding the yoke. You can simply do it by loosening the wire and then getting rid of the wire with the help of pliers. Now bring the yoke to its original position by applying some pressure on the yoke. When you have inserted the handle, you can adjust it in place with the screw set.
PROS:
The side frames of the jack are rolled so that twisting can be avoiding due to heavy load
The jack can be positioned easily with the help of swivel saddle
Since it is made with heavy duty steel, it is pretty durable
Built-in internal safety valve that ensures the safety of the users
Great for professional mechanics and for DIYers
Provides a sturdy lift
It has a long handle which makes it very easy to use
Easy to put together, you can put it together in three minutes.
Padding for protection on the underside and on the handle is a great addition that some jacks might not have
Prevents accidental damage
Comes in good packaging that keeps everything safe and secure
Takes less time to function and to assemble as compared to mini jacks
Affordable replacement for mini jacks
CONS:
This jack is slightly heavy as compared to other jacks and some people may not like its overall weight that 85 pounds
Why we recommend this floor jack?
One of the major reasons for recommending this floor jack is its durability. As we mentioned earlier that this jack is manufactured with high-quality heavy-duty steel and aluminum. Aircraft-grade metal is used for the manufacturing of this jack. Since, the materials that are steel and aluminum, used for its manufacturing are pretty strong and high quality, the jack becomes durable. Also, the frame of the jack is rolled so it prevents the twisting of the jack due to heavy load. Once you get your hands your hands on this jack, you will not worry about it damaging. Your investment on this jack will be worthwhile and long lasting.
Whenever we intend to buy any product, we have to buy it according to our budget. Some people have budget constraints and some people don't have budget constraints. But when it comes to this floor jack, most people can buy it because of its affordable price. There are so many expensive jacks available that may not even have very advanced features but this one has amazing features along with affordable price.
Low profile and lift height
Even though this jack is lo profile, it provides enough space for working. It has a maximum height lift of 22 inches which is pretty decent.
This jack is very easy to assemble by following the instructions in the instruction manual. Along with that, it is pretty easy to use even though it is heavy.
Even though this jack may seem heavy duty and by its design, you may think that it is only for race cars. But the truth is, it can be used by professional mechanics, along with that, people who have garages at home can use it as well. It is not specifically designed for specific sports cars.
Not a lot of jacks are safe because they are not made with high quality materials and they also don't have features that ensure safety. This floor jack is highly recommended because it ensures the safety of the users through high quality materials and through its advanced features. It keeps your vehicle protected from unforeseen damages.
Things to keep in mind:
Before you use the floor jack, you need to make sure that the release valves of the jack are turned clockwise. When turning the valves clockwise, make sure that firm resistance felt. The firm resistance is a signal of security.
This hydraulic jack is designed to LIFT ONLY, it is not designed to support objects. One you have lifted; you need a pair of jack stands to support the loads. Again, the purpose of the jack is only to lift and not to support. Once you buy the jack, make sure that you buy appropriately rated jack stands as well, if you have them already then that is fine. But, if you lift and don't have the jack stands, then there is a possibility to accidents.
Conclusion:
The idea behind the creation of this article was to prevent you all from the hassle of research. Picking out one product out of the many available is the hardest job and we did it for you. Out of the best of the best floor jacks available, we picked out this Blackhawk fast lift service jack. It has amazing features that you will definitely enjoy working with. Lifting will not be a problem anymore, actually you will enjoy doing it. We are sure, that after you get your hands on this jack, your car will be in a way better shape!
Blackhawk B6350 3.5 Ton Owner's manual: [PDF]