Electric vs. Gas Pressure Washers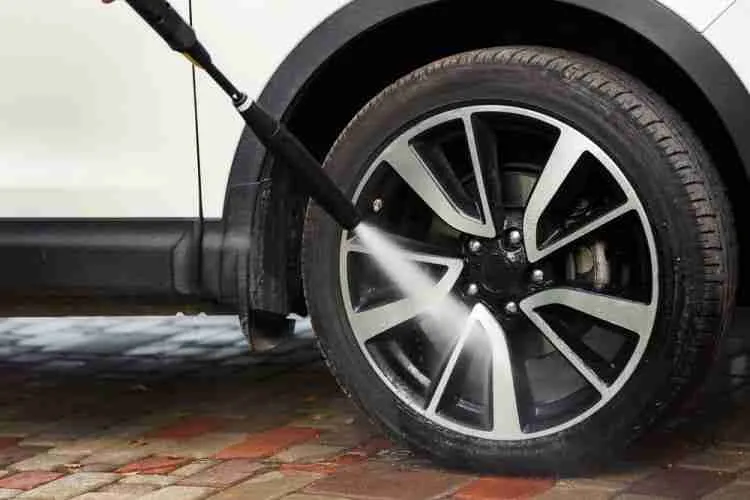 Spring is right around the corner and many of us have started preparing for the return of warmer weather. There are various things we may be doing from picking out our spring flowers for planting, washing the grime of winter off our houses and cars, and preparing our decks for staining. One of the most useful tools to have for the new season is a pressure washer since they are versatile for both deck preparation and power washing various household items. However, there are a number of things that we must consider before investing in a pressure washer.
Things to Consider Before Buying a Pressure Washer
There are various things that individuals need to investigate before purchasing a pressure washer. One of the first topics you need to consider is what you plan on using the pressure washer for. Are you planning on simply cleaning your deck, patio furniture, or car? Are you planning on power washing your entire house or removing paint from your siding or stain from your deck? Once you have determined your need, you can begin to look at various models.
Pressure washers come in several different levels. Consumer or homeowner level is for individuals looking more for the cleaning power of a pressure washer to conduct tasks such as washing their car, deck, or house. These units are not used regularly, but rather more as seasonal tools. They also only output cold water. Semi-pro models are more upgraded than consumer models and have a professional grade water pump. These units can be for consumer use, but are meant more for regular usage like if you power wash your house every weekend. They output only cold water as well. The professional units are meant for everyday usage as they are built to stand up to repeated heavy use. These models are as the name suggests more for professional power washers. They are capable of outputting cold, warm, and hot water.
Every pressure washer comes with specifications that can help consumers decide if they will fit their needs. Two of those specifications related directly to the units water capacity. Each unit has a pounds per square inch (psi) water rating, which indicates how much pressurized power it outputs. The higher the pressure, the better the unit is at breaking down a heavy chemical bond such as paint vs. dirt build-up. In addition, units also have a gallons per minute (GPM) rating, which indicates the amount of water outputted. The larger the amount of water, the more area the pressure washer can cover.
One specification you should pay the most attention to is the cleaning units or power measurement. This is calculated by taking the PSI rating and multiplying it by the GPM value. Basically, what this indicates is how fast the unit will clean. The higher the value, the quicker this unit will breakdown dirt and paint.
As you can probably imagine, each level of pressure washer costs differently. Consumer varieties tend to cost around $100-$350, while semi-pro models costs around $400 and up. Professional models are the most expensive and cost anywhere from $550 and upwards. If you are only looking to do seasonal maintenance, then the $550 price tag might be a bit too much to swallow.
This is probably the least important consideration of all of them, but it is still noteworthy. Some brands tend to provide higher quality performance and better customer service support and therefore, brand should not be discounted when considering what model to purchase.
Electric vs. Gas Pressure Washers
Pressure washers come in two main types; electric and gas. Each has unique qualities that make them more proficient at certain tasks over the other. Let us look at each type and discuss their benefits and shortfalls.
Electric Pressure Washers
Electric pressure washers are plug in varieties that are usually less portable, but significantly quieter. They are less powerful than gas pressure washers so most jobs with these units can take longer. They come in various sizes that are capable of different pressure ranges usually from about 1,300 to 1,700 psi. In addition, electric pressure washers tend to cost much less than gas versions because they are typically used more for small jobs such as seasonal cleaning of patio furniture or decks.
As we mentioned, electric power washers tend to be better suited for smaller jobs such as cleaning decks, patios, and outdoor furniture. They are much better at jobs that are intended for cleaning over paint or stain removal. They also tend to be lighter units since they do not have gas tanks and require very little maintenance. In addition, these units tend to cost less than gas-powered units.
Since these units provide less pressure, they tend to take longer to clean and are usually less sturdily constructed. Another downside for electric pressure washers is that they are less portable since you need to be near a plug or have several extension cords.
Gas pressure washers are gas-powered, tend to be much more portable, and are usually quicker at cleaning than their counterparts. However, they also tend to be much louder than electric pressure washers. They require regular gas fill-ups, where obviously electric units do not. Gas pressure washers also come in various sizes and costs vary depending on the size and power. They typically output water at pressures of 2,000 to 2,800 psi, which make these units better suited for jobs that require more power such as paint stripping rather than grime removal.
Gas pressure washers clean much faster than electric units because they output more pressure. They are best suited for larger projects like removing stain from your deck, removal of tough stains like oil marks, or cleaning your siding.
These units tend to be much louder than electric units and are quite heavy given the added gas tank. They also require regular maintenance and must be winterized since they tend to be stored in colder areas like the garage or a shed. In addition with gas pressure washers, individuals need to use more caution when operating as they output higher pressurized water, which can cause injury or damage if focused on one spot for too long. These units also tend to cost more than electric units.
Top Rated Electric Pressure Washers Available
Snow Joe Sun Joe SPX3000
The Sun Joe is a top rated unit that has a 14.5 amp motor. It has a 2,030 psi rating along with a 1.76 GPM specification. It includes four quick-connect nozzles that spray at 0, 15, 25, and 40 degrees and one soap nozzle. The Sun Joe has dual detergent tanks that can be used to store different detergents. It costs about $149.
A major pro of this unit is that it comes with a full two year warranty. Consumers also noted that it had a great stable water flow regardless of which nozzle was used. In addition, this unit also has a high power output considering it is an electric unit. An added feature of this model is that it also includes the total stop system, which automatically shuts off the pump when the pressure trigger is not in use. This saves electricity and reduces wear on the pump.
This unit was highly rated amongst buyers, but it did have one large complaint against it by consumers. Most noted that the supplied hose tended to leak at the connection point quite significantly even when using a brass connecter piece.
Annovi Reverberi AR Blue Clean AR383SS
The Blue Clean is another highly rated electric pressure washer that is perfect for outdoor cleaning jobs. It has a 1,900 psi rating with a 1.3 GPM specification. It is capable of handling decks, patios, outdoor furniture, driveways, siding, and vehicles. It includes a professional-style gun, wand, 30 foot long hose, a 28 ounce detergent tank, and four different nozzles. This unit costs around $155.
A major pro of this model is the quick connect nozzle feature. The previous unit the AR383 did not have this feature and it makes swapping out the nozzle pieces much faster. In addition, the connection is stainless steel where as previously it was a plastic piece. This model also includes a side stand to rest the wand in and hooks to wrap the electric cord up.
This model has high marks amongst consumers as it is one of the highest rated out on the market today. However, it does have two notable complaints against it. Consumers stated that it provided a lot less pressure than expected and that they had trouble with the quality of the unit. Some individuals noted that the unit broke within several uses.
Top Rated Gas Pressure Washers Available
Simpson Cleaning MSH3125-S
This top rated gas pressure washer has a pressure rating of 3,100 psi and 2.5 GPM. It is ideal for grime and mildew removal especially on driveways. It weighs about 65 pounds and is actually quite portable for a gas-powered unit. The MSH3125-S comes equipped with a Honda engine, which provides a significant amount of power. It also includes a 25 foot hose along with various angled nozzles. It costs around $400.
A major pro of this model is that it comes with a kink resistant hose. This feature allows for a long life on the attachment and prevents stress points. The MSH3125-S is ideal for heavy duty projects like gutter or siding cleaning and deck stain removal. In addition, this model is built for safety with a lockout feature on the handle when not in use. It also comes with a two year warranty for the unit as well as a one year pump warranty and a five year frame warranty.
Common complaints for this model included poor customer service, leaking oil, and violent shaking. Consumers noted that when the unit showed up and within the first usage many started leaking oil from the engine and they found that the customer service response was poor in dealing with this issue. In addition, the unit tended to shake quite noticeably to the point that it was hard to keep stable in one place.
Generac 7019 OneWash
The Generac unit is a 3,100 psi unit with a 2.4 GPM specification. It has an ergonomic spray gun that includes a power dial built into the handle. The unit also has a half gallon detergent tank and a 25 foot long hose. In addition, this unit has an attachment resting point for the spray gun and includes four different angled nozzles. It costs around $400.
A large pro of this model is that it comes with the power dial on the handle, which allows the user to set the pressure for a variety of different tasks such as car cleaning or soap output. It has a durable steel frame and a large detergent tank. This unit is ideal for gutters, decks, driveways, and vehicles, which provides a lot of versatility.
While this unit is highly rated amongst consumers, a few notable complaints were that the pump failed after a few uses and that customer service response was poor even though the units came with a good warranty policy.
Final Thoughts
We have provided you some valuable information regarding the various levels and types of pressure washers. We recommend considering your planned usage carefully before purchasing any unit as electric pressure washers tend to be better for smaller jobs while gas pressure washers tend to be higher rated for larger, difficult jobs. Keep in mind the power of the unit as well as the water pressure it provides. Cost is also a significant factor and to a lesser extent brand. Some companies tend to provide better customer service than others. We also recommend reading the online reviews for each product as they can definitely provide value information on the quality of the unit.