Chemical Guys BUF_503X Random Polisher Kit Review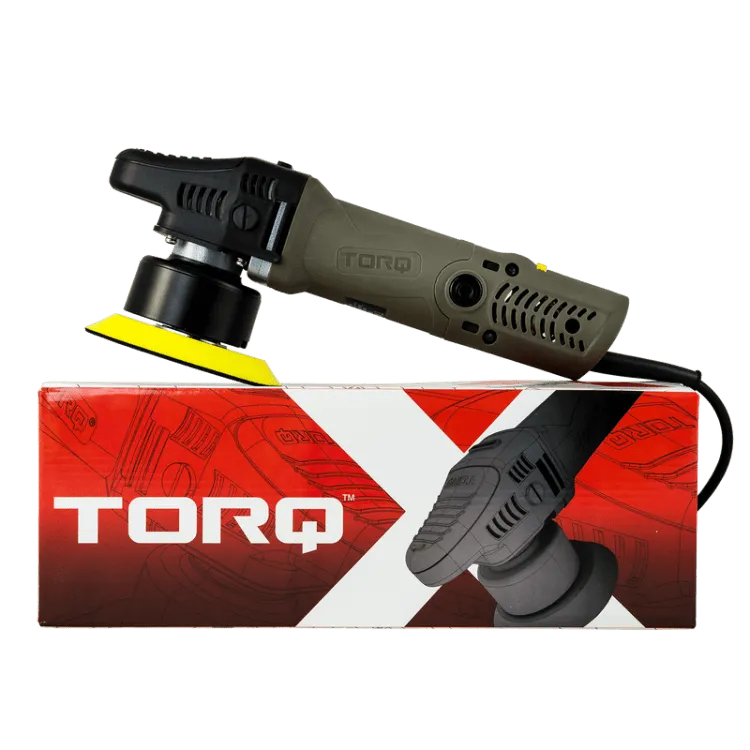 You remember how shiny and glossy your vehicle's exterior looked when you first picked it up off the dealer's lot? It didn't take long for the paint to start showing a few minor scratches and other imperfections. You can make the finish smooth and glossy again with a polishing kit.
There are several polishing kits vehicle owners can choose from. However, not all produce the same results or are easy to use. If you plan on manually polishing your vehicle, there's one kit that stands out from the competition. Here's a look at what makes Chemical Guys BUF_503X Random Polisher Kit by Torq a great buy.
Chemical Guys BUF_503X Random Polisher Kit
This polisher kit by Torq comes with everything you need to get your vehicle's exterior looking like new. It's also incredibly easy to use and you won't have to apply a lot of elbow grease to buff scratches and other imperfections away. With everything you get with this kit, it's hard to believe it comes at an affordable price point.
All of the accessories you need to polish and erase minor defects from your vehicle's paint are included. There's nothing else you need to buy. Along with the dual-action polisher and 3 buffer pads, the kit also comes with small samples of their finishing compounds. You can choose from the samples to find a heavy compound or lighter finishing polish to get the right look for your vehicle.
Everything about the Chemical Guys BUF_503X Random Polisher Kit is designed for the serious detailer, whether it's at a professional shop or in a home garage. The machine polisher comes with an 8mm dual-action polisher that is designed to provide consistent polishing without putting wear and tear on the user. Its' powerful motor tackles hard jobs so you don't have to worry about over-exerting yourself. It also comes with an ergonomic design and variable speed controls. This Torq polisher is a breeze for even novices to use.
It won't take all day to buff and polish scratches, swirls, and other defects in your vehicle's exterior paint. The polisher comes with three backing plates so no surface area is too big or small. The 3, 5, and 6-inch plates are easy to switch out as needed. It only takes seconds with the included Torq wrench.
Along with being comfortable and easy to operate, the Torq random polisher kit is constructed to last. Wear and tear on the internal components is reduced thanks to the electronic control systems. Not only do they help prolong the life of the polisher, but they also improve power so you can finish faster.
Chemical Guys BUF_503X Random Polisher Kit by Torq is a must-have for anyone that wants to keep their car's exterior looking like new. It's easy and comfortable to use and comes with everything you need to polish out paint imperfections. Best of all, it's priced to fit most budgets.
Features
Powerband range of 1200 – 4200 OPM
Ergonomic design and streamline controls
Can be used to apply waxes, sealants, and glazes
Comes with all necessary accessories
Has a power rating of 700 W
Even top-rated products with plenty of advantages also come with a few disadvantages. Here are some that apply to the Random Polisher Kit by Torq.
Pros
Easy for beginners to use but powerful enough for pros
It's lightweight at a little over 8 lbs.
Can be used on large and small vehicles
Priced to fit most consumer budgets
Heavy-duty construction
Cons
The customer service department can be difficult to contact.
Benefits of Using a Polishing Kit
There are several benefits associated with using a polishing kit a couple of times a year on your vehicle that includes,
Fixing defects in the exterior paint. Even new vehicles often have small defects in the exterior paint. The abrasive compound included with the Chemical Guys BUF_503X Random Polishing Kit will safely remove swirls, lines, and uneven coats. After using the compound, the exterior paint will look smooth and even.
Camouflage spots. It's not uncommon for stubborn spots to appear on exterior paint jobs. While polishing won't remove them spots completely, it will help them blend in and be less visible.
Remove scratches. It can seem like your vehicle gets a new scratch every day. Usually small and shallow, these scratches will still mar your paint job. Using the polisher by Torq with Chemical Guys polish will smooth away tiny scratches and help larger and deeper ones blend in.
Restore the finish. Over time the exterior paint on a vehicle can start to look dull. This can be due to residue buildup from pollution, pollen, and even soap. Using the Torq polisher to buff, fill, and smooth the car's exterior finish will give it a glossy, smooth shine so it looks like it just left the dealership. Adding a coat of wax at the end will add another protective layer over the exterior finish.
Extend the life of the vehicle's exterior paint. Polishing your vehicle removes stubborn dirt that a carwash might not get. It also takes off any paint that has oxidized, preventing the rust from spreading. This helps to stop peeling and cracking that often happens to paint jobs on older vehicles.
Reduce how often you wash your vehicle. Using the Random Polisher will cut down on the number of times you have to wash your vehicle. The coating helps prevent dust and dirt from sticking to the paint. Often, all you need to do is give the vehicle a quick dust-off with a clean cloth.
Vehicle resale value improves. How a vehicle is maintained will affect its' resale value. If the exterior paint job is smooth and shiny, the resale value typically increases. It is important to remember that maintenance also applies to the interior and under the hood.
These are only some of the benefits car owners get when they use Chemical Guys BUF_503X Random Polisher Kit at least twice a year.
How to Use the Torq Random Polishing Kit
Using this polishing kit is extremely easy, even if it's your first time. It comes with easy to use features, along with some that are designed to prevent you from damaging the vehicle's paint. The polisher is electric and connects to any compatible 120V outlet. Once the tool is plugged in, familiarize yourself with the controls. These include the switch for power and variable speeds. Once you're comfortable with holding the polisher, it's time to start.
It's easy to attach one of the three various sized buffing pads to the polisher with the Torq wrench. It comes with the kit so you don't need to worry about having to purchase it separately. You'll choose the size based on the area you're working on. Don't worry about balancing the polisher during use, it's designed to buff and polish evenly without tipping over. This is a common problem with some other models.
With the Orange Hex-Logic cutting pad, you can polish away scratches, swirls, and paint oxidation. This will restore a deep shine and give the paint back its' reflective surface.
If the paint lacks gloss and has heavy marks, the White Hex-Logic polishing pad will buff these away so your vehicle looks like it just left the showroom floor.
The Black Hex-Logic Finishing Pad is the final step. This is when you seal in all your hard work. Use it to spread a sealant, glaze, or wax.
Even though the Torq Random Polisher Kit is simple to use, and it only takes minutes to use all three pads, not every vehicle will require it. Some may not need dark, heavy marks removed, while others may not have any exterior paint imperfections. This is why the kit is designed to allow each owner to choose the ones that are best for their vehicle.
Is The Torq Polishing Kit Worth It?
The Chemical Guys BUF_503X Random Polisher Kit is worth its price point. It does come with everything you need for the first job and gives you plenty of options for polishing your vehicle.
What helps it to stand out is the partnership between Torq and Chemical Guys. Both are well-respected brands in the automotive industry. Torq for its polishers and the Chemical Guys for their compounds that can restore the shine to almost any vehicle's paint job. It should be mentioned that there are limits to what even these two brands combined can do. If the exterior paint is extremely damaged, there might not be anything to do but replace it.