Cómo hacer una cubierta de volante difusa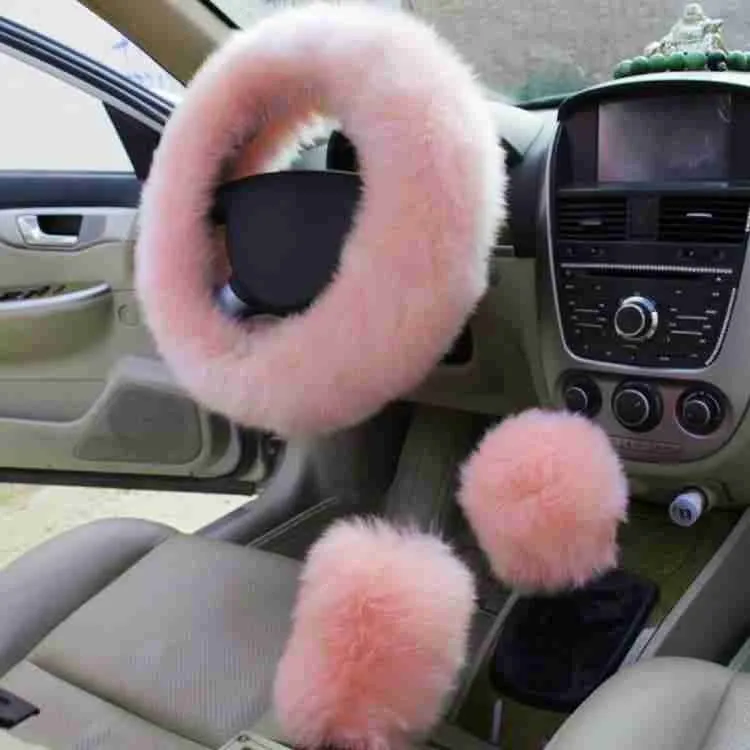 Maybe you're looking to update your car interior's look, maybe you're a fan of loud colors and funky style, or maybe you need to replace a worn-down steering wheel cover. Either way, you're looking for a way to do it yourself. This project is easy enough for a beginner, and fun for anyone who wants to express their wild sense of style! Follow these simple steps to add some functional pizazz to your ride.
Paso 1: Reúna los suministros
You'll need to gather some supplies to make your own steering wheel cover. You can find all of these items at your local craft store. For a durable and long-lasting final product, invest in good quality materials.
El material difuso puede ser un poco más difícil de trabajar que la tela más suave, así que asegúrate y un poco más en caso de errores. Compra lo suficiente para cubrir las medidas de tu rueda. Tenga en cuenta que es menos probable que las telas ligeras se desvanezcan por la exposición al sol.
Cheap scissors won't give you a smooth cut to work with on your fabric.
Cuanto mejor sea el hilo, más resistente será la funda.
Either width is fine, but you'll want to steer clear from bargain bin elastic that won't stretch as well. Look for at least 40" long elastic.
You'll need at least ten, but twenty would be best.
This will wipe away and won't leave permanent marks on your material.
Un alfiler mediano a grande funcionará mejor que uno pequeño para este proyecto.
Paso 2: tome las medidas del volante
In order to know how much material you'll need, start out by measuring your steering wheel. Measure the circumference of the steering wheel by stretching a tape measure along the outside of the steering wheel, from one end to the other. Then, measure the thickness of the wheel by wrapping the tape measure around the grip at its thickest point.
La cubierta del volante deberá cortarse un poco más larga y más ancha que estas medidas, así que asegúrese de anotarlas.
Paso 3: preparación de los materiales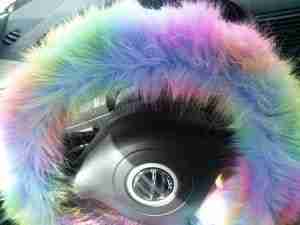 Si compró tela que no está preencogida, asegúrese de pasarla por la lavadora y la secadora como lo indica la tela antes de comenzar. Algunas telas no necesitan encogerse, pero se recomienda lavar la tela antes de cualquier proyecto de costura. Haga que enhebren las agujas en su máquina y prepárese para una hora de trabajo más o menos para completar su proyecto.
Paso 4: Configuración de su portada
Outline the material needed based on your measurements taken plus 1″ on the width and length (½" on all sides.) You will need this extra fabric for the seam and elastic. Cut your fabric along the outline. Be sure and iron the fabric once it is cut out for a smooth working surface.
Cut your elastic next. Remember, elastic is pretty stretchy and does not need to be the same length as your material. A good rule of thumb would be to measure it as your material's total length minus ⅓ of its length. Ex: If your material is 45″ long, cut two elastic pieces at 30″ or so.
Paso 5: ponte a trabajar
Marque el esquema de su portada:
Flip your fabric to the inside, or whichever side you don't want to be visible. Measure in 1/2″ from the edge of your fabric along the length on both sides of the fabric and mark with chalk. Fold one side of the fabric inward, up to the first chalk line, and pin at each end, creating your seam-line. Repeat on the other side.
Fija tu esquema:
Next, insert sewing pins along the length of the seam on both sides to firmly fold the material before sewing. I recommend testing your newly pinned product by matching it to your steering wheel. If the width doesn't look like it will fit, or will have more than a half-inch of extra fabric dangling over the wheel's width, re-measure. It's better to check now than after stitching everything together.
Cose tu contorno:
Once your pins are in place, you can get to sewing! It doesn't matter if you stitch by hand or machine, just follow the edge of the pinned fabric carefully, missing a stitch can leave a bubble in your seam. The end result should leave a small "pocket" to thread in the elastic you chose.
Inserte el elástico:
When sewing is done, attach your safety pin to one end of a piece of elastic. You'll use this to more easily feed the elastic through the "pocket" of the seam. Feed the elastic through one of your newly made "pockets" until it comes out the other end and pin it in place with a sewing pin.
Arruga la tela hacia el imperdible hasta que aparezca el otro extremo del elástico. Sujeta el elástico en su lugar con un alfiler de costura para evitar que la tela lo cubra nuevamente, y luego repite nuevamente con la segunda pieza de elástico en el otro lado de la funda del volante. Una vez hecho, debería terminar luciendo un poco como una goma de pelo gigante.
Coser el elástico:
Once you've got your elastic pinned to the cover, sew it in place to prevent the tension from falling in the steering wheel cover. The tension is necessary to keep the cover on your steering wheel. When the elastic has been stitched in place, remove your pins and stitch the two ends of the cover together.
Paso 5: ¡Pruebe sus resultados y disfrute!
Una vez que se hace la puntada final y se corta el hilo, el siguiente paso es asegurarse de que su accesorio de automóvil más nuevo se ajuste. Deslice la cubierta sobre el volante y colóquela como lo haría con cualquier cubierta de volante. Debe haber suficiente tensión en el elástico para crear un ajuste suave.
Conclusión
¡La mejor parte de una funda de tela es que puedes lavarla si se ensucia! Si desea eliminar las marcas de tiza de la tela, se recomienda lavar a mano. Deje secar al aire y vuelva a colocarlo en el volante. ¡Disfruta de tu próximo viaje con tu elegante y difusa funda para volante!