Cómo sacar el olor a gas de tu auto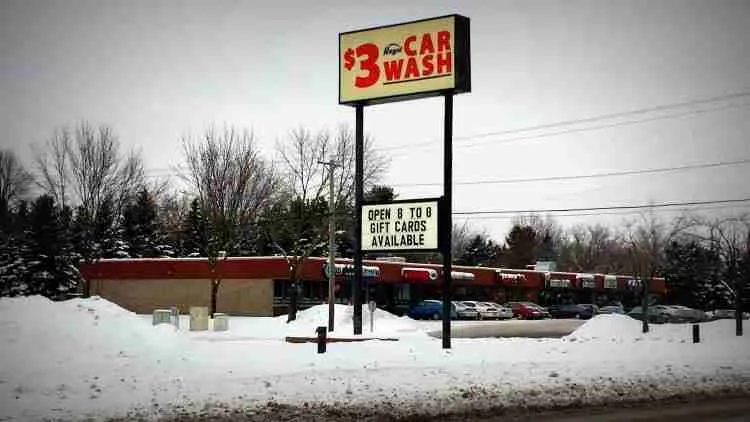 We've all done it! It happened while you were removing the gas nozzle and it got on your shirt or pants. You accidentally stepped in a puddle of it by the pump. Or maybe you filled up the gas can, a hard day of mowing ahead of you, and on your way home you slam on your brakes to avoid hitting that cute little squirrel and it spilled in your trunk. At one time or another, chances are if you own a car, you've gotten that gas smell stuck in it that just doesn't know how to quit.
You hang your head out the window for fresh air, and crack open a new air freshener, hanging it from your rear view. Or you invest in one of those fancy little fans with the fragrance that attach to your vents. But now you've just got gasoline in a flower field. Yuck!
You can't just leave it. It's not going away on it's own over time. Depending on the severity you could get dizzy, have headaches, or just feel plain old nauseous. Not good, especially when you are driving a two-ton piece of metal down the highway. So how do you do it? How do you get rid of that gas smell once and for all?
If you can afford to head to your local detailer, you're probably already there having the pros work it out. But a trip to a professional can be costly and take up a lot of your precious time.
Dado que existe una amplia variedad de tipos de alfombras y tapizados que se utilizan en los vehículos, no existe un método único probado y verdadero para eliminar el olor a gasolina. Sin embargo, hay algunos consejos para omitir ese molesto olor usted mismo y sobre todo con artículos que probablemente ya tenga en su hogar.
It's important to note that you should always treat gasoline and it's fumes seriously and clean it up promptly. Remember that gasoline is highly flammable. Windows down, doors open, and a well ventilated area are must-haves for this process.
Empapa el derrame
The best thing you can do for any size spill is to not wait to take care of it. Soak it up right away! The longer it's given to seep into the material, the harder it will be to remove the odor from the fabric's fibers.
For large spills, sop up the offending liquid with rags or cloths right away. Be sure you are using clean cloths. You don't want to mix gas with another substance left on a dirty one.
If your problem area is on the carpet or upholstery of your vehicle, try sprinkling cat litter or over the affected area to absorb any remaining wetness and odor. Cat litter should be left for a couple of days. Make sure you check your city's guidelines for disposing of the litter.
Para derrames más pequeños, el café molido o el bicarbonato de sodio también pueden funcionar. El bicarbonato de sodio debe dejarse en el área durante la noche y también ayudará a eliminar la humedad persistente. Los posos de café deberían funcionar tanto para absorber como para neutralizar el olor, pero tardarán mucho más en funcionar, hasta una semana.
Asegúrese de aspirar a fondo cualquier elemento que elimine la humedad que utilice antes de pasar al siguiente paso.
Cuida el hedor
Pruebe partes iguales de bicarbonato de sodio, vinagre blanco y agua caliente. Para alfombras, frote con una esponja o cepillo. Para tapizar, use un trapo limpio.
También se ha observado que partes iguales de vinagre de sidra, agua caliente y jabón para platos son una buena mezcla para neutralizar los olores.
Si su derrame fue muy pequeño, deje algunas toallitas para secadora en el lugar durante un par de días. Su tecnología de eliminación de olores debería encargarse de ello.
If you've got the cash, you could always purchase a commercial grade upholstery cleaning product. This is a buy where consumer reviews might help you avoid something that just consistently doesn't work across the board. If you're going to spend your money on something, you'll want to know there's a good chance it's going to work.
¿Busca un producto comercial que no contenga químicos? Un producto llamado Smelleze Reusable Car Smell Deodorizer pouch afirma ser una bolsa no tóxica cuyo contenido contiene una estructura molecular que neutraliza y atrapa los humos y se recomienda para quienes son sensibles a los productos químicos o tienen alergias. Es reutilizable y su poder se puede regenerar colocándolo al sol o en el microondas como se indica. Una vez agotado, se puede reciclar en el suelo. ¡Elección amigable con la Tierra para la victoria!
Además de cualquiera de estos tratamientos, abra las puertas y ventanas como se mencionó anteriormente. Si puede hacerlo y aún así se las arregla para mantener su automóvil seguro y protegido, ventilar el vehículo durante un día después de la limpieza hará maravillas.
According to AAA, Americans spend an average of around 50 minutes in their car per day. Whether you're commuting to and from work, running errands, or just out for a cruise, that is plenty of time for unwanted fumes to wreak havoc on your well being.
Esto es especialmente riesgoso durante temperaturas extremas cuando es más probable que tenga las ventanas cerradas y el aire recircula dentro del vehículo. Así que no importa qué método decida probar, asegúrese de probar algo.
Después de limpiar y desodorizar su vehículo, asegúrese de lavarse las manos con un jabón suave para platos, jabón de manos o una barra de jabón. Si el olor persiste en sus manos, intente frotarlas con vinagre o pasta de dientes para eliminar el hedor.
The time you spend solving this problem is well worth it to ensure rides in your car are enjoyable and healthy for both yourself and your passengers. And if you've never encountered a gas spill, bravo! But it might be a good idea to keep these tips on hand. Trust me, your day will come.