Cómo quitar las calcomanías de la ventanilla de un automóvil: 7 maneras fáciles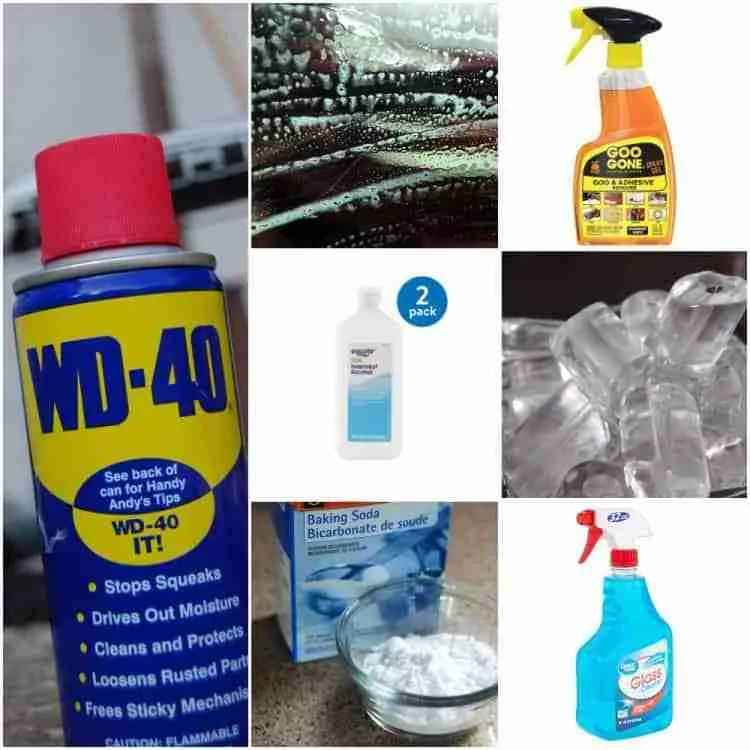 Stickers are often the bane of car owners that want to keep their windows nice and clean. Whether it's a decal from a parking lot or registration sticker, there comes a time when you want to get it off. However, this is never as easy as simply peeling the sticker off.
There's always sticky bits left behind and this doesn't include the adhesive residue. If you're tired of old stickers on your vehicles windows but don't want to spend hours scrubbing, here are a few tips on how to get stickers off a car window.
7 formas sencillas de quitar las pegatinas de las ventanas de los coches
You don't have to break out a sharp-edge scrapper or a powerful pressure washer. The adhesive on the stickers might seem stronger than cement but there are a few simple tricks that will get them off.
Limpiador de ventanas
It will take something stronger than the glass cleaner you use on bathroom mirrors. You'll need a sudsy or foaming agent in the cleaner. You can find a few brands at most local auto parts stores and even in some drugstores if they have an automotive section.
La razón por la que desea utilizar un limpiacristales detergente es para degradar el adhesivo fuerte. Simplemente enjabonar la pegatina y el área circundante con una esponja o un trapo limpio. Después de dejarlo reposar durante unos minutos, la pegatina debería comenzar a deslizarse hacia abajo. Si queda algún adhesivo, quítelo con cuidado sin rayar el vidrio.
Alcohol desnaturalizado (para frotar)
Sometimes detergent won't be enough to get stubborn stickers off. Soaking a paper towel in rubbing alcohol and wiping it across the sticker will loosen the adhesive making the sticker slide and peel off. You will need to soak the entire decal if you don't want to spend time scrapping away at the sticker.
Es posible que aún quede un poco de residuo después de quitar la etiqueta. Puede usar una hoja de afeitar para quitar con cuidado el pegamento restante.
Prueba Goo Gone
Los padres con niños pequeños a menudo usan este químico no tóxico para quitar varias pegatinas que a los niños pequeños les encanta pegar en casi todas las superficies. El producto actúa deteriorando el adhesivo para que puedas despegar la pegatina sin dañar la superficie sobre la que estaba pegada.
It takes a few minutes for the chemical to work but when it does, all of the adhesive gunk is usually gone. All that's left is to wipe away the smear on the car window.
Usa hielo
If you don't have an ice-pack in your freezer, you can easily make one. Just take some ice cubes and place them in a sealed sandwich bag. Place the ice-pack on the sticker, depending on its location on the window you might need to hold it in place for 5 – 6 minutes.
Cuando la pegatina esté fría, use una hoja de afeitar para quitarla con cuidado de la ventana.
Pulverizar WD-40
Casi todas las casas o garajes tienen una lata de WD-40. Si bien es tóxico, los componentes químicos pueden hacer frente a todo, desde eliminar el óxido hasta arreglar bisagras chirriantes. WD-40 también se puede utilizar para quitar pegatinas y calcomanías de las ventanas de los automóviles.
Spray the compound on the sticker, let it sit for a couple of minutes, and then wipe the sticker and adhesive residue off. Most of the time, you won't need to scrape any residue off.
Jabón y agua caliente
The water doesn't have to be boiling but it does need to be hot. Mix the hot water with a small amount of liquid soap in a spray bottle. Spray the sticker with the mixture a few times to ensure its thoroughly soaked.
Siga revisando la pegatina para ver si el adhesivo se está aflojando y quítelo.
Bicarbonato de sodio
There are multiple uses for baking soda that include helping remove stickers from windows and windshields. Take a ½ cup of cooking oil, brand name doesn't matter and pour in a small amount of baking soda. Take a clean paper towel and apply the mixture to the sticker until you can peel it off with your fingers.
You will need to wipe the window down with glass cleaner to remove the oil and any other residue. If you're looking for a non-toxic and budget-friendly way to take-off old stickers, this is one of the best methods.
Cómo quitar las pegatinas de las ventanas de coche tintadas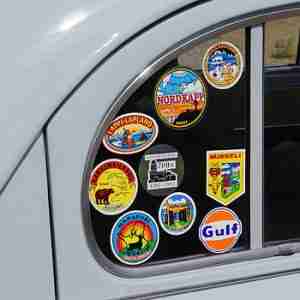 Even if your vehicle's windows are tinted it doesn't mean that you're stuck with an old sticker. You can remove it without ruining the tint. Here are a few tips that will help.
Asegúrese de que la ventana del automóvil esté limpia.
Usa agua tibia y una esponja con jabón para remojar la pegatina.
Si la calcomanía es rebelde, es posible que también sea necesario aplicar un desengrasante como WD-40.
Use una espátula de plástico, el borde de una tarjeta de crédito / débito o un raspador de vidrio para quitar el adhesivo.
Lava y limpia la ventana.
To ensure that you don't accidentally scrape the tint away along with the sticker try to avoid using razor blades or other sharp-edged metal scrappers. The best advice is to keep applying the soapy water and degreaser until you can peel the sticker off.
Conclusión
It's extremely rare to see a vehicle without at least one sticker on the window. Whether it's a pass for the toll roads, emissions inspection/registration sticker, or one for your parking garage, at some point you'll want to take it off.
Even if your vehicle windows are tinted, it's still possible to safely remove stickers. Just remember to not use anything that could scratch the tint. With a little bit of elbow grease and some common household cleaners, you can get a clear sticker-free view out your car windows again.