La forma más barata de reemplazar una llave Mercedes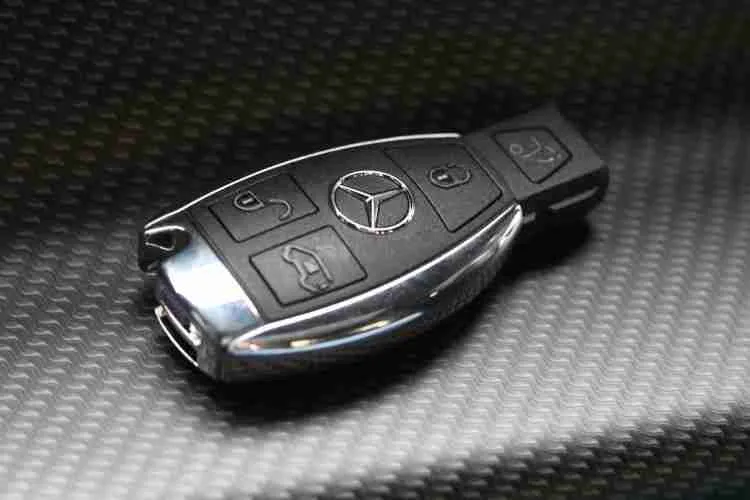 La forma más barata de reemplazar una llave Mercedes
Tener el auto de sus sueños es una experiencia como ninguna otra, y cuando ese auto es un Mercedes, no hay un precio real que ponerle. Mercedes es una empresa que destaca por la elegancia y el diseño. Si usted es un orgulloso propietario de un Mercedes, no es de extrañar que valore la llave Mercedes que se proporciona con el automóvil, ya que no es tan simple como las llaves normales de un automóvil. Viene con sistemas de seguridad mejorados para la seguridad de su automóvil.
The most common problem with car owners is one of losing your car keys. It doesn't matter if you own a Mercedes or any other car this is a problem everyone has faced once in their lifetime if not more. But the issue with losing a Mercedes car key is that it costs quite a bit of money to get a new one.
While you might be able to handle the expense but at a point, your mind will not be at ease for spending so much money on such a common mistake that could happen to anybody. We always recommend keeping your car keys safe, but accidents do happen and you might lose them or they might get damaged in a way making it unsuitable for further use. In this case, you need to get a new Mercedes key and if you don't want to spend the money then this article is for you.
Existen muchas técnicas para obtener una nueva llave Mercedes, pero las que se mencionan a continuación son las mejores y más económicas formas de reemplazar una llave Mercedes.
Primera forma: Consíguelo en Amazon
Over the last few years, Amazon has expanded its global consumer base so much that today there is hardly any kind of product that is not available on the eCommerce platform. Car accessories are not an exception and Amazon even has a specially dedicated section for the cars which is called 'My garage'. Almost all the things you are looking for your car may be available here.
Now to get the keys for your Mercedes you can't simply search for it in the search bar. First of all, you need to log in to Amazon with your account and then go to the 'My Garage' section. There you need to search for blank keys that are completely unprogrammed and uncut. It might be a little difficult to get the keys you are looking for, so try to refine the search using the filter in the search bar.
Es posible que también deba comprar el control remoto para bloquear y desbloquear los automóviles. Algunos de los automóviles Mercedes modernos combinan el control remoto y la llave en un solo dispositivo. Además, asegúrese de haber encontrado las llaves correctas para su automóvil y si tiene alguna confusión al respecto, puede buscarlas en Google o en cualquier foro de Mercedes.
Los únicos dos problemas con este método son que lleva bastante tiempo recibir la llave e incluso después de la entrega, deberá codificar la llave de su automóvil usted mismo, lo que no todos pueden hacer.
Segunda forma: póngase en contacto con el cerrajero móvil local
This is an important way as it doesn't matter if you adopt the previous way or not you are going to need someone to cut and code the keys for your car. Getting a mobile locksmith is the best way to get this done. And if unfortunately enough, you have lost all the keys to your Mercedes then the locksmith can come to your house and work on it. It's very good if you can get a locksmith who specializes in Mercedes cars then he can get your car ready and running on the roads in a few hours at the max.
Some of the locksmiths are good enough to supply you with the keys as well as cut and code it for you. If you happen to get hold of such a mobile locksmith then he can solve your problem easily. It's better to discuss your problem with the locksmith beforehand as if he thinks that it can be done, then this is a few hours job at the max. Mercedes is one of the first few companies to install electronic locks in their cars making it more secure and developing the keys more difficult hence it's important to make sure that your locksmith is equipped enough to handle the job at hand.
Tercera forma: codifique su clave
Puede codificar su clave si es tan valiente y comprende los aspectos técnicos del programa. Pero para dar una advertencia justa de que las llaves de Mercedes son mucho más complicadas de programar que otras llaves de coche. Además, debe tener en cuenta los siguientes puntos para programar una llave Mercedes:
You can only program the older 'Flip' Mercedes car keys by yourself. If your car uses the modern Mercedes 'Smart' keys then you will have to go to the Mercedes dealer or see an expert as there is no other option.
Las llaves que se utilizan como reemplazos se consideran una llave de repuesto y, por lo tanto, el automóvil Mercedes le permite solo crear y programar la llave de repuesto.
Una vez que haya programado la llave de repuesto, nunca podrá reprogramarla para otro automóvil. Pero puedes reprogramarlo tantas veces como sea necesario hasta que lo hagas bien.
No puede programar una llave de reemplazo o una llave maestra usted mismo y, si la ha perdido, debe comunicarse con el concesionario para obtener una nueva llave maestra.
If all of this goes in vain and you cannot get hold of a locksmith or find the right keys or fail to program it yourself, then as a last resort you have to go to the Mercedes dealership and they will provide you with the master key. It's not cheap, but the most secure option. The above mentioned three options are the cheapest ways to replace a Mercedes key. If you don't want to spend a hefty amount of money at the dealership then try out the above methods to easily get the keys replaced and also cut back on the expenses.
Preguntas frecuentes
¿Cuánto cuesta reemplazar una llave Mercedes?
A new key for your Mercedes will set you back between $200 and $300, though it's been reported by some Mercedes-Benz owners to cost up to $560.
Thankfully, you don't need the car with you or even your existing key, but the dealers are usually very strict on verifying ownership. The dealer will order the right key for your car from the VIN number, and you'll also need your vehicle registration, as well as your driver's license, passport, or identity card.
You may be able to replace your Mercedes key for cheaper if you check out some other options. For example, you may be able to find blank keys on the 'My Garage' section of Amazon. This method will require you to code the keys yourself though, which is a little bit tricky (we cover this later on in the article).
¿Puede un cerrajero programar una llave Mercedes?
Es poco probable que su cerrajero promedio pueda programar una llave Mercedes, sin embargo, si encuentra al cerrajero de automóviles más cercano, esto es algo en lo que pueden ayudarlo.
La mayoría de los cerrajeros de automóviles también ofrecen un servicio móvil de emergencia en la carretera si necesita la programación de la llave del automóvil o la reparación urgente del llavero remoto.
Su mejor opción es buscar un cerrajero de automóviles que se especialice en la programación de llaves de automóviles. Dichos cerrajeros generalmente pueden lidiar con los siguientes problemas:
Reparación de llaveros de automóviles y suministro de llaveros de reemplazo
Arreglar un llavero de automóvil remoto
Arreglar una llave de transpondedor rota / dañada
Proporcionar una llave de transpondedor de repuesto
Arreglar un chip transpondedor dentro del control remoto de la llave del automóvil que está roto o dañado
Reemplazo de un llavero de automóvil perdido
Reprogramación de llaveros de automóviles
Por lo tanto, si compra un par de llaves en blanco en línea, un cerrajero de automóviles debería poder reprogramarlas por usted.
¿Cuánto tiempo se tarda en obtener una nueva llave Mercedes?
This depends on where you're getting your new Mercedes key from. For example, if you're purchasing a blank one online, you need to factor in how long the delivery time is, and then how long it'll take an auto locksmith to reprogram the key.
If you're going direct to a Mercedes-Benz dealership to replace your key, they may need to order the key in which could take several days, although they may give you a temporary replacement key in the meantime.
Si llama a un cerrajero de automóviles local, es posible que pueda darle un tiempo estimado para reemplazar su llave, lo que le dará una idea más clara de cómo proceder.
An auto locksmith is most likely to be the quickest solution, as these are usually equipped to handle emergency repairs or replacements, but you should be sure that they're an experienced and qualified locksmith as Mercedes keys are specially programmed.
¿Por qué son tan caras las llaves de Mercedes?
Locksmiths and dealers usually charge a lot for key replacements simply due to supply and demand. The reality of losing your car key is that you're likely to need a replacement as soon as possible, which is why we're usually willing to pay a higher price to get the issue fixed quickly.
That said, Mercedes keys are especially expensive due to the technology they use and the expense of having to program a new key so that your new fob can unlock and start your vehicle. Keyless entries are convenient and are common in today's cars, and these increase your car's security by using rolling security codes. Mercedes-Benz was one of the first manufacturers to use this technology and even coined the term "smart key."
Therefore, it's worth bearing in mind that these mini electronic devices are extremely advanced and are equipped with circuitry and a battery – so while tiny, they are expensive due to their intricate inner-workings. The Mercedes fob can be expensive on its own, and that's before you factor in the cost of equipment and labor fees.
¿Cómo se enciende un Mercedes con una llave muerta?
If your Mercedes key battery has died, and you can't start your car using the START ENGINE push button, you can get into the car and start the engine manually by following these instructions, which apply to the S-Class, C-Class, GLE-Class, ML-Class, E-Class, GL-Class, SL-Class, and SLK-Class Mercedes.
Here's how to do this:
Primero, use la llave de metal de su llavero Mercedes para desbloquear manualmente la puerta.
La alarma sonará cuando abra la puerta de esta manera, sin embargo, debería detenerse tan pronto como inserte la llave en el encendido.
Para hacer esto, retire el botón Start / Stop de la cerradura de encendido. Puede sacarlo rápidamente del encendido. Aparecerá el botón Start / Stop.
Next, you'll need to insert your smart key into the ignition (it'll work even if it's dead).
Presione el pedal del freno y asegúrese de que la transmisión esté en la posición de estacionamiento.
Gire la llave KEYLESS-GO en el encendido para arrancar el motor. Suelte la llave tan pronto como arranque el motor.
Asegúrese de guardar el botón de arranque / parada del motor para que pueda volver a insertarlo una vez que cambie la batería en su llavero Mercedes. Mientras tanto, deberá encender su automóvil insertando la llave en el encendido.
¿Puedo rastrear la llave de mi Mercedes?
No, pero su distribuidor puede hacerlo. Luego pueden desactivar la llave y pedirle un nuevo control remoto electrónico que borrará el viejo para siempre.
However, if your key is stolen, it's worth replacing the mechanical locks too, even though the alarms will be set off if the robber attempts to use the mechanical key.
So in this case, it's best to replace both the mechanical locks and the electronic key just to be on the safe side. Visit your Mercedes dealer and they will sort out the process and advise you accordingly.
¿Puedo programar mi propia llave de coche?
It's possible to program your own car key, however, you need to understand the technicalities of the program to be able to do this. Mercedes-Benz keys are also a lot more complex than other car keys.
You can only program the older 'Flip' Mercedes car keys. If you own a modern car that's operated with a 'smart' key then you will have to go to the Mercedes dealer or see an expert in order to be able to do this.
As we said, it's best to leave this in the hands of the experts, as the technology is incredibly complex and only a specialized auto locksmith or dealer will be able to reprogram the key for you.