La mejor cámara de tablero doble económica de 2020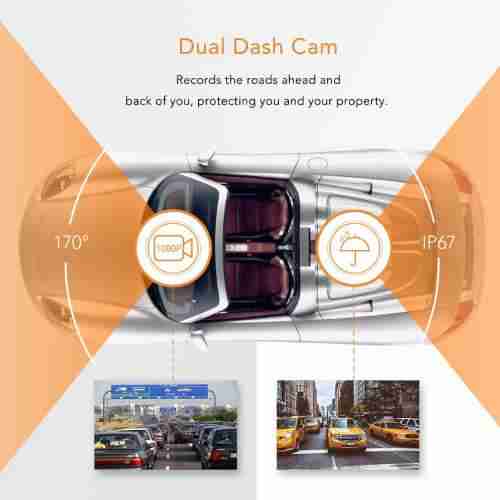 Have you been run around by an insurance company over something you know wasn't your fault, but you had no proof? Do you drive for a rideshare company and need to keep a watchful eye on your passengers? What you need is a dual dash cam, and you've found the right article to help you decide which one to buy.
¿Qué es una cámara de salpicadero dual?
No hace mucho, las cámaras de doble tablero tenían un precio muy superior al que podía pagar el consumidor medio. Los únicos lugares en los que puede ver uno son los autobuses chárter o los alquileres. Recientemente, las cámaras de doble tablero se han vuelto mucho más baratas, y ahora son un elemento de referencia para los conductores de viajes compartidos, las empresas de alquiler más pequeñas y los ciudadanos proactivos por igual.
Muchas cámaras de tablero modernas usan dos cámaras, de ahí el nombre cámara de tablero de doble lente, cámara de tablero de doble canal o simplemente cámara de tablero doble. Hay muchos estilos de cámara de tablero dual y muchos factores de forma entre los que puede elegir.
Podemos dividirlos en dos categorías principales: los que filman antes y dentro el coche, y los que filman delante y detrás el coche. Variables como la calidad y resolución de video, la capacidad de memoria, la calidad de construcción y un montón de otras características nos ayudan a separar lo bueno de lo malo.
La instalación es fácil, y la parte más difícil es pasar un cable desde el tablero hasta la parte trasera de su automóvil. Sea creativo y colóquelo debajo de la alfombra o el forro del techo, o simplemente colóquelo en el piso. ¡Tu elección!
11 cámaras de doble tablero que debe conocer
Most of these dual dash cams would be suitable for different needs, but this is one place where the better product will carry a higher price tag 100% of the time. Skip ahead to "¿Qué cámara de salpicadero dual debería comprar?" if you're in a hurry; continue reading to learn everything you need to know about dual dash cams.
Each of these dual dash cams includes free two-day shipping for Amazon Prime members. That means you don't have to drive down to that one big-box store with the yellow tag logo and spend ten minutes discussing an extended warranty you probably won't end up buying anyway.
As usual, we're going to make our way down to the best ones. Without further ado, let's begin with the
Las peores cámaras de doble tablero disponibles en la actualidad
isYoung 720P HD Cámara de doble tablero
A primera vista, esta cámara de doble tablero parece un buen negocio. Se sujeta al espejo de stock. Tiene una pantalla de 4,3 pulgadas, precio bajo y almacenamiento de hasta 32 GB a través del microSD espacio. Incluso tiene Activación de la fuerza G, lo que significa que elimina continuamente el metraje entrante hasta que ocurre un accidente, luego bloquea el metraje afectado y unos segundos a cada lado.
Se enciende y apaga con el coche (Encendido / apagado automático), lo cual es agradable, y el Calidad 720p will capture the gist of what's happening around you. Sound quality is good, installation is easy, and the rear camera's cord is long. Those elementos atrevidos come standard on every camera on this list, though, and this one's drawbacks are numerous.
A multitude of bad reviews covers details like the mirror is dull at night, the screen is hard to see during the day, and the software is sluggish and overly complex. Even the most positive reviews mention you can't make out critical details like license plates in the footage, so what good is it? The problem with this dual dash cam is quality.
One glance at the Related Products list reveals at least five other brands of what appear to be the exact same dual dash cam. You find this often with these companies whose names are two English words pushed together, and it means your isYoung is no different from a VICTONY, EHOOM, or one of the countless other rebrands of the same dual dash cam. And they're all terrible.
Pros
Precio bajo
Calidad 720p
Fácil instalación
Contras
Solo 32 GB de capacidad de memoria
Baja calidad de video
Vida útil desconocida
Como se ve en TV: HD Mirror Cam Dual Dash Camera
Esta cámara de doble tablero tiene calidad de 720p, una pantalla de 2.5 pulgadas, apagado automático, detección de movimiento, un visión nocturna infrarroja LED y ranura para tarjeta micro SD. Frio. Pero nuevamente, esos son estándar en el resto de estos, y la lista de fallas es extensa.
This isn't a dual dash cam in the same way most others are. This one has a pivoting camera which faces either hacia adelante o hacia atrás, filmando el camino por delante o su cabina interior. ¿Por qué limitarse a uno o al otro?
Cubre su espejo retrovisor existente con correas de goma en lugar de clips de plástico. La estabilidad de su metraje depende completamente de dos correas de goma. ¿Tienes un espejo retrovisor de forma extraña? Buena suerte para instalar esta cosa. Los revisores dicen que podría obtener seis meses de esta cámara de doble tablero, y muchos obtuvieron solo un par de semanas.
If this were Wikipedia I'd say As Seen on TV (¿Por quién?). Seguro que tienen este comercial cursi con un montón de falsos accidentes escenificados. El comienzo muestra a una niña retrocediendo frente a alguien mientras envía mensajes de texto y conduce en un estacionamiento, y la implicación es que esta cámara de doble tablero la habría salvado de ese accidente. De ninguna manera Jose.
They even cut their own video short at the end, omitting the part where their contact information would be if this had been an actual TV commercial. In other words, all signs point to that "As Seen on TV" statement being a total lie. Couple that with the chintzy pivoting camera and the rubber strap installation, and you can do a lot better than this.
Pros
Contras
Baja calidad
Corto periodo de vida
Cámara de tablero dual PARTIM NX100
This one barely makes the cut of "Worst" – it's got Calidad de grabación de 1080p, 170 grados completos de visibilidad y Conexión wifi para controlar las cámaras y navegar por las grabaciones a través de sus aplicación personalizada. It's got a nifty asistencia de estacionamiento interface that helps you into your spot, as well as auto on/off and a g-sensor. This one looks to be well-equipped, considering we won't see most of those features again until the more expensive dual dash cams.
It's even got an unconditional Garantía de 90 días and return policy. That's right, PARTIM will refund your money if you don't like their dual dash cam for any reason. That's a big promise from a small company, and you should keep it in mind because of the following serious issues.
Los revisores dicen que esta cámara de doble tablero can't record con ambas cámaras al mismo tiempo. También podríamos detenernos aquí porque eso la hace inútil como una cámara de doble tablero, pero los usuarios también informan que la luz solar regular puede borrar fácilmente las imágenes. Muchos dicen que la aplicación está mal diseñada y que en 1080p el metraje es inutilizable.
They say 720 is smoother, but you'll be shooting in 720 after paying for 1080, and maybe through only one camera at a time. Not cool.
Pros
Cámara frontal giratoria
Capacidades de 1080p
Wifi
Aplicación personalizada
Garantía de 90 días
Contras
Muchos problemas de software y hardware
Las mejores cámaras de doble tablero disponibles hoy
We've covered the bad, now let's see the best ones for everyday use. G-sensors, auto on/off, motion sensors, parking assistance, micro SD ports, and night vision LEDs are now standard fare.
Cámara de tablero doble APEMAN 1080p – THE ONE TO GET
Este estilo de cámara de doble tablero doesn't cover your rear-view mirror, so that's a plus. It features 170-degree lenses, 30fps 1080p film quality, a g-sensor, auto on-off, motion detection, night vision, sensor de choque, sello de la fechay GPS a bordo. El GPS integrado incorpora la latitud y la longitud del metraje en tiempo real, y esos datos se pueden extraer utilizando una variedad de herramientas como Google Maps.
NOTA: Para que el GPS funcione, debe comprar una antena GPS como el que vende APEMAN.
Como los demás, lo hará registro de bucle (overwrite incoming footage) until the shock sensors, g-sensors, or motion sensors detect an event. Its neatest feature is that while most other cameras power down with the car, this one doesn't have to. The APEMAN can grabar mientras el auto está apagado, lo que le permite capturar colisiones en el estacionamiento de automóviles o carritos de compras.
Los inconvenientes son pocos: la cámara trasera solo es capaz de 720p ligeramente borrosa y tiene poca capacidad de visión nocturna. El factor de forma puede interferir en su visibilidad y las cámaras más caras tienen una mejor calidad de metraje.
Pros
Precio bajo
Calidad 1080p
Capaz de registro GPS
Puede funcionar 24/7
Contras
Antena GPS no incluida
Cámara trasera de baja calidad
Pruveeo D700 Cámara de doble tablero
A new Amazon offering is this wide 10-inch dual dash cam which clips over your stock rear-view mirror. It features a front camera with 1080p resolution, a sturdy plate-mounted rear camera with 480p resolution, and a massive 10-inch display that appears to span the entire mirror. I say "appears to" because as of this writing, nobody has reviewed it yet. You could be the first!
To further entice you to throw down a Benjamin, this dual dash cam features a narrow-angle rear lens that should read incoming license plates just before they smash into your car. There's parking assistance, an batería a bordo para recuperar metraje en caso de pérdida de energía, y un cable de alimentación de 12 pies con una extensión sustancial de 19 pies para la cámara trasera. El peso y el volumen se reducen drásticamente en comparación con otros modelos.
Pruveeo's other dual dash cam (model F5) is highly reviewed, with 4-or-more-star averages across the board, and they're an established company with products on the ground in over 20 countries worldwide. Reviewers on other sites say this product is great. Are you brave enough to be the first Amazon reviewer of Pruveeo's newest dual dash cam?
Pros
Peso ligero
Construcción delgada
Gran pantalla
Clips sobre el espejo existente
Contras
Cámara trasera de baja resolución
Posibles problemas de visibilidad del espejo
Right off the bat, Luna addresses one of the major complaints we've had with other dual dash cams. Namely, the rear camera is always terrible. It's some cut-rate 480p affair that's grainier than a 60s tube TV. Luna gives you a Cámara trasera de 720p, para que pueda saber qué color de ojos tiene la persona detrás de usted cuando lo golpea por detrás. Frio.
We've stepped up in price because the Luna utilizes a Sony CMOS night vision sensor, 1080p or better front camera, and a 5" screen in addition to the standard g-sensors, waterproofing, parking assistance, and auto on/off. Some people say the cameras are finnicky to set up, and that the interface will sometimes stop working for a few minutes. Those comments are rare, though, and the next bit makes up for all of that.
Finalmente, Luna ofrece públicamente un Garantía de devolución de dinero 100% de 2 años. That's right, they will replace or refund your purchase for 2 years, so if you get into an accident or something breaks during that time they will replace your hardware for free. That's a rare thing in any industry, especially dual dash cams. Luna is very active in the questions section on Amazon, too. All good signs if you ask me.
Pros
Cámara trasera de alta resolución
Excelente servicio al cliente
Plan de reemplazo de 2 años
Contras
This one has a similar form factor to the APEMAN from earlier, and it also features GPS capabilities with an antenna that's sold separately. AUKEY (probably pronounced "okay" with an Australian accent) brags that this dual dash cam has "Extreme Temperature Operation," not that the others don't, pero si te encuentras en -22F ° / -30 ° C o 167 ° F / 75 ° C, puedes estar seguro de que tu cámara de tablero doble aguantará.
If you're going between those temperatures frequently, check to make sure the apocalypse hasn't started. Unless you live in the Midwestern United States, in which case get used to it.
Here's why a good dual dash cam is so expensive. It has botones reales en lugar de solo una pantalla. Puede grabar lapsos de tiempo. los abertura en la cámara frontal es 1.8 y la trasera es 2.0, para una excelente grabación nocturna. Ambos tienen más de 150 grados de visión. Obtienes un cámara trasera completa de 1080p en un vivienda duradera. Sin embargo, eso dificulta las cosas en el departamento de montaje.
The AUKEY's rear camera is designed to mount to your rear glass, and your tint will affect the footage. Plus, it may not mount to all vehicles. The cable that connects the two cameras is a proprietary design, so guess where you'll go for parts. Reviews say the menu system isn't very nice by modern standards, and their phone support is apparently somewhat useless.
Pros
Gran factor de forma
Calidad total de 1080p
Magnífica visión nocturna
Puede capturar lapsos de tiempo
Contras
Factor de forma más grande
Montaje extraño de la cámara trasera
Cámaras de tablero dual a largo plazo
Sin lugar a dudas, la mejor manera de obtener metraje de calidad, hardware de calidad y servicio al cliente de calidad es gastar el doble de lo que cuestan esos otros productos. Simplemente es lo que es.
The cheaper ones can get you by in a pinch, but no matter your reason for getting a dual dash camera, I suggest spending a little extra dough to do it right. This is your safety we're talking about, so it's worth spending a few extra bucks to have quality footage should you ever need it.
By now you know the standard fare like g-sensors, auto on/off, and IR night vision. We're just going to hit the major points on these last three because they're all very different, but one of them is the one you should buy if you're serious about using a dual dash camera in the long term.
Cámara de doble tablero Rexing V2
Pros
Capture full dynamic range 1080p at 30fps, both front and rear. Record up to 2880×2160 Ultra HD or a framerate up to 120fps using one camera at a time. It mounts flat to your windshield and doesn't cover or replace your mirror. The whole unit is small enough to not obstruct your view.
Controle sus funciones mediante botones físicos o la aplicación patentada y la conexión Wi-Fi incorporada. Toma fotos fijas a través de la aplicación usando esas increíbles cámaras. Fuente de alimentación USB. 92% Reseñas de 4 y 5 estrellas.
El único dispositivo disponible actualmente con todas estas opciones.
Contras
Look at the pictures and you'll notice both cameras reside in the same housing that mounts to your windshield. That means this is more suited for use in a corporate vehicle, Uber, taxi, or similar applications. Visibility of rear-end accidents may be compromised depending on the vehicle you drive. Night vision through tinted windows will be minimal.
It has a small display and no GPS. It's expensive, but cheaper than the next ones.
Cámara de tablero dual Z-EDGE S4
Pros
Este dispositivo se monta directamente en su parabrisas y es independiente de su espejo. Tiene una pantalla HD de 4 pulgadas con imagen en imagen opcional. La cámara de visión trasera está separada. Ambas cámaras capturan 1080p completo a 30 fps. La cámara frontal sube hasta 1440p a 30 fps para tomar impresionantes tomas de fotograma fijo. Fuente de alimentación USB.
Informe de usuarios excelente calidad de audio de ambas cámaras. Los sensores de imagen de Sony proporcionan imágenes superiores con poca luz.
El software es intuitivo, con manual sencillo marcado de eventos. UN Se incluye una tarjeta SD Kingston de 32GB con soporte para tarjetas de hasta 128GB.
Contras
Su factor de forma grande es como pegar una unidad de cabezal de doble din al parabrisas. Las posiciones del cable de alimentación de las cámaras frontal (en la parte superior) y trasera (en la parte inferior) son incómodas y los cables son más gruesos de lo habitual. Sin Wi-Fi, sin aplicación y sin GPS.
Cámara de doble tablero Vantrue N2
Pros
The Vantrue features dual 1080p 60fps cameras, one front, one rear-facing interior. The front camera can capture up to 1440p. There's a plethora of infrared night vision LEDS backed by a Sony sensor. 24-hour motion-activated modo de estacionamiento y lapso de tiempo la funcionalidad es útil. Tiene un factor de forma pequeño que puede esconderse detrás de su espejo retrovisor. El GPS funciona con un sensor adicional (no incluido). Fuente de alimentación USB.
El sistema registra automáticamente los eventos del sensor en el metraje y la configuración de sensibilidad predeterminada detecta cada pequeño golpe. Todos esos archivos están protegidos, lo que significa que la tarjeta se llenará más rápido. Afortunadamente, la sensibilidad se puede cambiar.
Esta cámara de doble tablero usa un ventosa instead of messy adhesives, and that's a big plus.
Contras
Only 64GB of possible expansion space. The power source plugs into the lever that's used to loosen the suction cup which is awkward. The ball mount loosens over time and requires tightening.
El Grande
Cámara de salpicadero dual BlackVue DR650S
Pros
If you're familiar with this site, you know we're big fans of including some absurdly expensive item at the end just for kicks. In this case though, it's not that crazy at all. This dual dash cam has built-in GPS, IR night vision, parking mode, and transmisión en la nube capacidades que le permiten monitorear su automóvil desde cualquier lugar de la Tierra utilizando la conexión Wi-Fi y la aplicación.
There's a two-way communication system which allows the driver to talk with a remote viewer. It even has a discrete form factor, slim cables, and USB power. The rear camera is high quality to make up for its lack of resolution.
Según todas las cuentas, este es el mejor doble guión cam disponible hoy y su precio lo refleja.
Contras
La cámara trasera es de solo 720p y es solo para interiores. Podrías comprar un auto usado por el mismo precio.
¿Qué cámara de salpicadero dual debería comprar?
Congratulations, you've learned everything you need to know about dual dash cams! Take your newfound knowledge and save thousands of dollars the next time someone hits you and claims it was your fault.
In this case money really does buy the best product, but for most of us, falling just short of perfection is worth saving a few hundred bucks. There are so many details that it's really a personal choice, but I can narrow it down for you:
Don't buy one of the Las peores cámaras de doble tablero disponibles en la actualidad.
Para el uso diario, obtenga uno de los Las mejores cámaras de doble tablero disponibles hoy. El mejor para la mayoría de las necesidades es el HOMBRE MONO.
Para una verdadera inversión en su seguridad, compre uno de los Cámaras de tablero dual a largo plazo.
Para obtener la mejor cámara de doble tablero de esta lista, obtenga El Grande: el BlackVue.