Mejores kits de limpieza de restauración de faros 2020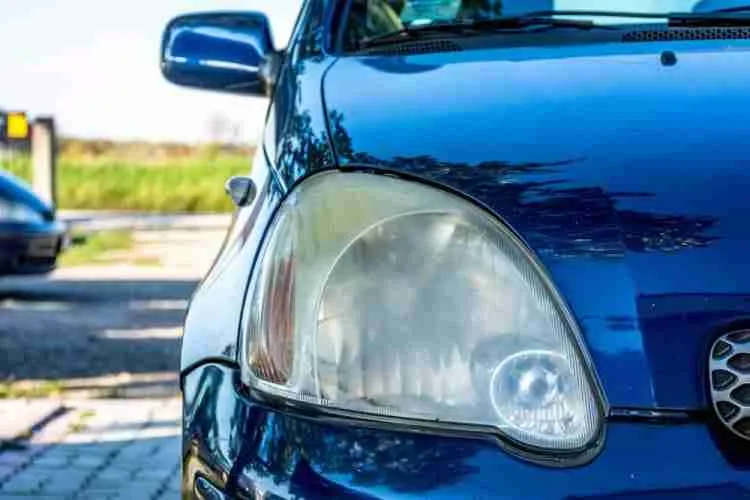 Let's talk about faded, dull, and yellowed headlights. Not only are they ugly, they also make it harder to see at night. How do you clean headlights? What does the phrase "headlight restoration kit" mean? Why does a headlight fade in the first place? And what in the world are toothpaste headlights?
By reading this guide about the best headlight restoration kits, you'll learn everything there is to know about headlight restoration.
To understand this process 100%, let's start from the very beginning.
¿Qué pasó con mis faros delanteros limpios?
Imagine looking through a pair of sunglasses after rubbing sandpaper on them. Your vision would be hazy at best, because the light coming through the lenses would be scattered by the rough surface. The same principle applies with faded headlights – hence the need for headlight restoration kits. But what's really happening when a headlight fades?
Vehicles first began to use plastic and polycarbonate headlight lenses in the 1980s, with the advent of modern headlight regulations and materials manufacturing capabilities. Prior to this change, glass headlights were the norm – those are largely immune to any sort of wear caused by sunlight.
Modern headlights wear a clearcoat to protect against ultraviolet radiation. Relentless sun rays, bugs, road salts, and even the brushes on automatic car washes break this coating down, and over time headlights begin to fade and turn colors. And once that coating is gone, it's gone for good.
Prolonged exposure to the elements results in a breakdown of the headlight's top layer of plastic, through a process called "etching" or "oxidation." As the top layer of headlight material is worn away, an irregular and rough surface develops. This increases the rate of fading and discoloration, which eventually causes less light to shine through.
¿Por qué los faros con niebla son inseguros?
Think back to the "sanded sunglasses" example from earlier. The uneven surface of the lens would disrupt not only the incoming light, but the outgoing light as well. That's why damaged headlights aren't performing as well as if they were clear – the light is being scattered, so less light is making it through.
Conducir con los faros muy empañados presenta un problema de seguridad legítimo. Compromete su capacidad para ver la carretera de noche; puede reducir la salida de luz hasta un 80 por ciento. No importa cuán potentes sean sus bombillas, lo mejor que puede hacer en este momento es comprar un kit de restauración de faros.
I say "the best thing" because there son other options – just not good ones. For starters, you could buy new headlights. That's crazy.
¿Cuáles son mis opciones para la restauración de faros?
You could pay a professional to restore your headlights, but you don't need to – as we'll see in a minute, there isn't much difference between a headlight restoration kit you can buy for cheap on Amazon and a kit a professional would charge you hasta $150 para un solo uso de.
The business of fixing faded headlights is all about convenience – you can clean headlights at home, cheaply, quickly, easily, and with great results.
El proceso de reparación de los faros descoloridos implica quitar la capa superior de material para restaurar un acabado claro, suave y como nuevo en el exterior de la lente del faro. Un kit de restauración de faros lo logra mediante el uso de varios frotes abrasivos, productos químicos o papel de lija para eliminar el material dañado. Un buen equipo también cubre el faro con una capa de protección UV para combatir la intemperie en el futuro.
O podrías usar pasta de dientes.
¿Qué son los faros delanteros de pasta de dientes?
Segun algunos, la opción de restauración de faros más económica se vende en su Walgreens local.
Because toothpaste contains abrasive chemicals made to brighten your teeth, some say you can use it to clear headlights. Sometimes it even works, but the problem is how long it lasts. If you don't repeat it regularly the color starts to return – just like brushing your teeth. Not to mention, you're going to need a lot of elbow grease to make Aim cut plastic the same way as a specialized chemical or a sheet of sandpaper.
Toothpaste can't protect against UV radiation, so if you use a rag and a tube of Crest as a headlight restoration kit, you better enjoy doing it – once every month or so, you'll have to do it again.
It's worth doing it right the first time.
What's in a Headlight Restoration Kit?
Un kit de restauración de faros combina todos los productos químicos, materiales y elementos que necesita para limpiar los faros en casa. Algunos son una solución rápida, que está bien para daños menos graves, mientras que otros están diseñados para reparar sus faros con niebla de una vez por todas.
Aquí hay algunas cosas que debe saber sobre estos kits:
Úselo en faros, luces traseras, intermitentes, luces antiniebla, cualquier cosa con lentes de plástico
Algunos están diseñados para usarse con un taladro eléctrico; otros se aplican manualmente
The effects last for over a year – longer if your car lives in the shade
Most importantly… take your time! Headlight restoration is a multi-step process, and the quality of your results will be directly affected by how long you spend on them. In my experience, even the fastest restoration is 30 to 45 minutes long. A few more things you should know:
El papel de lija y los productos químicos pueden dañar otras superficies de su automóvil
Utilizar painter's tape para enmascarar sus faros nublados antes de comenzar
Sus faros pueden verse mal hasta el último paso
La limpieza tomará más tiempo cuanto peor estén sus faros
It wouldn't hurt to have some extra sandpaper and have water and towels on-hand throughout the process.
¡De acuerdo, necesito faros delanteros limpios!
Great, you're all caught up – we'll learn more about headlight restoration as we dive into the list of kits. Each of these kits include free two-day shipping for Amazon Prime members – no driving necessary.
Without further ado, here is a tour of headlight restoration kits you can buy on Amazon today – including a few that you shouldn't buy.
Marcas mayores
Meguiar's G17804 Keep Clear Headlights Coating
Real quick, I want to mention this aerosol spray – it contains a powerful UV protectant, and it's designed to follow up after these other headlight restoration products to maintain your work far into the future.
It's eight bucks shipped, so why not use it on your clean headlights once every few months? Better yet, use it on brand new headlights so you never have to worry about fading and yellowing. Now that's thinking with your dipstick!
Pros:
Protege contra daños futuros
Se puede utilizar en faros nuevos
Contras:
Won't fix existing damage
Limpiador y sellador de faros delanteros Turtle Wax T-43 2 en 1
This Turtle Wax product is representative of several brands of headlight restoration chemical, and they're pretty much all the same in terms of overall effectiveness.
First, this route to clean headlights costs just $7.19 when you buy it as an add-on item with qualifying orders of over $25. That makes it very cheap. The 2-in-1 formula advertises that it will "restore clarity and prevent yellowing in one easy step," which is industry talk for "it's not very in-depth, but it'll do the job."
The Amazon description states this product is "formulated with acrylic resins to help prevent oxidation and cloudiness from reoccurring," but the very next line advises customers to "use regularly to maintain clarity," so it must not prevent it very well. In the reviews, people say they had foggy headlights again after only a month or so. That's not good.
Reviews also state that use of a power drill and sandpaper is required to get clean headlights using this solution. That explains why it's cheap: they left out the rest of the kit. And in the review pictures, people's headlights aren't 100% clear even with that.
As far as headlight restoration goes this is only one step above toothpaste headlights, and it's more expensive, too. At least if you had toothpaste headlights you'd have something to talk about.
Ponga estos diez dólares en una reparación más eficaz.
Pros:
Rápido
Barato
Fácil de usar
Probablemente funciona
Contras:
Won't work for long
Necesitará seguir usándolo
Cuesta más a largo plazo
Won't protect against UV in the long term
Turtle Wax T-240KT Kit de restauración de faros delanteros
Este es el siguiente paso desde la simple compra del químico abrasivo para limpiar los faros. Se puede notar que comprar este kit, que incluye papel de lija, dos compuestos químicos diferentes y una toallita especial, es más económico que comprar el último químico del que hablamos.
That's because it's not very powerful.
This multi-stage process is sufficient to restore foggy headlights so long as they're not demasiado. Wanna roll the dice on what "too bad" means in the real world? Spoiler alert: you don't.
If your headlights are anything more than "slightly yellow," skip this one.
Si tiene una ligera neblina en su lente, probablemente esto sea suficiente para limpiarla, pero según los revisores, debe usar todo el kit para lograr faros delanteros limpios, que no es lo que indican las instrucciones.
It claims to "restore dull, yellowed headlights to like new condition in less than five minutes per lens," but in my personal experience it takes more like 30 minutes to 1) figure out the order of operations for what's in the box, 2) tape off the headlights, and 3) get clear headlights.
Es mejor gastar otros diez dólares en algo que pueda reutilizar.
Pros:
Rápido, económico y fácil de usar
Funciona bien en trabajos menos serios
Contras:
Probably won't last long
Cuesta más a largo plazo
UV protection isn't great
Kit de restauración de faros delanteros Sylvania
This is the most effective manual headlight restoration system you're going to find without using power tools.
What makes this kit better is what comes with it – a free glove, some free rags, and a garantía de por vida durante el tiempo que sea propietario del automóvil. Sylvania, una empresa que uno esperaría conocer acerca de los faros delanteros, garantiza la longevidad de sus faros delanteros limpios. Por supuesto, solo se llevarán a cabo si sigue las instrucciones del producto a una T.
Un crítico de Amazon de gran prestigio explicó that he set aside over an hour and a half to perform his headlight restoration using this product. He advised to read the directions thoroughly before starting the process, and while that's true of any of these kits, it's apparently of utmost importance for this one. Following the directions precisely, his clean headlights shined like new. Another reviewer said his have stayed clean for over 3 years.
Since you're not using a drill, be sure to hand-buff the surface in short, tight, uniform circle patterns.
This might not be the easiest option, but by all accounts, it's one of the best.
Pros:
La mejor protección manual
Un kit todo incluido
Gran protección UV
Dura años si se hace correctamente
Garantía de por vida
Contras:
Complicado de usar
Las instrucciones son muy detalladas
No diseñado para herramientas eléctricas
3M 39008 Sistema de restauración de faros
The following kits contain a bit more than just a bottle and a rag – from here out you're going to need a power drill to achieve clean headlights. Drills cut better than your hands do. Got it? Good.
3M makes the most popular headlight restoration kit available. I've personally used this kit on several cars, and it always works as advertised – that is, if you do it right.
In my experience, this multi-stage kit takes about three hours to use – it took otros críticos aún más. Viene con lo siguiente:
1 onza de esmalte para faros
Compuesto de corte
Accesorio de taladro orbital
4 discos de lijado de grano 800, blancos
6 discos de lijado de grano 500, amarillo
Disco de espuma de grano 3000
Almohadilla de espuma para compuestos, naranja
Primero instale el accesorio orbital incluido en su taladro de elección. Lije en seco con discos de lija de grano 500 y 800, la arena húmeda (sí, use agua) con grano de 3000. Finalmente, continúe con el compuesto de pulido.
Most of that isn't reusable, and you'll need a UV coating que este kit no incluye (como el Meguiar's spray encima).
It's a lot of work, but if you do it right, it will last a long time.
Pros:
#1 más vendido en restauración de faros de Amazon
Kit completo
Más capaz que un sistema manual
Dura años si se hace correctamente
Contras:
Más complejo que un sistema manual
Se necesita mucho tiempo para lograr resultados.
Won't last through many uses
No incluye protector UV
Fuera de marcas
Kit de restauración de faros delanteros de coche VISBELLA
Por solo 11 dólares, este kit fuera de marca promete luces delanteras claras en un tiempo récord. Incluye un accesorio de taladro orbital, muchas almohadillas de papel de lija, muchas almohadillas de espuma, mucho compuesto para frotar y mucho protector UV.
You know what they say about prices that are too good to be true – they usually are.
At the time of this writing there are no less than four typos visible in the first screen of this Amazon product page. Then we have the classic "two random English words put together" name. Together with how much material they're giving you, this all implies their product has been produced in haste. Why pay $11 for something that has no quality behind it?
Will it work? Sure, probably. If toothpaste headlights are a thing, I'm sure whatever cheap abrasive comes in this kit can make clean headlights too. But their own product page warns "this product does not work for deeper scratches," so don't expect too much from it.
What really scares me is they advertise that you can use it on "helmet visors" – you know, the thing that if you can't see through it, you could die? A part which could break if weakened in any way, possibly resulting in your face hitting the ground? I'll pass.
Cuidado con productos como este. Por unos pocos dólares extra, apéguese a las marcas.
Pros:
Barato
Probablemente funciona
Utiliza herramientas eléctricas
Incluye protector UV
Contras:
Barato
Puede que no funcione
Producción apresurada
Falta de materiales de calidad
Kit de restauración de faros delanteros TriNova
This is the exact opposite of the kit we just saw, and here's why.
El kit solo incluye lo que necesita para crear faros delanteros limpios en varios automóviles, incluido suficiente protector UV. Solo agregue un poco más de papel de lija y este kit lo llevará muy lejos.
They're offering 15% off when you buy three TriNova products, and 20% off when you buy four. That's nice of them. Not to mention, look at those bottles. That looks like designer shampoo and conditioner, but it's made to clean headlights. That's classy. Everyone likes feeling classy.
Cuando se trata de una marca comercial, lo más importante para mí es la integridad. Su descripción está cuidadosamente escrita, y puede verlos activos en las secciones de comentarios, lidiando con las quejas de frente y ofreciendo garantías de devolución de dinero en sus productos.
That's the kind of company I'm willing to take a chance on.
As far as I can tell, all the customer complaints concern the dinky little applicator they give you. Apparently, it's the cheapest part of this kit, and judging by its apparent size in the product picture, it's not hard to see that it won't give you the kind of results you'd get from using a larger applicator. And being a manual system, it won't achieve what a power drill could.
But for 12 bucks, this is the one you should get if your faded headlights aren't all that bad.
Pros:
De buen tono
Barato
Materiales de calidad
Se ofrece un descuento en la marca
Incluye protector UV
Apoya a una startup merecedora
Contras:
Won't cut it for rough headlights
El aplicador es endeble
Aplicación manual
Debo limpiar los faros de forma profesional
What's that, you say? "Pssssh. I've restored headlights on dozens of cars. My cars, my family's cars, my friends' cars – I do a professional-quality job every time. yo should be the one getting paid the big bucks, not them."
No digas más.
3M 02516 Sistema de restauración de faros
Este es un kit de restauración de faros extremadamente popular utilizado por detallistas automotrices profesionales para limpiar los faros. Incluye herramientas de lijado y pulido especialmente diseñadas que funcionan con un compresor de aire (no incluido), así como suficientes abrasivos, compuestos y discos de lijado y pulido para limpiar los faros de unos 25 automóviles.
Si se mantiene correctamente, los resultados pueden durar décadas.
Besides the price, drawbacks are few. A small portable air compressor won't cut it – according to reviewers, you're going to need al menos un compresor de aire portátil de 3 caballos de fuerza ($250) to run the air tools as intended. You'll need to buy UV protectant too, and you might as well get the good stuff: Revestimiento permanente para faros delanteros Opti-Lens, at $69.99 per bottle. You'll need about $500 of it to cover 25 cars.
For just the kit, cost per car averages out to about $16.80. That's around what those other kits cost, and you have air tools and a leather carrying bag to show for it.
Factor in the air compressor and UV coating, and it's about $50 per car. If you're skilled enough to sell your work at the industry standard rate of $150 per car, you could buy that stuff and still hacer más de $2500 de este kit.
That's free enterprise in action, folks.
Pros:
Resultados de calidad profesional
Limpiar los faros de unos 25 coches
Herramientas neumáticas incluidas
Estuche de transporte incluido
¡Puede hacerte ganar dinero!
Contras:
Se requieren habilidades de nivel profesional
El costo es alto para uso privado
Requiere compresor de aire
No incluye protector UV
¿Qué kit de restauración de faros debo comprar?
Congratulations! You've learned everything there is to know about some of the best headlight restoration kits. You know the ins and outs of the process, and you know what to look out for when buying a headlight restoration kit for yourself or someone else. Now get out there and clean your headlights!
Si desea proteger sus faros delanteros nuevos o restaurados de los rayos UV, compre algunos Meguiar's.
Si desea proteger permanentemente sus faros de los rayos UV, compre algunos Opti-Lens.
If your headlights aren't all that bad, try the TriNova kit primero.
If your headlights are rough and you don't mind working, buy the Sylvania.
If your headlights are rough but you don't want to sweat, buy the 3M 39008.
Si cree en el capitalismo, compre el 3M 02516.