¿Qué significa Audi TT?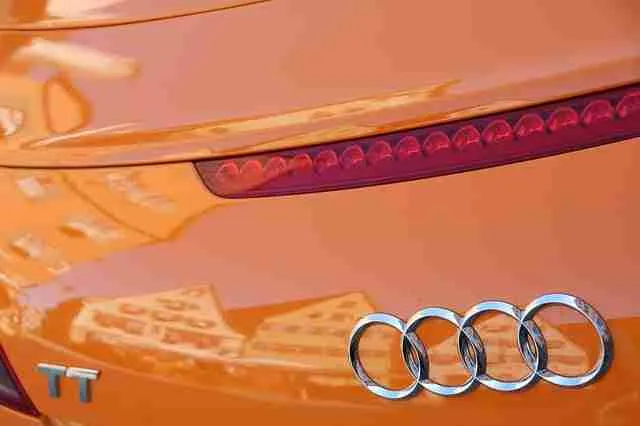 This two-door sports vehicle's first generation was produced in 1998 and it has been consequently in production of its new models up to the current fourth generation. The first two Audi TT generations were assembled by the Audi Hungaria Motors using body structures created and painted in Bavaria, Ingolstadt city. What does Audi TT stand for? 
The two TT letters are an abbreviation for 'Isle of Man Tourist Trophy'. The Tourist Trophy was a yearly motorcycle contest that was held between May and June (1949-1976). This race involved the motorcycle model known as Grand Prix. This usually makes people wonder why the four-wheel sports coupe would be named after a motorbike competition.  
The TT was also to honor the NSU's motorcycle unit which started participating in the Isle of Man in the year 1907, finishing the race in 5th position overall. The competition was won by Edward Cluge with his supercharged DKW motorbike. Later on, the NSU and DKU decided to merge and create a company called Audi. So what does Audi TT stand for? Read on.
Audi TT MK1 (1998-2006)   
The TTMk1 also known as the Type 8N coupe was first introduced to the market in 1998 (September) while the Roadster seconded it in 1999 August. It's categorized in the PQ34 platform (Volkswagen A4 Group). It came along with lightly restructured bumpers, added rear quarter-light windows in the background ( behind doors).  
Sin embargo, los primeros modelos Audi TT se enfrentaban regularmente a la prensa debido a los accidentes de alta velocidad que causaban al cambiar de carril o al tomar curvas cerradas a alta velocidad, es decir, 180 km / hy más. Tanto el roadster como el Coupe Audi se revisaron en 1999 y durante el primer trimestre de 2000.  
This revision was supposed to improve the car's handling at high speed to reduce the number of reported fatalities due to overspeeding. Audi's ESP (Electronic stability program/system) as well as the ASR (Anti-Slip Regulation) were added to the model and assimilated into other models that were subsequently produced thereafter. 
Later on, the Audi TT has pronounced North America's best car of 2000. It also appeared top list in car magazines in 2000 and 2001. This led to a few improvements and minor structural changes. The Audi TT (Type 8N) was produced in June 2006.   
Disposición mecánica 
Este automóvil usa el mismo tren motriz que los otros compañeros de grupo Volkswagen. Tiene un motor de combustión interna incorporado con dos opciones de tracción: la tracción en las cuatro ruedas y la tracción delantera, también conocida como tracción en las dos ruedas. 
The two engines share a common basic design but defer in power output since the 180PS version achieves 132kW power while the 225 PS gives out 165kW. In 2003 (July), a brand new 6-speed dual DCT (dual-clutch transmission) popped in to improve the car's acceleration due to the reduced number of shift times.   
TT Mk2, tipo 8J (2006-2014) 
Hacia mediados de 2004, Audi TT proclamó que su próxima generación estaba a la vuelta de la esquina. Afirmaron que este automóvil se fabricaría con aluminio y que su producción y ventas comenzarían en 2007. 
After introducing the Audi TT 1st generation, many people became big Audi fans after realizing and experiencing its outstanding features. Therefore, people shifted from asking 'What does Audi TT stand for?' to 'when will the 2nd generation of Audi TT be launched?'. 
Audi proporcionó una vista previa de su próximo automóvil en 2005 para representar el concepto de freno de disparo y también el diseño de dos puertas.  
Audi TT MK2 debutó con el tipo de diseño 8J el 6 de abril de 2006 utilizando la plataforma Volkswagen FQ35 con partes de carrocería frontales de aluminio, mientras que el acero entró en los paneles traseros para inducir el equilibrio y la distribución del peso entre la parte delantera y trasera. 
Este Audi TT de dos plazas es muy útil con una tracción en cuatro ruedas, así como con la tracción delantera, también conocida como tracción en dos ruedas. Este vehículo sucesor tiene un complemento de cinco pulgadas en su longitud y un complemento de 3 pulgadas en su ancho también. La producción de la segunda generación del Audi TT comenzó en agosto de 2006. 
Estructura mecánica 8J 
Las opciones de estructura del tren motriz de Audi TT were previously petrol engines only consisting of one of the in-line 4-cylinder engines i.e. the TFSI (Turbocharged Fuel Stratified injection which was originally available only in Germany. The FSI technology was acquired from the Audi "Le Mans" racing cars. 
There was an improvement in its fuel efficiency, greater power output, and dirtless emissions. This car has a six-speed primary manual transmission and an optional six-speed DSG (Direct Shift Gearbox) for all its engines. The Quattro ( four-wheel drive)Audi is available on 'V6' models but not on the 1.8 Turbo-charged Fuel Stratified Injection model.  
Audi TT Mk3, Tipo FV (2014-presente)
Just like the previous Audi TT generation the Audi type FV/8S was displayed and previewed in the Detroit motor-show to reveal the 'shooting brake' idea in 2014. This generation was manufactured based on the MQB Volkswagen group. It hoped in with TDI and TFSI engines as choices.  
El motor TFSI está disponible en dos versiones diferentes según la potencia de salida, es decir, una versión de 169 kW (370 Nm de par) y una versión de 228 kW con 380 Nm de par.  
El motor TDI produce una potencia de 135 kW y también es una opción de motor para el automóvil Audi Mk3.
Sin embargo, el TDI de 4 motores en línea viene con un sistema de tracción delantera, mientras que el TFSI contiene una tracción en las cuatro ruedas Quattro.  
Esta generación contiene un diseño interior de HVAC, con las características de intercambio y control de aire mejoradas por las salidas de aire incorporadas; así como reguladores de temperatura que lo distinguen de otras generaciones iniciales.  
What Does Audi TT Stand for? – Conclusion
Lastly, Audi made an announcement in May 2019 that this Audi TT generation is likely to be discontinued when the model's life cycle comes to completion. This generation is available in the United States from the 2016 model to the present one. 
Due to the company's high level of sponsorship, Audi TT's models have been featured in popular movies such as Spider-Man and the Avengers. This Marketing strategy has rapidly improved Audi's sales and demand across the globe. 
Now that you have your answer to 'What does Audi TT stand for', I believe you'll be able to distinguish between the various Audi models and generation since the first day of production.