La mejor guía de llaves dinamométricas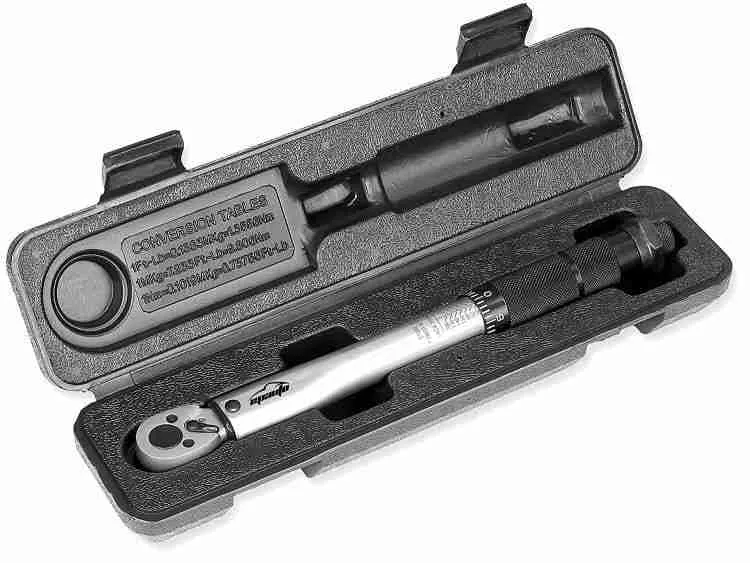 La mejor guía de llaves dinamométricas
I like to be precise with my work.  And if you're like me, when I'm working on something important and it comes time to tighten something down, "hand tight" isn't good enough.  My hands are different than your hands are different than Shaquille O'Neil's hands, and I highly doubt we're all tightening things down with the same force.  That's why I have a torque wrench.
¿Por qué debería tener una llave dinamométrica?
In today's world, many of the items around us are manufactured to a high specification.  Their parts are assembled in a precise way by an assembly line of people and machines.  That means all the nuts and bolts are tightened to exact tolerances by the factory.  Household appliances, furniture, yard machines, cars, airplanes, electronics, bicycles, even power tools – these days, almost everything is built to a certain spec.  As a handyman, the job of reassembling these items requires care and attention to detail.
Esta es una herramienta que todos deberían tener.
A torque wrench is a calibrated tool designed to dial in the correct amount of torque for any application.  Torque wrenches give a confirmation "click" both physically and audibly when you reach the torque that you set on the wrench.  Generally, the spec is set by twisting the handle on the wrench.  And as you may know, torque is usually measured in pound-inches (lb-in or in/lb), pound-feet (lb-ft or ft/lb), or Newton-meters (Nm or N/m).  And the length of the tool gives you leverage, so you can tighten things without breaking a sweat.
A good torque wrench can stand up to years of abuse, and it can normally handle massive amounts of force before it fails or gives way.  But I found out early on that going down to the local big-box store and buying the cheapest torque wrench they have isn't always the best idea.  After a few months of use on everything from the motorcycle to the lawn mower, my bottom-shelf wrench started to lose its edge.
What happens when a torque wrench wears out? It doesn't break like a standard wrench does.  No, it can be a lot worse than that – you may not even know it's broken.
What's the Best High-Quality Torque Wrench?
The ratcheting mechanism can fail or the wrench can physically break, but most of the time that's not what happens.  A torque wrench is a precision tool designed to measure extreme forces down to the smallest increment.  When that sort of tool goes bad, the measurement starts to lose its precision.  In other words, one day, without telling you, it's not putting out the torque you think it's putting out.  That's why it's important to buy a high-quality torque wrench la primera vez.
Dropping the dough on a high-quality torque wrench with a higher accuracy and more durable construction means you'll only have to do it once.  Don't fall for the cheap imitations that will only work a few times and can fall out of spec in only a few months.  Also, stores like Amazon offer affordable protection plans for many of the tools they sell.  That might be worth considering if you put your tools through hard work, or accidentally run them over with your car.  If that last part sounded personal, it's because it was.
También debe tenerse en cuenta que no debe utilizar una llave dinamométrica para aflojar things – that can cause damage to the spring that holds the tension.  Use a breaker bar to loosen things, like este hecho por TEKTON.  And it's good practice to reset your torque wrench to zero when you're finished using it, to avoid wearing that spring out prematurely.
Finally, torque wrenches are notorious for being less accurate toward the extreme ends of their measurement ranges.  That means if you dial in the minimum or maximum torque the wrench can do, it won't be as accurate as it will if you set it more toward the middle.  Keep that in mind as we go down this list – if your projects tend to have smaller torque figures, it would be best to get a torque wrench with a smaller range.
We'll start with wrenches more suited for around the house, and work our way up to the heavy hitters.  And as a bonus to you, these are all available with free Prime shipping for Amazon Prime members.  Without further ado, let's dive into the 7 of the best affordable torque wrenches you can buy today.
Llave dinamométrica con transmisión automática de ¼ de pulgada EPA
Range: 20 – 200 in/lb, 2.26 – 22.6 Nm
Como puede ver por el precio, el tamaño de la unidad y el rango de torque, este Llave dinamométrica EPAuto is meant to be used on smaller projects around the house.  It's easy to carry in the car or on the jobsite, but it doesn't have the range or strength of some other wrenches due to its small drive size.  The quarter-inch drive means you're limited to smaller sockets, and that's by design.  Note that its maximum torque figure is 200 pulgada-pounds – that's about 16 foot-pounds.  You can do that with your pinky.
For around the house and more delicate precision applications, this is a great wrench to use.  The smaller drive can fit into spaces that other wrenches can't.  And at 11 inches long, it's compact enough to carry but still packs a punch.  Just don't use it on anything too large.
La llave EPAuto es un excelente relleno de calcetines para el personal de mantenimiento de su familia.
Pros
Buena calidad a bajo precio.
Puede caber en espacios reducidos
Peso ligero de 1,75 libras
Tamaño de 11 pulgadas fácilmente portátil
Construcción de acero duradera
Puede manejar tan solo 20 libras por pulgada de torque
Incluye estuche
Contras
No diseñado para trabajos de alta intensidad
No es tan duro como otras llaves en esta lista.
Tiene un rango de precisión más pequeño
El clic de confirmación no es muy fuerte
Solo mide el par en sentido horario
Garantía no especificada
Llave dinamométrica digital AC Delco ARM601-3 3/8 pulgadas
Range: 2 – 37 ft/lb, 2.71 – 50.16 Nm
We've left the quarter-inch wrenches behind, and have ventured into the midrange three-eights-inch drive size.  This is a more common drive size at garages, shops, and most jobsites.  It's a size that offers strength and ease of use – and most of the socket sizes you'll ever come across will fit this drive comfortably.
You'll also notice we took a big jump in price.  That's because AC Delco is a well-known and trusted brand – but it's not just the name.  It's also because this is a digital torque wrench.  Yes, there's an LCD display on this wrench that will show your chosen torque figure in any of four units: inch pounds, foot pounds, kilograms per centimeter, or Newton meters.
That makes this a very versatile torque wrench.  Powered by three AAA batteries, it's light, durable, and can last a long time on a set of batteries.  It also has an electronic buzzer that alerts you when you've reached the torque spec you're looking for, so you can't mistake another noise or vibration for its confirmation click.
It has a Measurement Mode, where the wrench measures how much torque you're putting out.  And it's one of the only torque wrenches available that can measure that torque tanto en sentido horario como antihorario.
It takes a bit longer to set torque values using buttons than it does by twisting a handle.  And with a maximum torque of just 37 pound-feet, we're still not into the heavy hitters yet.
Even so, this thing is so useful it's making me want to buy one right now.
Pros
Operación digital
Unidad común de tres ochenta pulgadas
La pantalla LCD muestra cifras de torque
Zumbador audible confirma torque
Hecho por una marca que conoce y en la que confía
Mide el torque en sentido horario y antihorario
1 año de garantía
Incluye estuche
Contras
La entrada digital es más lenta que el uso convencional
Las baterías pueden morir en un mal momento
Low torque range, so it's limited to smaller jobs
Baterías no incluidas


Llave dinamométrica TEKTON 24335 de ½ pulgada
Range: 10 – 150 ft/lb, 13.6 – 203.5 Nm
Esta llave dinamométrica TEKTON nos lleva a las llaves de unidad de media pulgada, que es el tamaño de unidad de enchufe más versátil. Este tamaño aceptará naturalmente sus enchufes estándar o métricos más grandes sin la necesidad de un convertidor.
We've also arrived at a much higher torque range, and this wrench can handle anything from 10 to 150 pound feet of torque.  That's enough to tighten just about anything you're going to encounter in your day-to-day life.
Esta llave dinamométrica tiene una construcción totalmente de acero, una carcasa resistente, un plan de reemplazo de por vida de calidad y un telémetro de alto contraste para realizar ajustes fáciles sobre la marcha. Realmente es una de las mejores llaves inglesas de esta lista.
The only negative thing about this wrench is that because of the way the handle is tightened, by tightening a nut at the base of the handle to lock it down, a few people have mentioned that the handle can loosen.  That means the torque value could change by a few pounds during regular use.  That may very well be user error, but it's worth mentioning.  A small blemish for an otherwise very good wrench.
For six bucks, Amazon will even throw in a four-piece adapter set that lets you use sockets from the other drive sizes.  That's about the same as an equivalent set over at Harbor Freight, and you don't have to drive to Harbor Freight to get it.  I suggest you spring the extra money for those – you never know when you might need them.
Pros
#1 Best Seller en Amazon Llaves dinamométricas
Unidad ideal de media pulgada
Gran rango de torque
El diseño de calidad significa facilidad de uso
Precio de gran valor
Garantia limitada de por vida
Incluye estuche
Contras
Informes de que el mango no se mantiene apretado
Solo mide el par en sentido horario


Llave dinamométrica TEKTON 24340 de ½ pulgada
Range: 25 – 250 ft/lb, 33.9 – 338.9 Nm
Right off the bat, you're going to wonder why this half-inch drive TEKTON torque wrench costs almost twice as much as the last half-inch drive TEKTON torque wrench.  Two words: it's bigger.
Con un rango de torque máximo de 250 libras-pie, este pesado bateador puede hacer frente a casi cualquier trabajo que normalmente encontraría dentro de una casa, garaje o incluso un granero. Con 25 pulgadas de largo, tiene el apalancamiento adicional para abordar el hardware grande en tractores, camiones y equipos grandes. La construcción totalmente de acero significa que esta llave es tan duradera como la última TEKTON, y la garantía limitada de por vida también se aplica aquí.
That also means the "handle sometimes loosens" concern may be present here as well.  Again, that could be user error, but it's worth mentioning.
This is a great choice if your jobs are just a little more involved than the regularly-scheduled maintenance on your wife's Honda Passport.  But if you're working on actual heavy machinery, we still have a long way to go.
Pros
Amazon's Choice para llaves dinamométricas
Unidad ideal de media pulgada
Excelente precio para el rango de torque
El diseño de calidad significa facilidad de uso
Garantia limitada de por vida
Incluye estuche
Contras
Pocos informes de que el mango no se mantiene apretado
Solo mide el par en sentido horario


Llave dinamométrica de ½ pulgada Tacklife
Range: 25 – 250 ft/lb, 33.9 – 338.9 Nm
First off, the Tacklife torque wrench comes with a drive extension bar, a case, and a half-inch to three-eights adapter.  That's pretty convenient if you ask me.  At 25 inches long, it has good leverage.  And at 250 foot-pounds of torque, it can complete a wide range of adjustments.
Don't let their bold advertisement of "DIN Calibrated" throw you off – that international calibration standard is met by the vast majority of torque wrenches, and it ensures an error rate of 4% or less over the expected life of the tool.  A good thing to have, but not unique to this wrench.
Lo bueno de Tacklife es que te dan un certificado para demostrar que la llave dinamométrica exacta que recibiste por correo pasó esa prueba. Tacklife emite cada llave inglesa con su propio número de serie y las respalda a todas con una garantía de 24 meses.
If you're at all concerned about breaking a torque wrench, this is the one for you.
Pros
Unidad ideal de media pulgada
Número de serie individual y certificado de precisión
Excelente precio para un rango de torque de 250 libras
Garantía de 24 meses
Incluye caja, reductor y extensión de transmisión
Contras
Solo mide el par en sentido horario


Precision Instruments C3FR250F Llave dinamométrica con accionamiento de ½ pulgada
Range: 40 – 250 ft/lb, 54.23 – 338.95 Nm
Hicimos un gran salto de precio allí, y la razón está ahí en el nombre.
This baby is all about quality.  It has a chrome finish, which means it's durable.  It has a manual torque lock and dial readout, making it easy to use.  It has an adjustment knob instead of a sleeve and spring setup – that reduces wear.  And because there is no spring tension, it doesn't have to be reset to zero when you put it away.  You can't even loosen things with this, and that's by design… to increase the life of the drive shaft.
This torque wrench has a unique pivoting flex head, unlike the conventional fixed heads of the other tools on this list.  That means you can get into tighter spaces, ones you couldn't reach otherwise.  And this wrench gives one of the loudest and most distinct clicks when you hit the torque you want.
You've no doubt heard of Snap-On.  But did you know it's Precision Instruments who makes many of Snap-On's torque wrenches? Those are just dressed up a little more than the ones they put their own name on.
Add to that a Certificate of Accuracy and a one-year warranty, and you've got possibly the best layman's torque wrench money can buy.  Seriously.  It might cost a little more, but this is the one you want.
Pros
Unidad ideal de media pulgada
Cabeza pivotante
Acabado cromado en cuerpo de acero
Bloqueo de par manual
Marque la lectura de torque
No hay primavera que se gaste
Certificado individual de precisión
1 año de garantía
Incluye estuche
Contras
Solo mide el par en sentido horario
Cabezal de trinquete no reversible


Llave dinamométrica con accionamiento TEKTON 24350 de ¾ pulgadas
Range: 50 – 300 ft/lb, 67.8 – 406.7 Nm
This is the big daddy.  The heavy hitter of affordable torque wrenches.  With a maximum torque of 300 foot-pounds, you may have needed an impact wrench to remove whatever you're about to tighten.
It's the only wrench on this list with a three-quarter-inch drive.  That's because the smaller drives can't stand up to the kind of torque this thing can produce.  In fact, unless you're a strongman, you may need to sleeve a pipe or something over this torque wrench to apply the full 300 foot-pounds of torque.  Or maybe that's just me.
In working on cars and trucks, you may occasionally need to remove a crankshaft bolt that's just outside the range of a 250 wrench.  That's the moment you're going to wish you had a high-range wrench like this one.  And at 26 inches long, it's not unwieldy either.  It's one of the cheapest wrenches in the 300 range, and it's backed by a solid warranty.
Una elección perfecta si necesitas ese empujoncito extra.
Pros
Unidad robusta de tres cuartos de pulgada
Rango de par alto
Toda la construcción de acero
Garantia limitada de por vida
Incluye estuche
Contras
Solo mide el par en sentido horario
Exceso para el mecánico doméstico


¿Fue esa la llave dinamométrica más mala que existe?
You might have noticed I called the Precision Instruments wrench a "layman's torque wrench".  That's because there are entire leagues of tools designed for discerning professionals, high-precision situations, or for use within specific industries.  Want to step into that world? Ladies first.
Herramienta Wright 8449 Llave dinamométrica de accionamiento microajustable de 1 pulgada
Range: 300 – 2000 ft/lb, 406.74 – 2711.63 Nm
This wrench weighs 57 pounds.  When you attach the handle, it's nine feet long.  And yeah, you read that right.  It's almost cuatro mil dólares.  But hey, you get free Prime shipping.  And it's covered under warranty for as long as you own it.
Why is this thing so expensive? To start, it can torque both clockwise and counterclockwise, because left hand thread is fairly common in some industries.  Despite its huge torque range, it's still accurate to about 4%.  It's made of high tensile steel.  It has a positive locking device, so there's no way to accidentally unlock it.  And it passes some of the highest international standards there are.
En resumen, esta llave inglesa es épica. Pero probablemente lo obtuviste solo por el precio. Un tipo delgado como yo tendría que colgar del extremo de esta cosa para acercarse a la parte superior del rango de torque.
This sort of tool is used by munitions squadrons, helicopter mechanics, diesel mechanics, and anyone working on something huge.  And by diesel I don't mean your Cummins, I mean the 100-liter CAT diesel engine powering the dump truck at your local quarry.  And the bolts the size of your fist that hold its wheels on.  Auto racing teams use these for tightening wheels, and you can find them being used in situations where extreme precision is an absolute must.
If you want to go much higher than 2000 pound-feet, you're getting into hydraulic tools that don't really count as torque "wrenches" in my book.  So bask in the glory of this badass torque wrench, because it represents the most tightening a human can do without some help from advanced physics.
Pros
Rango de par masivo
Construcción sólida y firme
Envío gratis
Garantia limitada de por vida
Funciona como barra de entrenamiento
Garantizado para ser la llave dinamométrica más larga en su intercambio local.
Contras
Cuesta más que un auto usado
Pesa más que tu perro
Más largo que tu caja de herramientas
Estuche no incluido

Entonces, ¿cuál es la mejor llave dinamométrica para comprar?
We did it – we learned a lot about the best affordable torque wrenches on the market today.  Take your newfound knowledge and make a great decision – buy yourself a torque wrench.
If you're looking for the best torque wrench for light jobs around the house, buy the EPAuto.
Si desea la llave dinamométrica de rango medio con la mejor garantía, compre la Tacklife.
Si necesita la mejor llave dinamométrica versátil, compre la Instrumentos de precisión C3FR250F.
Si tiene demasiado dinero, compre el Herramienta Wright 8449.