Today's Best Engine Hoist or Cherry Picker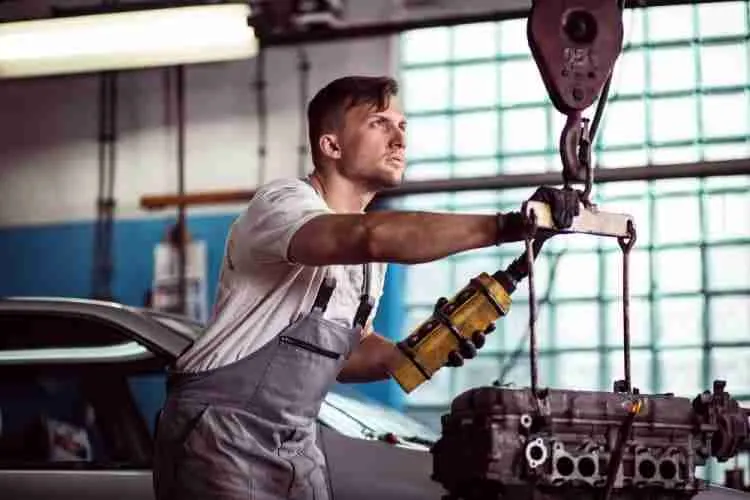 You've never pulled an engine before? That's okay! We've all been there. Your old engine stand is getting sketchy, the one you got from your dad's neighbor's uncle's friend? Let's replace it! Maybe you need a spare cherry picker for the shop or home garage. No problem.
Whatever your need is, the right engine removal equipment is out there – and we're going to help you find it.
Cherry Picker … Like, for Trees?
This guide starts from the top, so if you know what you're doing feel free to skip ahead. While we won't cover how to remove an engine, we'll cover everything you need to know about the equipment involved in the process.
Read our guide on floor jacks to learn all about lifting a vehicle off the ground, something most will require for this process.
A few basic items are needed to remove an engine with or without an attached transmission:
Cherry picker / engine hoist
Engine stand
Heavy-duty chain
Adapter plate (optional)
Stabilization (optional)
Don't worry, all of these will be explained as we discover the best cherry picker, engine stand, and accessories for pulling an engine.
Safely Remove an Engine
In addition to plenty of room, paper towels, proper tools, and time, you need patience for this process to go smoothly. A lot of physics are involved here, and one wrong move could lead to several hundred pounds of metal falling on your feet, or worse, your car!
Always wear protective gear when operating a cherry picker. This can't be understated – work gloves and steel toe boots are considered standard fare. An engine stand is a sturdy thing, but accidents can happen there as well. Take precautions and you'll live to work another day.
Weight limits aren't something to test – that's how things get dropped. Most of these tools are designed to operate at or slightly above the stated weight limit if they must, but always respect the manufacturer's stated limitations. Engineers set these limits for a reason: safety.
With that said, most hydraulic systems on this list are designed to operate well below their true maximum capacity. There are two reasons for this. First: when an item is in motion it essentially weighs more, so it exerts more stress on the engine hoist components. Second: longevity. These machines are designed to last for years with little to no maintenance, and to guarantee this, manufacturers must ensure their components aren't overstressed.
Getting Specific
Most of this equipment is specialized in some way, so be sure to research what specific items your engine requires. There is a lot of variety in engines, and in turn, a lot of variety in these products. Forums and other communities can help a lot when it comes to oddball engines.
If you plan to remove the transmission at the same time, or if you use this equipment for something other than engines, be sure to determine how much the target item weighs before choosing a product. Most of the products in this guide cater to the casual engine-puller, those of us who are fine with an engine stand and cherry picker with a lower maximum capacity.
This Ain't Cheap!
If you're pulling an engine for the first time, congratulations: you have officially earned a new level in the realm of the serious mechanic. In this world, cheap dollar store tools aren't going to cut it anymore. If a bargain-bin wrench fails, no big deal. If a bargain-bin cherry picker or engine stand fails, your engine is toast.
There's no getting around that removing an engine can get expensive. If you only plan on doing this once, consider renting an engine hoist and engine stand from your local Sunbelt.
Quality tools are a smart investment – you only need to buy them once – and this list features durable tools without the big-name prices. In the long run you not only save on shop labor but on any subsequent rounds of rentals. Not to mention, one of these times your buddy is going to be using his engine stand when you ask to borrow it.
But I Don't Have Room for a Cherry Picker!
All the products you're about to see include free shipping for Amazon Prime members, so you can skip driving to the big-box store with the constant sales, loading heavy boxes in your truck, and driving all the way back. This would be even more difficult if you don't have a truck, or if it's down and you need to take the engine out to fix it.
Even the biggest items on this list can be disassembled for easy storage. Out of excuses? Great! We'll learn the rest along the way – without further ado, let's dive right in and find the best cherry picker, engine stand, and accessories available today.
Best Cherry Picker / Engine Hoist
The job of a cherry picker is to lift the engine out of the car. That sounds simple enough, but when you consider an average engine weighs between 300 and 800 pounds without a transmission attached, lifting one is no easy task. The basic functions are the same as a floor jack – an arm is actuated, compressing hydraulic fluid within a cylinder, which forces a piston to move, which raises a boom, and your engine hangs at the end of the boom. It's like a miniature crane.
Most cherry pickers come with a chain and hook, but you need to buy a longer chain to lift anything with. Skip to the Accessories section to see those.
There are three main styles of cherry picker, so let's explore them.
Best Choice Engine Hoist Cherry Picker
If you're just looking for a regular ol' cherry picker, this is the one for you. Sure, you can pay more than this, but why? It has a folding neck and removable legs for easy storage, 360-degree rotating wheels, and a hydraulic cylinder that's rated for eight tons. The actual lift capacity is between 1000 and 4000 pounds depending on how far you extend the boom neck. The cylinder is overpowered to make lifting engines a breeze, and to ensure it's never overworked.
This engine hoist is made of quarter-inch steel and can extend to eight feet tall. It comes with a 60-day warranty against defects, which is about as good as it gets with an engine hoist. It's only meant to protect against defective hydraulic rams and other random abnormalities.
Using a cherry picker is easier than lifting an engine with your hands.
Pros
Folds for easy storage
Easy to move
Easy to use
More capable than most ever need
Weighs 132 pounds
Cons
Manual operation
Short warranty
Dragway Tools Truck Bed Engine Hoist Crane 
With a little imagination, a cherry picker can be used for all sorts of things. Need to load or unload a mobility scooter into a truck? What about lifting ATVs and other heavy things into a trailer? Or perhaps you want to be the MacGyver of pulling engines – with a truck-mounted mobile cherry picker!
This engine hoist doesn't come with legs, but it does have a swivel platform which bolts directly to a truck, trailer, or other surface. It can be detached from the base, so you could even bolt it to the ground to create a dedicated engine pulling area. With a maximum capacity of 2000 pounds, a maximum height of 70 inches, 10-gauge steel construction, and 360-degree rotation, it has all you need to remove an engine anywhere, anytime.
Pros
Install it anywhere
High capacity
360-degree rotation
Cons
Manual operation
Warranty not specified
If the thought of manual labor sends you into a fit of rage, worry not – you can remove an engine without breaking a sweat thanks to this electric cherry picker. Powered by a standard 110V outlet, this 1.73-horsepower winch crane attaches to a flat surface or beam (not included!) in your shop or garage. What beam? Any beam! Get crafty: attach it to the rafters, bolt it up to a retractable arm, or build a full custom crane. The sky's the limit.
Except it isn't, because the cord for the remote control is only 4 feet long. Other things of note: the included brackets require a 1 and ¾-inch square beam, which is a weird size; the manufacturers themselves say it can overheat after 2 hours of constant use; and to reach the full capacity of 1500 pounds you must double up the line – this reduces reach from 40 to 20 feet, but without doing so the lift capacity is only 750 pounds.
Unlike hydraulic systems, when an electric cherry picker says 1500 pounds it means MAXIMUM. I wouldn't push it on a regular basis if you want this thing to last. Increasing the capacity to 2200 pounds nearly doubles the price, though, so unless you need the extra buffer zone I'd stick with this one.
If you're 40 feet above what you're trying to reach I suspect you need an actual crane. Which reminds me – you can use this horizontally as a winch, too. That's nifty.
Pros
No effort required
Huge reach
Doubles as a winch
Runs on 110V power
Mounts anywhere
Cons
Lower capacity
No mount included
Can overheat after 2 hours
Best Engine Stand
Now that the engine is out, you need somewhere to put it. It's much safer to use an engine stand than it is to use most other surfaces, and it's more convenient, too.
The first approach is to use an engine stand called a cradle to hold the engine. With a capacity of 1000 pounds and a low overall height, a cradle is most often used to store an engine while you wait on parts, to take it to the machine shop, or because you hoard engines. I'm not judging.
The reviews state some issues. It's marketed for Chevrolet engines but includes metric bolts – no big deal, a trip to the hardware store can solve that. Unsurprisingly it's difficult to maneuver an engine when it's 2 inches off the ground. Its appearance reflects its price, and gasp – it won't fit every engine in the world! That takes care of the negative reviews.
If you have an oddball engine consider building your own cradle, or shop similar models to find the one which best fits your needs.
I suggest bolting the cradle to the engine while it's still in the air.
Pros
Inexpensive
Small
Convenient for storage
Cons
Low to the ground
Hard to roll when loaded
This is the most common kind of engine stand – wheels at the four corners of an H-pattern of legs. It's the tried and true way to hold an engine, and it has a 1500-pound capacity, so it even holds diesel truck engines without issue.
The claw-looking part adjusts to bolt directly to your block. It can rotate 360 degrees with an engine attached. The front wheels swivel, the entire thing folds up for easy storage, and it's built from high-grade steel. An engine stand is extremely convenient for any task, from changing an oil pan gasket to assembling an engine from scratch.
Just lower your cherry picker slowly, align the bolt holes on the engine stand with the ones on your engine, tighten everything down, and remove your chain. Easy-peasy.
Prime shipping is currently three days on this item.
Pros
Inexpensive
Easy to store
Easy to use
Cons
May not fit oddball engines
Sunex Underhoist Component Stand 
A final way to stabilize parts is by using an underhoist stand. As the name suggests, this sits underneath either an engine component. It can hold 1500 pounds, and the 12" round base ensures stability. Use it to raise exhaust components and other cumbersome items while the engine is still in the air.
I can't tell you how many times I've tried to hold something with my head, shoulder, or arm while trying to position a bolt, especially under a car that's on a lift. I'm also the type to want some added security if I need to leave an engine on a cherry picker for an extended period – this is the perfect device to leave under the boom to provide some redundancy.
Prime shipping is currently three days on this item.
Pros
Stable
Inexpensive
Holds cumbersome items
Cons
Engine Hoist Accessories
Let's step back in time to the beginning of this process, when your engine was sufficiently unhooked and ready to be lifted by a cherry picker.
There are several things to consider at this point. First, stability. Especially if you're lifting both an engine and transmission in one go, the load can become unbalanced. Simply wrapping an old rusty chain around the engine a few times isn't going to cut it when 1000 pounds of metal start swinging like a pendulum.
Remember, a system is only as strong as its weakest component.
Spectre Performance 903 Cherry Picker Plate 
The first thing you need is a way to attach a chain to your engine. You may be able to use any two, three, or four strong bolts somewhere on your engine, but there are also products to give you a place to attach a chain. This one gives you three separate hooks. It attaches to your intake manifold where your carb usually resides. Don't have a carb? That's fine, just do some research to see if it fits your engine.
These don't have a stated weight limit, and reviewers state they have used this plate to lift entire V8 engines with transmissions attached.
Allstar Performance Engine Hoist Plate 
Here's another lift plate option for cherry pickers – this one's more specialized.
It's heavily reinforced and offers the same three hooks for attaching a chain. Designed for larger carbureted engines and modern GM engines with the intake manifold removed, this plate can lift heavy loads with ease. As with the last one, it can also be used to block intakes for safe engine storage.
Performance Tool Engine Hoist Chain 
This chain has angled brackets designed for use with those lift plates or any suitable bolts on your engine. Made from heat-treated steel, it's rated for 1000 pounds. It's simply a chain.
Geindus Cherry Picker Chain Sling 
This is not simply a chain. It features four heavy-duty hooks for ultimate stability, a thick chain made of alloy steel for a huge lifting capacity, and a center hook which can serve a variety of purposes. This is nearly $100 more expensive than a hardware store chain because it's overkill. If you have money to spare and never want to worry about your engine hoist chain again, your dreams just came true.
Another approach is to use what's called a load leveler – it attaches to your cherry picker and features four short, equal-length chains with angle brackets which bolt to your engine or adapter plate. Using four attachment points increases the stability of your engine while it's in the air. The leveler features a horizontal tilt adjustment for centering off-balance loads. A 1500-pound capacity ensures this leveler won't break a sweat while lifting your engine.
Torin Big Red Replacement Hydraulic Cylinder 
Did your old engine hoist experience a hydraulic cylinder failure? Have you built a custom cherry picker? Did you find a deal on an old rusty engine hoist and you're worried about the cylinder? Look no further.
This single-piston ram jack has eight tons of lifting capacity, enough to lift the largest of assemblies. With a lifting range of up to 44.1 inches, it's designed for long booms and heavy loads. And like other Torin products, it's been factory tested for safety and reliability.
They also offer a 3-ton version for $6.16 less … get more for your money. Buy the 8-ton instead.
Torin Big Red Telescoping Transmission Jack 
I'm including this jack because there are times you need to use an engine hoist to remove the engine and transmission as a unit – and removing the transmission can prove difficult with just a regular floor jack. Transmission jack to the rescue!
It can lift 1000 pounds and includes safety chains to secure the transmission during the lifting process. It's a bit expensive for a specialty item, but once you have one you won't ever look back.
Prime shipping is currently three days on this item.
Yeah, But I Pull Fifty Engines a Week
What's that you say? Those wimpy cherry pickers weren't beastly enough? You need one that costs more than an entire used car? Say no more.
Hein-Werner Cherry Picker / Crane 
Remember how I said most engine hoist systems don't include a warranty? This one does: two years. Know how using the very end of the boom results in a lower lift capacity? This one's minimum is 3300 pounds. And how those other engine hoists barely stood eight feet tall? This one goes to ten.
With a maximum capacity of 4400 pounds, I was starting to wonder what makes this thing so expensive. Then I noticed it weighs 640 pounds. Six hundred and forty pounds. Nearly five times as much as the Best Choice cherry picker. The answer is durability. Put it through its paces week in and week out – it won't let you down.
If you own a shop and need one of the highest-quality hoists available, this is it.
Which One Should I Buy?
Congratulations! You learned everything there is to know about the technology behind lifting an engine out of a vehicle. Take your newfound knowledge and go pull an engine.
Accessories
When you remove an engine, use a chain.
If you want more stability, buy this OTC load leveler.
If you need to remove the transmission afterward, this Torin jack will help.
If you need a replacement hydraulic cylinder, Torin has you covered.
Engine Stands
If you're storing or transporting an engine, use a Goplus or similar engine cradle.
If you just need a regular ol' engine stand, get the Torin.
Cherry Picker
If you just want a basic engine hoist, get the Best Choice.
If you want to install one somewhere, get the Dragway.
If you need an electric hoist/crane/winch, get the BEAMNOVA.
If you run a commercial operation, buy the Hein-Werner.