Comment nettoyer les jantes en aluminium avec des produits ménagers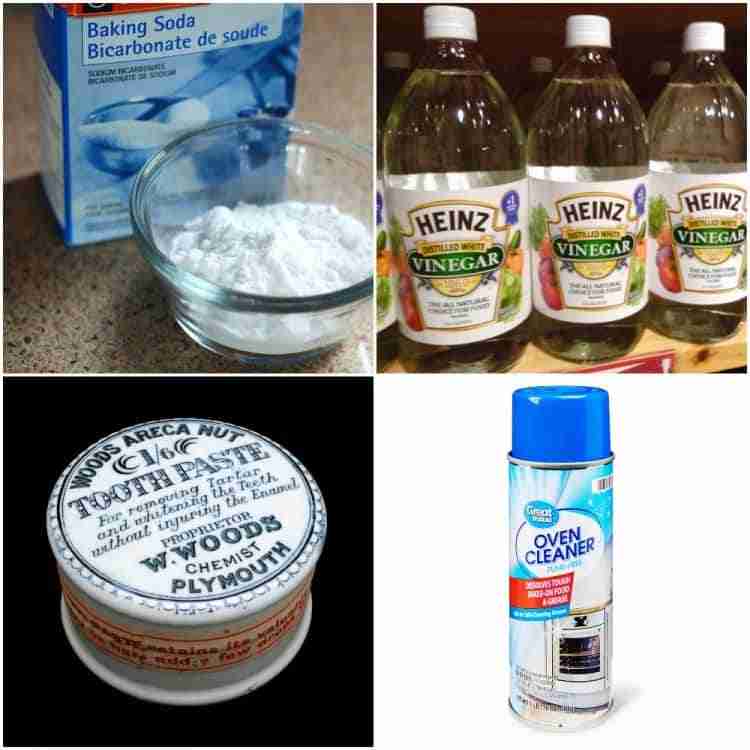 Yes, you read that right. We're living in interesting times, but that doesn't mean you don't want a clean car with shiny rims that sparkle. Plus, dirty rims and wheels can cause damage and destroy your car's exterior.
The great news is that you don't need to leave your house to achieve the sparkling aluminum rims of your dreams. You already have the ingredients for shiny success in your kitchen right now.
We've done the research and offer these six simple solutions to remove road dirt, tar, grease, and brake dust from your aluminum rims.

Rincez toujours les jantes en aluminium en premier
Before you wash your vehicle, clean the wheels' aluminum rims first.
Pre-rinsing will prevent the rims' dirty and greasy water runoff from mucking up your clean car.
Le rinçage est facile. Prenez un tuyau d'eau ordinaire, vissez une buse de pulvérisation pour créer une pression d'eau et vaporisez directement sur la jante. La saleté et la crasse se briseront sous la pression de l'eau. L'eau chaude fonctionne mieux.
Comment utiliser le jus de citron et le bicarbonate de soude
Quelle belle association! Le jus de citron est un dégraissant polyvalent that can be used on your car's rims and tires. But what's so great about baking soda? Baking soda is a mild alkali cleaning agent that causes dirt and grease to dissolve easily in water for powerful removal. It's also one of the cheapest, most effective cleaners available. Combining lemon juice and baking soda creates the perfect foil to combat brake dust, road dirt, and grime.
You'll need:

2 cuillères à soupe de jus de citron ou de concentré de citron
Vaporisateur
1/2 tasse de bicarbonate de soude
1 tasse d'eau tiède
Serviettes en microfibre
Étape 1
Versez de l'eau tiède et du jus de citron dans le vaporisateur, vissez le couvercle et agitez bien.
Étape 2
Vaporisez rapidement la solution sur les jantes, en partant du centre intérieur vers les bords par les pneus. Assurez-vous que les jantes sont complètement imbibées de jus de citron et de solution d'eau.
Étape 3
Humidifiez une serviette en microfibre dans de l'eau tiède et saupoudrez le bicarbonate de soude sur le tissu. En effectuant un mouvement circulaire, frottez fermement la serviette pour éliminer les taches tenaces et nettoyer davantage les jantes.
Étape 4
À l'aide d'une serviette sèche, séchez complètement les jantes en aluminium.
Utilisez du bicarbonate de soude et du vinaigre pour nettoyer les jantes
blanc le vinaigre ajoute du punch lorsqu'il est combiné avec du bicarbonate de soude pour mettre hors tension l'huile, la graisse, la poussière de frein et la saleté.
You'll need:
Bicarbonate de soude
Eau chaude
vinaigre blanc
Bol à mélanger moyen
Éponge
Vieille brosse à dents
Étape 1
Pour three parts baking soda into a medium mixing bow. Slowly add 1/2 part warm water, and 1/2 part white vinegar until thick, wet paste forms. Don't be alarmed; the mixture will bubble up a little after adding the white vinegar.
Étape 2
Appliquez la pâte de bicarbonate de soude sur une éponge, frottez l'éponge directement sur les jantes en aluminium et couvrez toute la surface. Astuce: vous pouvez appliquer cette pâte et la laisser reposer jusqu'à cinq minutes avant de frotter.
Étape 3
À l'aide de l'éponge, frottez les roues, puis saisissez une brosse à dents pour atteindre les zones étroites afin d'éliminer la saleté tenace et la crasse.
Étape 4
Rincer les roues à l'eau claire après le brossage, puis sécher avec une serviette douce Répétez l'étape 3 plusieurs fois si nécessaire, pour rendre les roues aussi propres que possible.La méthode du bicarbonate de soude et du savon à vaisselle
Ce nettoyant pour jantes en aluminium utilise plus de magie de bicarbonate de soude, mais le combine avec du savon à vaisselle comme dégraissant. Parfait pour éliminer la graisse de la route et les accumulations de goudron.
You'll need:

½ cup baking soda
1 teaspoon dish soap
1 gallon of hot water
Sponge or rag/coth
An old toothbrush or soft brush
Étape 1
Pour 1 teaspoon of dish soap into a gallon jug of hot water. Shake the gallon jug to mix the dish soap and hot water.
Étape 2
Soak a rag or sponge in the dish soap solution. Make sure your sponge or cloth is entirely saturated. Then liberally sprinkle the baking soda on your sponge or rag.
Étape 3
Starting from the outside to the inside edge, run the sponge around the rim several times. Grab an old toothbrush and scrub the grease and dirt away in the hard-to-reach areas.
Étape 4
Rinse the wheel wells with water, top to bottom. Then immediately dry with a clean towel.
Nettoyage des roues avec de la crème de pâte tartare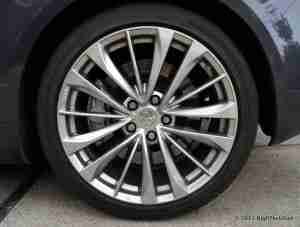 What is Cream of Tarter? It's a kitchen product, also known as potassium bitartrate. Cream of Tartar is the powdered form of tartaric acid. This organic acid is found naturally in many plants. It's also a byproduct of wine production, the residue left on the barrels.
You'll need:
Medium bowl
Cream of Tarter
L'eau
Fine-grain buffing pad
Rag or microfiber towels.
Étape 1
Pour two tablespoons Cream of Tartar into a medium-sized bowl. Next, slowly stir in water until a thick paste has formed.
Étape 2
Dip a rag into the paste, and rub directly onto the aluminum rim surface. Polish with a fine-grain buffing pad.
Étape 3
Wipe with a soft cloth to remove any residue.
Nettoyage des jantes en aluminium avec un nettoyant pour four
Yes, oven cleaner! It's an easy way to clean aluminum rims.
You'll need:
Nettoyant pour four
Sponge or non-abrasive scrub brush
1-gallon jug of hot water
Étape 1
Thoroughly rinse the aluminum rims with water. Then spray the oven cleaner directly on the rim. Be sure to spray generously areas that are particularly dirty with built-up grime. When you're content with the oven cleaner application, take a break. Allow the cleaner to do its magic and let it sit for about 30 minutes.
Étape 2
Using a non-abrasive brush or sponge, scrub the entire rim's surface. Don't worry if all the grime doesn't come off the first time. You can reapply the oven cleaner and scrub away until you're and satisfied the dirt is gone.
Étape 3
Rinse the rim with hot water. Then apply a pressurized rinse from the hose and nozzle to ensure you remove all the oven cleaner.
Étape 4
Promptly dry with a soft towel. Be sure to remove all of the oven cleaner, or a white film will appear when the rim is dry. Nobody wants that.
Nettoyant pour cuvette de toilette pour la saleté des roues
Caution! This recipe will clean almost every kind of wheel stains, but, to avoid damage, follow the directions precisely as written.
You'll Need:
Rubber gloves
Ceramic or glass bowl. Do not use a metal bowl.
Toilet bowl cleaner with hydrochloric acid (ex. The Works)
6 teaspoons baking soda
Spray bottle filled halfway with water
Small brush or old toothbrush
Étape 1
You must wear gloves to prepare your acid neutralizer. Fill the spray bottle halfway with water. Then add baking soda. Shake well and set aside. Pour a small amount of the toilet bowl cleaner in the glass or ceramic bowl.
Étape 2
Dip your brush into the glass or ceramic bowl containing the toilet bowl cleaner. Scrub a small area of the rim for no more than 15 seconds. Squirt the spray bottle that's full of water and baking soda (the neutralizer) all over the rim. Use a garden hose with a nozzle/pressure washer to rinse thoroughly. Repeat scrubbing until all spots are gone.
Étape 3
Rinse the wheels thoroughly and wipe dry with a soft towel.
Comment polir ces jantes en aluminium propres

This finishing touch is the pièce de résistance!
You'll need:
vinaigre blanc
Eau chaude
Vaporisateur
Soft cloth
Fine-grain buffing pad for extra shine
Étape 1
Combine equal parts of warm water and white vinegar in a spray bottle.
Étape 2
Spray directly onto the rim's surface and wipe away with a soft cloth.
Étape 3
For an extra shiny boost, polish using a fine-grain buffing pad made of steel wool that can be found in grocery, hardware, and auto supply stores.
Conclusion
See how easy that was? You got to stay home without risking your health, and now your aluminum rims are gleaming like the jewels they are. Now kick back, take a photo of your vehicle, and send it to your friends. You didn't even need a mask or social distancing.
Don't forget to check out our product reviews to learn more ways to keep your car clean.