Coût d'installation d'un chargeur domestique Tesla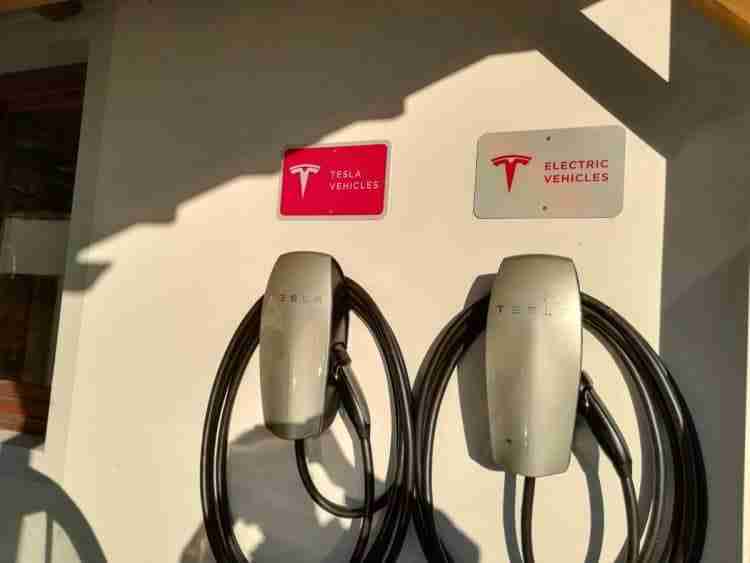 Le connecteur mural Tesla connu sous le nom de connecteur mural haute puissance Tesla (HPWC) coûte entre $500-600. L'installation nécessitera un électricien, qui peut prendre $250-300 comme frais de service en dehors du matériel électrique nécessaire.
Ainsi, l'installation complète, le câblage et le conduit peuvent coûter entre $3500-4000 en fonction de l'emplacement et des circonstances.
What is Tesla's high-power wall connector (HPWC)?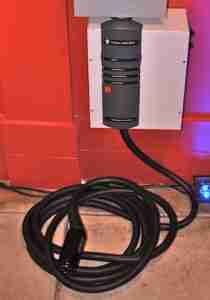 Tesla's High-Power Wall Connector (HPWC) is a home charging solution for Tesla vehicles. It makes the charging process efficient and convenient, allowing the vehicles to fully charge overnight for a full day drive experience.
What are salient features of Tesla's HPWC?
Le dernier connecteur mural haute puissance Tesla Gen-3 vous offre la meilleure expérience de charge du véhicule Tesla à votre domicile à tout moment. Vous pouvez afficher le pourcentage de charge sur l'application Tesla, qui vous donnera également la notification de charge complète. Il dispose également d'une connectivité WIFI pour les mises à jour OTG de l'appareil.
Certaines autres fonctionnalités du connecteur mural Tesla sont les suivantes:
Charge le véhicule pour qu'il roule jusqu'à 70 km avec 1 heure de charge.
Donne jusqu'à 11,5 kW / 48 ampères en sortie.
Compatible avec les systèmes électriques domestiques.
Compatible with the following Tesla models – Model X, Model 3, Model S, and Model Y.
Possède une connectivité WIFI 2,4 GHz 802.11 b / g / n.
Offers versatile installations – indoor or outdoor.
A un design léger et élégant.
Comes with lightweight 18" or 8.5" cable length.
Livré recouvert de verre trempé.
Offre des niveaux de puissance personnalisables.
How to install Tesla's home charging solution?
There are four steps involved in the complete installation of Tesla's Home Charging Solution for a seamless charging experience for your Tesla Vehicle.
Il est préférable d'installer le connecteur mural dans un circuit de 60 ampères dans le parking le plus proche de votre infrastructure électrique domestique. Le processus d'installation peut prendre de deux heures à deux jours, selon l'emplacement et la complexité du travail.
Visite www.tesla.com et accédez à la section support pour Trouver un outil d'électricien. Entrez votre code postal pour trouver les installateurs / électriciens certifiés Tesla dans votre région. Si vous souhaitez que l'installation soit effectuée avec un autre électricien, dirigez-le vers le Guide d'installation du connecteur mural on Tesla's website.
Contactez plusieurs électriciens de votre région pour obtenir le meilleur prix du devis de service.
Commandez en ligne le connecteur Tesla
Order your Tesla HPWC via Tesla's official website and get your work done through your independent electrician.
Ou si vous installez via Tesla, le devis accompagnera le produit et son installation, et aucune autre action ne sera requise dans ce cas.
Fournissez à votre électricien la confirmation d'expédition de la commande et planifiez l'installation pour qu'elle continue. Si l'installation doit être effectuée via Tesla, Tesla vous contactera avec une date appropriée.
Quelle est la meilleure façon de recharger un véhicule Tesla?
You can plug-in the charging of your Tesla vehicle in the evening when you are back home from your day. This will ensure the whole night of charging to get a fully charged vehicle and a feasible driving experience in the morning.
À quel pourcentage le véhicule Tesla doit-il être facturé?
For the regular commute, charging your Tesla vehicle up to 90 percent will serve your needs. You can also set the Daily limit through the charge settings menu. For longer trips, it is recommended to charge the vehicle up to 100 percent of the battery.
La batterie doit-elle être complètement déchargée avant de brancher le Tesla sur le chargeur?
It is better to charge your Tesla model as often as possible. Tesla uses Lithium-Ion batteries in their vehicle, making it prone to the memory effect. So, fully draining the battery before charging is not required.
Combien de temps faut-il pour charger un véhicule Tesla?
The charging speed of a Tesla vehicle depends upon the vehicle model and connected supply.
Refer to the below table to know the charging speed of each Tesla model with different power supply options.
WALL CONNECTOR
CHARGING SPEED
CIRCUIT BREAKER (amps)
MAX OUTPUT

(amps)

POWER AT 240V

(kW)

Des modèles

 

Model 3

 

Modèle X

 

Model Y

 

mph
60
48
11.5
34
44
30
42
50
40
9.6
29
37
25
36
40
32
7.7
23
30
20
29
30
24
5.7
17
22
14
21
20
16
3.8
11
15
8
14
15
12
2.8
7
11
5
10
Quelles sont les autres options de charge disponibles pour les véhicules Tesla?
Apart from the Tesla Wall Connector, the Tesla vehicles can also be charged with another home charging equipment available called "Mobile Connector."
The vehicle models can also be charged at various "Supercharging Stations" installed by Tesla for a seemingly fast charging experience.
What is Tesla's mobile connector?
Tesla's Mobile Connector is another home charging piece of equipment provided by Tesla for charging its vehicles. It comes along with all the new vehicle models as a standard device and can be used as a backup charging option.
The device package offers medium to low charging speeds and includes the following items in its package-
A 20 feet mobile connector
An adaptor for standard 120V power supply (NEMA 5-15)
An adaptor for public charging stations
A bag for putting the cables
The included adapter can charge the Tesla 3 and Tesla S models at 3 miles per charging hour rate, while the Tesla X model at the rate of 2 miles per charging hour.
 What is the Tesla's supercharging station?
Tesla's Supercharging station is a power station providing 480-Volt DC fast charging technology for all its electric vehicles. Tesla started installing in early 2012 and as of March 2020, Tesla has built a network of above 1800+ supercharging stations worldwide, with an average of 9 superchargers (charging points) per station.
Each supercharger stall is capable of delivering up to 250 kW DC power to the 400V packed batteries inside the Tesla cars. It takes just 20 minutes to charge 50 percent and 75 minutes to fully charge a Tesla vehicle.