Revue du chargeur intelligent entièrement automatique NOCO GENIUS1 1 A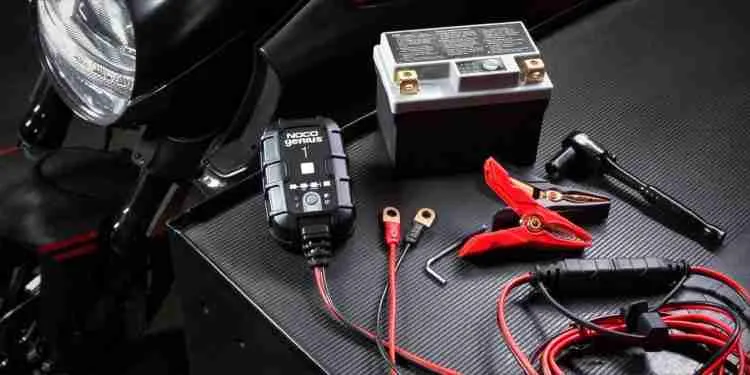 No one wants to unexpectedly find out their vehicle's battery is dead. It doesn't matter if it's a car, motorcycle, or boat. The problem is the same. You're stuck until the battery is recharged. If you're out on the water or parked in a remote location it can take hours before help arrives.
You can prevent this scenario from happening. An easy solution is to always have a charger in your vehicle. This way, if your vehicle doesn't start you can easily recharge the battery and be back on your way in minutes. However, you don't want to depend on just any charger since not all are designed the same. If you want reliability at an affordable price, take a look at the Chargeur intelligent NOCO Genius 1 A.
Revue du chargeur intelligent automatique NOCO Genius 1-AMP
This 1-amp smart charger is part of NOCO's Genius Series. Like the majority of the brand's other portable chargers, Genius 1 is designed to be easy to use. It is also compatible with almost any battery size.
Genius 1 will charge both 6 and 12-volt batteries in automotive and marine vehicles. There are Six operating modes give you several options for charging lead-acid, lithium-ion, and AGM batteries. Even if the voltage is too low to be detected, simply put the charger in "force mode". This will allow you to charge the battery.
Overcharging the battery won't be a problem with the Genius 1 by NOCO. It comes with a smart charging system that monitors the process and automatically stops when finished. Not only does it monitor charging levels, but it also battery temperature and will adjust accordingly to prevent damage to the vehicle's battery. It's also easy for you to keep an eye on the charging levels. Genius 1 boasts a LED display that indicates charge level, over-voltage, bad battery, and even if errors in reverse polarity occur. It will also show when the charger's operating mode has been turned on.
You'll appreciate the portable charger's durable construction, especially if you're using it to keep ATVs and other off-road vehicles running. It comes with an IP60 rating so it's waterproof and dust resistant. A tight seal helps keep moisture and small particles out for improved reliability and longer lifespan.
Hooking the portable charger up to a vehicle's battery is simple and it comes with everything you need. All you have to do is connect the battery clamps or eyelet connectors. Select your operating mode and turn the charger on. Since it's fully automatic there's nothing else to do, until it's time to disconnect the device. Thanks to the included eyelet connectors and battery clamps, you can choose to have a permanent or temporary connection.
With NOCO's Genius 1 smart charger, you never have to worry about being stranded due to a dead battery. It's compatible with 6 and 12-volt batteries and it's automatic design ensures it's a breeze to use. Best of all, we the affordable price point.
Caractéristiques
Compatible avec la plupart des batteries de 6 et 12 volts
Léger à 1,08 livres
Indice de protection IP60
Livré avec des câbles à œillets et des pinces
Entièrement automatique avec fonctions de sécurité
Même si le NOCO Genius 1 est un modèle le plus vendu, il présente quelques inconvénients, ainsi que plusieurs avantages à noter.
Avantages
Prix pour la plupart des budgets
Facile à utiliser
Compact et léger
Fournit 35% plus de puissance que les modèles similaires
Livré avec une garantie de 3 ans
Les inconvénients
La garantie du produit n'est valable que si le chargeur portable est acheté directement auprès du fabricant.
Que rechercher dans les chargeurs de batterie portables
When you're getting ready to buy a portable battery charger there are a few aspects to look for. This will help ensure that you are getting the right one for your needs and vehicle.
Ampères
One of the first things to look at is amperage. This will determine how long it takes to charge the battery. Amperage is the term for the power output level produced by the charger when it's connected to the battery. Higher amperages result in faster charging times. For example, Genius 1 est un chargeur de batterie de 1 ampère.
Portabilité
A primary advantage of a portable charger is its compact size. This is especially true if you're using it with ATVs and other small vehicles. Smaller chargers are also easier to handle. Along with size, the charger should also be lightweight. The point of having a portable charger is convenience. It shouldn't be difficult to carry or maneuver into position. If you're wondering about the NOCO portable charger, it measures 3.4 x 4 x 6.7 inches and weighs 1.08 lbs.
Des dispositifs de sécurité
Un chargeur de batterie doit être doté de fonctions de sécurité, et Genius 1 en a beaucoup. Cela comprend la protection contre les surintensités et les surtensions. Il protégera également contre les surcharges et les erreurs de polarité inversée. Tout cela peut endommager la batterie de votre voiture.
Tension
You will need to know the battery's voltage before buying a charger. The charger must be compatible with the voltage to safely work. In general, vehicle batteries are either 6 or 12-volt. Genius 1 is compatible with both voltages.
Mode de Maintenance
C'est une fonctionnalité utile à avoir si vous prévoyez de parcourir de longues distances. Le mode de maintenance se trouve généralement sur les chargeurs intelligents et son objectif est simple. Il charge et maintient lentement la batterie, ce qui prolonge la durée de vie. Une charge complète durera plus longtemps et c'est toujours un plus.
Redémarrage du moteur
Une fonctionnalité pratique à avoir est une option de démarrage rapide. Cela permet au chargeur, une fois connecté, de donner une secousse rapide à la batterie du véhicule. C'est un moyen rapide et facile de redémarrer une batterie après sa mort.
Durabilité
The last thing you want is for the charger to stop working the same time your vehicle's battery dies. To avoid this annoying situation, choose a portable charger that is designed for durability. Along with sturdy and lightweight construction, look for an IP60 rating. This ensures that the product is water and dustproof.
Affichage LED
Having an LED display might not seem that important until you try and use the battery charger at night. The bright lights will make the display easy to read so you can constantly monitor the battery's progress.
Vous pouvez trouver ces aspects et plus dans le Chargeur intelligent entièrement automatique NOCO Genius1 1 A.
Foire aux questions sur les chargeurs intelligents
Combien de temps faut-il au Genius1 pour charger une batterie?
Since this is a 1-amp charger it will take several days to fully charge a battery that is dead. However, it can give a jolt to help start the battery without fully charging it. This charger is designed more for maintenance – keeping the battery from going dead.
Puis-je laisser le chargeur branché pendant de longues périodes?
For safety reasons, it's not recommended to leave a battery charging for long periods. However, this isn't a problem with the Genius1 smart charger. Its' built-in safety features automatically prevent overloading, overcharging, and other issues that could damage the battery.
Existe-t-il un moyen efficace de garder ma batterie chargée?
The most efficient and effective way to keep a battery charged is to monitor its power levels. When the levels drop, connect the smart charger until it registers as "full".
Conseils sur l'utilisation d'un chargeur de batterie portable intelligent
L'utilisation d'un chargeur de batterie portable est facile, même pour les débutants. Le Genius1 est également livré avec tout ce dont vous avez besoin pour une charge temporaire et permanente de la batterie. Pour commencer, voici quelques conseils.
Retirez le boîtier de la batterie. Un tournevis ou un outil similaire peut être nécessaire.
Vérifiez à nouveau que tous les feux du véhicule sont éteints, ainsi que la radio / chaîne stéréo, etc.
Assurez-vous que le chargeur portable est éteint.
Connect the eyelet cables or clamps to the battery ensuring that the polarities aren't reversed.
Allumez le chargeur intelligent.
Surveillez l'écran LED jusqu'à ce que la charge soit terminée.
Éteignez le chargeur de batterie.
Déconnectez les câbles et rattachez le boîtier.
Avant d'éteindre le chargeur et de le déconnecter, assurez-vous d'abord que le moteur démarre. Sinon, revérifiez l'écran LED pour voir s'il indique un problème avec la batterie.
Gardez votre batterie chargée avec le Genius1
Le Genius1 est un petit chargeur intelligent portable léger qui est également entièrement automatique. Il est livré avec de nombreuses fonctionnalités, dont certaines conçues pour protéger la batterie. Le chargeur est également conçu pour la durabilité.
Il y a plusieurs raisons d'acheter ce chargeur intelligent qui incluent sa compatibilité avec une batterie de toute taille. Cependant, il est important de se rappeler que ce n'est que 1 ampère et qu'il n'est pas assez puissant pour charger complètement une batterie déchargée dans un laps de temps raisonnable. Même avec cet inconvénient, il existe encore de nombreuses raisons pour lesquelles ce chargeur intelligent abordable est un bon investissement.