Meilleurs scanners Bluetooth OBD2 2019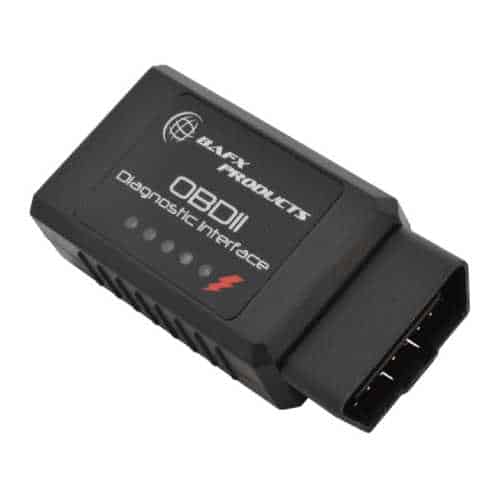 Chances are you're what I like to call "car aware": you know the basics of how cars function, and you can drive the entire 15 minutes to work without causing a massive ten-car pileup. You know it's important to keep a car in tip-top shape, and like anyone you shudder when the check engine light comes on. That's a time when a Bluetooth OBD2 scanner can make life a lot easier.
If that phrase looks like gibberish, don't worry: this guide explains everything you need to know about Bluetooth OBD2 scanners. There's a lot of knowledge in here, but if you just want to find out the best bluetooth OBD2 scanner, skip to the end. Ready to dive in?
Le problème: les voyants d'avertissement
Normalement, pour diagnostiquer un problème avec votre voiture, vous devez vous rendre chez un mécanicien. Cela signifie mettre votre confiance dans une boutique entièrement basée sur leurs avis Yelp, puis leur payer quelques centaines de dollars juste pour trouver the problem – a gamble if there ever was one. What if nothing was wrong? What if they fixed something that was so easy you could've done yourself, like a loose battery cable?
Désolé, aucun remboursement.
If you wouldn't call yourself "car aware," maybe more like "car clueless," the situation gets even worse. Some shady shops might fib on the details, or exaggerate what needs fixing, just to make a few extra bucks. Using a Bluetooth OBD2 scanner gives you the power to know the problem before you call a mechanic.
If this sounds like an expensive proposition, don't worry: a Bluetooth OBD2 scanner pays for itself after only a handful of uses.
La solution: un scanner Bluetooth OBD2
Almost every car manufactured after 1996 has an OBD2 port. It's a small rectangular plug hidden somewhere under your dashboard, and it's what the guys at O'Reilly plug their code reader into when they diagnose your check engine light. This ability used to be reserved for dealerships and mechanics, but with advances in mobile technology, today anyone can purchase a Bluetooth OBD2 scanner and obtain the same results in the comfort of their own garage.
Que fait un scanner Bluetooth OBD2?
A Bluetooth OBD2 scanner ("code reader", "scan tool) is a wireless device that searches for a variety of issues with the engine, transmission, and various sensors throughout your car. It plugs right into the OBD2 port of your car and can quickly save you time and money. These days the check engine light covers a wide variety of problems beyond the engine itself, and a good code reader can detect them all.
You won't have to go looking for your scan tool when you want to use it – just leave it plugged in! It works with your phone, tablet, or a remote controller without wires, so you can leave the scanner plugged in all the time. That way, you'll be aware of a problem the moment it happens.
Dois-je acheter un logiciel?
A Bluetooth OBD2 scanner simply relays your car's data to your phone. You're going to need an app to use along with it, like Torque, DashCommand, or OBD Fusion, if the scan tool you buy doesn't come with its own. Of those apps, the most expensive ones cost about $40, the cheapest ones are free, and the best ones for a casual user are about $5.
Since the app is doing most of the work, there's not much room for error in – or a lot of difference between – most of the scan tools on the market. It really comes down to quality and longevity, and as we'll see in a moment, it's important to buy the best one that fits your needs.
Remarque: Pour des raisons matérielles, les outils d'analyse de cette liste ne fonctionnent pour les appareils Apple que s'ils le disent explicitement. Les appareils Apple nécessitent un scanner OBD2 Wifi.
Que vérifient les scanners Bluetooth OBD2?
Un bon scanner Bluetooth OBD2 vous donne des explications simples en anglais des problèmes qu'il trouve, ainsi que la possibilité de réinitialiser le voyant de contrôle du moteur et d'autres voyants d'avertissement pour voir s'ils réapparaissent. Certains problèmes courants vérifiés par les lecteurs de code incluent:
Vérifiez les codes des voyants du moteur (CEL)
Codes d'erreur du capteur
Historique des erreurs
Les utilisateurs avertis apprécieront les fonctionnalités suivantes des outils d'analyse haut de gamme:
Consommation moyenne de carburant
Température d'entrée d'air
Température du liquide de refroidissement du moteur
Pression du collecteur d'admission
Pression du système EVAP
Pression barométrique
Détails du calendrier
Pression de carburant
Garniture de carburant
Les données que vous voyez dépend principalement de la voiture que vous avez. A scan tool can only display the data your car sends it. If you have an older car that doesn't use the same sensors a newer car has, you won't be able to access that information even with a Bluetooth OBD2 scanner.
Combien coûte un scanner Bluetooth OBD2?
On average a code reader costs less than an hour of a mechanic's time. I've compiled a list of the highest-rated Bluetooth OBD2 scanners available with Amazon Prime shipping, so you can have one of these at your door quicker than the mechanic can schedule your car.
Since the cheapest ones are less than $10, let's start there and work our way to the top.
Meilleurs scanners Bluetooth OBD2
Mini scanner OBD2 Bluetooth Excelvan v1.5
I'm going to start by telling you why you shouldn't just scoop up the cheapest tool you can find on Amazon, the one with the two random English words thrown together and an unlikely amount of positive reviews. The price of this miniature Bluetooth OBD2 scanner is less than a CD at Best Buy (rip), and by all accounts that shows from the word GO.
Peruse Amazon and you'll find the same cheap plastic scan tool is sold by several brands. None of them are compatible with iPhones, which slaps over 50% of the populous right in the face. Reviews say this one lasts about 10 uses before crapping out; some say it even arrives broken every time.
Providing it works long enough to do its job, the Excelvan apparently works well. People say the features are numerous and easy to understand. And hey, some of the reviewers weren't even paid to say nice things! What a treat.
Comme crics de sol, clés dynamométriques, et mechanic's creepers, there's no reason to cheap out on a new Bluetooth OBD2 scanner. As the saying goes, you'll spend less money in the long run if you buy a quality item the first time.
Avantages
Petite taille
Faible coût
Facile à utiliser
Les inconvénients
Basse qualité
Production de masse
Scanner Veepeak Mini Bluetooth OBD2
This code reader is slightly more expensive than the last. It's still as small and cheap as the Excelvan, but it's far more popular and backed by a lot of (real) positive reviews. This Bluetooth OBD2 scanner has all the features of the Excelvan and then some, and the newer version connects to both Apple and Android devices – but for twice the price.
According to reviewers, you need to be sure to update this scan tool right off the bat and periodically going forward. That's standard fare for most things these days, but an old software update could cause this product to appear nonfunctional out of the box, so it's worth mentioning.
These days it's nice when a company stands behind their products. The Veepeak Bluetooth OBD2 scanner comes with a 30-day money-back guarantee, which is worse than 365 days but better than 0. More importantly, the vendor is said to be responsive and easygoing when it comes to replacing defunct units, even à l'extérieur la fenêtre de garantie.
That's a major factor with these cheaper code readers, though the Veepeak is every bit as rebranded as the Excelvan.
Avantages
Faible coût et petite taille
Large éventail de fonctionnalités
Garantie de remboursement de 30 jours
Les inconvénients
La connectivité Apple double le prix
Manque de fonctions de lecteurs de code plus chers
For another step in the right direction, the KOBRA Bluetooth OBD2 scanner comes with a 1-year money-back guarantee. That's 12 times as long as the Veepeak, and judging by the product photos, the KOBRA is 12 times as durable as well.
It doesn't have the small form factor the Veepeak is known for, so if your OBD2 port is somewhere near your knees (which it is in many cars) there's a chance this code reader will get in the way. That means you'll have to unplug it when it's not in use, and if you're anything like me, there's a high chance of it getting misplaced.
Reviewers say KOBRA doesn't have the stellar customer service of Veepeak, but they do say the warranty is honored if you follow through with the process.
On the upside, the KOBRA does most everything the more expensive scanners do, and it does them well. If you're planning to use your new scanner on multiple vehicles or for a long period of time, the 1-year warranty and the durability of this scan tool will be your biggest selling points.
Mais lisez les deux suivants avant d'ajouter celui-ci à votre panier.
Avantages
Beaucoup de fonctionnalités
Conception durable
1 an de garantie
Les inconvénients
Facteur de forme plus grand
Beaucoup de critiques négatives
Pire service client
Scanner OBD2 Bluetooth de BAFX Products
Cet outil d'analyse double le prix des précédents, alors qu'est-ce que cela donne? Obtenez-vous le double du produit? C'est le #1 Meilleur vendeur dans Lecteurs de code et outils d'analyse on Amazon, and there's a reason for that.
Their well-written product details should tell you everything you need to know: BAFX is an established company that stands behind its scanners with a 2-year warranty. They guarantee their Bluetooth OBD2 scanner will work with your car, and with a 4-star average from over 9000 reviews, that's a promise you can trust.
Un acheteur vérifié rapporte que BAFX a remplacé son outil d'analyse lorsqu'il avait plus de 5 ans. Il a dit que cela avait commencé à avoir des problèmes après tout ce temps, et il a envoyé un e-mail à l'équipe du service client basée aux États-Unis juste pour les coups de pied. Moins de 24 heures plus tard, une conversation a commencé qui s'est terminée par le remplacement de son scanner Bluetooth OBD2 par un tout nouveau. Le service client est-il meilleur que ça?
The functionality of the BAFX is equal to that of the previous scanners on this list, since it uses the same apps to relay the information to your Android device. It's a bit large, but the durability and customer service of the BAFX are what put it ahead of the rest.
Croyez-le ou non, le prochain est meilleur.
Avantages
2 ans de garantie
Service client irréprochable
"Works with all cars" guarantee
Construction durable
Les inconvénients
Scanner OBD2 Bluetooth Ozzy Gear – MEILLEUR SCANNER
Most of those translucent blue plastic scan tools are made by one big Chinese company and rebranded for various third-party sellers. That's not the case with BAFX, and it's not the case with Ozzy either.
Le lecteur de code Ozzy est livré avec une télécommande, un étui et une garantie à vie. They put those words in the product description, in plain English, for all the world to see. Reviewers say they stand behind their promise that if you're not satisfied for any reason, or if the scan tool breaks for any reason, they will offer you a full refund or a replacement product, no questions asked. Wow!
This code reader runs off the same apps as most of the others, so it's best suited for use on a Kindle HDX or other tablets. One user even explained how he uses a cheap prepaid phone, a vent-mount phone holder, and this reader and has a dedicated diagnostic setup in his car at all times. That's pretty cool if you ask me.
I can't find any other Bluetooth OBD2 scanners that offer a lifetime warranty; even professional scan tools that cost way more can't offer that kind of guarantee. On top of that, it's got a small form factor. It would be a toss-up between Ozzy and BAFX, but the unbeatable warranty earns Ozzy the win.
Avantages
Grande fonctionnalité
Petit facteur de forme
Boîtier et télécommande inclus
Garantie à vie
Les inconvénients
Coût légèrement plus élevé
Manque la fonctionnalité des lecteurs de code premium
Lecteurs de code premium
So far, we've covered Bluetooth OBD2 scanners designed for the casual user and the shade-tree mechanic. What if you need more functionality? What if you want to monitor finer details in real time? Take a look at these next scan tools which offer expanded features at a higher price.
Scanner OBD2 Bluetooth FIXD pour Apple + Android
This scan tool is marketed as a "car health monitor." It has its own proprietary app and iPhone and Android compatibility right out of the box. Nice!
The FIXD app is designed to give a clear and concise picture of what's wrong with your car. The app can handle multiple cars at once (with extra sensors, of course), making it easy to monitor the health of the family's fleet from one device.
There's a "Maintenance Price Estimator" in the app, along with maintenance reminders, to keep you abreast of the cost and schedule of regular services. Reviewers say the app is easy to use, but it requires your VIN number which caused some users to experience problems.
L'outil d'analyse FIXD n'a pas la capacité de lire des codes plus avancés comme ceux des airbags, des avertissements TPMS ou ABS. Fait inquiétant, une recherche rapide d'Amazon révèle ce qui semble être exactement le même produit being sold by a company called Carista. The difference is FIXD doesn't make you buy their app AND their code reader, because that's just silly.
This is marketed as a luxury item to monitor your car's health, but its limited features don't justify the price.
Avantages
Application propriétaire incluse
Prise en charge Apple + Android
Prise en charge de plusieurs voitures
Les inconvénients
Coût plus élevé
Manque de fonctionnalités plus avancées
Garantie incertaine
Scanner Bluetooth OBD2 BlueDriver pour Apple + Android
The BlueDriver scan tool also has its own proprietary app and iPhone and Android compatibility. To add to that, BlueDriver maintains its own database of repair estimates, so the app can ballpark the cost of repairing any issue this code reader finds. It can also scan advanced codes, like ones for airbags and ABS, that the FIXD can't read. Pretty nifty.
The BlueDriver Bluetooth OBD2 Scanner App includes most of the features of the $40 apps you'll find on the app store, including advanced diagnostic modes like Fuel System Test and Misfire Test. Over 70 parameters are logged in real time, including oil temperature, boost pressure, fuel usage, and more. It can even clear more advanced transmission and airbag codes that other scanners can't touch.
Une autre fonctionnalité intéressante est le Smog Check intégré, qui vous permet de simuler un test de smog. Ce lecteur de code pourrait vous éviter tous les tracas liés à la conduite vers l'installation de test de smog, à l'échec du test et à payer le mécanicien pour vous dire pourquoi.
One reviewer said he found a $1,700 problem in his car just one week before his warranty expired, thanks to the BlueDriver code reader. If that's not worth a hundred bucks, I don't know what is.
Avantages
Application propriétaire
Prise en charge Apple + Android
Base de données des devis de réparation
1 an de garantie; Garantie de remboursement de 6 mois
Les inconvénients
Those Scan Tools Aren't Tough Enough for Me
What's that, you say? You work at a high-volume dealership? You want to be able to bleed the brakes of a semi without getting in the cab? You want to recode an entire ECU? Say no more.
Outil de diagnostic Autel Maxisys Elite
This Bluetooth OBD2 scanner makes those other ones look like they're trying too hard.
L'Elite est conçue pour les automobiles grand public et sa version sœur (MS908CV) fonctionne sur les semi-remorques et les machines lourdes. Les deux peuvent réaffecter les clés de sécurité et réinitialiser les dispositifs d'immobilisation, et tous deux incluent une variété de procédures automatisées de purge des freins et d'embrayage ainsi que l'étalonnage de la suspension pneumatique et même la reprogrammation de l'ECU. Bon sang, il peut klaxonner et asperger le pare-brise. Cela pourrait même vous acheter le dîner par la suite.
This code reader comes with free updates, a cloud-based data management suite, and remote-access technical support. Both models arrive in the form of a rugged tablet that you could drop or run over (don't try), preloaded with Autel software, with a quad-core processor and a 32GB solid state hard drive.
This is a basic Bluetooth OBD2 scanner in the same way that Olive Garden is authentic Italian food. It does everything a dealership can do and more, and since it costs more than a used Prius it's the heaviest hitter on our list of code readers and scan tools.
Note, this isn't a professional's guide to code readers. If you're a mechanic who needs a Bluetooth OBD2 scanner for your job, this isn't the resource for you. Do some research on the technical reasons why a Veepeak or Ozzy can't hold a candle to this.
Avantages
Fait littéralement tout
Facteur de forme robuste
1 an de garantie
Les inconvénients
Quel scanner Bluetooth OBD2 dois-je acheter?
Congratulations! You've learned a lot about Bluetooth OBD2 scanners, code readers, and scan tools. Take your newfound knowledge and save some money the next time a warning light appears in your car.
For standard users it's a toss-up between the BAFX and the Ozzy, but the Ozzy is our Le meilleur choix comme le meilleur scanner Bluetooth OBD2 grâce à son garantie à vie. For advanced users, BlueDriver is the way to go. For professionals, you might as well go big. It's going on the company card, right?
Scanners OBD2 Bluetooth standard
Si vous aimez jeter de l'argent, achetez le Excelvan.
Pour un lecteur de code bon marché à utiliser plusieurs fois, achetez le Veepeak.
Pour une offre plus durable avec une garantie d'un an, obtenez le KOBRA.
Si vous voulez le meilleur rapport qualité-prix, obtenez le BAFX.
Si vous voulez le meilleur rapport qualité-prix avec un garantie à vie, obtenir le Ozzy.
Scanners Bluetooth OBD2 Premium (avec compatibilité Apple + Android)
Pour surveiller facilement l'état d'une ou plusieurs voitures, achetez un FIXD.
Pour lire des codes plus avancés comme les airbags et le TPMS, obtenez le BlueDriver.
Scanners professionnels Bluetooth OBD2
Si vous voulez klaxonner et reprogrammer votre ECU, procurez-vous le Autel.