Les meilleurs collèges et écoles automobiles aux États-Unis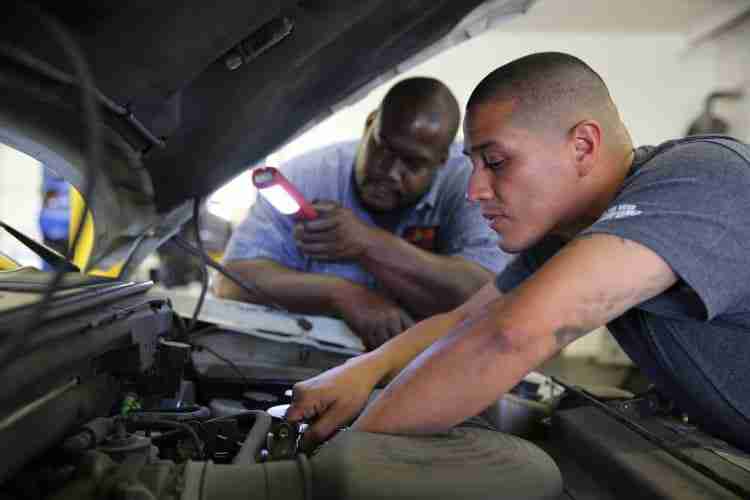 Les meilleurs collèges et écoles automobiles aux États-Unis
In the United States alone, there are 222 million licensed drivers! This makes for plenty of cars on the road and tons of opportunities for mechanics. Becoming an ASE Certified Mechanic, otherwise known as an Automotive Service Excellence mechanic, could make your reaching your goal of becoming a mechanic easier to attain. While it is not required for mechanics to have an ASE Certification, many mechanics won't hire you if you don't have one. That's like going to a doctor without any proper education. The first step to receiving your AES Certification is finding a school that can certify you. This process could be long and confusing, though. If you are unsure of where to begin, continue reading this article to find a list of seven of the best automotive schools and things to look out for when choosing the best one for you.
Coup d'oeil
Université du nord-ouest de l'Ohio
Université d'État de Weber
Institut technique universel
Institut technique de Lincoln
Collège communautaire de Northampton
Autoshop 101
École de carrière Penn Foster
Let's jump into these schools and the benefits and drawbacks about each of them.
Université du nord-ouest de l'Ohio
le Université du nord-ouest de l'Ohio, situé à Lima, OH, est une excellente option pour un collège de mécanique automobile car il offre de nombreuses options de diplômes parmi lesquelles choisir. Ils vont des programmes de diplôme aux diplômes de baccalauréat, et ils offrent également des programmes de grade d'associé. Les programmes de supervision de la technologie automobile, de technologie automobile et de technicien diesel automobile en sont des exemples.
Cette option est meilleure pour quelqu'un qui recherche une compréhension approfondie de la mécanique, pas seulement pour obtenir sa certification AES. Lorsque vous aurez terminé votre programme, cependant, vous repartirez non seulement avec une certification AES, mais également avec un diplôme ou un diplôme attestant que vous avez une formation appropriée pour diagnostiquer et réparer les automobiles.
There are plenty of benefits if you decide to attend the University of Northwestern Ohio. This school is one of the best in the United States and will prepare you for your future career. They even offer 70% of the curriculum as hands on experience working with vehicles! Here, you'll always be honing your skills whether in the school's shop or in the classroom.
Students will begin their journey in the Applied Technologies' Automotive Department and start out with basic conceptual theories before moving on to advanced ones. After you complete your first set of knowledge-based courses you begin to integrate into the shop. In the University of Northwestern Ohio's shop, there are over 90 cars to work on, including a 4-wheel-drive dyno Mustang!
In terms of the ASE Certification test, the school itself will cover the cost for up to two tries taking the ASE test. This means that if you don't do well on your first exam, they will pay the price of a second test for you to increase your odds of passing.
Les cours que les étudiants suivent vont de l'électricité et de l'électronique à la suspension et à la direction et tout le reste.
The University of Northwestern Ohio is a great option for aspiring mechanics looking to become ASE Certified and either reside in or move to Lima, Ohio. On campus housing is available with extra costs if you're just interested in the temporary school! Keep this school in mind if you're looking for an in-depth learning experience in the automotive mechanic industry.
Université d'État de Weber
Situé à Ogden, Utah, Université d'État de Weber is a great option for obtaining a degree in Automotive Technology. This school is rated as the top 16 most popular automotive technology colleges in the United States. Weber State University is a school that focuses on engineering, applied science, and technology, so you can feel comfortable knowing the school you're attending is solely focused on your career area.
La Weber State University propose aux étudiants cinq options de diplôme différentes. Ils sont un baccalauréat ès sciences en emphase sur les opérations sur le terrain, un baccalauréat ès sciences en emphase sur les systèmes de véhicules avancés, un associé en sciences appliquées dans un magasin indépendant ATEP, un associé en sciences appliquées dans les camions lourds et un certificat institutionnel en technologie de service automobile . Tous les cinq de ces chemins vous certifient en excellence du service automobile.
La Weber State University adopte une approche très pratique de la technologie automobile. Ils limitent le temps dont vous disposez en classe afin de vous garantir le plus d'expérience possible en magasin. Ils ont des partenariats avec différents constructeurs automobiles et proposent des stages à tous. Quelques exemples incluent Ford, General Motors, Honda, Toyota et Chrysler.
This school's shop is a state-of-the-art facility with over fifty-five thousand square feet of space. This ensures that each one of the five individual automotive programs have enough space to operate in their own location.
If you're worried about mechanic school costs, have no fear! There are plenty of options for tuition assistance, financial aid, and scholarships. Their website lists over forty different options of scholarships depending on your qualifications and genetic makeup.
If you are seriously considering a career path in automotive technology, the perfect career for car lovers, Weber State University should be at the top of your list. Keep in mind, this school is in Ogden, Utah, so you must be willing to travel and spend some time in that location. You won't regret choosing Weber State University as the place to pursue your automotive career!
The Universal Technical Institute is unlike other schools on this list as it is less of an established school and more of an education company. This means that there are various campus locations throughout the United States, and you can therefore choose where you want to attend. Plenty of programs are available, and with all of them you can obtain your Automotive Service Excellence Certification. This school is a great option for those who don't want to move, as there are many locations close to you, and who want specialized training with plenty of internship opportunities.
Treize écoles sont disponibles par l'intermédiaire de l'Institut technique universel. Ils sont situés à Avondale AZ, Long Beach CA, Rancho Cucamonga CA, Sacramento CA, Orlando FL, Lisle IL, Norwood MA, Bloomfield NJ, Mooresville NC, Exton PA, Fort Worth TX et Houston TX. Parmi ces sites, deux ont des domaines de spécialisation en soudage et trois en réparation de collision et en technologie de réparation.
If you're looking for a shorter program, one of these locations is a great choice for you. From start to finish, the Universal Technical Institute offers a CNC Machine Technology Program with the ability to complete it in a total of just 36 weeks. This program helps you gain your Automotive Service Excellence Certification as well.
L'Institut technique universel propose des stages avec vingt entreprises automobiles différentes pour une formation spécialisée dans le secteur automobile. Il s'agit de NASCAR, BMW, Ford, Lincoln, General Motors, Chevrolet, Cadillac, Mercedes Benz, Infinity, Ram, Nissan, Porsche, Lexus, Toyota, Volvo, Fiat, Alfa Romeo, Chrysler, Dodge et Jeep.
If you're more interested in Diesel operations, this institute has diesel specialized training internships available to students as well. Companies you can work with include Cummins, Freightliner, International, Power Generation, and more.
Une dernière option pour vous si vous fréquentez l'Institut technique universel est la réparation des collisions. Développé avec I-CAR, ce programme est aux normes avec la formation actuelle en réparation. Si vous n'êtes pas familier avec I-CAR, c'est le fournisseur des normes de formation en collision définies par l'industrie automobile, qui comprend les compagnies d'assurance et les constructeurs automobiles.
No matter what brings you to the Universal Technical Institute, you will not leave disappointed. With your new Automotive Service Excellence Certification in hand, you'll walk out of their school prepared for your future career.
Institut technique de Lincoln
Institut technique de Lincoln est une excellente école pour apprendre et obtenir votre certification d'excellence du service automobile. Lincoln Tech est l'une des principales écoles professionnelles pour le service automobile aux États-Unis. Il existe quatre options dans le programme automobile. Il s'agit notamment de la technologie automobile, de la réparation et de la finition des collisions, de la technologie diesel et de l'équipement lourd. Quel que soit le chemin que vous choisissez, un test de certification ASE est disponible et vous y êtes préparé grâce aux cours que vous suivez.
There are plenty of locations that offer all four of these specialties. The locations include but are not limited to Atlanta GA, Nashville TN, Denver CO, Philadelphia PA, Lincoln RI, Queens NY, Paramus NJ, and Indianapolis IA. These are only 9 locations, and there is a total of 23 campuses. Because so many locations exist, there is bound to be one location you live by or are interested in moving to. This way, you'll get your education completed in a location near home or one you love.
One unique aspect of Lincoln Technical Institute is their amazing Lincoln's Career Services Department. Here, they can help place you and connect you with leaders of the automotive industry. Past opportunities students have been connected to include NASCAR, Porsche, Lincoln, and other various companies.
Tous les instructeurs du département automobile du Lincoln Technical Institute sont certifiés Automotive Service Excellence. Cela signifie que les professeurs qui vous enseignent ont une expérience dans exactement ce que vous êtes là pour obtenir. Ils sont tous passés par le même processus que vous et peuvent donc vous aider tout au long du processus et agir en tant que mentors tout au long du processus.
Lincoln Technical Institute offers plenty of scholarships for people who may not be able to fully afford trade school for auto mechanics. Financial and government aid is available as well to increase the amount of money given to you to kickstart your career. After school, you can easily make good money as a mechanic, and it is a stable job considering how many cars need servicing, so don't fear putting some money into your future!
Lincoln Technical Institute is a phenomenal option for aspiring auto mechanics. You won't regret attending!
Collège communautaire de Northampton
Situé à Bethléem, en Pennsylvanie, Collège communautaire de Northampton is a great option for hopeful mechanics looking to obtain their Automotive Service Excellence Certification. This community college does not only specify their education in automotive service, but they do offer a very strong program in it. With options for residence life here, don't fear not having somewhere to stay as well. Northampton Community College is perfect for those looking for a two-year path to the automotive industry, or if you are interested in both automotive and a different career field.
Northampton Community College possède l'un des meilleurs programmes de technologie automobile de tous les collèges communautaires des États-Unis. Ici, ils comprennent que de nombreux aspirants mécaniciens se lancent dans ce domaine à la fois par amour des voitures et par désir de trouver des solutions ou de réparer les choses. Northampton Community College prend ces idées et les met en œuvre dans la salle de classe. Les cheminements de carrière que vous pouvez emprunter varient en type de techniciens d'entretien automobile aux spécialistes des performances des moteurs et aux propriétaires d'ateliers de réparation spécialisés.
La Pennsylvanie est l'un des États les plus populaires pour les professionnels de l'industrie automobile en raison à la fois de l'histoire des véhicules ici et de la multitude de concessionnaires automobiles et d'ateliers de réparation dans l'État. Pour cette raison, Northampton Community College a une multitude de partenariats dans le cadre de son programme de formation sur le service automobile. Celles-ci incluent des opportunités avec General Motors et MoparCap, un programme dans lequel Fiat et Chrysler automobiles s'associent à Subaru of America et à l'Université Subaru pour offrir aux étudiants des opportunités dans l'industrie automobile. Il s'agit d'une expérience unique que divers autres collèges n'auront pas.
Northampton Community College is a very affordable option of education programs in Pennsylvania for automotive technology. There are also plenty of scholarships and financial aid opportunities if you qualify for aid. Don't fear not progressing your career for a lack of financial support!
Northampton Community College est l'un des meilleurs collèges aux États-Unis pour les carrières automobiles. Si vous envisagez d'y assister, assurez-vous de planifier une visite de leur magnifique campus.
Autoshop 101
Contrairement aux autres options de cette liste, Autoshop 101. This is not a school, but an automotive training company. This skips the education and directly prepares you for the Automotive Service Excellence Certification tests. If school isn't up your alley, or if you already have the experience and just need to prepare for the exam, this is the best option for you.
Autoshop 101 fonctionne entièrement en ligne et propose des didacticiels en ligne gratuits, des tests pratiques et des articles techniques pour ceux qui cherchent à se lancer dans l'industrie automobile et à être embauchés plus rapidement par des mécaniciens.
This option is best if you'd like to save money by just taking the necessary exams. If you have been working in the automotive field but would like an extra edge on competitors by receiving your Automotive Service Excellence Certification, this method is also a great option for you.
Online training modules go over the exact things you need to prepare for the exam, and you can then take online practice exams just like the one you'll have to take for your actual certification.
Autoshop 101 est une excellente entreprise de préparation aux tests pour ceux qui recherchent un moyen rapide d'étudier et de réussir le test de certification d'excellence du service automobile.
École de carrière Penn Foster
École de carrière Penn Foster is great for those who do not live by a school or would like to get their training done faster, as this program is completely online. This option saves you a lot of money and can get you into your prospective career field in less than six months! Compared to other school options on this list, this is great because you don't have to travel anywhere or move from your home! Take classes and prepare in the comfort of your own home.
This, though, can be a drawback for tactile learners. If you are someone who enjoys doing things and learning firsthand, this option may not be the best for you. Because you'll be taking online classes, you won't have that hands-on opportunity as you will in other schools with a campus and automotive shop. If you are a visual or auditory learner, though, this course would work perfectly for you. Penn Foster Career School offers video and audio resources which have how-to videos you can watch to hone your skills.
Les professeurs et enseignants avec lesquels vous travaillez sont tous certifiés en excellence du service automobile et savent donc exactement comment vous aider tout au long du processus d'obtention de votre propre certification. Penn Foster Career School propose également des coachs à la réussite, des assistants d'enseignement et du personnel de soutien aux étudiants pour ceux qui ont plus de mal à apprendre. Personne ne vous laissera pour compte ni ne vous laissera vous débattre à la Penn Foster Career School! Tout le monde veut que vous réussissiez. 
Penn Foster Career School est une excellente option pour une école de technicien automobile et pour obtenir de l'aide avec votre processus de certification d'excellence du service automobile si vous souhaitez terminer plus rapidement et terminer votre travail en ligne.
Que rechercher dans un collège automobile
Assister à une université automobile est une excellente opportunité et une ressource pour les aspirants mécaniciens et techniciens automobiles. Ils vous offrent des opportunités et des relations avec certains des plus grands leaders de l'industrie automobile aux États-Unis. Cette expérience ainsi que l'accès à des mentors pour vous aider à travers votre certification d'excellence du service automobile en vaut la peine de fréquenter l'une de ces écoles. Si vous ne savez pas comment choisir le meilleur programme pour vous, jetez un œil à ces critères ci-dessous.
Emplacement
Where you are located in the United States can greatly influence where you decide to attend a school for automotive technicians. If you are in a popular city, there are likely to be more opportunities than if you live in a small, rural town. Consider if and where you are willing to move to attend school. If you feel as if you don't want to move and aren't close to a campus, consider taking online classes.
Type d'école
Various kinds of schools exist for automotive technicians. They include four-year degree colleges, two-year degree colleges, or diploma and certification technical schools. All three take different amounts of time and different levels of work involved. Diploma and certification schools can take the least amount of time, often less than a year of work. Depending on what type of program you want to partake in or how much experience you'd like to get from your school, the amount of time your education takes will vary. This is important to keep in mind when picking a school, as you should think ahead in your career.
Quel genre de programme
Il existe de nombreux programmes différents que les collèges offrent à travers les États-Unis pour l'industrie automobile. Ils peuvent inclure n'importe quoi, du travail de mécanicien automobile général aux réparations spécialisées. Prenez le temps de décider dans quel domaine spécifique vous souhaitez entrer. Voulez-vous un emploi spécialisé? Vous souhaitez travailler dans un atelier de mécanique? Aimeriez-vous faire carrière dans d'autres industries automobiles populaires? Peu importe ce que vous décidez, recherchez ces programmes dans les écoles qui vous intéressent et choisissez en fonction de cela.
Sur ou hors campus
Are you a first-time student or never lived on a school campus before? Do you crave the experience a college campus will give you? If so, find a four-year school that will supply you with room and boarding on campus. This way, you'll be closer to the action and be surrounded by plenty of like-minded people who have the same goal as you. If you own a house or live at home and want to continue to do so, find a school closer to you to commute to. This way, you don't have to pay extra for a dorm you won't stay at and you can enjoy your time at home. Similarly, online classes are options and you can enjoy the comfort of your home by taking classes online.
Meilleures écoles d'automobile aux États-Unis
Il existe de nombreuses options d'écoles automobiles aux États-Unis qui vous aideront à obtenir votre certification d'excellence du service automobile. Il s'agit d'une industrie en croissance constante et qui ne manquera pas de vous offrir de nombreuses opportunités pratiques pour réparer des voitures et d'autres technologies automobiles. Peu importe l'école ou le programme que vous décidez d'assister ou de suivre des cours, l'obtention de votre certification ASE vous aidera grandement dans votre future carrière. Profitez de votre future carrière en tant que technicien automobile après avoir acquis de l'expérience et des opportunités dans une grande école automobile aux États-Unis!