Meilleurs kits de nettoyage de restauration de phare 2020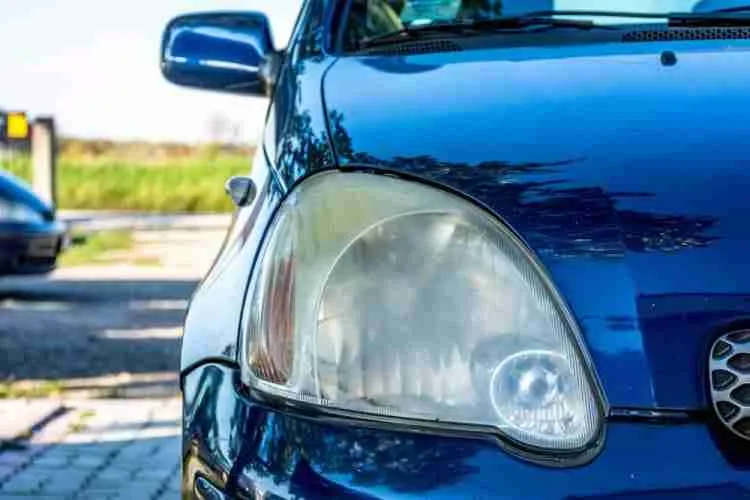 Let's talk about faded, dull, and yellowed headlights. Not only are they ugly, they also make it harder to see at night. How do you clean headlights? What does the phrase "headlight restoration kit" mean? Why does a headlight fade in the first place? And what in the world are toothpaste headlights?
By reading this guide about the best headlight restoration kits, you'll learn everything there is to know about headlight restoration.
To understand this process 100%, let's start from the very beginning.
Qu'est-il arrivé à mes phares propres?
Imagine looking through a pair of sunglasses after rubbing sandpaper on them. Your vision would be hazy at best, because the light coming through the lenses would be scattered by the rough surface. The same principle applies with faded headlights – hence the need for headlight restoration kits. But what's really happening when a headlight fades?
Vehicles first began to use plastic and polycarbonate headlight lenses in the 1980s, with the advent of modern headlight regulations and materials manufacturing capabilities. Prior to this change, glass headlights were the norm – those are largely immune to any sort of wear caused by sunlight.
Modern headlights wear a clearcoat to protect against ultraviolet radiation. Relentless sun rays, bugs, road salts, and even the brushes on automatic car washes break this coating down, and over time headlights begin to fade and turn colors. And once that coating is gone, it's gone for good.
Prolonged exposure to the elements results in a breakdown of the headlight's top layer of plastic, through a process called "etching" or "oxidation." As the top layer of headlight material is worn away, an irregular and rough surface develops. This increases the rate of fading and discoloration, which eventually causes less light to shine through.
Pourquoi les phares brumeux sont-ils dangereux?
Think back to the "sanded sunglasses" example from earlier. The uneven surface of the lens would disrupt not only the incoming light, but the outgoing light as well. That's why damaged headlights aren't performing as well as if they were clear – the light is being scattered, so less light is making it through.
Conduire avec des phares fortement embués présente un problème de sécurité légitime. Cela compromet votre capacité à voir la route la nuit; il peut réduire le rendement lumineux de jusqu'à 80 pour cent. Quelle que soit la puissance de vos ampoules, la meilleure chose que vous puissiez faire à ce stade est d'acheter un kit de restauration de phare.
I say "the best thing" because there sont other options – just not good ones. For starters, you could buy new headlights. That's crazy.
Quelles sont mes options pour la restauration des phares?
You could pay a professional to restore your headlights, but you don't need to – as we'll see in a minute, there isn't much difference between a headlight restoration kit you can buy for cheap on Amazon and a kit a professional would charge you jusqu'à $150 pour une seule utilisation de.
The business of fixing faded headlights is all about convenience – you can clean headlights at home, cheaply, quickly, easily, and with great results.
Le processus de fixation des phares décolorés consiste à retirer la couche supérieure de matériau pour restaurer une finition claire, lisse et comme neuve à l'extérieur de la lentille de phare. Un kit de restauration de phare y parvient en utilisant divers frottements abrasifs, produits chimiques ou papiers de verre pour enlever le matériau endommagé. Un bon kit recouvre également le phare d'une couche anti-UV pour lutter contre les intempéries futures.
Ou vous pouvez utiliser du dentifrice.
Que sont les phares dentifrice?
Selon certains, l'option de restauration de phare la plus économe est vendue chez votre Walgreens local.
Because toothpaste contains abrasive chemicals made to brighten your teeth, some say you can use it to clear headlights. Sometimes it even works, but the problem is how long it lasts. If you don't repeat it regularly the color starts to return – just like brushing your teeth. Not to mention, you're going to need a lot of elbow grease to make Aim cut plastic the same way as a specialized chemical or a sheet of sandpaper.
Toothpaste can't protect against UV radiation, so if you use a rag and a tube of Crest as a headlight restoration kit, you better enjoy doing it – once every month or so, you'll have to do it again.
It's worth doing it right the first time.
What's in a Headlight Restoration Kit?
Un kit de restauration de phare combine tous les produits chimiques, matériaux et articles dont vous avez besoin pour nettoyer les phares à la maison. Certains sont une solution rapide, ce qui est bien pour les dommages moins graves, tandis que d'autres sont conçus pour réparer vos phares brumeux une fois pour toutes.
Voici quelques choses à savoir sur ces kits:
Utiliser sur les phares, les feux arrière, les clignotants, les phares antibrouillard, tout ce qui a une lentille en plastique
Certains sont conçus pour être utilisés avec une perceuse électrique; d'autres sont appliqués manuellement
The effects last for over a year – longer if your car lives in the shade
Most importantly… take your time! Headlight restoration is a multi-step process, and the quality of your results will be directly affected by how long you spend on them. In my experience, even the fastest restoration is 30 to 45 minutes long. A few more things you should know:
Le papier de verre et les produits chimiques peuvent endommager d'autres surfaces de votre voiture
Utilisation painter's tape pour masquer vos phares brumeux avant de commencer
Vos phares peuvent sembler mauvais jusqu'à la toute dernière étape
Le nettoyage prendra plus de temps, plus vos phares sont mauvais
It wouldn't hurt to have some extra sandpaper and have water and towels on-hand throughout the process.
D'accord, j'ai besoin de phares propres!
Great, you're all caught up – we'll learn more about headlight restoration as we dive into the list of kits. Each of these kits include free two-day shipping for Amazon Prime members – no driving necessary.
Without further ado, here is a tour of headlight restoration kits you can buy on Amazon today – including a few that you shouldn't buy.
Marques majeures
Meguiar's G17804 Keep Clear Headlights Coating
Real quick, I want to mention this aerosol spray – it contains a powerful UV protectant, and it's designed to follow up after these other headlight restoration products to maintain your work far into the future.
It's eight bucks shipped, so why not use it on your clean headlights once every few months? Better yet, use it on brand new headlights so you never have to worry about fading and yellowing. Now that's thinking with your dipstick!
Avantages:
Protège contre les dommages futurs
Peut être utilisé sur de nouveaux phares
Les inconvénients:
Won't fix existing damage
Nettoyant et scellant pour phares 2 en 1 Turtle Wax T-43
This Turtle Wax product is representative of several brands of headlight restoration chemical, and they're pretty much all the same in terms of overall effectiveness.
First, this route to clean headlights costs just $7.19 when you buy it as an add-on item with qualifying orders of over $25. That makes it very cheap. The 2-in-1 formula advertises that it will "restore clarity and prevent yellowing in one easy step," which is industry talk for "it's not very in-depth, but it'll do the job."
The Amazon description states this product is "formulated with acrylic resins to help prevent oxidation and cloudiness from reoccurring," but the very next line advises customers to "use regularly to maintain clarity," so it must not prevent it very well. In the reviews, people say they had foggy headlights again after only a month or so. That's not good.
Reviews also state that use of a power drill and sandpaper is required to get clean headlights using this solution. That explains why it's cheap: they left out the rest of the kit. And in the review pictures, people's headlights aren't 100% clear even with that.
As far as headlight restoration goes this is only one step above toothpaste headlights, and it's more expensive, too. At least if you had toothpaste headlights you'd have something to talk about.
Mettez ces dix dollars pour une réparation plus efficace.
Avantages:
Vite
Pas cher
Facile à utiliser
Fonctionne probablement
Les inconvénients:
Won't work for long
Devra continuer à l'utiliser
Coûte plus à long terme
Won't protect against UV in the long term
Kit de restauration de phare Turtle Wax T-240KT
Il s'agit de la prochaine étape entre le simple achat du produit chimique abrasif et le nettoyage des phares. On peut remarquer que l'achat de ce kit, qui comprend du papier de verre, deux composés chimiques différents et une lingette spéciale, est moins cher que d'acheter le dernier produit chimique dont nous avons parlé.
That's because it's not very powerful.
This multi-stage process is sufficient to restore foggy headlights so long as they're not dommage. Wanna roll the dice on what "too bad" means in the real world? Spoiler alert: you don't.
If your headlights are anything more than "slightly yellow," skip this one.
Si vous avez une légère brume se développant sur votre objectif, cela est probablement suffisant pour le nettoyer, mais selon les critiques, vous devez utiliser tout le kit pour obtenir des phares propres, ce qui n'est pas ce que les instructions indiquent.
It claims to "restore dull, yellowed headlights to like new condition in less than five minutes per lens," but in my personal experience it takes more like 30 minutes to 1) figure out the order of operations for what's in the box, 2) tape off the headlights, and 3) get clear headlights.
Encore dix dollars mieux dépensés pour quelque chose que vous pouvez réutiliser.
Avantages:
Rapide, bon marché, facile à utiliser
Fonctionne bien sur les travaux moins sérieux
Les inconvénients:
Probably won't last long
Coûte plus à long terme
UV protection isn't great
Kit de restauration de phare Sylvania
This is the most effective manual headlight restoration system you're going to find without using power tools.
What makes this kit better is what comes with it – a free glove, some free rags, and a garantie à vie aussi longtemps que vous possédez la voiture. Sylvania, une entreprise que l'on s'attend à connaître en matière de phares, garantit la longévité de vos phares propres. Bien sûr, ils ne suivront que si vous suivez les instructions du produit à un T.
Un critique d'Amazon très apprécié a expliqué that he set aside over an hour and a half to perform his headlight restoration using this product. He advised to read the directions thoroughly before starting the process, and while that's true of any of these kits, it's apparently of utmost importance for this one. Following the directions precisely, his clean headlights shined like new. Another reviewer said his have stayed clean for over 3 years.
Since you're not using a drill, be sure to hand-buff the surface in short, tight, uniform circle patterns.
This might not be the easiest option, but by all accounts, it's one of the best.
Avantages:
Meilleure protection manuelle
Un kit tout compris
Excellente protection UV
Dure des années si c'est fait correctement
Garantie à vie
Les inconvénients:
Compliqué à utiliser
Les instructions sont très détaillées
Non conçu pour les outils électriques
Système de restauration de phare 3M 39008
The following kits contain a bit more than just a bottle and a rag – from here out you're going to need a power drill to achieve clean headlights. Drills cut better than your hands do. Got it? Good.
3M makes the most popular headlight restoration kit available. I've personally used this kit on several cars, and it always works as advertised – that is, if you do it right.
In my experience, this multi-stage kit takes about three hours to use – it took d'autres critiques encore plus longtemps. Il est livré avec les éléments suivants:
1 once de vernis pour phares
Composé de coupe
Attachement de foret orbital
4 disques de ponçage grain 800, blanc
Disques abrasifs grain 500 x 6, jaune
Disque en mousse grain 3000
Tampon de mélange en mousse, orange
Installez d'abord la fixation orbitale incluse sur la perceuse de votre choix. Sable sec à l'aide de disques abrasifs de 500 et 800 grains, le sable humide (oui, utilisez de l'eau) avec un grain de 3000. Enfin, faites un suivi avec un composé de polissage.
Most of that isn't reusable, and you'll need a UV coating que ce kit ne comprend pas (comme le Meguiar's spray au dessus).
It's a lot of work, but if you do it right, it will last a long time.
Avantages:
#1 Meilleur vendeur dans la restauration des phares Amazon
Kit complet
Plus performant qu'un système manuel
Dure des années si c'est fait correctement
Les inconvénients:
Plus complexe qu'un système manuel
Prend beaucoup de temps pour obtenir des résultats
Won't last through many uses
Aucun protecteur UV inclus
Hors Marques
Kit de restauration de phare de voiture VISBELLA
À seulement 11 dollars, ce kit hors marque promet des phares clairs en un temps record. Il comprend une fixation pour perceuse orbitale, de nombreux tampons en papier de verre, de nombreux tampons en mousse, beaucoup de composé de frottement et beaucoup de protection UV.
You know what they say about prices that are too good to be true – they usually are.
At the time of this writing there are no less than four typos visible in the first screen of this Amazon product page. Then we have the classic "two random English words put together" name. Together with how much material they're giving you, this all implies their product has been produced in haste. Why pay $11 for something that has no quality behind it?
Will it work? Sure, probably. If toothpaste headlights are a thing, I'm sure whatever cheap abrasive comes in this kit can make clean headlights too. But their own product page warns "this product does not work for deeper scratches," so don't expect too much from it.
What really scares me is they advertise that you can use it on "helmet visors" – you know, the thing that if you can't see through it, you could die? A part which could break if weakened in any way, possibly resulting in your face hitting the ground? I'll pass.
Méfiez-vous des produits comme celui-ci. Pour les quelques dollars supplémentaires, tenez-vous-en aux noms de marque.
Avantages:
Pas cher
Fonctionne probablement
Utilise des outils électriques
Comprend un protecteur UV
Les inconvénients:
Pas cher
Pourrait ne pas fonctionner
Production hâtive
Manque de matériaux de qualité
Kit de restauration de phare TriNova
This is the exact opposite of the kit we just saw, and here's why.
Le kit comprend uniquement ce dont vous avez besoin pour créer des phares propres sur plusieurs voitures, y compris suffisamment de protection UV. Ajoutez simplement un peu plus de papier de verre et ce kit vous emmènera très loin.
They're offering 15% off when you buy three TriNova products, and 20% off when you buy four. That's nice of them. Not to mention, look at those bottles. That looks like designer shampoo and conditioner, but it's made to clean headlights. That's classy. Everyone likes feeling classy.
Quand il s'agit d'une hors-marque, le plus important pour moi est l'intégrité. Leur description est soigneusement rédigée et vous pouvez les voir devenir actifs dans les sections de commentaires, traiter de front les plaintes et offrir des garanties de remboursement sur leurs produits.
That's the kind of company I'm willing to take a chance on.
As far as I can tell, all the customer complaints concern the dinky little applicator they give you. Apparently, it's the cheapest part of this kit, and judging by its apparent size in the product picture, it's not hard to see that it won't give you the kind of results you'd get from using a larger applicator. And being a manual system, it won't achieve what a power drill could.
But for 12 bucks, this is the one you should get if your faded headlights aren't all that bad.
Avantages:
Chic
Peu coûteux
Matériaux de qualité
Remise en marque offerte
Comprend un protecteur UV
Soutenez une startup méritante
Les inconvénients:
Won't cut it for rough headlights
L'applicateur est fragile
Application manuelle
Je devrais nettoyer les phares professionnellement
What's that, you say? "Pssssh. I've restored headlights on dozens of cars. My cars, my family's cars, my friends' cars – I do a professional-quality job every time. je should be the one getting paid the big bucks, not them."
Ne dis rien de plus.
Système de restauration de phare 3M 02516
Il s'agit d'un kit de restauration de phare extrêmement populaire utilisé par les dessinateurs automobiles professionnels pour nettoyer les phares. Il comprend des outils de ponçage et de polissage spécialement conçus à cet effet, alimentés par un compresseur d'air (non inclus), ainsi que suffisamment d'abrasifs, de composés et de disques de ponçage et de polissage pour nettoyer les phares d'environ 25 voitures.
S'ils sont entretenus correctement, les résultats peuvent durer des décennies.
Besides the price, drawbacks are few. A small portable air compressor won't cut it – according to reviewers, you're going to need au moins un compresseur d'air portable de 3 chevaux ($250) to run the air tools as intended. You'll need to buy UV protectant too, and you might as well get the good stuff: Revêtement de phare permanent Opti-Lens, at $69.99 per bottle. You'll need about $500 of it to cover 25 cars.
For just the kit, cost per car averages out to about $16.80. That's around what those other kits cost, and you have air tools and a leather carrying bag to show for it.
Factor in the air compressor and UV coating, and it's about $50 per car. If you're skilled enough to sell your work at the industry standard rate of $150 per car, you could buy that stuff and still faire plus de $2500 sur ce kit.
That's free enterprise in action, folks.
Avantages:
Résultats de qualité professionnelle
Nettoyer les phares sur environ 25 voitures
Outils pneumatiques inclus
Étui de transport inclus
Peut vous faire de l'argent!
Les inconvénients:
Compétences de niveau professionnel requises
Le coût est élevé pour un usage privé
Compresseur d'air requis
Aucun protecteur UV inclus
Quel kit de restauration de phare dois-je acheter?
Congratulations! You've learned everything there is to know about some of the best headlight restoration kits. You know the ins and outs of the process, and you know what to look out for when buying a headlight restoration kit for yourself or someone else. Now get out there and clean your headlights!
Si vous souhaitez protéger vos phares neufs ou restaurés des UV, achetez-en Meguiar's.
Si vous souhaitez protéger en permanence vos phares des UV, achetez-en Opti-Lens.
If your headlights aren't all that bad, try the TriNova kit en premier.
If your headlights are rough and you don't mind working, buy the Sylvania.
If your headlights are rough but you don't want to sweat, buy the 3M 39008.
Si vous croyez au capitalisme, achetez le 3M 02516.