Numéro de titre de la Californie et comment le trouver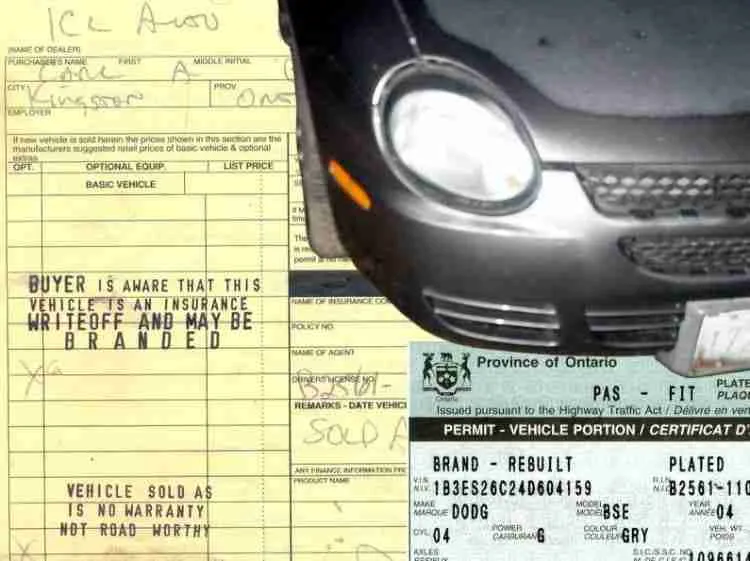 Vous devez donc trouver le numéro du titre sur votre titre californien. Comment procédez-vous? Dans cet article, nous examinerons de près les titres pour la Californie et leurs parties en nous concentrant sur l'emplacement du numéro de titre. Cet article abordera également l'aspect juridique d'un titre d'État de Californie, car il est considéré comme un document juridique.
Tout d'abord, une description ligne par ligne d'un titre de véhicule pour l'état de Californie.
The very top of the page should say 'State of California'. The next line should say Certificate of title. Along the border to the left and right the document should say 'Void without bear watermark, hold to light to view'. Next your document should have to the top left a sequence of numbers and the type of title. For a car or truck, it will say automobile. To the top right should be a box that says Vehicle History at the top of it.
Les quelques lignes suivantes sont lues de gauche à droite. En commençant par, le numéro VIN. Le numéro VIN est le numéro d'identification du véhicule et est unique à votre véhicule. Ensuite, vous verrez le modèle YR. Il s'agit de l'année de fabrication de votre véhicule. Après cela, c'est la marque, c'est là que le type de véhicule est mis. Le numéro de plaque est le suivant et c'est là que le numéro de plaque d'immatriculation associé au véhicule est écrit.
L'élément suivant à trouver est le modèle de type de corps. C'est là que vous voyez un code décrivant la carrosserie de votre véhicule. Par exemple, une voiture à quatre portes dira 4D dans cette zone. Ensuite, la date de transfert est écrite pour expliquer la date à laquelle le titre a été transféré au propriétaire actuel. Vient ensuite la section des frais payés, puis la date d'expiration du document.
Le champ suivant correspond à la première année de vente du véhicule. Ceci est particulièrement important pour les achats de véhicules plus anciens. Les champs suivants sont les suivants; YR pour l'année, MO pour le modèle, le numéro d'équipement / de confiance et la date d'émission du titre.
Si le titre concernait une moto, le numéro du moteur de la moto serait renseigné. Pour tous les véhicules, la date et la lecture du compteur kilométrique sont remplies. Il s'agit du kilométrage parcouru sur le véhicule à l'heure et à la date de la lecture.
La section suivante contient les coordonnées du propriétaire enregistré. Il s'agit du nom et de l'adresse du propriétaire du titre. Viennent ensuite deux lignes identifiées par 1a et 1b. Il s'agit des signatures et de la date de signature du propriétaire enregistré lors d'un transfert de propriété.
The next section is a written warning to follow the federal and state laws under threat of fines or imprisonment for falsifying records. This is to protect the buyer from fraudulent sales.  Next you will see a few empty blocks to write the exact and current Odometer reading. Unless one of two factors are presented and checked in the corresponding box. The first being that the actual mileage and odometer readings differ. The second factor being that the mileage exceeds the mechanical limits of the odometer. In this case you would either leave the space blank or if possible, write the actual mileage.
Beneath the previous line is a certification of truthful information under penalty of perjury by the laws of the state of California. In other words, if you willingly give false information on this document you risk criminal charges. The second to last section is where you as a buyer would sign during title transfer. Finally, the last line of the document found at the bottom of the page says, 'Keep in a safe place- void if altered'.  This means that if you make any unauthorized changes to the filed document it no longer is valid.
Qu'est-ce-que tout cela veut dire?
Proof of ownership is tied to the title. Your vehicle is only officially yours with a title and the title must be in your name.
The title is a sales receipt in a way as it shows transferred ownership. With out this it is hard to prove the sale happened.
A complete identification of your vehicle is found in the title. This is used in the event of an accident insurance claim or if you file a police report for a stolen vehicle.
A full description of your vehicle is on the title. This is also used when reporting a stolen vehicle or for insurance claims if your car is damaged.
All information on the title must be truthful by federal and state laws. These laws may differ outside of California for the state laws.
Failure to provide correct information can lead to jail time or fines to be paid. The average jail sentence for a misdemeanor is 6 months but for a felony it is up to four years. The fines for a misdemeanor max out to 1,000 dollars and for a felony get as high as 10,000 dollars.
Parlons maintenant du numéro du titre et de son emplacement.
Your title number is the number used to identify your title in the department of motor vehicles system. It is located above the vehicle identification number on the upper left-hand side in the corner. It should be a sequence of eight numbers. This number is used by the department of motor vehicles when ordering a new title or to look up the title history.
Termes à retenir
If you are interested to learn more about the terms in this article, please continue reading to help clarify thing for you.
Void- No longer legally binding.
Odometer- The measurement tool inside a vehicle that measures mileage over the span of a vehicle's lifetime.
Make- in the context of this article and vehicles in general this means the manufacturer of the vehicle.
Misdemeanor- A criminal offence less severe than a felony
Felony- a sever criminal offence
Perjury- to knowingly falsify records or information on a document
That wraps up how to find the title number on your California title. Remember, depending on the year the title was registered the steps to find the title number may be different.