Can You Overcharge a Car Battery? Here's What You Should Know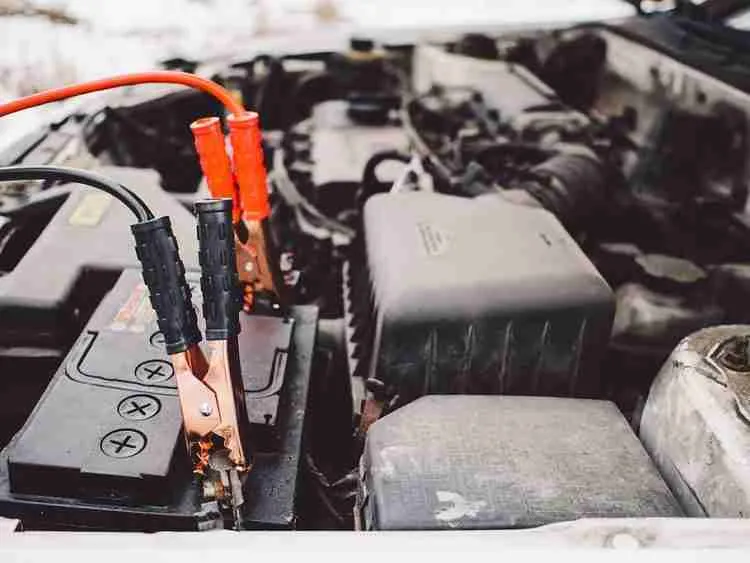 A car battery is a crucial part of a vehicle. Without one, the engine would not be able to start, so it is important to take care of it. 
Most drivers know that a car battery doesn't last forever and therefore needs to be replaced every so often when they run out. 
But is it possible to overcharge a car battery? Read on to find out. 
Can You Overcharge a Car Battery?
The answer is yes, you can overcharge a car battery. A car battery will unknowingly carry on taking voltage even if it is already fully charged. 
Let's read on to find out how you can diagnose an overcharged battery, what causes it to overcharge and how it can be fixed.
Signs a Car Battery Has Been Overcharged
There are a number of factors that can cause a battery to overcharge. Depending on the type of battery installed in your vehicle, an overcharged battery may smell and the casing may swell and become hot to touch. Here are the signs to look out for.
The battery housing may swell
An overcharged battery will produce an excessive amount of hydrogen. This causes the battery housing or casing to swell. In extreme cases, this amount of gas build-up can cause the battery to split open or even explode. 
Low electrolyte levels within the battery
An overcharged battery generates too much heat that leads to the evaporation of electrolytes. This takes us on to the next sign.
Too much heat
If the battery casing is too hot to touch, it may be generating too much heat which is a telltale sign of overcharging.
Leaks
This heat causes the battery to heat up so much that the battery fluid or electrolytes leak through the vents or filter caps on the battery.
Causes
Now you know what the signs of an overcharged battery look like, you are also probably wondering what causes a battery to overcharge? 
A defective alternator
An alternator is designed to produce the electricity that is needed to charge a car battery. They include a device known as a voltage regulator which effectively regulates the voltage passed from the alternator to the car battery. 
If a voltage alternator malfunctions, it may send further voltage to the battery when it is not needed. This can overcharge the battery which leads to overheating and the battery case may swell. 
Misuse of battery chargers
A common cause of overcharged batteries is the misuse of chargers. Anybody can purchase a battery charger, however they can be confusing to use if you are unsure of what amperage or voltage setting to use. If the settings are incorrect, the battery can be so overcharged that it is rendered useless. 
Unattended trickle chargers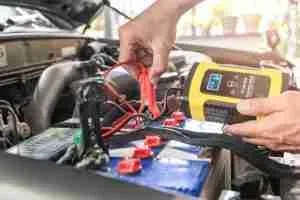 Trickle chargers are used to send a small amount of electricity to the charger over a long period of time. Unlike a cellphone charger, some trickle chargers do not alert the user as to when the battery is full. This can lead to the battery overcharging as the charger will just carry on sending electricity to the battery. 
How can you tell when it is fully charged?
A car battery is usually 12 volts. Therefore, it should read just above 12 volts when fully charged and the car is turned off. The voltage will be slightly higher when the engine is turned on and should give a reading between 13.6 to 14.6 volts.
Newer car battery chargers are able to detect when the battery is fully charge and will alert the user by illuminating.
Prevention
To prevent your battery from overcharging, try following these simple steps.
Step 1 – Check the alternator. If this is defective, you will need to replace it as this is a problem that will not fix itself. If the alternator is the problem, then replacing it will ensure your next battery does not overcharge.
Step 2 – Is your charger the problem? If so, purchasing a lower amp charger may resolve the issue and a good tip is to disconnect it when the battery gets to around 80% full. This way, you can be sure that the battery will not overcharge, but still have enough charge to successfully power your vehicle.
Step 3 – Invest in a battery maintainer which will maintain the level of battery without the worry of overcharging. This is helpful if you live a busy lifestyle and don't often have time to wait around for electricals to charge. 
How To Fix an Overcharged Battery
If you find you do have an overcharged battery, it is best to get a replacement. Overcharged batteries are most often damaged by a build-up of gas or too much heat in which case they are no longer usable. 
You can recondition a battery, however this may cost more than a replacement itself and taking apart a battery is not a good idea. 
How Long Does it Take to Charge a Car Battery?
The length of time it takes to charge a car battery all depends upon the amperage of the charger you are using. 
A 2 amp charger for example, can take between 12 and 24 hours to charge a car battery. Whereas a 40 amp charger may take as little as an hour. 
Looking at these examples, it is clear to see that the higher the ampere, the quicker it charges. However, even though every driver wants to charge their car battery as quickly as possible, it is not always safe. Charging a car battery too quickly can damage or even set fire to it. 
To Conclude
To summarise, you can overcharge a car battery and as you will know after reading this article, it can be done quite easily. 
If you are charging a car battery with a charger at home, always be sure to check the voltage reading every now and again and do not charge above 80%.
If you know the battery has been overcharged and may be damaged, speak to a professional mechanic who will advise you on the best way to solve the issue.