CarVertical vs CarFax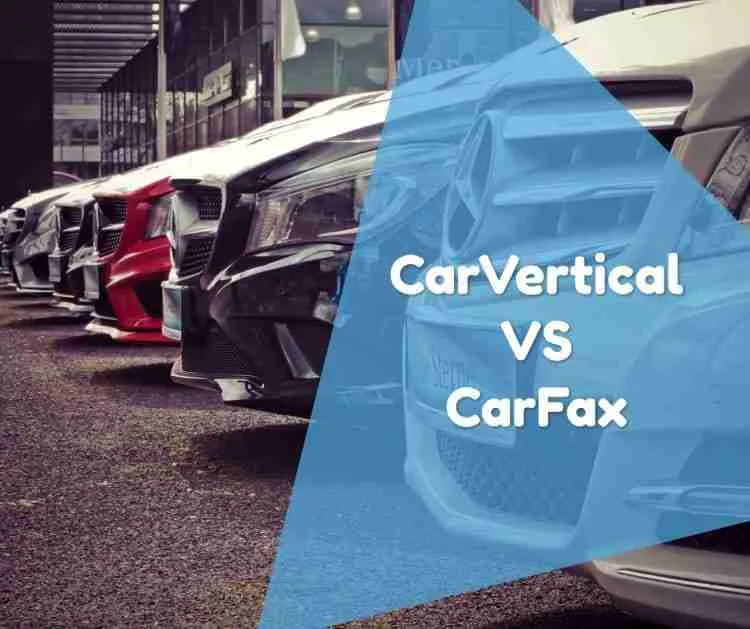 The miracle of the vehicle history report has been in existence since at least 1984. That's when Ewin Barnett III used computer technology to develop CarFax, a company that uses software to compile vehicle history reports. Much newer to the game is CarVertical, a Blockchain-based company that's only been in existence since 2017. Older doesn't always mean better, though, as we're about to see. The biggest difference in the two services, other than their established date, is that CarVertical is a service capable of doing global compilations on cars. The United States and Canada can rely on good old CarFax, but what do you do if you're in another country? CarVertical may be the solution in global vehicle histories.
CarVertical Checks dozens of things about your potential used car buy. You can expect to see historical photos, vehicle service history, vehicle damage report, theft records, mileage rollback, and even common faults of each model that you're interested in. For CarFax's part, they have a nice lineup of information about used vehicles as well, but as you'll see by browsing their site, they aren't very forthcoming with what their reports check. They simply invite you to put your VIN in without really telling you what their history reports are going to show. There's another area where they invite you to sign up without even detailing a single point that will be included on their reports. Most customers prefer to know what they're paying for before they pay for it, and CarVertical is very transparent about the content of their reports.
Avantages et inconvénients de CarVertical
Blockchain technology paves the way for bigger registries these days, and CarVertical wanted to establish itself as the forerunner in this industry. They did so by using the power of Blockchain to create a registry based from their European Union headquarters. The results so far have been stellar. International databases are tapped, unlike those maintained by CarFax that use primarily United States and Canadian registries. What you have with blockchain is a global database of vehicles, and that's a critical "pro" in its playbook.
Avantages
Une base de données mondiale très complète d'informations sur les véhicules
Les sources exploitées comprennent les registres nationaux centralisés, les bases de données de la police et d'INTERPOL, les bases de données des services d'assurance, de crédit-bail et de traitement des réclamations, les registres privés, les registres nationaux centralisés, les bases de données de la police et d'INTERPOL, les bases de données des services d'assurance, de crédit-bail et de traitement des réclamations, les registres nationaux centralisés, la police et bases de données d'INTERPOL, bases de données sur les assurances, le crédit-bail, les services de traitement des réclamations, registres nationaux centralisés, bases de données de police et d'INTERPOL, assurances, registres nationaux centralisés, bases de données de police et d'INTERPOL, bases de données des services d'assurance, de crédit-bail et de traitement des réclamations, registres privés, registres privés, location, bases de données de services de traitement des réclamations, API payantes, API payantes, registres privés
À seulement $19,99 pour un seul rapport, CarVertical est plus économique que CarFax
CarVertical effectue fréquemment des ventes sur ses services
Il y a une équipe chez CarVertical qui supervise chaque rapport et vérifie les informations méticuleusement
Les inconvénients
L'entreprise est en affaires depuis seulement deux ans
Because of the newer business, you don't have as many customers to verify the quality of services
11 à 50 employés font de CarVertical une petite entreprise
Avantages et inconvénients de CarFax
CarFax is probably the most widely recognized name in the vehicle history report industry. There's not a single person in the United States and Canada who doesn't have at least a passing knowledge of the brand. With such high brand recognition, it's easy to see why people so frequently overlook other quality services like CarVertical. People tend to go with what they know, with what's proven over time. You'll notice a host of positive qualities in CarFax, first of which is their longevity and reputation in the industry.
Avantages
Une réputation très appréciée dans l'industrie
Excellentes bases de données aux États-Unis et au Canada
500 à 700 employés pour prendre en charge une plus grande profondeur des problèmes
Plus de 35 ans dans l'industrie
Probablement la marque la plus connue dans les rapports d'historique des véhicules
Les inconvénients
L'absence d'un système mondial de vérification de l'historique des véhicules est décourageante dans une économie mondiale
CarFax a en fait une gamme d'informations beaucoup plus limitée sur les véhicules d'occasion que CarVertical
shows only odometer reading, branded title, and past registrations, but doesn't go much more in-depth than that
Tarifs CarVertical et CarFax
The most glaring difference between CarVertical and CarFax will be the pricing on both of these services. We mentioned that CarVertical is a cozy $19.99. CarFax is $39.99 for a single report, and pricing can get even heftier when you go up from a single report. CarFax does have a nice "every car comes with a free CarFax report" policy, but there are always strings attached to such offers, and there are millions of people paying for these reports, so you can rest assured that a single free CarFax report wouldn't be enough during your lifetime. There is going to be a need for more. Consider this before you work with CarFax. If a budget price is what you want, $19.99 for CarVertical's service is a far better deal.
Le dernier mot sur CarVertical vs CarFax
The lack of a stolen vehicle check by CarFax is troublesome. It's one of the things that its reports overlook, and it's probably one of the most important things for used car buyers to check on. What if the vehicle is stolen? What if it was involved in some kind of criminal activity? CarVertical's scanning of police reports and everything else makes it by far much better at detecting whether or not the used vehicle you're buying has an unappealing past. The transparent nature of CarVertical's website is comforting in a day and age where companies want you to sign up first and find out what you're paying for when you receive it. It should be the other way around, and CarVertical is excellent at detailing their product and letting you know where their sources come from.
CarFax has been in business for decades now, and they're certainly doing something right, but due to the smaller price tag on CarVertical, the transparency of the website, and the push forward to make their company succeed, maybe CarVertical is worth giving a try. You'll shave about $20 off your bottom line price, get a global viewpoint of the vehicle you're buying, and work with a smaller team that also has fewer customers to cater to. Their focused attention on customers over the last two years has been admirable, as they strive to disrupt CarFax's hold on the industry. By adding the Blockchain element, lowering price, and steadfastly providing responsive and friendly customer service, they're potentially going to overtake CarFax in the coming years.
A new kid on the block can be a good kid or a bad kid. For now, it looks like CarVertical is your good kid, trying their best to prove to you that they're just as good as that other kid you've been hanging out with all these years. For $19.99, you can get a single report from them and see if it measures up against your CarFax-based standards. You might be surprised at the depth of information CarVertical offers. For others, CarFax will always be the end all, be all of vehicle history reports. They're trusted by many dealerships, customers, and industry leaders, too. Both of these services have their upsides and downsides, but if you want to give the new kid on the block a try, there's nothing wrong with CarVertical. In fact, there are many hundreds of things right about this service.