Can You Use Spray Paint on a Car-Paint Types and More
Can You Use Spray Paint on a Car
Are you tired of your car's appearance? Maybe your vehicle is old and rusty, and you want to give it a new lease of life. Or perhaps you've just bought your dream car, but you wish that it was a different color.
Professional paint jobs can cost a small fortune, but there's a much cheaper solution. Spray-painting your vehicle can be just as effective and save you hundreds of dollars. 
However, don't cover your car with spray paint just yet. It's essential to know everything because not every paint is suitable for vehicles. Good preparation, a lot of care, and the correct equipment are required for a successful outcome. 
Consultez ce guide pour pouvoir peindre votre voiture et éviter de nombreuses erreurs courantes. 
Soyez prêt
First, you'll want the right tools for the job. 
Along with the paint, you'll need a spray gun or air compressor. Meanwhile, you should also acquire an electric sander, paint thinners, wet-and-dry sandpaper, and masking tape. Keep a ready supply of newspapers nearby too. 
Les dépoussiéreurs ne sont pas indispensables mais sont très utiles si vous en avez accès. N'oubliez pas d'acheter des équipements de sécurité comme des masques faciaux et des lunettes de sécurité. 
Quelle peinture dois-je utiliser ? 
There are different types of paints on the market. Let's briefly look at the best four of them. 
Peinture à l'eau
Ceci est respectueux de l'environnement et couramment utilisé pour peindre les voitures. Vous devrez ajouter une couche de protection de laque après avoir utilisé cette peinture. Sinon, les éléments endommageront votre peinture avec le temps. 
Peinture Nitrocellulosique
Classic car enthusiasts like this paint because it revitalizes their vehicle without affecting their originality. However, it's highly toxic, so wear safety gear before using it.
Émail acrylique
Enamel paint leaves a tough coating on the car after it dries. Manufacturers heat-treat the paint to make it firmer. It's also available in aerosol form for easy touch-ups. 
Uréthane acrylique
This paint is tough and durable. It's the most expensive type of spray paint, but it's very effective. Another compound is required to dry it quickly. 
Comment pulvériser de la peinture sur votre voiture
Now let's go through the different steps to spray paint your car. Don't skip any of them if you want to ensure a nice finish. 
1. Choisissez votre emplacement
First, you should find a suitable place to paint your car, like a large garage. The area must be dust-free and well-ventilated. Make sure that there is plenty of room to move around the vehicle when you're painting it. 
Soyez conscient des risques d'incendie potentiels car la peinture est hautement inflammable. 
2. Ponçage
Now it's time to get to work!
Before you paint your vehicle, you need to strip it down. Use a sander to remove the clear, top, and base coats. Ideally, you want to strip it down to the bare metal to leave a perfectly smooth surface. You can use an electric sander for larger areas. However, you'll probably need to do a lot of it by hand using sandpaper.
3. Nettoyer l'extérieur
Now you'll need a cloth and mineral spirits or a silicon cleaner. Then wipe down the entire exterior of the vehicle. This will remove any lingering dust or oil residue. 
4. Démonter et scotcher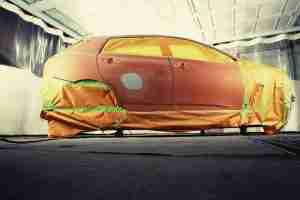 You don't want to paint your windows. Use masking tape and newspapers to cover the areas of your car that you want to avoid. If you can remove parts like door handles and grills, you may be able to save time and stress. Otherwise, you'll have to cover these too. 
5. Amorçage
Après avoir décapé votre véhicule jusqu'au métal nu, vous devez apprêter la surface. Utilisez un apprêt résistant à la corrosion et laissez-le durcir conformément aux instructions. Poncez ensuite doucement les surfaces nouvellement apprêtées à nouveau. 
Be careful not to sand too deep because you don't want to expose the bare metal again. 
6. Peinture
Préparez la peinture pour la pulvérisation en la mélangeant avec des diluants. Tenez votre bombe aérosol ou votre pistolet à six pouces de l'extérieur du véhicule. Utilisez un mouvement de balayage horizontal pour appliquer des couches fines et uniformes. 
Il faudra trois ou quatre couches pour couvrir le véhicule. N'oubliez pas de respecter le temps de séchage recommandé entre chaque couche. 
7. Poncer et essuyer
Avant d'appliquer la couche finale, vous devez poncer à nouveau l'extérieur du véhicule. Cela éliminera tous les résidus indésirables et assurera une finition lisse. Enfin, essuyez-le avec un autre chiffon propre avant d'ajouter la dernière couche de peinture. Lorsque la peinture sèche, vous pouvez retirer le ruban de masquage et le papier journal. 
Une finition lisse
There are two more steps you need to take if you're using water-based paint. These will ensure a smooth, clean finish. 
Laque
Une fois la dernière couche de peinture sèche, vous devez appliquer une couche de vernis transparent pour voiture. Pour ce faire, utilisez la même technique de peinture côte à côte. Cela donnera un éclat brillant et protégera votre nouveau travail de peinture des éléments. 
Polir la surface
The final step is to buff all the panels. This removes a thin layer of paint and takes away any scratches or imperfections. Make sure the lacquer has hardened before you buff your vehicle to ensure a perfect finish. You can buff your vehicle by hand or by using a machine. The problem with the former is that it can be difficult to get even coverage on the paintwork. It's also easier to miss spots.
There are different types of machine buffers available. We recommend a dual-action or polisher because they are safer to pick up and use. Don't use a rotary polisher on your car unless you're experienced because they produce much more heat. 
Dernières pensées
Don't spray-paint your car if you're not confident about the process. That's especially important if it's an expensive vehicle. The risk is significant because a messy finish will affect the resale value. That's why you can't take any shortcuts. Be patient and follow all the steps. Allow all the coats of paint to dry before continuing.
Remember to wear safety gear because most spray paints are toxic. It's also possible to paint your vehicle with a roller. This may be convenient for vans and trucks. You won't need to wear respiratory protection either. 
La peinture au pistolet de votre véhicule peut être une expérience incroyablement créative. Prends ton temps. Bonne chance!