Qu'est-ce que le symbole des feux de brouillard?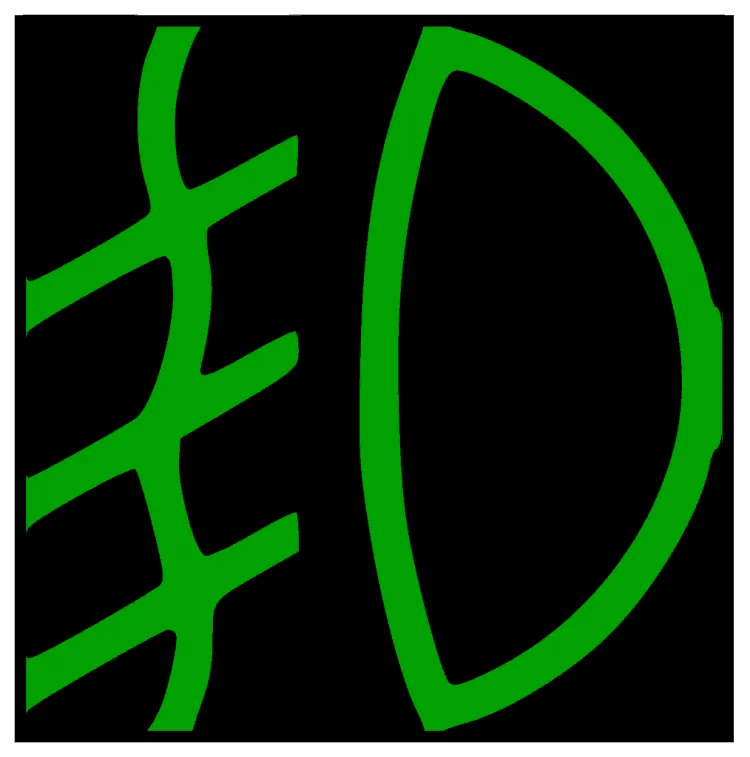 It is important that you familiarize yourself with all of the symbols on your car's dashboard, including the fog light. These lights can be very useful when you are driving in heavy fog and visibility is low. They can help you stay safe and see the road more clearly, which can help you avoid getting into a potentially serious accident. This indicator light usually appears as a wavy light with solid diagonal lines going through it, but it depends on the car.
When to Use Your Vehicle's Fog Lights
Si vous conduisez dans des conditions très brumeuses et que la visibilité est faible, vous devez allumer immédiatement vos antibrouillards. Cela peut vous aider à mieux voir devant vous lorsque la visibilité est tombée à moins de 100 mètres. Ne pas utiliser vos feux dans de telles conditions de conduite peut mettre en danger votre sécurité et celle des autres conducteurs sur la route.
Les phares antibrouillard peuvent également être utiles lorsque vous conduisez sous de fortes pluies ou de la neige, bien qu'ils aient tendance à être plus efficaces avec le brouillard. Toutes les conditions de conduite par faible visibilité peuvent généralement être améliorées en allumant ces feux.
Allumer vos antibrouillards
Your vehicle's owner manual will tell you how to turn on your fog lights. Keep in mind that fog lights are different from high beams/brights. Not all vehicles have fog lights, especially older models. These lights are typically located just below your normal headlights. Their low position on your vehicle illuminates everything in front of you except the fog itself.
There is usually a simple switch that you can turn somewhere by your steering wheel that activates these lights. You should know how to turn them on if the need arises. It is usually located on the gearshift's dial, along with the windshield wiper function.
Selon votre véhicule, vous pouvez avoir des phares antibrouillard avant et arrière. De nombreux modèles plus récents les ont également à l'arrière. Cela vous aide à voir clairement dans les deux sens, ce qui peut être très utile si vous reculez quand il y a du brouillard dehors.
Pouvez-vous obtenir un ticket pour l'utilisation de vos antibrouillards?
Vous pourriez vous faire arrêter et recevoir une citation si vous utilisez vos antibrouillards dans des conditions de conduite normales. Cela constitue une menace pour les autres conducteurs qui se dirigent vers vous, car cela peut temporairement entraver leur capacité à voir correctement. Ce qu'il faut retenir, c'est que vous voulez être prudent lorsque vous utilisez ces lumières.
Pourquoi mon symbole antibrouillard est-il allumé en permanence?
The most common reason for your fog lights always being on is that you flipped the switch and didn't put it back. Check the position of the switch or dial to confirm. Make sure that you turn these lights off once you arrive at your destination. Some cars have an automatic setting, which will activate your fog lights when they are needed.
Acheter des antibrouillards
There are tons of aftermarket fog lights that you can buy in stores and online. There are lots of different fog lights to choose from, so you'll want to explore your options. LED lights can be a great investment, as they really help with increasing visibility in heavy fog. They also tend to last a long time, so you won't need to replace them anytime soon. There are also halogen lights, which are incredibly bright but fairly expensive.
You'll want to keep in mind that fog lights with glass lenses tend to last longer than most of the others. If you are trying to get your money's worth, you should consider getting these lights. The color of the lens also makes a big difference. While most of these lights have a clear colored lens, yellow lenses offer better visibility in fog, rain and even snow.
Before you start shopping around, you need to know which specific lights to buy. This is something that you should be able to find out from your vehicle's owner manual. You can also try looking it up online. If your vehicle came with stock fog lights, they are pretty easy to replace and usually don't require the services of a mechanic.
Il est également judicieux d'examiner attentivement des produits spécifiques afin de trouver le bon. Lisez les avis des clients sur divers antibrouillards avant de prendre une décision finale. Cela vous permettra d'obtenir exactement ce dont vous avez besoin sans aucun regret par la suite.
Certaines marques sont plus réputées que d'autres, notamment Philips, JDM Astar et Sylvania. La marque des lampes que vous achetez peut faire une énorme différence en ce qui concerne leur qualité globale, vous devez donc garder cela à l'esprit.
Installation de phares antibrouillard sur votre véhicule
If your vehicle didn't come with fog lights, you'll need to be mindful of where you mount them. You don't want to put the lights too low, as they could get damaged. This might be something that you'll want to have a professional do, depending on just how handy you are. Most aftermarket fog lights come with the necessary housing. Unless your vehicle has a very unusual grill, you should be able to use it without any issues.
After you have installed your fog lights, you'll need to make sure they are angled properly. This way you'll know that they will be able to help you see clearly when you are driving in heavy fog.
Dernières pensées
It is crucial that you use your fog lights when necessary to make driving safer when it is very foggy out. These lights will increase your visibility significantly so you can see further in front of you. This in turn will provide you with additional time to react to other drivers on the road so you don't get into an accident. If you need to buy new fog lights, you should take the time to weigh your options carefully. This will give you a much better idea as to what you should buy.