Hein-Werner HW93506 Blue & Yellow 6 Ton Jack Stands: The Complete Review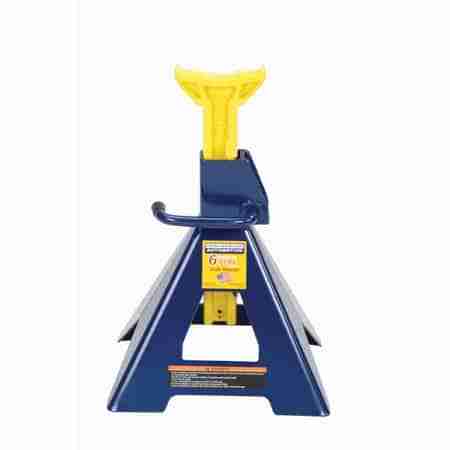 Even if you aren't a car fanatic, it can feel pretty great to do some maintenance and repairs on your vehicle yourself. Trust us, most of it is fairly easy; you just need to make sure you have the correct equipment to keep you (and your car) safe. Without it, the consequences can be pretty severe (serious injuries or in extreme cases, death).
Using jacks are a huge factor when performing maintenance or customizations to your car. However, they are not designed to hold the car in an elevated position. As you probably know, you can use it to hold the vehicle but we recommend that you don't; there can be terrible repercussions if the jacks fail.
This is why you should prioritize buying jack stands. Don't worry, they are surprisingly affordable and will improve safety while you work on your car. Essentially, these are the back up if your jack fails.
Anyway, enough jibber-jabber. We know you're here for the Hein-Werner Blue and Yellow 6-ton Jack Stands review, but we want to help you out a bit more first.
What To Look For In Jack Stands
Before you rush and buy jack stands, you should pay close attention to these 5 points before you part with your money.
Weight Rating
Every jack stand has a weight rating (i.e. the maximum weight they are able to hold). Before you buy, make sure you know the exact weight of your car in tons.
Materials
Typically, jack stands are constructed from steel. But, that isn't always a rule. Sometimes, you will find aluminum versions. These tend to cost more but they are easier to move around thanks to the lightweight metal. Plus, they won't rust!
Lock Design
Nowadays, jack stands come with a variety of lock designs. Usually, you will find ratchet or lever-style ones. Although, that doesn't mean that pin-in-hole locks don't exist as well.
The general consensus is that the latter version is more stable but the ratchet or lever ones are great to use too.
Lift Height
Of course, jack stands don't infinitely extend. Instead, they have a lift height (i.e. the maximum extension they can reach without interfering with safety).
All you need to be sure of is that you can get under your vehicle comfortably to perform the maintenance tasks.
Base Width
This is incredibly important. Basically, the wider the base of the jack stand, the more stable it will be when you're using it.
Pyramid style jack stands have wider bases but there are some types which come with octagonal bases.
Okay, now you know what to look for when you purchase jack stands, let's get on with the review for the Hein-Werner 6-ton Blue and Yellow Jack Stands.
Hein-Werner

HW93506 

6-ton Blue and Yellow Jack Stands: The Review
We are going to look at this product in scrutinize detail; from the construction material to the base width, and the lock design to the warranty and finish. So, are you ready? Let's go!
The Overview
Construction Material
As we said earlier, construction material is one of the things you need to consider before you splash the cash on jack stands.
Hein-Werner's 6-ton blue and yellow ones are made from incredibly high-quality steel. This makes them extremely durable and amazingly strong.
On the other hand, they are fairly heavy which makes them harder to move around. Although, this shouldn't be regarded higher than safety when it comes down to it.
Lock Design
Again, the lock design is a crucial aspect of jack stands.
This guy has a ratchet-style variant. This means it is really easy to use. Plus, you can secure the stands at various intervals so you can achieve the perfect amount of clearance.
Having said this, ratchet locks aren't as safe as pinhole styles but they are more efficient when you're on the job.
Base Shape
Thanks to the pyramid-shaped, formed-steel frame, the base is lovely and wide. Thus, it provides perfect ground coverage for maximum support and stability. Not to mention that the even distribution of weight will ensure the surface (concrete, etc) isn't damaged in the process.
Weight Rating
We don't want to insult your intelligence here; we are sure you know by now that its maximum weight is 6 tons!
However, you do need to make sure you have the correct weight of your vehicle before you decide that this is the right one for you.
Lift Height
The range of the Hein-Werner 6-ton jack stands is pretty good at an impressive 16-1/4 inches to 25-3/4 inches! This enables you to lift your car up to the perfect height so you can comfortably perform the maintenance tasks or repairs.
Portability
Hein-Werner has incorporated a dual-purpose handle into their 6-ton jack stand design which increases its portability dramatically.
This handle can be used to carry the stand and as a saddle column release.
Finishes
What do we mean by finishes? Honestly, just the overall look of the jack stands!
As you already know, Hein-Werner has finished the jack stands off with a great blue and yellow lick of paint. The colours go really well together and, from a purely aesthetic aspect, will look nicer in your garage than other options on the market.
Price
There is always a catch, right? And for this product, it is the price.
While they aren't astonishingly expensive, they are on the more expensive side of jack stands. So, for those who have super strict budgets, this steel-formed 6-ton jack stand will not be your friend.
Packaging
Unfortunately, the packaging doesn't quite hit the nail on the head. Many people have reported that, upon delivery, there have been scratches and marks on the product. This isn't great although it won't actually stop it from doing its job.
Warranty
The company offers a 2 year warranty period for this product. We don't need to tell you that this is extremely generous. However, you shouldn't need to make use of it since the jack stands are so strong and durable.
The Pros
Incredibly Strong and Durable Due to The Steel Frame
The steel, pyramid-shaped framed provides the highest level of strength and longevity. That can only be a good thing, right?
Not to mention that this improves safety too!
Ratchet Style Lock For Simple Use
We can't fault the ratchet-style mechanism since it is incredibly easy to work with. Technically, this design is not as safe as the pinhole versions, but, you can set it to different heights for the exact level of required clearance.
Easy to Carry Thanks to The Handle
The handle which has been perfectly incorporated into the design makes for great portability. Even though the steel frame is heavier than the aluminium versions, the handle (which also functions as a saddle column release lever) means it's easier to carry than most.
Pyramid Shape Frame Provides Great Stability
As we mentioned previously, the base shape is a crucial factor. With the Hein-Werner 6-ton jack stands, you are given a sturdy, pyramid base for increased stability and improved weight distribution. Alongside this, it ensures the ground surface will be left in perfect condition after you have finished the car's repairs or maintenance.
Blue and Yellow Finish is Aesthetically Pleasing
Blue and yellow is pretty attractive (in our humble opinion anyway) so it will look brilliant in your garage. Of course, this shouldn't be what you base jack stands on but it is a fun, novelty aspect.
2 Year Warranty
With a 2 year warranty, you can rest easy knowing that Hein-Werner will support you (without question, quibble or headache) if something goes wrong.
Having said this, we doubt you will ever have to actually use it thanks to the extreme durability the steel frame and mechanism provides.
The Cons
While we love this product, everything in life comes with aspects that aren't so great. It's unfortunate but true. Luckily, this guy only has 2!
Poor Packaging
The packaging isn't necessarily something you judge too harshly. However, since the product is so strong, we've noticed that box it arrives in doesn't really protect it.
Many customers have experienced damages such as paint scratches upon delivery. Of course, this doesn't stop the jack stands from working, but it certainly doesn't look very nice.
Price
Depending on what your budget is, Hein-Werner's jack stands might be a bit pricey. While they are worth the money (in our humble opinion), we know not everyone wants to part with so much hard-earned money on jack stands.
The Bottom Line
At the end of the day, Hein-Werner has created an amazing 6-ton jack stand. While it is on the more expensive side of things, it truly is worth every penny (if your budget allows it).
Before you go:
Just one thing to remember: always put safety first when working with vehicles of any description. You need jack stands if you're doing anything more than changing a tire. You'd rather be safe than sorry, right?