10 Producten die alle auto's moeten dragen voor noodgevallen
Elke keer dat u in de auto stapt, is er een kleine angst dat er iets mis kan gaan. In de meeste gevallen verdwijnt die angst als je met een robot over de weg rijdt. Bent u voorbereid in geval van nood?
De meesten van ons hebben in deze situaties gezeten, met een kapotte band of een lege batterij aan de kant van de weg gezeten. Ben je voorbereid als je een band laat knappen? Of bent u voorbereid als uw auto-accu leeg raakt? Of zelfs als u zonder benzine komt te zitten? Hier zijn 10 producten die alle auto's moeten vervoeren voor noodgevallen.
1.    Startkabels
Perhaps one of the most common emergencies people endure when driving is having their car battery die with no warning. In this instance, jumper cables are the best way to revive your car temporarily until you can replace the battery.
Jumper Cables are easy to use and allow you enough battery to get home or get to a service station. Keeping jumper cables in the trunk or backseat is essential to being prepared when driving- whether it be for your car or someone else's.
Hoe startkabels te gebruiken.
Jumper cables are color coded with the terminals on the battery. Connect the red jumper cable to the positive battery terminal on both cars. Then connect one end of the black jumper cable to the negative terminal on the good battery and connect the other end to an unpainted piece of metal in your car. Then all you must do is turn the car with the good battery on and wait for the other to charge.
Make sure that you use jumper cables correctly. If the cables are attached to the wrong terminal it can fry your battery which will make so you are really not going anywhere.
Waar te koop startkabels.
Jumper cables can be purchased at many auto stores as well as multipurpose grocery stores and gas stations. They are relatively cheap and may save you the cost of a tow truck in an emergency.
2.    Water Bottles
Keeping water bottles in your car is not only a great way to stay hydrated in sticky situations, but you can also pour them into your car radiator in the event it overheats- especially if you have an older vehicle. Whether you keep one in an extra cup holder or an entire case in the trunk, it is always a good idea to keep extra water handy in case of an emergency.
Waarvoor waterflessen kunnen worden gebruikt.
You can use water bottles to clean minor cuts and scrapes as well as to wash any oil or grease from your hands if you have been handling car parts. It is also easy to store a single gallon of water in the trunk without it taking up too much space.
Water bottles are also used for the obvious reason of keeping hydrated. You don't want to be stuck on the side of the road in the middle of summer for hours waiting on a tow truck with no water, that situation can become very dangerous.
Waar kun je waterflessen kopen.
You can purchase cases of bottles of water, single bottles of water, or even gallon jugs to keep in your car. They are sold almost everywhere including grocery stores, gas stations, and home improvement stores. Bottles of water are cheap and can often be purchased by the case for under $3.
3.    First-aid Kit
Even though it is third on the list, this is perhaps the most important-and most useful thing to keep in your car. In an emergency, you may need to tend to minor injuries yourself.
A good first-aid kit should include plenty of multi-sized bandages, ibuprofen, gauze, hand-sanitizer, and an antibiotic cream. If you want to be extra prepared, you can also include items such as thermometers, tissues, cotton swabs and any personal medications you may need.
While you do need a comprehensive first-aid kit in the trunk of your car, for minor cuts or burns you should also keep a mini first-aid kit in the console of your vehicle. Make sure to replace any items in your first-aid kit that you use.
Waar te koop EHBO-koffers.
First aid kits can be purchased from grocery stores and drug stores such as Walgreens or CVS for around $10-$20. You can also make your own at with items from your home. Or if you don't have these items at home you can purchase the individual items for a first aid kit for a couple bucks. Just make sure that any kit you buy or make has everything you will need in an emergency.
4.    Tool Kit
A small tool kit is essential in the event your car breaks down- especially if you are far from a gas station or somewhere with bad cell-service. In the event you cannot call a repair service or safely get to a gas station a tool kit may make a situation less scary.
Wat u in een gereedschapskist zou moeten hebben.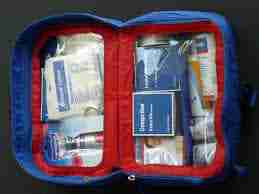 Some of the tools that may help are, brake fluid, tire gauge, antifreeze, small screwdriver, pliers, duct tape, socket wrench with correct sockets for your vehicle, and a multi-use pocketknife. Most cars will use metric sockets, and for most small repairs you will need a 10mm-14mm.
Although many of these tools would be helpful, you also must have the knowledge of how to use them (and not damage your car further) which means they should only be used for minor repairs or car experts. Not much could be worse than turning a $100 repair bill into a $600 repair bill because you broke a part by not using your tools correctly.
Waar kunt u de tools voor een toolkit kopen.
Screw drivers, socket wrenches, pocketknives, pliers, and duct tape can all be purchased at your local hardware store inexpensively. For brake fluid, tire gauge, and antifreeze might be able to be found at a hardware store but your best bet is an auto parts store. Make sure that any fluid you buy is specific for your car or you might have more hassle down the road.
Owner's Manual
As previously stated, tools are great to keep in your car, but if you have no idea what is wrong with your car the tools won't be much help. An owner's manual might help determine what is wrong. Not only does an owner's manual contain specific instructions tailored to your vehicle to help in case of emergencies but also has great information about the parts used on your car.
What information can be found in an owner's manual?
Owner's manuals are a wealth of knowledge that every driver should utilize. You can find out everything from how to install car seats, to where parts are on your car. It will also give information on what fluids need to be used in your vehicle and how often those fluids should be changed.
An owner's manual will tell you what your tire pressure should be and give you troubleshooting ideas if you believe something is wrong with your car. An owner's manual is one of the most underutilized tools in any motorist's arsenal.
Where to locate an owner's manual.
Many vehicles are equipped with small manuals in the glovebox on the passenger's side. These are usually given to the owners at the dealership. If you bought your car used or have misplaced the owner's manual don't fret. Most owner's manuals can be downloaded online via the manufacturers website and printed out. Just make sure to keep the printed version in your glove box in case you ever need it.
6.    Zaklamp
Having a flashlight makes nighttime emergencies a lot less intimidating. Flashlights make it easy to check under the hood when it is dark or to see the numbers on a tire gauge if you have a flat tire.
You can always use the flashlight on your phone however in case of an emergency you need to preserve as much phone battery as possible. This means it is also important to keep an extra car charger for your phone anytime you are driving.
Flashlights are also extremely useful in cases of bad weather. Depending on where you live, you may need to pull over in case of intense rain or hail. Having a flashlight is handy, especially in these situations. Be sure to also keep extra batteries with your flashlight, you don't want to pull a flashlight out when you need it just to find out that the batteries have died.
Welke zaklampen zijn het beste?
LED flashlights are the brightest and use less battery than traditional flashlights, with the added bonus that the bulbs don't burn out. You can purchase flashlights at almost any store with small ones only costing around $3. It also never hurts to have a flashlight with a hook that can hang from the hood of your car while you are trouble shooting issues with your vehicle.
7.    Snacks
Being hungry may seem like the least important aspect of being stuck in an emergency. However, if you get stuck waiting for a tow truck (and we all know how long that will take) you may be grateful when you find a granola bar in the backseat.
Snacks kunnen belangrijker zijn dan u denkt.
Snacks can also help during a more life-threatening emergency like being snowed in. Keeping your stomach full will not only help you keep warm but will also keep your mind focused on the task at hand instead of on a rumbling stomach.
Often emergencies will happen when you are far from a service station or restaurant and having small snacks can be super helpful to ease your stress. You will need to use snacks that are nonperishable and do not need to be refrigerated. For example, nuts, crackers, granola bars, or jerkey.
So, the next time you stop to get gas, or you are walking down the snack aisle at the grocery store, don't hesitate to grab something to store in your car for a rainy day.
8.    Gas Can
Running out of gas is not only inconvenient but it is also embarrassing. Save yourself the annoyance and keep a small gas can in the trunk of your car. Fill it only enough for you to get to a gas station in the case that you have a gas leak and run out faster than your gauge says (or if you just forget to get gas on your way out of town). Keeping a gas can will save you from the massive headache that is running out of gas in the middle of the road with no gas station in sight.
Gas cans can be purchased at any gas station, auto parts store, or home improvement store. Make sure that you only keep as little gas as you need because it is flammable and can be just as dangerous as it is helpful. Also remember to keep the gas can in the trunk as the fumes can be disorienting and an annoyance while driving.
De gevaren van gasblikken.
While gas cans can save you a lot of hassle, they can also be extremely dangerous if not stored correctly. Do not drive with gas cans in your back seat. The fumes can be very harmful and disorientating. It is best not to leave gas cans in your trunk during the summer. The heat from the trunk can not only make the vapors more potent but can also build up pressure to where the gas can explode.
9.    Paper Towels
Car problems, more often than not, end up being an oily, greasy mess. Having paper towels on hand, while not a lifesaver, can make an unpleasant situation much less stressful. They can help you handle greasy parts when attempting to fix small problems under the hood and keep your hands and clothes free from car oil. Not to mention they can help clean up any mess that happens inside the car from food and drink.
Alternatieve toepassingen voor papieren handdoeken.
Paper towels can be used for a make-shift bandage if you have forgotten to refill your first-aid kit. When paired with water or cleaning fluid paper towels can also be used to clean a windshield if your car was covered in dirt, mud, snow, or anything else that could impair a driver's vision of the road.
Waar papieren handdoeken te kopen.
Paper towels can be purchased very cheaply at the dollar store and can save you a lot of headache when a mess happens while trying to fix your car on the side of the road. You can also find paper towels for sale at any grocery store, hardware store, or drug store.
10. A small blanket
A small blanket can help in many different ways. If you live in a colder climate, a blanket can be vital when stuck in the car without a heating system. It can be used for a pad to lay on the ground while looking underneath your car, and it can also be used in a variety of different medical emergencies.
Verschillende soorten dekens.
There are many different types of blankets that can be used for different purposes during an emergency. A mylar blanket was developed by NASA to keep heat in. They are very reflective and can absorb light to keep you nice and toasty. Another option for warmth is a heated blanket that is powered by your car.
A wool blanket is soft and can be used for a variety of different reasons. It can keep you warm in the winter, is great padding, and can also be used to smother a fire.
There are many different types and brands of survival blankets that can be bought that are designed specifically for emergencies. A few minutes of research will provide you with the best fit for your needs and might just save your life.
Although one blanket might be enough, it would be a safe bet to put a few different kinds of blankets in your car to make sure you have warmth, water resistance, and cushion.
Waar dekens te kopen.
Normal blankets can be bought in many different stores such as Walmart or Target. Mylar blankets and other survival blankets can be bought on Amazon for as little as $5 and can go up to $40 depending on what you need.
Het belang van voorbereid zijn.
Car related emergencies, while horribly inconvenient and stressful are inevitable. However, being prepared with the proper supplies can make these stressful situations much easier to handle, or even be a factor between life and death. Keeping things like jumper cables, tool kits, and even snacks in the trunk of your car can turn most emergencies into a minor inconvenience.
Equipping your car with the proper tools can really save the day. Each emergency kit should be checked every 6 months. Make sure to throw out expired items and replace anything you may have used.
Although these items might be the most important in an emergency kit, they are not the only useful items. Some other helpful items include a trunk organizer to keep all your tools neat and easy to access. Everyday items such as lip balm, tissues, hand sanitizer and extra napkins are also helpful for making your driving experience run more smoothly.