Beste reinigingskits voor koplamprestauratie van 2020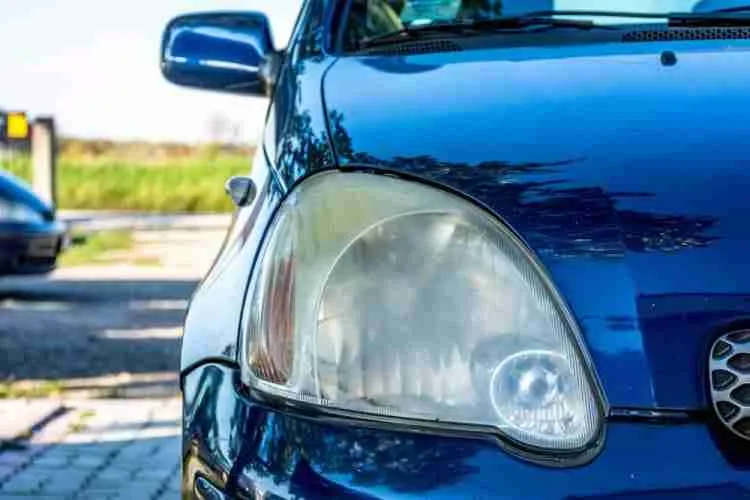 Let's talk about faded, dull, and yellowed headlights. Not only are they ugly, they also make it harder to see at night. How do you clean headlights? What does the phrase "headlight restoration kit" mean? Why does a headlight fade in the first place? And what in the world are toothpaste headlights?
By reading this guide about the best headlight restoration kits, you'll learn everything there is to know about headlight restoration.
To understand this process 100%, let's start from the very beginning.
Wat is er gebeurd met mijn schone koplampen?
Imagine looking through a pair of sunglasses after rubbing sandpaper on them. Your vision would be hazy at best, because the light coming through the lenses would be scattered by the rough surface. The same principle applies with faded headlights – hence the need for headlight restoration kits. But what's really happening when a headlight fades?
Vehicles first began to use plastic and polycarbonate headlight lenses in the 1980s, with the advent of modern headlight regulations and materials manufacturing capabilities. Prior to this change, glass headlights were the norm – those are largely immune to any sort of wear caused by sunlight.
Modern headlights wear a clearcoat to protect against ultraviolet radiation. Relentless sun rays, bugs, road salts, and even the brushes on automatic car washes break this coating down, and over time headlights begin to fade and turn colors. And once that coating is gone, it's gone for good.
Prolonged exposure to the elements results in a breakdown of the headlight's top layer of plastic, through a process called "etching" or "oxidation." As the top layer of headlight material is worn away, an irregular and rough surface develops. This increases the rate of fading and discoloration, which eventually causes less light to shine through.
Waarom zijn mistige koplampen onveilig?
Think back to the "sanded sunglasses" example from earlier. The uneven surface of the lens would disrupt not only the incoming light, but the outgoing light as well. That's why damaged headlights aren't performing as well as if they were clear – the light is being scattered, so less light is making it through.
Rijden met sterk beslagen koplampen is een legitiem veiligheidsprobleem. Het brengt uw vermogen om 's nachts de weg te zien in gevaar; het kan de lichtopbrengst verminderen door maar liefst 80 procent. Hoe krachtig uw lampen ook zijn, het beste wat u op dit moment kunt doen, is een koplamprestauratiekit kopen.
I say "the best thing" because there zijn other options – just not good ones. For starters, you could buy new headlights. That's crazy.
Wat zijn mijn opties voor het herstellen van koplampen?
You could pay a professional to restore your headlights, but you don't need to – as we'll see in a minute, there isn't much difference between a headlight restoration kit you can buy for cheap on Amazon and a kit a professional would charge you tot $150 voor eenmalig gebruik van.
The business of fixing faded headlights is all about convenience – you can clean headlights at home, cheaply, quickly, easily, and with great results.
Het proces van het repareren van vervaagde koplampen omvat het verwijderen van de bovenste laag materiaal om een heldere, gladde en als nieuwe afwerking aan de buitenkant van de koplamplens te herstellen. Een koplamprestauratiekit bereikt dit door verschillende schuurmiddelen, chemicaliën of schuurpapier te gebruiken om het beschadigde materiaal te verwijderen. Een goede kit bedekt de koplamp ook met een UV-beschermingslaag om toekomstige weersinvloeden tegen te gaan.
Of je kunt tandpasta gebruiken.
Wat zijn tandpastakoplampen?
Volgens sommigen, wordt de meest zuinige optie voor het herstellen van de koplamp verkocht bij uw plaatselijke Walgreens.
Because toothpaste contains abrasive chemicals made to brighten your teeth, some say you can use it to clear headlights. Sometimes it even works, but the problem is how long it lasts. If you don't repeat it regularly the color starts to return – just like brushing your teeth. Not to mention, you're going to need a lot of elbow grease to make Aim cut plastic the same way as a specialized chemical or a sheet of sandpaper.
Toothpaste can't protect against UV radiation, so if you use a rag and a tube of Crest as a headlight restoration kit, you better enjoy doing it – once every month or so, you'll have to do it again.
It's worth doing it right the first time.
What's in a Headlight Restoration Kit?
Een koplamprestauratiekit combineert alle chemicaliën, materialen en items die u nodig hebt om koplampen thuis schoon te maken. Sommige zijn een snelle oplossing, wat prima is voor minder ernstige schade, terwijl andere zijn ontworpen om uw mistige koplampen voor eens en voor altijd te repareren.
Hier zijn enkele dingen die u moet weten over deze kits:
Te gebruiken op koplampen, achterlichten, knipperlichten, mistlampen, alles met een plastic lens
Sommige zijn ontworpen voor gebruik met een boormachine; andere worden handmatig aangebracht
The effects last for over a year – longer if your car lives in the shade
Most importantly… take your time! Headlight restoration is a multi-step process, and the quality of your results will be directly affected by how long you spend on them. In my experience, even the fastest restoration is 30 to 45 minutes long. A few more things you should know:
Schuurpapier en chemicaliën kunnen andere oppervlakken van uw auto beschadigen
Gebruik painter's tape om uw mistige koplampen af te dekken voordat u begint
Uw koplampen zien er misschien slecht uit tot de allerlaatste stap
Het schoonmaken duurt langer naarmate uw koplampen slechter zijn
It wouldn't hurt to have some extra sandpaper and have water and towels on-hand throughout the process.
Oké, ik heb schone koplampen nodig!
Great, you're all caught up – we'll learn more about headlight restoration as we dive into the list of kits. Each of these kits include free two-day shipping for Amazon Prime members – no driving necessary.
Without further ado, here is a tour of headlight restoration kits you can buy on Amazon today – including a few that you shouldn't buy.
Grote merken
Meguiar's G17804 Keep Clear Headlights Coating
Real quick, I want to mention this aerosol spray – it contains a powerful UV protectant, and it's designed to follow up after these other headlight restoration products to maintain your work far into the future.
It's eight bucks shipped, so why not use it on your clean headlights once every few months? Better yet, use it on brand new headlights so you never have to worry about fading and yellowing. Now that's thinking with your dipstick!
Voordelen:
Beschermt tegen toekomstige schade
Kan gebruikt worden op nieuwe koplampen
Nadelen:
Won't fix existing damage
Turtle Wax T-43 2 in 1 koplampreiniger en afdichtmiddel
This Turtle Wax product is representative of several brands of headlight restoration chemical, and they're pretty much all the same in terms of overall effectiveness.
First, this route to clean headlights costs just $7.19 when you buy it as an add-on item with qualifying orders of over $25. That makes it very cheap. The 2-in-1 formula advertises that it will "restore clarity and prevent yellowing in one easy step," which is industry talk for "it's not very in-depth, but it'll do the job."
The Amazon description states this product is "formulated with acrylic resins to help prevent oxidation and cloudiness from reoccurring," but the very next line advises customers to "use regularly to maintain clarity," so it must not prevent it very well. In the reviews, people say they had foggy headlights again after only a month or so. That's not good.
Reviews also state that use of a power drill and sandpaper is required to get clean headlights using this solution. That explains why it's cheap: they left out the rest of the kit. And in the review pictures, people's headlights aren't 100% clear even with that.
As far as headlight restoration goes this is only one step above toothpaste headlights, and it's more expensive, too. At least if you had toothpaste headlights you'd have something to talk about.
Zet deze tien dollar in voor een effectievere reparatie.
Voordelen:
Snel
Goedkoop
Makkelijk te gebruiken
Werkt waarschijnlijk
Nadelen:
Won't work for long
Zal het moeten blijven gebruiken
Kost op lange termijn meer
Won't protect against UV in the long term
Turtle Wax T-240KT Koplamprestauratieset
Dit is de volgende stap, van het simpelweg kopen van de schurende chemische stof om koplampen schoon te maken. Het valt je misschien op dat het kopen van deze kit, die schuurpapier, twee verschillende chemische verbindingen en een speciaal doekje bevat, goedkoper is dan het kopen van de laatste chemische stof waar we het over hadden.
That's because it's not very powerful.
This multi-stage process is sufficient to restore foggy headlights so long as they're not jammer. Wanna roll the dice on what "too bad" means in the real world? Spoiler alert: you don't.
If your headlights are anything more than "slightly yellow," skip this one.
Als u een lichte waas op uw lens ontwikkelt, is dit waarschijnlijk voldoende om deze op te ruimen, maar volgens recensenten moet u de hele set gebruiken om schone koplampen te krijgen, wat niet is aangegeven in de instructies.
It claims to "restore dull, yellowed headlights to like new condition in less than five minutes per lens," but in my personal experience it takes more like 30 minutes to 1) figure out the order of operations for what's in the box, 2) tape off the headlights, and 3) get clear headlights.
Nog eens tien dollar kun je beter besteden aan iets dat je kunt hergebruiken.
Voordelen:
Snel, goedkoop, gebruiksvriendelijk
Werkt prima bij minder serieuze klussen
Nadelen:
Probably won't last long
Kost op lange termijn meer
UV protection isn't great
Sylvania koplamprestauratieset
This is the most effective manual headlight restoration system you're going to find without using power tools.
What makes this kit better is what comes with it – a free glove, some free rags, and a levenslange garantie zolang u de auto bezit. Sylvania, een bedrijf waarvan u zou verwachten dat het goed geïnformeerd is over koplampen, garandeert de levensduur van uw schone koplampen. Ze volgen natuurlijk alleen door als je de productinstructies volgt tot een T.
Een hoog aangeschreven Amazon-recensent legde uit that he set aside over an hour and a half to perform his headlight restoration using this product. He advised to read the directions thoroughly before starting the process, and while that's true of any of these kits, it's apparently of utmost importance for this one. Following the directions precisely, his clean headlights shined like new. Another reviewer said his have stayed clean for over 3 years.
Since you're not using a drill, be sure to hand-buff the surface in short, tight, uniform circle patterns.
This might not be the easiest option, but by all accounts, it's one of the best.
Voordelen:
Beste handmatige bescherming
Een all-inclusive kit
Uitstekende UV-bescherming
Gaat jaren mee als het correct wordt gedaan
Levenslange garantie
Nadelen:
Ingewikkeld om te gebruiken
De instructies zijn erg gedetailleerd
Niet ontworpen voor elektrisch gereedschap
3M 39008 Koplamprestauratiesysteem
The following kits contain a bit more than just a bottle and a rag – from here out you're going to need a power drill to achieve clean headlights. Drills cut better than your hands do. Got it? Good.
3M makes the most popular headlight restoration kit available. I've personally used this kit on several cars, and it always works as advertised – that is, if you do it right.
In my experience, this multi-stage kit takes about three hours to use – it took andere recensenten zelfs nog langer. Het wordt geleverd met het volgende:
1 ons koplamppoets
Snijpasta
Orbitaal boorhulpstuk
4 x schuurschijven korrel 800, wit
500-korrel schuurschijven x 6, geel
Schuimschijf met korrel 3000
Schuimrubberen pad, oranje
Installeer eerst het meegeleverde orbitale hulpstuk op uw boormachine naar keuze. Droog schuren met schuurschijven met korrel 500 en 800, het natte zand (ja, gebruik water) met korrel 3000. Ten slotte, vervolg met polijstpasta.
Most of that isn't reusable, and you'll need a UV coating die deze kit niet bevat (zoals de Meguiar's spray bovenstaande).
It's a lot of work, but if you do it right, it will last a long time.
Voordelen:
#1 Bestseller in Amazon koplamprestauratie
Uitgebreide kit
Beter dan een handmatig systeem
Gaat jaren mee als het correct wordt gedaan
Nadelen:
Complexer dan een handmatig systeem
Het duurt lang om resultaten te bereiken
Won't last through many uses
Geen UV-beschermer inbegrepen
Uit merken
VISBELLA Autokoplamprestauratieset
Met slechts 11 dollar belooft deze off-brand kit in een recordtijd heldere koplampen. Het bevat een orbitaal boorhulpstuk, veel schuurpapierpads, veel schuimpads, veel wrijfmiddel en veel UV-beschermingsmiddel.
You know what they say about prices that are too good to be true – they usually are.
At the time of this writing there are no less than four typos visible in the first screen of this Amazon product page. Then we have the classic "two random English words put together" name. Together with how much material they're giving you, this all implies their product has been produced in haste. Why pay $11 for something that has no quality behind it?
Will it work? Sure, probably. If toothpaste headlights are a thing, I'm sure whatever cheap abrasive comes in this kit can make clean headlights too. But their own product page warns "this product does not work for deeper scratches," so don't expect too much from it.
What really scares me is they advertise that you can use it on "helmet visors" – you know, the thing that if you can't see through it, you could die? A part which could break if weakened in any way, possibly resulting in your face hitting the ground? I'll pass.
Pas op voor dit soort producten. Voor het extra paar dollar, blijf bij merknamen.
Voordelen:
Goedkoop
Werkt waarschijnlijk
Maakt gebruik van elektrisch gereedschap
Inclusief UV-beschermer
Nadelen:
Goedkoop
Werkt misschien niet
Overhaaste productie
Gebrek aan hoogwaardige materialen
This is the exact opposite of the kit we just saw, and here's why.
De kit bevat alleen wat je nodig hebt om schone koplampen op meerdere auto's te maken, inclusief voldoende UV-bescherming. Voeg gewoon wat meer schuurpapier toe en met deze kit kom je een heel eind.
They're offering 15% off when you buy three TriNova products, and 20% off when you buy four. That's nice of them. Not to mention, look at those bottles. That looks like designer shampoo and conditioner, but it's made to clean headlights. That's classy. Everyone likes feeling classy.
Als het gaat om een off-brand, is integriteit het belangrijkste voor mij. Hun beschrijving is zorgvuldig geschreven en je kunt ze actief zien worden in de commentarensecties, klachten direct behandelen en geld-terug-garanties bieden op hun producten.
That's the kind of company I'm willing to take a chance on.
As far as I can tell, all the customer complaints concern the dinky little applicator they give you. Apparently, it's the cheapest part of this kit, and judging by its apparent size in the product picture, it's not hard to see that it won't give you the kind of results you'd get from using a larger applicator. And being a manual system, it won't achieve what a power drill could.
But for 12 bucks, this is the one you should get if your faded headlights aren't all that bad.
Voordelen:
Stijlvol
Goedkoop
Kwaliteitsmaterialen
In-brand korting aangeboden
Inclusief UV-beschermer
Steun een verdienstelijke startup
Nadelen:
Won't cut it for rough headlights
Applicator is dun
Handmatige applicatie
Ik zou koplampen professioneel moeten schoonmaken
What's that, you say? "Pssssh. I've restored headlights on dozens of cars. My cars, my family's cars, my friends' cars – I do a professional-quality job every time. ik should be the one getting paid the big bucks, not them."
Zeg niets meer.
3M 02516 Koplamprestauratiesysteem
Dit is een extreem populaire koplamprestauratieset die door professionele autodetailers wordt gebruikt om koplampen te reinigen. Het bevat speciaal gebouwd schuur- en polijstgereedschap aangedreven door een luchtcompressor (niet inbegrepen), evenals voldoende schuurmiddelen, verbindingen en schuur- en polijstschijven om koplampen van ongeveer 25 auto's schoon te maken.
Indien correct onderhouden, kunnen resultaten tientallen jaren aanhouden.
Besides the price, drawbacks are few. A small portable air compressor won't cut it – according to reviewers, you're going to need ten minste een draagbare luchtcompressor van 3 pk ($250) to run the air tools as intended. You'll need to buy UV protectant too, and you might as well get the good stuff: Opti-Lens permanente koplampcoating, at $69.99 per bottle. You'll need about $500 of it to cover 25 cars.
For just the kit, cost per car averages out to about $16.80. That's around what those other kits cost, and you have air tools and a leather carrying bag to show for it.
Factor in the air compressor and UV coating, and it's about $50 per car. If you're skilled enough to sell your work at the industry standard rate of $150 per car, you could buy that stuff and still maak meer dan $2500 van deze kit.
That's free enterprise in action, folks.
Voordelen:
Resultaten van professionele kwaliteit
Reinig de koplampen van ongeveer 25 auto's
Luchtgereedschap inbegrepen
Inclusief draagtas
Kan je geld opleveren!
Nadelen:
Vaardigheden op professioneel niveau vereist
De kosten voor privégebruik zijn hoog
Luchtcompressor vereist
Geen UV-beschermer inbegrepen
Welke koplamprestauratieset moet ik kopen?
Congratulations! You've learned everything there is to know about some of the best headlight restoration kits. You know the ins and outs of the process, and you know what to look out for when buying a headlight restoration kit for yourself or someone else. Now get out there and clean your headlights!
Als u uw nieuwe of gerestaureerde koplampen tegen UV wilt beschermen, koop er dan een paar Meguiar's.
Als u uw koplampen permanent tegen UV wilt beschermen, koop er dan een paar Opti-lens.
If your headlights aren't all that bad, try the TriNova kit eerst.
If your headlights are rough and you don't mind working, buy the Sylvania.
If your headlights are rough but you don't want to sweat, buy the 3M 39008.
Als u in kapitalisme gelooft, koop dan de 3M 02516.