Beste LED-verlichting voor motorfietsen 2020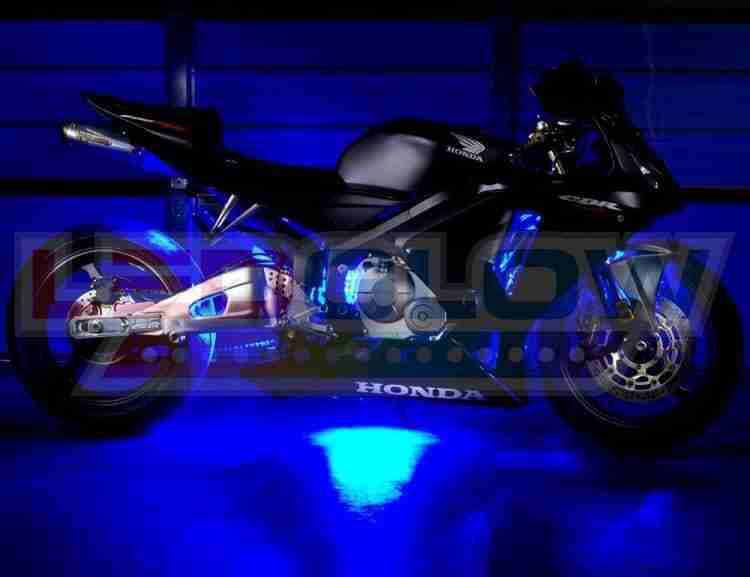 Als u een motorfiets bezit, heeft u misschien overwogen om LED-lichtstrips voor het onderstel te installeren om uw fiets een unieke flair te geven. Niet alle LED-kits zijn echter hetzelfde, aangezien ze verkrijgbaar zijn in verschillende kleuren, helderheid en installatietype, en sommige zijn zelfs illegaal in bepaalde staten. De installatie van LED-lichtsets kan doe-het-zelf zijn, maar we raden aan om een professional te raadplegen, aangezien er bedrading bij betrokken is. Bekijk hieronder de 7 beste LED-lampen voor motorfietsen voordat u een aankoopbeslissing neemt.
Dingen om te overwegen voordat u LED-verlichting voor motorfietsen koopt
Aangezien we hebben gezegd dat niet alle LED-kits hetzelfde zijn, laten we enkele dingen bespreken die hen onderscheiden
Voordat u een verlichtingsset aanschaft, kunt u het beste de specificaties lezen en kijken wat de aangegeven lichtsterkte is van de ledstrip. Vaak kunnen professionals of zelfs online klantrecensies u een aanwijzing geven of de LED-strip waarnaar u kijkt al dan niet voldoende is. Controleer daarnaast of je kit met een zekering is geleverd, want hoewel LED-lampen niet veel stroom verbruiken, kunnen ze toch kortsluiting veroorzaken als ze rechtstreeks op de motoraccu zijn aangesloten.
Hoe wordt de ledstrip geplakt?
De meeste kits worden met een zelfklevende achterkant aan de motorfiets bevestigd, maar niet alle achterkantjes bieden dezelfde hechting aan de fiets. We raden u aan hier nogmaals onderzoek te doen en de specificaties te zoeken van het type lijm dat wordt gebruikt met de kit die u wilt kopen. Controleer daarnaast of de ledstrip flexibel is omdat stijve sets ook niet aan de fiets hechten.
Sommige led-kits zijn niet waterdicht, waardoor u ze niet meer op uw motorfiets kunt gebruiken. We vermoeden dat dit komt omdat de meeste motorrijders het fietsen in de regen vermijden, maar je kunt nooit slecht weer voorspellen, dus het is het beste om een set te hebben die bestand is tegen water. Als uw LED-lampen niet waterdicht zijn, loopt u het risico de stroomkring te kortsluiten en brand te veroorzaken.
Kleuren, kleuren en meer kleuren
In mindere mate moet kleur een rol spelen in uw denkproces voordat u een LED-verlichtingsset koopt. Sommige lichten zien er op uw fiets misschien niet aantrekkelijk uit of hebben 's nachts niet hetzelfde effect als bij daglicht, wanneer u het liefst de kleur wilt zien.
Waarschijnlijk is het belangrijkste waar u rekening mee moet houden voordat u een LED-set aanschaft, of u deze legaal kunt gebruiken of niet. Sommige staten hebben geen specifieke voorschriften voor LED-onderwagenverlichting, terwijl andere alleen specifieke kleuren beperken. Weer anderen hebben led-verlichting volledig verboden. We raden u aan uw specifieke staatswet te bekijken voordat u kits koopt.
Beste LED-verlichting voor motorfietsen
AMBOTHER 8 Pack Motorcycle LED Light Kit
The AMBOTHER 8 pack LED kit is a top-rated model that contains two 10 centimeter LED strips containing six lights, four 20 centimeter LED strips containing twelve lights, and two 30 centimeter LED strips that contain eighteen lights. This kit is capable of producing 15 solid colors that can be controlled via the wireless remote. In addition, there are several modes that the LED lights can be set at including two color cycle options, three flashing modes, and one fading option. The AMBOTHER can fit virtually any bike model including Harley Davidson, Kawasaki, and Yamaha.
A big pro of this model is that it comes with RGB 5050SMD LED lights that are rated for long life and also produces high quality brightness. This model is also waterproof and should hold up to various weather conditions. In addition, the LED strips have plenty of electrical line length and should allow the user to reach any part of their bike. The various lengths are also a plus because it allows the user to fit them to almost any part of the bike. Strips can also be cut down.
This kit comes highly rated, but one downside is that it does not include a fuse, which can adversely affect the lighting quality and compromise the safety of your bike when in use. In addition, customers complained about two major things. Some of the light colors stopped functioning after a short period of time and many had issues with the remote working properly.
AMBOTHER 12 Pack Motorcycle LED Light Kit
Another similar AMBOTHER kit as the eight pack, this model comes with two additional 10 centimeter strips and two additional 30 centimeter strips in addition to what is included in the eight pack. It is capable of producing up to 18 RGB colors and has various modes including two color cycling options, three flashing options, and one fading option. It also comes with a remote that has four buttons set for the various mode functionality. As with the eight pack, this model can also fit a variety of bikes.
Since this is just an expansion of the eight pack version, it has all the same pros as that model. However, the fact that it includes additional light strips in various sizes is a bonus if you are looking for more lighting and color options.
Surprisingly, this model had other complaints from the eight pack version. Customers found that it drained their battery significantly when on and they also expressed concerns about several of the strands arriving inoperable, which required them to return the entire kit.
SUPAREE 10 Pack LED Light Kit
This is another highly rated model that comes with the colors red, blue, green, yellow, pink, blue green, and white. The LED lights have the capability to be dimmed and can change brightness and speed when flashing. The SUPAREE kit comes with a remote, a driver, and a two piece extension cable. Each strip is 31 centimeters long and can fit on a variety of motorcycles, snowmobiles, and even trailers.
This model comes with additional options over the AMBOTHER kits since you can set up to four dimming setting versus the option to only fade the colors in and out. The wireless remote has four buttons just like the AMBOTHER that can be used to change the color flash settings, select the color to flash, and what option of fading/dimming you want. It is also waterproof and easy to install.
This is another kit that does not include a fuse although buyers did say they hooked it directly to the battery and it worked fine. Common complaints related to this model include poor wiring and that some of the strips failed in a short time. Buyers especially noted that this kit does not work well on some variety of motorcycles that have a lot of vibration because the wiring does not stay connected. In addition, several consumers noted that two or three of the strands would burn out after a few months of use.
Openuye 8 Pack LED Light Kit
The Openuye 8 pack LED light kit comes with two 10 centimeter strips, four 20 centimeter strips, and two 30 centimeter strips. The LED bulbs are 5050SMD bulbs, which are high quality, long life options. It is capable of 15 solid color modes and has a wireless remote capable of four different settings. The LED strips can be set to two separate color cycling modes, one fading mode, and three flashing modes using the included remote.
This kit is rated for universal fit with a variety of options including not just motorcycles, but full size vehicles and ATVs. It is easy to install and comes with a super strong adhesive backing. In addition, the Openuye is flexible and can be positioned on any part of the bike. It is also waterproof against rainy days.
This is another model that does not include a fuse, which again takes away from the safety factor of the unit. It requires buyers to purchase a separate fuse for their motorcycle. Consumers complained that the remote stopped working soon after purchase with this kit and also that some of the modes failed within a few rides.
DITRIO 12 Pack LED Light Kit
The DITRIO 12 pack LED light kit is a universal model that works with a variety of motorcycle brands including Ducati, Harley Davidson, and Suzuki. It includes four strands of six lights, four strands of twelve lights, and four strands of eighteen lights. The kit has three extension wires for reaching to various parts of your bike and comes with two wireless remotes. The DITRIO kit produces the colors red, blue, green, yellow, orange, purple, teal, white, and pink.
There are two major pluses of this model. It includes a fuse and also has an installation manual. This adds to the safety functionality of this kit because a fuse protects your bike from short circuit hazards and the manual ensures the lights are installed properly. In addition, this model is flexible and comes with a strong adhesive backing.
This model came extremely highly rated due to its added functionality and included items over other models. It had very few complaints, but of note some consumers did complain that it drained their battery and that some of the light colors stopped working within a few months.
OPT7 10 Pack Aura LED Light Kit
The Aura LED light kit actually comes in a two strip count options; ten and fourteen, as well as two motorcycle options of cruiser and sport. For the purposes of this review, we will speak to the ten strip cruiser version. This particular model has sixteen color options that can dim, flash, and fade. It includes a handlebar mounted switch and a wireless remote. Each strip is approximately 9 centimeters long and is extremely thin.
This kit comes with a one year warranty for replacement and is waterproof.  Another interesting feature of this brand is that it comes in a version that allows for sound syncing with beat of your motorcycle music. Customers found the lights easy to install and that the adhesive adhered well to the bike. In addition, this model comes with a protective casing that protects against virtually any weather condition, which makes them incredibly long-lasting. This model also includes a fuse.
Common complaints for this model were that the lights tended to burn out after a relatively short period of time and that buyers had trouble getting help from customer service about replacement and installation. In addition, users also had problems with the wireless remote working consistently.
SUNPIE 12 Pack LED Light Kit
The SUNPIE model is another universal fit model that can be mounted on Harley Davidson, Honda, and Yamaha bikes to name a few. It includes the colors of red, blue, green, yellow, blue green, pink, and white. The included remote is capable of producing four different dimming levels as well as adjusting the brightness and speed of the flashing lights. The SUNPIE kit includes two 10 inch strips, two 8 inch strips, six 6 inch strips, and two 4 inch strips.
This model can be mounted on almost any type of outdoor vehicle from motorcycles to ATVs. It is flexible, easy to install, and comes with a strong adhesive backing. It is also waterproof for all-weather riding. In addition, it has an added Bluetooth capability that you can purchase separately that allows you to control the lights from your phone.
This was another popular unit, but some consumers complained that the wiring did not hold up well and that they had issues with the lights shorting out. In addition, the lights did not seem to be as bright as other models.


We have provided a comprehensive list of the best LED lights for motorcycles as well as various other outdoor vehicles. All of these models are waterproof, but make sure to verify that fact with any model you may be considering for purchase. In addition, pay attention to whether or not a kit includes a fuse as it can cause strain on your battery and the lights can short circuit if you choose not to use one or if the kit does not include one. Take the time to read online reviews since consumers can give you a good idea of the quality and versatility of each product. In addition, make sure to take note of the added features some of these models include since some are better than others.