Beste momentsleutelgids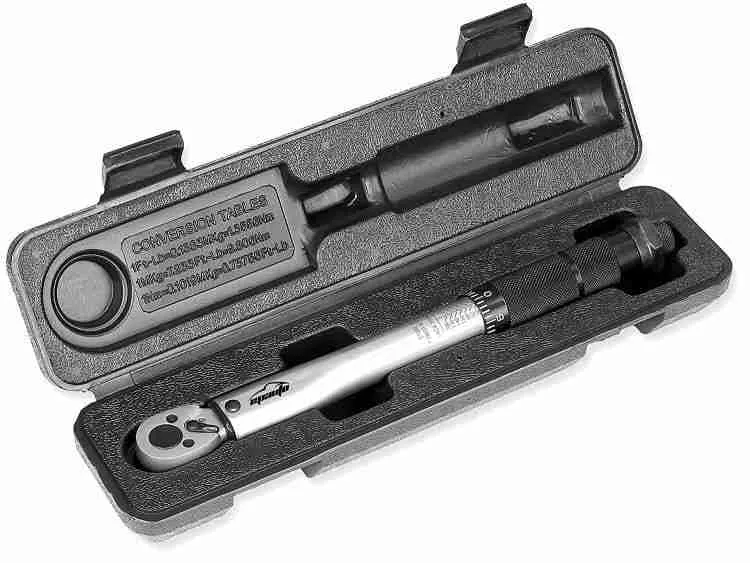 Beste momentsleutelgids
I like to be precise with my work.  And if you're like me, when I'm working on something important and it comes time to tighten something down, "hand tight" isn't good enough.  My hands are different than your hands are different than Shaquille O'Neil's hands, and I highly doubt we're all tightening things down with the same force.  That's why I have a torque wrench.
Waarom moet ik een momentsleutel hebben?
In today's world, many of the items around us are manufactured to a high specification.  Their parts are assembled in a precise way by an assembly line of people and machines.  That means all the nuts and bolts are tightened to exact tolerances by the factory.  Household appliances, furniture, yard machines, cars, airplanes, electronics, bicycles, even power tools – these days, almost everything is built to a certain spec.  As a handyman, the job of reassembling these items requires care and attention to detail.
Dit is een hulpmiddel dat iedereen zou moeten hebben.
A torque wrench is a calibrated tool designed to dial in the correct amount of torque for any application.  Torque wrenches give a confirmation "click" both physically and audibly when you reach the torque that you set on the wrench.  Generally, the spec is set by twisting the handle on the wrench.  And as you may know, torque is usually measured in pound-inches (lb-in or in/lb), pound-feet (lb-ft or ft/lb), or Newton-meters (Nm or N/m).  And the length of the tool gives you leverage, so you can tighten things without breaking a sweat.
A good torque wrench can stand up to years of abuse, and it can normally handle massive amounts of force before it fails or gives way.  But I found out early on that going down to the local big-box store and buying the cheapest torque wrench they have isn't always the best idea.  After a few months of use on everything from the motorcycle to the lawn mower, my bottom-shelf wrench started to lose its edge.
What happens when a torque wrench wears out? It doesn't break like a standard wrench does.  No, it can be a lot worse than that – you may not even know it's broken.
What's the Best High-Quality Torque Wrench?
The ratcheting mechanism can fail or the wrench can physically break, but most of the time that's not what happens.  A torque wrench is a precision tool designed to measure extreme forces down to the smallest increment.  When that sort of tool goes bad, the measurement starts to lose its precision.  In other words, one day, without telling you, it's not putting out the torque you think it's putting out.  That's why it's important to buy a high-quality torque wrench de eerste keer.
Dropping the dough on a high-quality torque wrench with a higher accuracy and more durable construction means you'll only have to do it once.  Don't fall for the cheap imitations that will only work a few times and can fall out of spec in only a few months.  Also, stores like Amazon offer affordable protection plans for many of the tools they sell.  That might be worth considering if you put your tools through hard work, or accidentally run them over with your car.  If that last part sounded personal, it's because it was.
Er moet ook worden opgemerkt dat u hiervoor geen momentsleutel moet gebruiken losmaken things – that can cause damage to the spring that holds the tension.  Use a breaker bar to loosen things, like deze gemaakt door TEKTON.  And it's good practice to reset your torque wrench to zero when you're finished using it, to avoid wearing that spring out prematurely.
Finally, torque wrenches are notorious for being less accurate toward the extreme ends of their measurement ranges.  That means if you dial in the minimum or maximum torque the wrench can do, it won't be as accurate as it will if you set it more toward the middle.  Keep that in mind as we go down this list – if your projects tend to have smaller torque figures, it would be best to get a torque wrench with a smaller range.
We'll start with wrenches more suited for around the house, and work our way up to the heavy hitters.  And as a bonus to you, these are all available with free Prime shipping for Amazon Prime members.  Without further ado, let's dive into the 7 of the best affordable torque wrenches you can buy today.
EPAuto Momentsleutel met ¼-inch aandrijving
Range: 20 – 200 in/lb, 2.26 – 22.6 Nm
Zoals je kunt zien aan de prijs, de schijfgrootte en het koppelbereik, dit EPAuto-momentsleutel is meant to be used on smaller projects around the house.  It's easy to carry in the car or on the jobsite, but it doesn't have the range or strength of some other wrenches due to its small drive size.  The quarter-inch drive means you're limited to smaller sockets, and that's by design.  Note that its maximum torque figure is 200 inch-pounds – that's about 16 foot-pounds.  You can do that with your pinky.
For around the house and more delicate precision applications, this is a great wrench to use.  The smaller drive can fit into spaces that other wrenches can't.  And at 11 inches long, it's compact enough to carry but still packs a punch.  Just don't use it on anything too large.
De EPAuto-sleutel is een geweldige kousvuller voor de klusjesman in uw gezin.
Voordelen
Goede kwaliteit voor een lage prijs
Past in kleine ruimtes
Licht van gewicht van 1,75 pond
Gemakkelijk draagbaar formaat van 11 inch
Duurzame stalen constructie
Kan een koppel van slechts 20 inch pond aan
Inclusief koffer
Nadelen
Niet ontworpen voor taken met hoge intensiteit
Niet zo sterk als andere sleutels op deze lijst
Heeft een kleiner nauwkeurig bereik
Bevestigingsklik is niet erg luid
Meet alleen het koppel met de klok mee
Garantie niet gespecificeerd
AC Delco ARM601-3 3/8-inch digitale momentsleutel
Range: 2 – 37 ft/lb, 2.71 – 50.16 Nm
We've left the quarter-inch wrenches behind, and have ventured into the midrange three-eights-inch drive size.  This is a more common drive size at garages, shops, and most jobsites.  It's a size that offers strength and ease of use – and most of the socket sizes you'll ever come across will fit this drive comfortably.
You'll also notice we took a big jump in price.  That's because AC Delco is a well-known and trusted brand – but it's not just the name.  It's also because this is a digitaal torque wrench.  Yes, there's an LCD display on this wrench that will show your chosen torque figure in any of four units: inch pounds, foot pounds, kilograms per centimeter, or Newton meters.
That makes this a very versatile torque wrench.  Powered by three AAA batteries, it's light, durable, and can last a long time on a set of batteries.  It also has an electronic buzzer that alerts you when you've reached the torque spec you're looking for, so you can't mistake another noise or vibration for its confirmation click.
It has a Measurement Mode, where the wrench measures how much torque you're putting out.  And it's one of the only torque wrenches available that can measure that torque zowel met de klok mee als tegen de klok in.
It takes a bit longer to set torque values using buttons than it does by twisting a handle.  And with a maximum torque of just 37 pound-feet, we're still not into the heavy hitters yet.
Even so, this thing is so useful it's making me want to buy one right now.
Voordelen
Digitale bediening
Gemeenschappelijke aandrijving van drie acht inch
LCD-display toont koppelcijfers
Hoorbare zoemer bevestigt koppel
Gemaakt door een merk dat u kent en vertrouwt
Meet het koppel met de klok mee en tegen de klok in
1 jaar garantie
Inclusief koffer
Nadelen
Digitale invoer is langzamer dan conventioneel gebruik
Batterijen kunnen op een slecht moment doodgaan
Low torque range, so it's limited to smaller jobs
Batterijen niet inbegrepen


TEKTON 24335 ½-inch Momentsleutel
Range: 10 – 150 ft/lb, 13.6 – 203.5 Nm
Deze TEKTON-momentsleutel brengt ons bij de halve-inch aandrijfsleutels, de meest veelzijdige dopsleutelmaat. Deze maat accepteert natuurlijk uw grotere standaard of metrische sockets zonder dat een converter nodig is.
We've also arrived at a much higher torque range, and this wrench can handle anything from 10 to 150 pound feet of torque.  That's enough to tighten just about anything you're going to encounter in your day-to-day life.
Deze momentsleutel heeft een volledig stalen constructie, een sterke behuizing, een levenslange vervangingsplan van hoge kwaliteit en een hoog contrast afstandsmeter voor het maken van snelle aanpassingen. Het is echt een van de beste sleutels op deze lijst.
The only negative thing about this wrench is that because of the way the handle is tightened, by tightening a nut at the base of the handle to lock it down, a few people have mentioned that the handle can loosen.  That means the torque value could change by a few pounds during regular use.  That may very well be user error, but it's worth mentioning.  A small blemish for an otherwise very good wrench.
For six bucks, Amazon will even throw in a four-piece adapter set that lets you use sockets from the other drive sizes.  That's about the same as an equivalent set over at Harbor Freight, and you don't have to drive to Harbor Freight to get it.  I suggest you spring the extra money for those – you never know when you might need them.
Voordelen
#1 Bestseller in Amazon Momentsleutels
Ideale aandrijving van een halve inch
Groot koppelbereik
Kwaliteitsontwerp betekent gebruiksgemak
Grote waarde prijs
Beperkte levenslange garantie
Inclusief koffer
Nadelen
Meldingen dat het handvat niet strak blijft zitten
Meet alleen het koppel met de klok mee


TEKTON 24340 ½-inch Momentsleutel
Range: 25 – 250 ft/lb, 33.9 – 338.9 Nm
Right off the bat, you're going to wonder why this half-inch drive TEKTON torque wrench costs almost twice as much as the last half-inch drive TEKTON torque wrench.  Two words: it's bigger.
Met een maximaal koppelbereik van 250 pond-voet, kan deze zware slagman bijna elke klus aan die u normaal in een huis, garage of zelfs een schuur zou vinden. Met een lengte van 25 inch heeft het de extra hefboomwerking om de grote hardware op tractoren, vrachtwagens en grote apparatuur aan te pakken. Door de volledig stalen constructie is deze sleutel net zo duurzaam als de laatste TEKTON, en de beperkte levenslange garantie is ook hier van toepassing.
That also means the "handle sometimes loosens" concern may be present here as well.  Again, that could be user error, but it's worth mentioning.
This is a great choice if your jobs are just a little more involved than the regularly-scheduled maintenance on your wife's Honda Passport.  But if you're working on actual heavy machinery, we still have a long way to go.
Voordelen
Amazon's Choice voor Momentsleutels
Ideale aandrijving van een halve inch
Geweldige prijs voor het koppelbereik
Kwaliteitsontwerp betekent gebruiksgemak
Beperkte levenslange garantie
Inclusief koffer
Nadelen
Er zijn maar weinig meldingen dat het handvat niet strak blijft zitten
Meet alleen het koppel met de klok mee
Range: 25 – 250 ft/lb, 33.9 – 338.9 Nm
First off, the Tacklife torque wrench comes with a drive extension bar, a case, and a half-inch to three-eights adapter.  That's pretty convenient if you ask me.  At 25 inches long, it has good leverage.  And at 250 foot-pounds of torque, it can complete a wide range of adjustments.
Don't let their bold advertisement of "DIN Calibrated" throw you off – that international calibration standard is met by the vast majority of torque wrenches, and it ensures an error rate of 4% or less over the expected life of the tool.  A good thing to have, but not unique to this wrench.
Het leuke van Tacklife is dat ze je een certificaat geven om te bewijzen dat de exacte momentsleutel die je zojuist per post hebt ontvangen, de test heeft doorstaan. Tacklife geeft elke moersleutel een eigen serienummer en ondersteunt ze allemaal met een garantie van 24 maanden.
If you're at all concerned about breaking a torque wrench, this is the one for you.
Voordelen
Ideale aandrijving van een halve inch
Individueel serienummer en certificaat van nauwkeurigheid
Geweldige prijs voor een koppelbereik van 250 pond
24 maanden garantie
Inclusief koffer, verloopstuk en schijfverlenging
Nadelen
Meet alleen het koppel met de klok mee


Precisie-instrumenten C3FR250F ½-inch momentsleutel
Range: 40 – 250 ft/lb, 54.23 – 338.95 Nm
We hebben daar een flinke prijsstijging gemaakt, en de reden staat daar in de naam.
This baby is all about quality.  It has a chrome finish, which means it's durable.  It has a manual torque lock and dial readout, making it easy to use.  It has an adjustment knob instead of a sleeve and spring setup – that reduces wear.  And because there is no spring tension, it doesn't have to be reset to zero when you put it away.  You can't even loosen things with this, and that's by design… to increase the life of the drive shaft.
This torque wrench has a unique pivoting flex head, unlike the conventional fixed heads of the other tools on this list.  That means you can get into tighter spaces, ones you couldn't reach otherwise.  And this wrench gives one of the loudest and most distinct clicks when you hit the torque you want.
You've no doubt heard of Snap-On.  But did you know it's Precision Instruments who makes many of Snap-On's torque wrenches? Those are just dressed up a little more than the ones they put their own name on.
Add to that a Certificate of Accuracy and a one-year warranty, and you've got possibly the best layman's torque wrench money can buy.  Seriously.  It might cost a little more, but this is the one you want.
Voordelen
Ideale aandrijving van een halve inch
Draaibare kop
Verchroomd op stalen behuizing
Handmatige koppelvergrendeling
Wijzerplaat uitlezing voor koppel
Geen veer die kan slijten
Individueel certificaat van nauwkeurigheid
1 jaar garantie
Inclusief koffer
Nadelen
Meet alleen het koppel met de klok mee
Niet-omkeerbare ratelkop


TEKTON 24350 ¾-inch Momentsleutel
Range: 50 – 300 ft/lb, 67.8 – 406.7 Nm
This is the big daddy.  The heavy hitter of affordable torque wrenches.  With a maximum torque of 300 foot-pounds, you may have needed an impact wrench to remove whatever you're about to tighten.
It's the only wrench on this list with a three-quarter-inch drive.  That's because the smaller drives can't stand up to the kind of torque this thing can produce.  In fact, unless you're a strongman, you may need to sleeve a pipe or something over this torque wrench to apply the full 300 foot-pounds of torque.  Or maybe that's just me.
In working on cars and trucks, you may occasionally need to remove a crankshaft bolt that's just outside the range of a 250 wrench.  That's the moment you're going to wish you had a high-range wrench like this one.  And at 26 inches long, it's not unwieldy either.  It's one of the cheapest wrenches in the 300 range, and it's backed by a solid warranty.
Een perfecte keuze als je dat beetje extra pit nodig hebt.
Voordelen
Vlezige driekwart inch aandrijving
Hoog koppelbereik
Volledig stalen constructie
Beperkte levenslange garantie
Inclusief koffer
Nadelen
Meet alleen het koppel met de klok mee
Overkill voor de huishoudelijke monteur


Was dat de slechtste momentsleutel die er is?
You might have noticed I called the Precision Instruments wrench a "layman's torque wrench".  That's because there are entire leagues of tools designed for discerning professionals, high-precision situations, or for use within specific industries.  Want to step into that world? Ladies first.
Wright-gereedschap 8449 Micro-verstelbare 1-inch Momentsleutel
Range: 300 – 2000 ft/lb, 406.74 – 2711.63 Nm
This wrench weighs 57 pounds.  When you attach the handle, it's nine feet long.  And yeah, you read that right.  It's almost vierduizend dollar.  But hey, you get free Prime shipping.  And it's covered under warranty for as long as you own it.
Why is this thing so expensive? To start, it can torque both clockwise and counterclockwise, because left hand thread is fairly common in some industries.  Despite its huge torque range, it's still accurate to about 4%.  It's made of high tensile steel.  It has a positive locking device, so there's no way to accidentally unlock it.  And it passes some of the highest international standards there are.
Kortom, deze sleutel is episch. Maar dat heb je waarschijnlijk alleen al van de prijs. Een magere man als ik zou aan het einde van dit ding moeten hangen om ergens in de buurt van de top van het koppelbereik te komen.
This sort of tool is used by munitions squadrons, helicopter mechanics, diesel mechanics, and anyone working on something huge.  And by diesel I don't mean your Cummins, I mean the 100-liter CAT diesel engine powering the dump truck at your local quarry.  And the bolts the size of your fist that hold its wheels on.  Auto racing teams use these for tightening wheels, and you can find them being used in situations where extreme precision is an absolute must.
If you want to go much higher than 2000 pound-feet, you're getting into hydraulic tools that don't really count as torque "wrenches" in my book.  So bask in the glory of this badass torque wrench, because it represents the most tightening a human can do without some help from advanced physics.
Voordelen
Enorm koppelbereik
Solide en stevige constructie
Gratis verzending
Beperkte levenslange garantie
Verdubbelt als trainingsbalk
Gegarandeerd de langste momentsleutel bij uw lokale ruilbeurs
Nadelen
Kost meer dan een gebruikte auto
Weegt meer dan uw hond
Langer dan je gereedschapskist
Koffer niet inbegrepen

Dus wat is de beste momentsleutel om te kopen?
We did it – we learned a lot about the best affordable torque wrenches on the market today.  Take your newfound knowledge and make a great decision – buy yourself a torque wrench.
If you're looking for the best torque wrench for light jobs around the house, buy the EPAuto.
Als u de momentsleutel voor het middensegment met de beste garantie wilt, koop dan de Tacklife.
Als u de beste allround momentsleutel nodig heeft, koop dan de Precisie-instrumenten C3FR250F.
Als je veel te veel geld hebt, koop dan de Wright-gereedschap 8449.