Titelnummer van Californië en hoe het te vinden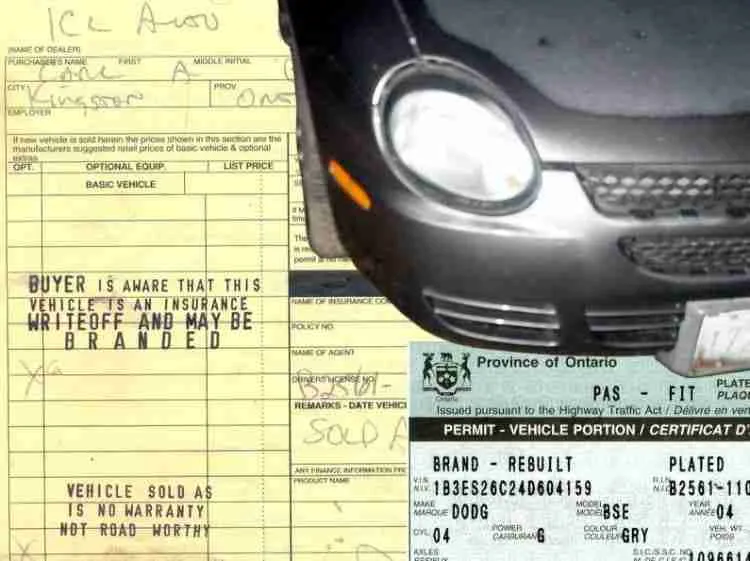 U moet dus het titelnummer op uw titel in Californië vinden. Hoe pak je dat aan? In dit artikel zullen we de titels voor Californië en hun delen onder de loep nemen, met een focus op waar het titelnummer te vinden is. Dit artikel behandelt ook het juridische aspect van de titel van een staat Californië, aangezien dit wordt beschouwd als een juridisch document.
Eerst een regel voor regel beschrijving van een voertuigtitel voor de staat Californië.
The very top of the page should say 'State of California'. The next line should say Certificate of title. Along the border to the left and right the document should say 'Void without bear watermark, hold to light to view'. Next your document should have to the top left a sequence of numbers and the type of title. For a car or truck, it will say automobile. To the top right should be a box that says Vehicle History at the top of it.
De volgende paar regels worden van links naar rechts gelezen. Te beginnen met het VIN-nummer. Het VIN-nummer is het voertuigidentificatienummer en is uniek voor uw voertuig. Vervolgens ziet u het YR-model. Dit is voor het jaar waarin uw voertuig is gemaakt. Daarna volgt het merk, dit is waar het soort voertuig wordt geplaatst. Het kenteken is het volgende en hier staat het kenteken dat bij het voertuig hoort.
Het volgende item dat gevonden moet worden is het carrosserietype. Hier ziet u een code die de carrosserie van uw voertuig beschrijft. Een vierdeursauto zegt bijvoorbeeld 4D op dit gebied. Vervolgens wordt de overdrachtsdatum geschreven om de datum uit te leggen waarop de titel aan de huidige eigenaar is overgedragen. Hierna volgt het gedeelte betaalde vergoedingen en vervolgens de vervaldatum van het document.
Het volgende veld is het eerste jaar dat het voertuig werd verkocht. Dit is vooral belangrijk bij aankopen van oudere voertuigen. De volgende velden zijn als volgt; YR voor jaar, MO voor model, Equipment / trustnummer en de uitgiftedatum van de titel.
Mocht de titel voor een motorfiets zijn, dan zou het motornummer van de motorfiets worden ingevuld. Voor alle voertuigen zijn de kilometerteller datum en aflezing ingevuld. Dit is de kilometerstand op het voertuig op het moment en de datum waarop de meting is gedaan.
Het volgende gedeelte is de contactgegevens van de geregistreerde eigenaar. Dit is de naam en het adres van de eigenaar van de titel. Hierna volgen twee regels geïdentificeerd als 1a en 1b. Deze zijn voor de handtekeningen en datum van ondertekening van de geregistreerde eigenaar tijdens een titeloverdracht.
The next section is a written warning to follow the federal and state laws under threat of fines or imprisonment for falsifying records. This is to protect the buyer from fraudulent sales.  Next you will see a few empty blocks to write the exact and current Odometer reading. Unless one of two factors are presented and checked in the corresponding box. The first being that the actual mileage and odometer readings differ. The second factor being that the mileage exceeds the mechanical limits of the odometer. In this case you would either leave the space blank or if possible, write the actual mileage.
Beneath the previous line is a certification of truthful information under penalty of perjury by the laws of the state of California. In other words, if you willingly give false information on this document you risk criminal charges. The second to last section is where you as a buyer would sign during title transfer. Finally, the last line of the document found at the bottom of the page says, 'Keep in a safe place- void if altered'.  This means that if you make any unauthorized changes to the filed document it no longer is valid.
Wat betekent dit allemaal?
Proof of ownership is tied to the title. Your vehicle is only officially yours with a title and the title must be in your name.
The title is a sales receipt in a way as it shows transferred ownership. With out this it is hard to prove the sale happened.
A complete identification of your vehicle is found in the title. This is used in the event of an accident insurance claim or if you file a police report for a stolen vehicle.
A full description of your vehicle is on the title. This is also used when reporting a stolen vehicle or for insurance claims if your car is damaged.
All information on the title must be truthful by federal and state laws. These laws may differ outside of California for the state laws.
Failure to provide correct information can lead to jail time or fines to be paid. The average jail sentence for a misdemeanor is 6 months but for a felony it is up to four years. The fines for a misdemeanor max out to 1,000 dollars and for a felony get as high as 10,000 dollars.
Laten we het nu hebben over het titelnummer en waar het zich bevindt.
Your title number is the number used to identify your title in the department of motor vehicles system. It is located above the vehicle identification number on the upper left-hand side in the corner. It should be a sequence of eight numbers. This number is used by the department of motor vehicles when ordering a new title or to look up the title history.
Te onthouden voorwaarden
If you are interested to learn more about the terms in this article, please continue reading to help clarify thing for you.
Void- No longer legally binding.
Odometer- The measurement tool inside a vehicle that measures mileage over the span of a vehicle's lifetime.
Make- in the context of this article and vehicles in general this means the manufacturer of the vehicle.
Misdemeanor- A criminal offence less severe than a felony
Felony- a sever criminal offence
Perjury- to knowingly falsify records or information on a document
That wraps up how to find the title number on your California title. Remember, depending on the year the title was registered the steps to find the title number may be different.