De beste ruitenwissers van vandaag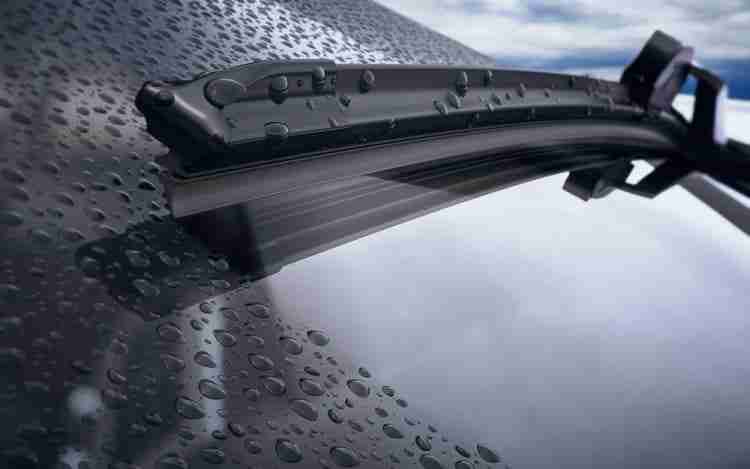 Gemiddeld maken mensen drie tot vier keer in hun leven een auto-ongeluk mee. De meeste ongevallen worden veroorzaakt door slecht weer en onzorgvuldig rijden, maar wat veel mensen niet weten, is dat ongelukken vaak kunnen gebeuren door defecte apparatuur. Auto-onderhoud is uitermate belangrijk om ervoor te zorgen dat uw voertuig correct werkt en veilig op de weg rijdt. Er zijn tal van dingen die mis kunnen gaan met een voertuig, van defecte remmen tot kale banden; zelfs slechte ruitenwissers kunnen uw rijvaardigheid beïnvloeden. Stel je voor dat als je in een stortbui zat en je wisserbladen niet in staat waren om de regen van je voorruit effectief genoeg te verwijderen zodat je de weg kunt zien, dan zou je misschien gewoon geen ander voertuig voor je zien stoppen. Slechte ruitenwissers kunnen uw auto zelfs bij mooi weer aantasten. Als u een opeenhoping van smurrie of dode insecten op uw voorruit heeft, moet u die beperkingen in uw zicht effectief kunnen verwijderen om de weg en andere bestuurders goed in de gaten te houden. Dit is een uitgebreid overzicht van een verscheidenheid aan ruitenwisserbladen die tot de beste op de markt behoren.
Rain-X 5079281-2 Water Repellency 2-in-1 Wiper Blades
Rain-X is a top seller of wiper blades and is known to produce a quality product capable of fitting all makes and models of vehicles on the road today. This particular model comes in a one-pack and is 26 inches long. The 2-in-1 feature not only clears the water, but also helps to repel water from the windshield. The Rain-X 5079281-2 also won the 2017 Product of the Year for Car Care. The current price is approximately $15.
Since this product is a 2-in-1 model, it actually repels the water away by covering the windshield with Rain-X's water repelling coating. This coating lasts several months and aids the wiper blade in its effectiveness. Additionally, the wiper blade is designed to flex to the shape of your windshield, which allows for a smooth, snug fit that removes water and keeps the glass from becoming streaked and dirty. The Rain-X 5079281-2 is also composed of an all-weather synthetic rubber that can withstand tough weather conditions and maintain its durability for a long time. In addition, it also comes with a universal adapter to ensure easy install on any model vehicle.
The largest complaint for this model was that it actually left a residue even though it is marketed as preventing smearing. It did not repel the water as expected at high speeds and users felt the product did not perform as marketed when it came to heavy rains. However, it had mixed results and most customers actually found this performed as expected.
Bosch ICON Wiper Blade
This model comes in a 22 or 26 inch long option. It also only comes with one in a pack. It is composed of a special rubber blend that is heat resistant and has been proven to last 40% longer than other brands. It also comes in a flexible configuration, which allows it to contour to your windshield and remove the maximum amount of water. It is priced around $22.
The Bosch ICON is easy to install since it has the universal adapter, a nice feature to have for compatibility to any make and model vehicle. In addition, the design of this wiper blade allows it to have greater durability against the harsh sun and reduces shrinkage and cracking due to the heat, which can render a wiper blade ineffective. Another pro of this model is that the flexible design allows for uniform force on the entire blade and this keeps the blade firmly on the windshield even at higher speeds.
The Bosch ICON Wiper Blade had high marks amongst consumers; however a common complaint was that it left streaks during light rain conditions. Buyers noted this became a problem mostly during night conditions when you do not want your vision further impaired.
Rain-X RX30222 Weatherbeater Wiper
This is another top-rated Rain-X product that comes in a variety of sizes. Compatible with just about every vehicle, it also has the universal adapter attachment. It comes in a one pack or a five pack and is priced at $10 for the single pack and $50 for the large pack for the 22 inch version.
The Rain-X RX30222 is composed of a durable rubber that makes it resistance to hot and cold. This prevents splitting, cracking, and shrinkage due to those extreme conditions. The design is composed of a steel frame that resists corrosion and aids in durability. In addition, this wiper blade is easy to install using the universal adapter. Rain-X states that it will produce a streak-free window during all weather conditions due to the way it shapes to the surface of the windshield. This is another product that is meant to hold up to the harsh conditions caused by wind, rain, and even wiper fluid without compromising your ability to see the road clearly.
Common complaints with this wiper blade include not actually fitting a vehicle properly and being rather brittle. Several customers stated that the wiper blade did not conform to their windshield as smoothly as expected. In addition, several buyers expressed frustration at the relative ease with which the blade broke during initial installation, rendering it useless.
Rain-X 5079279-2 Latitude Wiper Blade
Made by Rain-X, this wiper blade comes in at 22 inches in length and also as a one-pack. Similar to the 5079281-2 model, this is also a 2-in-1 wiper blade that pushes water away while at the same time repelling it. It also won the 2017 Product of the Year Award for Car Care products and is an extremely popular model. It also costs about $15.
The 2-in-1 feature is the biggest pro of this model since it covers the windshield with a water repelling coating that works with the wiper blade to effectively maintain the field of view. The coating lasts several months just as with the 5079281-2 model and holds up to all types of weather conditions. The Latitude also has a universal adapter for easy install and contours to the windshield for optimum water removal. This model is also composed of a rubber blend that enables it to withstand extreme weather conditions and to perform in all different types of bad weather.
This was another high-ranked model and customers seemed relatively pleased with its performance. However, a common complaint with this particular model seemed to be that the streak-free option did not last past a month or two even though these wiper blades were marketed as long-term durable options.
Michelin 8522 Stealth Ultra Windshield Wiper Blade
This particular Michelin 8522 wiper blade comes in a 22 inch version and one to a pack. It comes with Michelin's Smart Hinge technology, which allows the blade to bend and grip the windshield securely. The Smart Hinge technology also prevents debris and ice/snow buildup on the blade itself, which can affect its usefulness during poor weather. The Stealth Ultra is priced around $14.
What makes this blade unique over other options is the Smart Hinge feature. It prevents ice and other debris from sticking to the wiper blade, which can cause streaking while in use. This model fits snugly to your windshield and can adjust based upon your model vehicle. It is easy to install and has what Michelin calls its EZ-Lok connector for fast replacement. Due to its unique design, the Stealth Ultra stays in place on your windshield during high speeds and heavy rains.
This model scored high amongst consumers and for the most part performed as specified. The most common complaint from customers was that it did not fit their model vehicle; however, it comes in a variety of sizes so it is possible that consumers ordered the wrong size for their vehicle. Additionally, customers complained that the blades had difficulty clearing water away from the windshield at high rates of speed.
Bosch Clear Advantage Wiper Blade
This is another Bosch product that is made of durable material and comes in a variety of sizes. It also comes with a multi-adapter, which allows for install on cars that have a pin arm, hook arm, side lock, pinch tab, or top lock. It comes in a one pack as well as is priced around $10 a blade.
The Bosch design uses graphite-treated rubber on the edging, which reduces drag along the windshield and makes for a smooth wiping motion. The wiper blade shape allows for good airflow around the blade and ensures it stays snugly on the windshield. As with the ICON model, it maintains uniform pressure along the entire length of the blade due to its tension spring design. This allows for a uniform removal of water without streaking.
 Nadelen
More than 50 percent of consumers found this model to be exactly the right fit, but several customers noted they had trouble with the uniform fit. In fact, quite a few noted that the blade actually became detached from the arm and almost flew off into traffic. As with other models, the Bosch also seemed to have some issues with streaking during light rains.
ANCO 31-Series Wiper Blade
The ANCO wiper blade comes from another known wiper blade manufacturing company who produces good quality, affordable options. This wiper blade comes in a variety of sizes from 10 to 28 inches long. This particular model is a 26 inch long, one-pack version that is priced around $8.50.
This model comes with ANCO's DuraKlear rubber blend that provides a streak-free windshield. The shape and design is made to fit any windshield snugly and prevent water pooling. It comes with the KwikConnect installation adapter, which allows for a fast wiper blade replacement on most model vehicles. In addition, this particular model is designed to provide consistent wiping throughout all driving conditions.
This model had some fairly high marks and most customers were pleased with its performance for the cost-effective price. A common complaint for this model was that it did not appear to fit all model vehicles as it claimed and that some broke within a few weeks of use.
Bosch Aerotwin 3397007297 Original Equipment Replacement Wiper Blade
Our final wiper blade is the Bosch Aerotwin. This particular version comes in a variety of sizes, but what is nice about this model is that it comes in a two-pack. The design includes Bosch's spring technology to maintain the best windshield fit possible for your vehicles. Since it is a two pack, it costs slightly more at $25.
As with other Bosch versions, this model has a steel-frame that prevents corrosion and rusting against harsh weather. It has a rubber edging that is precisely cut to push water away from the windshield especially during high rates of speed. In addition, it maintains a clear field of view by removing water streaks.
This was one of the highest ranking models that we found and customers seemed extremely please with its performance. The main complaint we saw with this model was that it also did not always stay snugly fit to the windshield and users started to note streaking after a month or two.
We have provided a comprehensive list of several top brands of ruitenwissers so that you can make an informed decision before purchasing one brand over the other. Make sure to confirm what size wiper blades you need for your vehicle and whether each side requires the same length wiper blades as some vehicles have differing sizes. If you find that you drive in more poor weather conditions such as rain or sleet, then a high performance model might be best for you since it removes water and repels at the same time. If you live in an area that sees more snow, a model that resists icing and buildup might be better suited for you. Hopefully we have provided a good amount of information for you to choose the best option for your vehicle.