Hoe u gasgeur uit uw auto haalt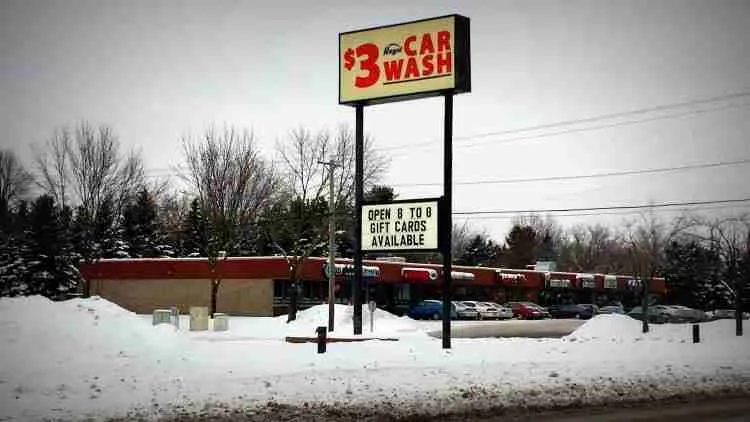 We've all done it! It happened while you were removing the gas nozzle and it got on your shirt or pants. You accidentally stepped in a puddle of it by the pump. Or maybe you filled up the gas can, a hard day of mowing ahead of you, and on your way home you slam on your brakes to avoid hitting that cute little squirrel and it spilled in your trunk. At one time or another, chances are if you own a car, you've gotten that gas smell stuck in it that just doesn't know how to quit.
You hang your head out the window for fresh air, and crack open a new air freshener, hanging it from your rear view. Or you invest in one of those fancy little fans with the fragrance that attach to your vents. But now you've just got gasoline in a flower field. Yuck!
You can't just leave it. It's not going away on it's own over time. Depending on the severity you could get dizzy, have headaches, or just feel plain old nauseous. Not good, especially when you are driving a two-ton piece of metal down the highway. So how do you do it? How do you get rid of that gas smell once and for all?
If you can afford to head to your local detailer, you're probably already there having the pros work it out. But a trip to a professional can be costly and take up a lot of your precious time.
Aangezien er in voertuigen een grote verscheidenheid aan soorten tapijt en bekleding wordt gebruikt, is er geen enkele beproefde methode om benzinegeur te elimineren. Er zijn echter enkele tips om die vervelende geur zelf weg te laten, en meestal met items die u waarschijnlijk al in huis heeft.
It's important to note that you should always treat gasoline and it's fumes seriously and clean it up promptly. Remember that gasoline is highly flammable. Windows down, doors open, and a well ventilated area are must-haves for this process.
Zuig de lekkage op
The best thing you can do for any size spill is to not wait to take care of it. Soak it up right away! The longer it's given to seep into the material, the harder it will be to remove the odor from the fabric's fibers.
For large spills, sop up the offending liquid with rags or cloths right away. Be sure you are using clean cloths. You don't want to mix gas with another substance left on a dirty one.
If your problem area is on the carpet or upholstery of your vehicle, try sprinkling cat litter or over the affected area to absorb any remaining wetness and odor. Cat litter should be left for a couple of days. Make sure you check your city's guidelines for disposing of the litter.
Voor kleinere hoeveelheden kan koffiedik of zuiveringszout ook werken. Zuiveringszout moet een nacht op het gebied blijven liggen en helpt ook om eventueel aanhoudend vocht te verwijderen. Koffiedik zou de truc moeten zijn voor zowel het absorptievermogen als het neutraliseren van geur, maar het duurt veel langer voordat ze inwerken, tot wel een week.
Zorg ervoor dat u het vochtverwijderende element dat u gebruikt grondig opzuigt voordat u doorgaat naar de volgende stap.
Zorg voor de stank
Probeer gelijke delen zuiveringszout, witte azijn en heet water. Voor tapijt schrobben met een spons of borstel. Gebruik voor bekleding een schone doek.
Gelijke delen van ciderazijn, heet water en afwasmiddel zijn ook opgemerkt als een goed mengsel om geuren te neutraliseren.
Als uw gemorste hoeveelheid erg klein was, laat dan enkele droogtrommeldoekjes een paar dagen ter plaatse liggen. Hun geurverwijderende technologie zou ervoor moeten zorgen.
If you've got the cash, you could always purchase a commercial grade upholstery cleaning product. This is a buy where consumer reviews might help you avoid something that just consistently doesn't work across the board. If you're going to spend your money on something, you'll want to know there's a good chance it's going to work.
Op zoek naar een commercieel product dat vrij is van chemicaliën? Een product genaamd Smelleze Reusable Car Smell Deodorizer-zakje beweert een niet-giftig zakje te zijn waarvan de inhoud een moleculaire structuur bevat die dampen neutraliseert en vasthoudt en wordt aanbevolen voor mensen die gevoelig zijn voor chemicaliën of allergieën hebben. Het is herbruikbaar en de kracht ervan kan worden geregenereerd door het in de zon of in de magnetron te plaatsen, zoals aangegeven. Eenmaal uitgeput kan het in de grond worden gerecycled. Aardvriendelijke keuze voor de overwinning!
Open naast een van deze behandelingen ook de deuren en ramen zoals hierboven vermeld! Als het je lukt en je auto nog steeds veilig en veilig houdt, zal het een dag lang luchten na het schoonmaken wonderen doen.
According to AAA, Americans spend an average of around 50 minutes in their car per day. Whether you're commuting to and from work, running errands, or just out for a cruise, that is plenty of time for unwanted fumes to wreak havoc on your well being.
Dit is vooral riskant tijdens extreme temperaturen, wanneer de kans groter is dat uw ramen gesloten zijn en de lucht in het voertuig recirculeert. Dus ongeacht welke methode u besluit te proberen, zorg ervoor dat u iets probeert.
Na het reinigen en ontgeuren van uw auto, moet u uw handen wassen met een milde afwasmiddel, handzeep of een stuk zeep. Als de geur aan je handen blijft hangen, probeer ze dan te schrobben met azijn of tandpasta om de stank te verwijderen.
The time you spend solving this problem is well worth it to ensure rides in your car are enjoyable and healthy for both yourself and your passengers. And if you've never encountered a gas spill, bravo! But it might be a good idea to keep these tips on hand. Trust me, your day will come.