Hoe weet ik hoeveel koelmiddel ik aan mijn radiator moet toevoegen?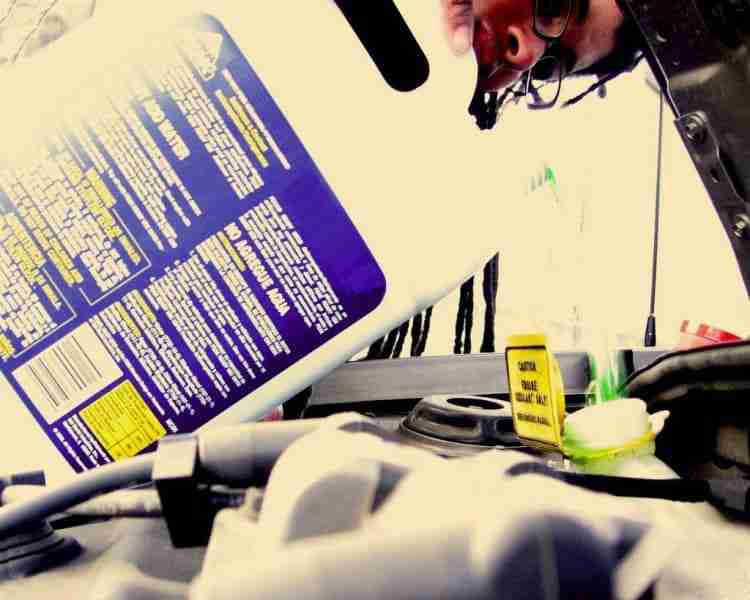 Your engine's radiator is an essential component. Without it, the car's engine is in danger of overheating. When this happens, it can cause engine damage. At the very least, your engine will stop working until it cools down.
To prevent your engine from overheating and keeping the car's cooling system working properly, you will need to add coolant to the radiator. However, this isn't always as easy as it sounds. There's more to the process than simply pouring water or antifreeze into the radiator.
Hoe u uw radiatorvloeistof kunt controleren
Voordat u er zelfs maar aan denkt om koelvloeistof in de radiator te gieten, moet u eerst het vloeistofpeil controleren. Overvullen van een radiator kan net zo schadelijk zijn als drooglopen. Er zijn een paar eenvoudige tips die het controleren van het vloeistofpeil van de radiator veilig en gemakkelijk maken.
Controleer of de motor is afgekoeld.
Laat de auto altijd een paar minuten met uitgeschakelde motor staan voordat u probeert het vloeistofpeil te controleren. Een goede tip is om de kap aan te raken. Als de kap warm is dan is de radiator nog te heet om aan te raken. Afhankelijk van het klimaat kan het enkele minuten tot een uur duren voordat de radiator is afgekoeld.
Open de motorkap.
When the hood is cool to the touch. Go ahead and lift it. There should be a lever inside the car by the driver's seat. Some older models have latches underneath the hood that you simply press or pull on.
Once the hood is up, make sure that you use the attached rod to properly hold it in place. You don't want the vehicle's hood suddenly falling on your neck or head.
Zoek de radiator en zijn dop.
De radiator bevindt zich meestal aan de voorkant van de motor. Dit handige ontwerp maakt het gemakkelijker voor u om de vloeistof veilig te controleren. De dop zit meestal aan de voorkant van de radiator, dichtbij of aan de bovenkant.
If you're having trouble finding the radiator or the cap, the vehicle's owner manual should include a simple diagram of the engine block with all of the components labeled.
Verwijder de radiateurdop.
The first step is to grab a towel. Even if the engine block is cool, the liquid in the radiator can still be hot. There's also the chance that steam can escape when the cap is removed. If you don't feel any heat coming off the radiator, use the towel to carefully remove the cap.
You do not want to stand directly over the engine when you're removing the cap in case steam has built up inside.
Controleer het vloeistofpeil van de radiator.
Once the cap is off it's time to check fluid levels. There should be markings on the radiator expansion tank. The markings can wear off over time but you can still estimate how high or low the coolant levels are.
Your owner's manual should include a section on the vehicle's radiator, along with optimal fluid levels. Often this includes a diagram of the radiator tank with fluid levels visibly marked. You can compare the diagram against your vehicle.
Radiatorvloeistof toevoegen
After checking the radiator fluid and discovering that it's low, you'll need to add coolant to keep your engine running. Before you start, there are a few things you'll need to make the job go faster and easier.
Gedistilleerd water
Coolant – antifreeze
Handschoenen
Trechter
Now that you've gathered the necessary supplies it's time to fill the radiator.
Find the radiator's overflow tank.
De overlooptank zit aan de zijkant van de radiator. Het vangt elke overloop van de radiator op. De meeste van deze tanks brengen de koelvloeistof terug in de radiator, waardoor het een ideale keuze is om nieuwe vloeistof toe te voegen. De vloeistof zal indien nodig in de radiator stromen, waardoor overstromen wordt voorkomen.
Sometimes the radiator has a low fluid level and the overflow tank is full. Often this indicates a problem with the coolant system and should be inspected by a certified mechanic. If you're not sure if your overflow tank returns the fluid to the radiator, it should be stated in the owner's manual.
Meng de koelvloeistof met gedestilleerd water.
You want to mix the coolant with equal parts of water for the radiator to work efficiently. The funnel makes it easy to pour the liquids and the gloves will protect your hands from accidental splashes. You can use a higher concentration of water or coolant but it can put more stress on the system. Some coolants come premixed so you don't have to do any mixing. Just read the instructions printed on the coolant label.
Giet de koelvloeistof in de overlooptank of radiator.
The overflow tank is the preferred place to pour in the coolant, and the funnel makes this easy without spilling a drop. This also applies if you have to pour the coolant directly into the radiator. You also want to make sure you don't go over the recommended level, When you're done, replace the radiator cap.
Start the vehicle's engine.
Any time you add coolant to the radiator, it's a good idea to start the engine. You should be listening for any usual sounds, primarily from the cooling fans. Humming or clanging noises could indicate a problem with the cooling system.
Controleer op lekken.
Controleer altijd onder het voertuig na het vullen van de radiateur. Als de vloeistof lekt, kan dit erop wijzen dat
De radiator was te vol
Een lek of knik in een slang
Elk van deze kan duiden op een serieuzer probleem met de radiator dan simpelweg te weinig vloeistof. U wilt ook eventueel gemorste vloeistof opruimen. Het is niet alleen een zorg voor het milieu, maar het kan ook gevaarlijk zijn voor dieren en mensen.
Hoe u weet wanneer u uw radiatorvloeistof moet vervangen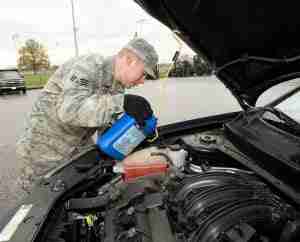 Some times your radiator fluid levels are fine but you still need to change your radiator fluid. How do you know if the coolant is dirty? There are a few signs that could indicate it's time to change your radiator fluid.
The coolant looks 'milky' or cloudy.
Some coolants are brilliant blue and others are a clear white. While the colors can differ, each one should be slightly transparent. If the coolant is cloudy or looks like it might have been mixed with milk, you'll want to schedule a visit to your mechanic.
Dit is vaak een teken dat er olie in het koelsysteem lekt en dit kan ernstige en dure motorproblemen veroorzaken.
Controleer op zwevende deeltjes in de koelvloeistof.
Vuil en andere kleine deeltjes kunnen in de koelvloeistof terechtkomen. Van daaruit gaat u het koelsysteem in en uiteindelijk de motor. Wanneer kleine deeltjes in de motor terechtkomen, kan dit verstoppingen en andere problemen veroorzaken die, als ze worden genegeerd, vaak duur zijn om op te lossen.
As soon as you find debris in the coolant it's best to immediately take your vehicle to a licensed service center.
Gebruik een teststrip.
Na verloop van tijd kan koelvloeistof zijn effectiviteit beginnen te verliezen. Soms staat een fles koelvloeistof te lang op een plank of wordt er zelden met de auto gereden en hoeft er maar weinig vloeistof te worden ververst. Er zijn goedkope teststrips die u bij de meeste auto-onderdelenwinkels kunt vinden.
Simply dip the test strip into the radiator and compare the color change to the included chart. If the strip shows that the fluid has lost some or most of its effectiveness, it's time to change it before there are problems with the vehicle's engine.
Water vs. koelvloeistof
Since it's recommended that you mix equal parts water and coolant, some drivers wonder why they can't save money and leave antifreeze out of the mixture. There are a few good reasons why you shouldn't leave coolant out of the mix.
Distilled water by itself is fine when you're engine suddenly overheats. It's recommended that every driver keep a gallon of distilled water in their vehicle at all times for these emergencies. While water will keep the engine cool long enough to drive to a service station it doesn't have the protective properties associated with antifreeze.
Water boils at a different rate than coolant. Water boils at 212 F and coolant around 387 F. Since water boils at a lower temperature, there's a chance it will evaporate leaving your radiator dry. Water also won't protect the cooling system from corrosion, in some cases, it can add to it.
Gevolgtrekking
It's important to keep up with your radiator fluid, it is a part of basic vehicle maintenance. This includes checking the fluid level and replacing it when necessary. Like every other component in your vehicle's engine, there are shortcuts you can take.
However, if you want to prevent your car engine from overheating or worse developing expensive problems keep an eye on your coolant levels and don't depend solely on periodically adding distilled water.