Hoe stickers van een autoruit te krijgen - 7 eenvoudige manieren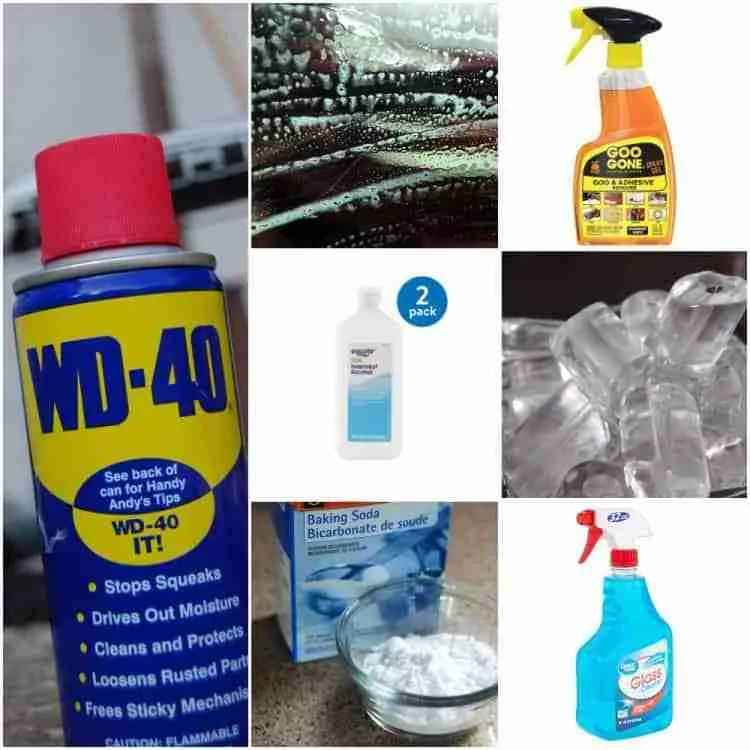 Stickers are often the bane of car owners that want to keep their windows nice and clean. Whether it's a decal from a parking lot or registration sticker, there comes a time when you want to get it off. However, this is never as easy as simply peeling the sticker off.
There's always sticky bits left behind and this doesn't include the adhesive residue. If you're tired of old stickers on your vehicles windows but don't want to spend hours scrubbing, here are a few tips on how to get stickers off a car window.
7 eenvoudige manieren om stickers van autoruiten te verwijderen
You don't have to break out a sharp-edge scrapper or a powerful pressure washer. The adhesive on the stickers might seem stronger than cement but there are a few simple tricks that will get them off.
Ruitenreiniger
It will take something stronger than the glass cleaner you use on bathroom mirrors. You'll need a sudsy or foaming agent in the cleaner. You can find a few brands at most local auto parts stores and even in some drugstores if they have an automotive section.
De reden dat u een wasmiddel ruitenreiniger wilt gebruiken, is om de sterke lijm te verminderen. Zeep de sticker en het omliggende gebied gewoon in met een spons of een schone doek. Nadat je het een paar minuten hebt laten zitten, zou de sticker naar beneden moeten gaan glijden. Als er lijm achterblijft, schraap dit dan voorzichtig weg zonder het glas te beschadigen.
Gedenatureerde (wrijvende) alcohol
Sometimes detergent won't be enough to get stubborn stickers off. Soaking a paper towel in rubbing alcohol and wiping it across the sticker will loosen the adhesive making the sticker slide and peel off. You will need to soak the entire decal if you don't want to spend time scrapping away at the sticker.
Er kan nog een beetje residu achterblijven nadat de sticker is verwijderd. U kunt een scheermesje gebruiken om de resterende lijm voorzichtig te verwijderen.
Probeer Goo Gone
Ouders met kleine kinderen gebruiken deze niet-giftige chemische stof vaak om verschillende stickers te verwijderen die peuters graag op bijna elk oppervlak hechten. Het product werkt door de kleefkracht te verslechteren, zodat u de sticker kunt verwijderen zonder het oppervlak waarop het was geplakt te beschadigen.
It takes a few minutes for the chemical to work but when it does, all of the adhesive gunk is usually gone. All that's left is to wipe away the smear on the car window.
Gebruik ijs
If you don't have an ice-pack in your freezer, you can easily make one. Just take some ice cubes and place them in a sealed sandwich bag. Place the ice-pack on the sticker, depending on its location on the window you might need to hold it in place for 5 – 6 minutes.
Als de sticker koud is, gebruik dan een scheermesje om hem voorzichtig van het raam te verwijderen.
Spray WD-40
Bijna elke woning of garage heeft een blik WD-40 erin. Hoewel het giftig is, kunnen de chemische componenten alles aan, van het verwijderen van roest tot het repareren van piepende scharnieren. WD-40 kan ook worden gebruikt om stickers en emblemen van autoruiten te verwijderen.
Spray the compound on the sticker, let it sit for a couple of minutes, and then wipe the sticker and adhesive residue off. Most of the time, you won't need to scrape any residue off.
Zeep en warm water
The water doesn't have to be boiling but it does need to be hot. Mix the hot water with a small amount of liquid soap in a spray bottle. Spray the sticker with the mixture a few times to ensure its thoroughly soaked.
Blijf de sticker controleren om te zien of de lijm loslaat en trek deze eraf.
Zuiveringszout
There are multiple uses for baking soda that include helping remove stickers from windows and windshields. Take a ½ cup of cooking oil, brand name doesn't matter and pour in a small amount of baking soda. Take a clean paper towel and apply the mixture to the sticker until you can peel it off with your fingers.
You will need to wipe the window down with glass cleaner to remove the oil and any other residue. If you're looking for a non-toxic and budget-friendly way to take-off old stickers, this is one of the best methods.
Stickers verwijderen uit getinte autoruiten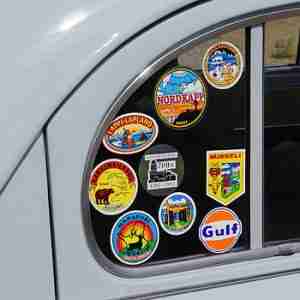 Even if your vehicle's windows are tinted it doesn't mean that you're stuck with an old sticker. You can remove it without ruining the tint. Here are a few tips that will help.
Make sure the car window is clean.
Use warm water and a soapy sponge to soak the sticker off.
If the decal is stubborn, a degreaser like WD-40 might also need to be applied.
Use a plastic spatula, the edge of a credit/debit card, or glass scraper to remove the adhesive.
Wash and wipe the window clean.
To ensure that you don't accidentally scrape the tint away along with the sticker try to avoid using razor blades or other sharp-edged metal scrappers. The best advice is to keep applying the soapy water and degreaser until you can peel the sticker off.
Gevolgtrekking
It's extremely rare to see a vehicle without at least one sticker on the window. Whether it's a pass for the toll roads, emissions inspection/registration sticker, or one for your parking garage, at some point you'll want to take it off.
Even if your vehicle windows are tinted, it's still possible to safely remove stickers. Just remember to not use anything that could scratch the tint. With a little bit of elbow grease and some common household cleaners, you can get a clear sticker-free view out your car windows again.