Moet je bij storm in je auto blijven? Wat kun je het beste doen?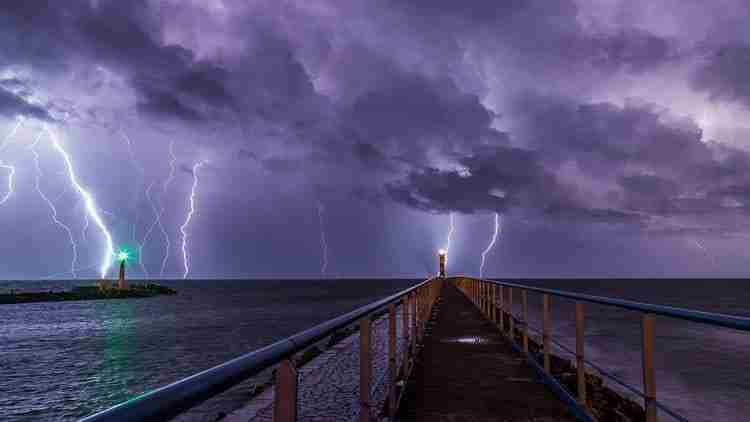 It can happen to anyone, even if they are weather alert. All of a sudden you find yourself driving through a storm. It doesn't matter if it's a snow or rainstorm. Road conditions can quickly become dangerous. Even high winds, associated with a storm, can cause problems.
Wat moet u doen als u in een storm terechtkomt? Blijf je in de auto of zoek je te voet beschutting? Blijf lezen om erachter te komen wat u moet doen als u door een storm wordt overvallen.
Wat te doen als u in een storm rijdt
Wat u moet doen als u tijdens het rijden door slecht weer wordt betrapt, hangt af van het type storm. Soms moet u in de auto blijven en soms wilt u zo snel mogelijk uit de auto stappen.
Regen en hagelstormen
If you find yourself caught in heavy rain or hail, visibility will be affected. When you can't see the road, it is time to pull over. If you pull over to the side of the road, even under an overpass, be sure to turn on your hazards. You also want to engage the parking brake. This way other drivers will see you, even in heavy downpours.
Enkele andere veiligheidsmaatregelen zijn:
Parkeer niet onder bomen, telefoonpalen of andere soortgelijke objecten. Ze kunnen worden omver geblazen door harde wind, waardoor een extra gevaarlijke situatie ontstaat.
Hagel kan vooral gevaarlijk zijn omdat het de voorruit kan doen versplinteren. Om verwondingen door gebroken glas te voorkomen, draait u uw gezicht naar de achterkant van de stoel. Ga indien mogelijk op de grond liggen. Jezelf bedekken met een jas, deken of andere soorten kleding kan je extra bescherming bieden.
Bliksem en onweersbuien
When a thunderstorm brings lightning, you want to stay in your car. It is also a good idea to pull over. If you can safely get to shelter, and don't mind getting soaked, turn your car off and run inside.
If you can't make it to any shelter, stay in your car. It is safer than being outside. The vehicle's metal frame will act as a conduit if the car is struck by lightning keeping you safe inside. You do want to refrain from touching anything metal in the car. This includes the radio and any handheld devices that might be plugged in.
Er kunnen nog steeds elektrische stromen aanwezig zijn en u een onaangename schok geven. Wacht tot de storm voorbij is voordat u iets in de auto aanraakt. Experts raden aan om uw handen veilig in uw schoot te houden om onbedoelde schokken te voorkomen.
Plotselinge overstromingen
Zelfs als een gebied niet vatbaar is voor overstromingen, kan een zware onweersbui er een veroorzaken. Flitsoverstromingen kunnen in een oogwenk gebeuren, waardoor bestuurders bijna geen waarschuwing krijgen. Dit is een van de redenen waarom ze zo gevaarlijk en verwoestend kunnen zijn.
If you know that your area is under a flash flood advisory it's best to stay off the road. Sometimes this is not always possible and you need to know what to do to keep yourself safe.
Als je stilstaand water op de weg ziet, draai je om. Probeer niet door het water te rijden, ook niet als u andere voertuigen erdoorheen ziet komen. Tijdens een plotselinge overstroming weet je nooit hoe snel het water kan stijgen. U kunt gemakkelijk bekneld raken in het snel bewegende water.
Sometimes you can't avoid getting trapped in a flash flood. The first thing to do is to stay calm. To avoid being submerged or washed away with your vehicle, there are a few steps to follow.
Maak uw veiligheidsgordel los en laat passagiers hetzelfde doen. Als er jonge kinderen in de auto zitten, moet u ze wellicht helpen hun veiligheidsgordel los te maken.
Roll down one car window. If it won't roll down due to an electrical short, break the glass with any sharp or heavy object you might have in the car. Even an umbrella handle can be useful.
Zodra het raam open is, haal jezelf en alle anderen uit het ondergelopen voertuig. U moet misschien zwemmen of waden, maar het is veiliger dan weggespoeld worden in uw auto.
Ga zo snel mogelijk naar hoge grond en beschut.
Uw voertuig kan een totaal verlies zijn, maar u bent in ieder geval veilig en er hoeft niet nog één persoon te hulp te schieten.
Sneeuwstormen
Snow storms can be unpredictable. A few flurries can quickly turn into a blizzard with white-out conditions. If you get stuck in a snow storm without any shelter nearby, you should stay in your vehicle. It is too dangerous to wander around in a blizzard. Not only is it easy to get confused and lose your sense of direction,  but it also doesn't take long for hypothermia and frostbite to set in.
Here are a few tips on how to stay safe during a snow storm.
If you have cell phone service call 911. You want emergency personnel to be aware that you are trapped in your vehicle and it's location.
Once again, remain in your vehicle until help arrives.
It doesn't take long for your vehicle to be covered in snow making it difficult for rescuers to find. Turn on your hazards. If you have flares, set them out. Some vehicles have radio antennas if there's one on your car tie a piece of bright colored fabric to it.
Moving your arms and legs inside the vehicle will help keep circulation moving. Even clapping your hands can help. Cover up with any extra layers in your vehicle, even with maps or floor mats. You want to keep in as much body heat as possible. Huddling with your passengers can also help you stay warm. If you turn the heat on, only do so for ten minutes once an hour.
You also want to stay hydrated to prevent some of the health issues that exposure to cold weather can cause.
By following these steps you can survive being trapped in your car during a snow storm, even if you are stranded overnight.
Ben je voorbereid als je vastzit in een storm?
Your chances of being stuck in a storm are higher than you might think. It can happen to anyone, no matter where they live. There are a few items you should always have in your vehicle, someday the items in your emergency kit could help save your life.
Here's what every driver should have in their car.
Basic first aid kit
Flashlight with extra batteries
Flares to alert others your vehicle is parked
Cellphone with charger
A scraper and brush for ice and snow removal
Jumper cables
A blanket or if there's room a sleeping bag
Extra clothes
Sand for traction. Non-clumping litter is also effective
If you live in an area with high average snowfalls, you might also want to include a snow-shovel and tire chains. You can find snow shovels that fold down for easy portability. If tire chains are too bulky, tow straps work just as well. They are also easier to store. The main thing is to be prepared before you are stuck in a storm.
Laatste gedachten
You can stay safe in your car during a storm, even overnight in below freezing temperatures. In most cases, unless there is shelter within your line of sight, the best thing to do is to stay in the car. The only time you want to abandon your vehicle is if you are caught in a flash flood.
Staying calm and being prepared will keep you and any passengers with you safe until the storm passes or help arrives.